So often, finding and appreciating fine art means entering a pristine, rarefied space — picture the hallowed halls of a museum, the hushed library of a private collector or the capacious rooms of a blue-chip gallery. While fine art should always be approached and enjoyed with respect and reverence for the craft, that need not be synonymous with viewing it behind closed doors. To wit: the wealth of public sculpture across the USA. These pieces enrich our shared spaces, offering the opportunity to spend time with great artists in the great outdoors. Make note of the following ten transcendent pieces and get out your map — it's time for a road trip!
1. Richard Serra's 1988 Reading Cones in Chicago, Illinois
Richard Serra's 17-foot-tall Reading Cones is one of the few non-site specific pieces on our list, as the work's current location was intended to be only temporary (it was supposed to have been relocated a couple of miles uptown). With that said, the Grant Park installation was still done thoughtfully and with care: the sculpture's seams create an axis that aligns perfectly with the Clarence Buckingham Memorial Fountain to the south, and Butler Field to the north. Ironically, the title of the 32-ton Cor-Ten steel walls refers to Reading, Pennsylvania, where Serra fabricated the piece.
2. Claes Oldenburg and Coosje van Bruggen's 2002 Cupid's Span in San Francisco, California
Claes Oldenburg and Coosje van Bruggen's monumental — it measures 64′ x 143′ x 17′ — Cupid's Span was the artists' second effort to enliven the small Ricon Park on San Francisco's waterfront, per a commission from the D&DF Foundation. The first proposal sought to create a likeness of Cupid himself holding his bow and arrow. The artists, however, ultimately found this treatment to be "too stiff and literal." Instead, they went with this dynamic, asymmetrical design that embeds Cupid's bow into the hillside, its lines mimicking both the nearby Golden Gate Bridge, as well as the bows of passing ships.
---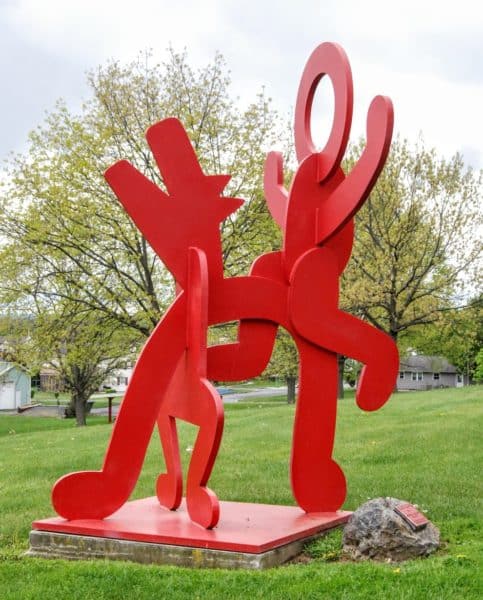 3. Keith Haring's 1989 Figure Balancing on a Dog in Kutztown, Pennsylvania
The Keith Haring Foundation and Tony Shafrazi Gallery donated this classic Haring to Kutztown, the artist's hometown, in 1992. Haring sought to evoke a childlike, playful spirit in his sculptures through the use of primary colors and kinetic shapes. Incidentally, Haring was on record as preferring sculpture to painting: "A painting, to a degree, is still an illusion of a material. But once you cut this thing out of steel and put it up, it is a real thing, I mean it could kill you. If it falls, it will kill you. It has this permanent, real feeling that will exist much, much, much longer than I will ever exist, so it's a kind of immortality."
---
4. Pablo Picasso's 1967 The Chicago Picasso in Chicago, Illinois
Pablo Picasso refused Chicago's offer of $100,000 for the Cubist sculpture he designed for their soon-to-be-built Civic Center. Instead, he gifted both the work and its prototype to the city. Nonetheless, the Daley Plaza sculpture generated some mild establishment grumblings when it was unveiled — its abstract, scrambled form was a deviation from the standard of representational and traditional public art. It probably didn't help that Picasso never formally named the 50-foot Cor-Ten piece or offered clues as to its meaning!
---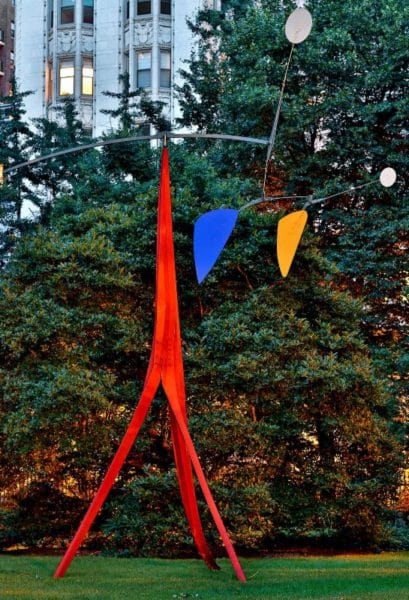 5. Alexander Calder's 1969 Janey Waney in New York, New York
American art collector and model Jane Holzer — who was dubbed "Baby Jane" during her tenure as a Warhol Superstar — saw a small-scale study in Alexander Calder's studio, and suggested to the artist that he produce it on a grander scale. Shortly thereafter, the N.K. Winston Corporation commissioned Calder to create a sculpture for the Smith Haven Mall in Long Island, New Jersey and he named the resultant 26-foot-tall work after Holzer. The sculpture was installed in its current home in Gramercy Park in 2010, as a loan from the Calder Foundation.
---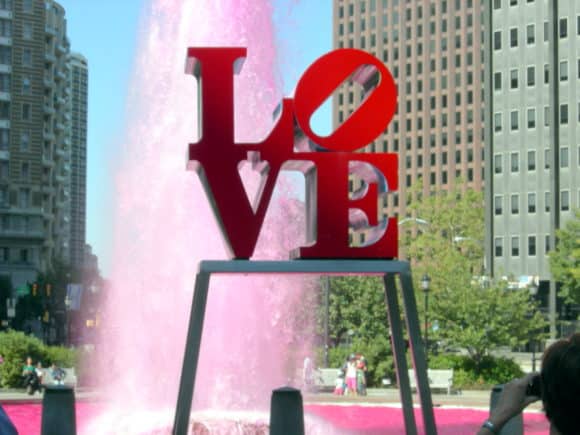 6. Robert Indiana's 1976 LOVE in Philadelphia, Pennsylvania
Despite its popularity, Robert Indiana's iconic polychrome aluminum LOVE sculpture failed to earn the Pop artist either critical or financial success. Those in the art circles deemed the piece pedestrian, while the sculpture's mass appeal begat hoards of imitators making cheap knockoffs. Frustrated, Indiana moved to an isolated island off the coast of Maine, where he continued to work quietly for almost four decades. In 2008, Indiana had a revival after the Obama presidential campaign approached him to do a HOPE rendition of the classic graphic.
---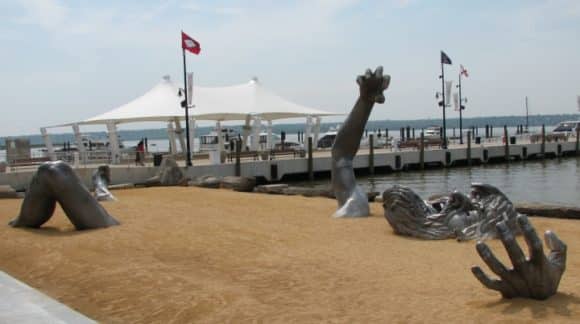 7. John Seward Johnson's 1980 The Awakening, in Potomac, Maryland
This monumental piece — which depicts a giant struggling to unearth himself — was originally installed in a Washington D.C. park as part of a $50,000 grant from the National Endowment for the Arts to promote public art. In 2007, it was sold to developers for $740,000 and moved to its current home, a custom-built, sand-covered plateau in Maryland's National Harbor. In both of his homes, the aluminum colossus has been susceptible to minor flooding, transforming the earthbound behemoth into an aquatic titan.
---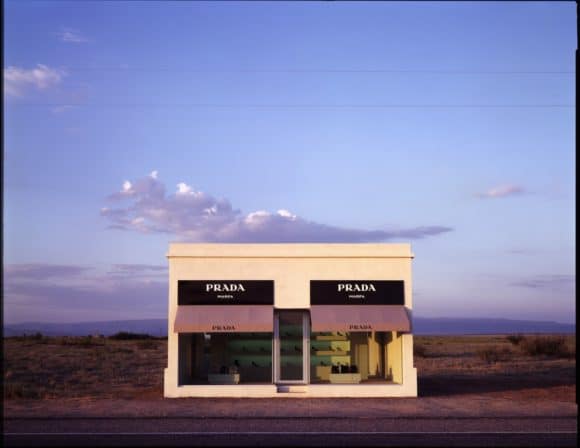 8. Elmgreen and Dragset's 2005 Prada Marfa in Valentine, Texas
German duo Elmgreen and Dragset have dubbed their Instagram-famous installation a "pop architectural land art project." Built of a biodegradable, clay-like substance, the storefront is meant to slowly disintegrate back into the earth — a sly comment on the superficiality of materialism. The first iteration of the piece was fully stocked with actual Prada goods, but it was looted and vandalized soon after it opened. Prada Marfa is now equipped with a thorough security system and heavy glass windows, and the real-deal goods have been replaced with bottomless handbags and only right-footed shoes.
---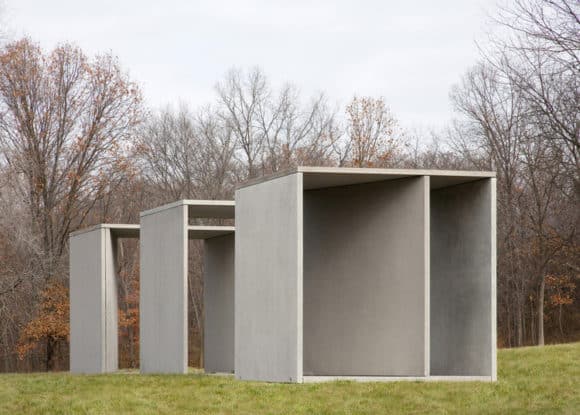 9. Donald Judd's 1984 Untitled in St. Louis, Missouri
While Donald Judd's minimalist works are included in almost every major modern art collection in the country, it is large, permanent installations like Untitled in St. Louis that most interested the artist: Judd found the ephemeral nature of museum installations and gallery exhibitions contradictory to the immutability and stability of his more substantial works. Judd designed these three, 98-foot-high concrete blocks to become a part of the environment, changing the landscape and visitors' perception of it rather than serving as a distraction.
---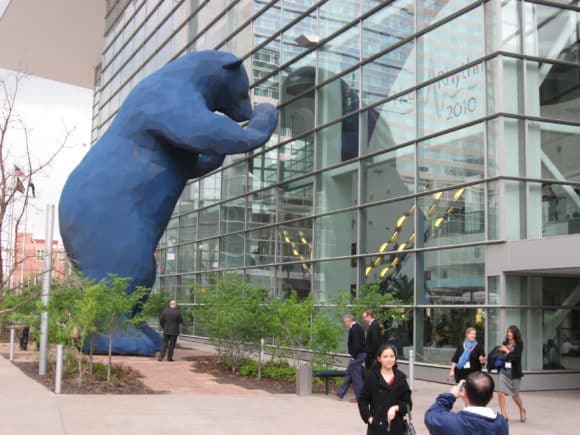 10. Lawrence Argent's 2005 I See What You Mean in Denver, Colorado
Commissioned by the Denver Public Arts Project, I See What You Mean is local artist Lawrence Argent's cheeky commentary on Denver's unique geographical position: a major metropolitan city nestled in the mountains. The beloved bear was initially rendered in digital 3D and was meant to be a neutral sandstone hue; the sculpture's lapis blue color was a printing mistake. Argent says he's happy with the serendipitous mistake and feels that the piece wouldn't evoke the same emotional response otherwise.
Story by Megan Parry.