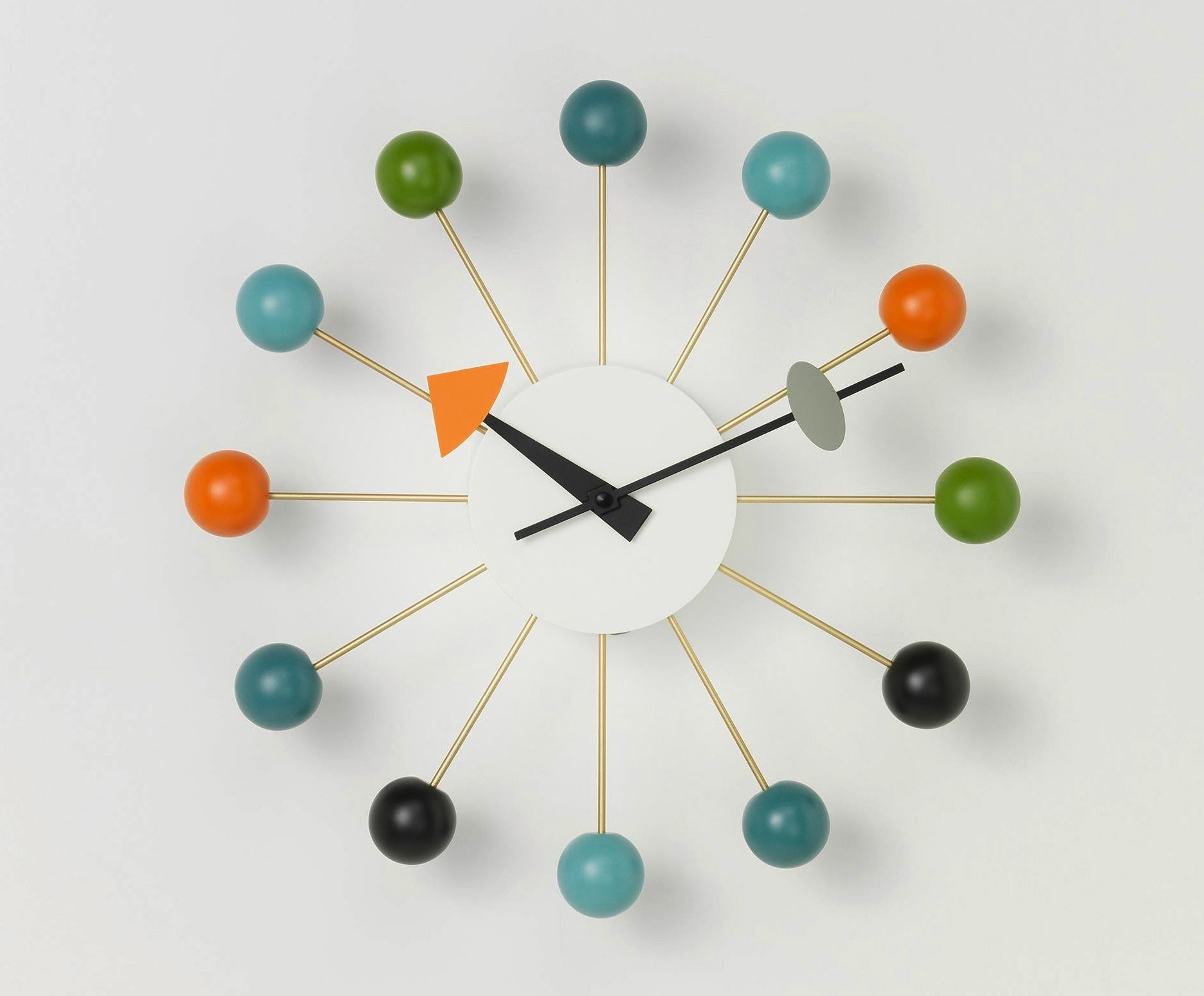 About the Design
The Ball clock — a starburst-shaped assemblage of lollipop-like brass spokes capped with lacquered birch orbs, playfully mismatched hands and absolutely no numerals — was the first of more than 150 clock models conceived in the New York City offices of legendary writer, architect and furniture maker George Nelson (1908–86). As Stanley Abercrombie reported in his 1994 book George Nelson: The Design of Modern Design, the first sketches of the oddly configured timepiece materialized one night in 1947, when a group of design luminaries worked their way through a roll of drafting paper as well as a number of cocktails.
Nelson was joined at his Manhattan studio by futurist architect Buckminster Fuller, sculptor Isamu Noguchi and a young designer named Irving Harper, who worked for Nelson and who is now credited with the Ball clock concept. "We were all involved in cooking up these clocks," Nelson told Abercrombie of the event.
Two years later, in 1949, the Howard Miller Clock Company, once a division of Herman Miller — where Nelson was director of design for nearly three decades — introduced the Ball clock. With its high-grade quartz movement, curious color scheme and balance of geometric forms, the abstract design found its way into homes nationwide soon after it went to market. Nelson later remarked that the whimsical timepiece was ubiquitous, frequently appearing in advertisements set in a kitchen. And thanks to its resemblance to a ball-and-stick model of an atom, it came to symbolize the postwar Atomic Age. Today, the Ball clock is available in a variety of configurations from Vitra and is powered by a single AA battery.
The Nelson Bubble Lamp Series