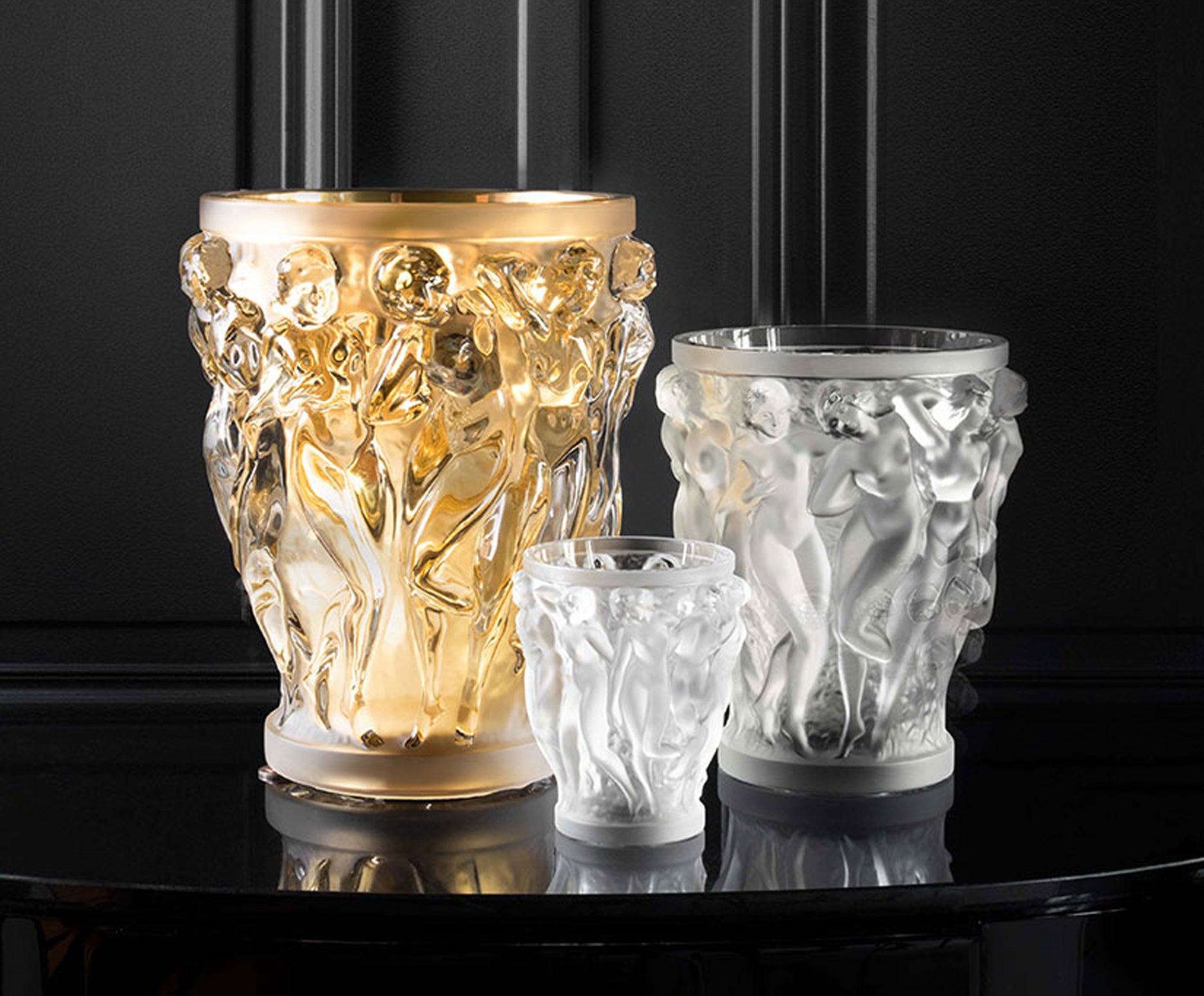 About the Design
Sensual and sophisticated, the Bacchantes vase was, in effect, an opportunity for René Lalique (1860–1945) to show off his technical mastery of glass design, as its elaborate detail and realistic portrayal of movement are extremely difficult to accomplish in the medium.
Lalique, whose work considerably influenced both the Art Nouveau and Art Deco movements, was a goldsmith and jewelry designer for the likes of Paris-based luxury house Cartier before settling on his true passion in the early 1900s: glass. He opened his eponymous glassworks in 1909 in a suburb of Paris, where he created sculptural works, such as the Bacchantes, in smoky amber and clear glass.
Long fascinated by the female form, Lalique frequently used mythological women as his subjects. On the Bacchantes vase, nude women encircle the vessel, dancing around its rim. The figures are Bacchantes — mortal women of Greek mythology who worshipped Bacchus, the Roman name given to Dionysus, the Greek god of wine-making, pleasure and fertility. These priestesses of Bacchus performed wild, often erotic dances, so Lalique's subject choice is enticing as well as bold given the aforementioned complexities of depicting movement in glass design.
The Bacchantes vase was first produced in glass in 1927 but has been made of crystal since 1947. It requires a staggering 30 hours to complete at Lalique's factory in Alsace, beginning with a mold and ending with the intricate bas-relief of the finished product. Today the Bacchantes vase is still manufactured by Lalique, nearly 100 years after its debut. The piece remains one of the company's best-selling designs.
Rene Lalique Bacchantes Vase
Previously Available Items
More René Lalique Designs