When Juliette Arent and Sarah-Jane Pyke formed the Sydney firm Arent&Pyke, in 2007, Australian design was somewhat polarized. On a continent where modernism is mainstream, many interiors were white boxes, devoid of obvious ornamentation. Then there was the other extreme: "high decoration," rich with brocades, tassels and swags.
Arent and Pyke didn't see the point of old-world opulence in laid-back Oz. They were more in the white-box camp. But over time, they turned to designing rooms with character. That meant working with bold colors and textures, and placing new and old pieces alongside whatever their clients already owned.
Many of those clients were young couples who wanted places that would be safe, and fun, for kids. As the mother of a nine-year-old son, Pyke understands those desires, she says. Arent, who has seven-year-old twins, says the firm wants to help clients figure out "what it is to feel at home, to feel comfort, to feel protected."
The fact that the partners are women — as are all 10 of their employees — may help them achieve that mission. "We talk about emotional design, which I would say is a strongly feminine idea," Pyke says. "We're taking into consideration all the nuances about the client's family, and we're responding to that in an empathetic way."
But they're not merely responding. Arent and Pyke "often gently nudge their clients" to take risks, the Sydney design critic David Clark has written, adding, "One of their skills is nudging just enough."
Clark has called their style "decorative modernism." To Pyke, it's a look that "has a youthfulness and playfulness that are very Australian." Arent calls their designs "exquisitely optimistic."
Their best rooms — such as one in the Sydney suburb of Annandale, which graces the cover of the latest 1stDibs catalogue — mix pieces by Australian designers with furniture and lights from abroad. But anything imported from Europe or the United States has to be special enough to justify the shipping costs. Among the products that make the cut are fixtures from the New York firms Allied Maker and Apparatus Studio. "Americans are brilliant at lighting," notes Pyke.
Also worth the shipping are vintage items, for which Pyke and Arent often turn to 1stDibs. Australia — which had a population of just 8 million in 1950, as opposed to the 25 million today — doesn't have a lot of mid-century furniture for sale, says Pyke, explaining why she shops online. She's been doing a lot of that lately, she adds, as clients ask for pieces that have "history and gravitas and that they haven't seen anywhere else."
That was true of the owners of a red-tile-roofed bungalow in Queens Park, one of the leafiest sections of Sydney. The couple brought in architect Ben Vitale to enlarge the house and Arent and Pyke, who had worked with the homeowners before, to "amplify its charm," Pyke says.
Several rooms were kept almost as they were, including a front parlor with a paneled ceiling, now painted a mustard color. The designers had purchased a pair of Cassina Utrecht chairs for the family's previous residence; for this house, they were recovered in a creamy bouclé.
Vitale designed a new living room in the back of the house as a narrow rectangle, which proved a bit challenging to furnish. "Everything had to have a slightly smaller-than-usual proportion," Pyke says. A Minotti Aston sofa with a back shaped like a parenthesis and an ash-framed Yak sofa from De Padova fit the bill. They face a chunky wooden Kim bench from De La Espada and a bronze Loren occasional table from Baxter, in place of a standard coffee table.
Upstairs, the main suite includes a dressing room centered on an island with a blackened-bronze frame and a top of Vigo Lena marble, illuminated by an Allied Maker fixture. Sunlight from eastern-facing windows filters through sheer drapes into the bedroom — setting the suite aglow. Walls are painted a pale gray-green, which Pyke describes as "a chameleon color. It's calm and rich and somehow manages to be a neutral without ever feeling flat."
They took a more theatrical tack with a house surrounded by acres of greenery. "In response to the garden that in our eyes was so romantic," Arent says, "we wanted to evoke the mood of another time, another place."
So, after showing the client images of an Italian loggia with floors of checkerboard terrazzo, they got approval to give a similar treatment to rooms that were being added to the house. The transition from the existing rooms, with wooden floors, to the rooms with green and white terrazzo squares "is akin to Dorothy's arrival in Oz," Arent told Vogue Living Australia last year.
The color of the floor tiles is echoed in the emerald green of the kitchen cabinets, which helps connect the house to its lush setting. Working with architect Polly Harbison, Arent and Pyke developed arched doorways that make the new rooms a tiny bit surreal. "The client wanted to be challenged, and that allowed us to flex our creative muscle," says Arent, who adds, "I would move into this home in a heartbeat."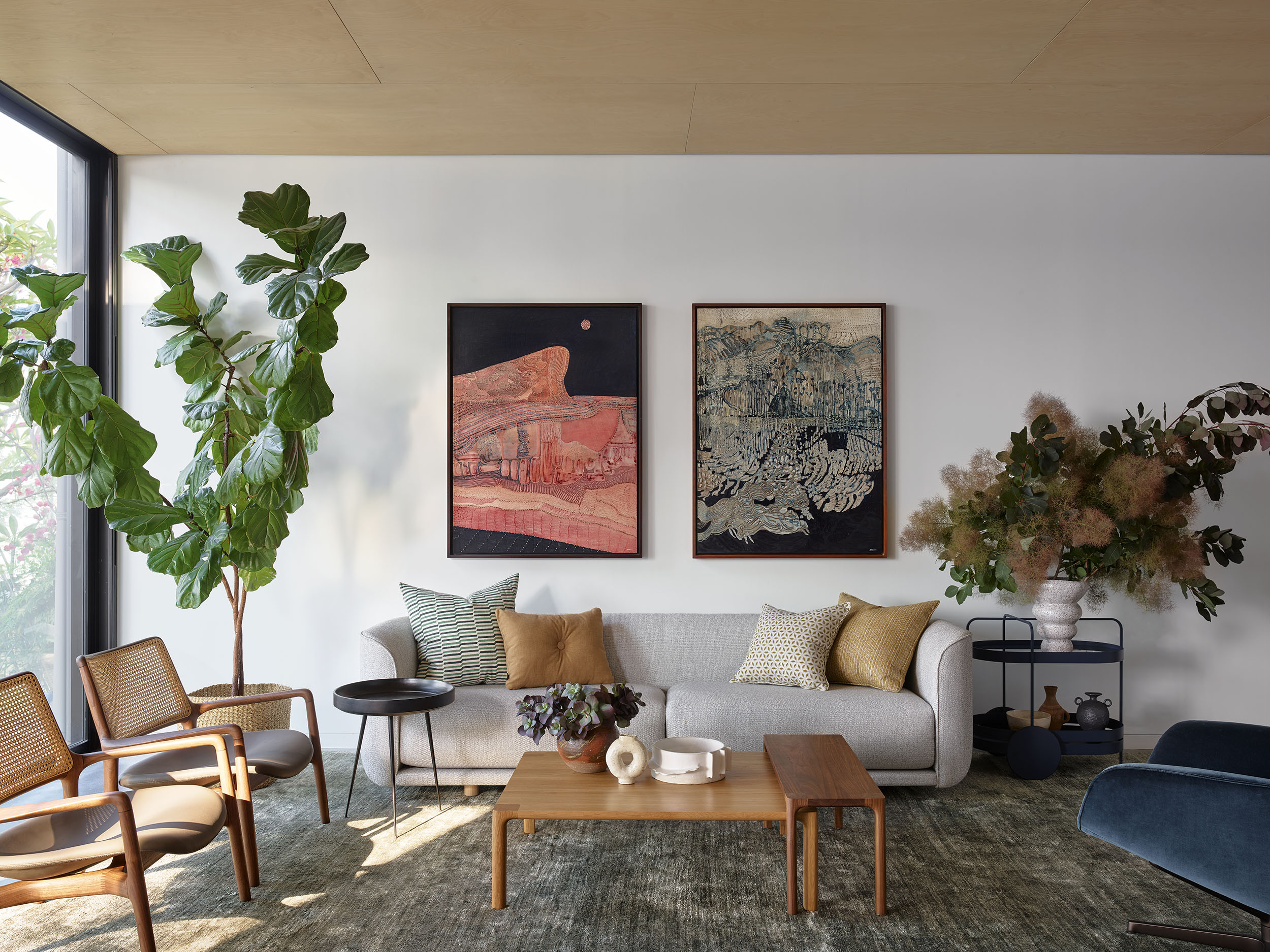 A new house overlooking Sydney Harbour gave the designers another chance to flex. Its foundations had already been poured when the owner hired them. So "the shell was determined," says Pyke, "but we determined everything within that shell."
Their first goal was to make the most of the coastal setting. "You feel like you're in a boat. It's magical," says Pyke. In the upstairs bedroom, the clients wanted bare windows. "They practically wake up in the jacarandas and gum trees outside," she notes, while admitting that the bare window "was challenging for me, because I like the softness a curtain brings to a room."
She and Arent achieved that softness elsewhere. The texture of the plywood ceilings helps, as does the moss-colored living room rug. The designers created a mix of modern classics — a Le Corbusier Lampe de Marseille Mini light above the kitchen counter, for example — and new pieces from around the world. The living room's pair of Mad lounge chairs in solid timber and woven rattan from Sollos sit next to a curvy Fat Tulip sofa and a two-tiered, two-tone Molloy coffee table, both by Adam Goodrum, one of Australia's top designers. In the dining room, the homeowners' vintage chairs surround a new table from Denmark on a Moroccan-inspired rug.
In the bathrooms, the odd proportions of some elements — like the deep terrazzo aprons on the vanities — are evidence of the aesthetic adventurousness that make Arent&Pyke interiors distinctive.
But to the designers, the most significant item in the house may be one they didn't pick: the red-and-white-striped Up Series 2000 armchair with beachball-like ottoman, designed by the great Gaetano Pesce in 1969. Since the clients already owned it, Pyke and Arent took it as a signal that they were ready for bold, playful interiors.
"That chair," Pyke says, "told us who they were and where we could take them."
---
Juliette Arent and Sarah-Jane Pyke's Quick Picks