It was a funny thing, being called David Hicks at birth and then wanting to become an interior designer." So says Australian decorator David Hicks, alluding to the (felicitous) coincidence of sharing with the legendary mid-century English aesthete both a name and an enthusiasm for bold patterns and a stylish mix of furniture. He first learned about the older decorator from his mother, who loved design and the arts. "She educated me on him in my teens, when I started to show an interest in interiors," the present-day Hicks recalls.
"I love his work, his use of color and his juxtapositions — it is very intelligent how he put things together," Hicks continues. "He made me realize how successful you can be as a designer and how far you can take your career. I have always been very conscious of having his name and have always wanted to live up to it."
Since starting his own Melbourne studio in 2001, he's certainly gone far in realizing that hope. After graduating with honors from the Royal Melbourne Institute of Technology and apprenticing with several leading Australian architecture and interiors firms, he launched a solo practice working on hospitality projects, such as an intimate art-infused boutique hotel in Sydney called the Storrier, and luxury retail stores, including Bettina Liano's jewel-box fashion emporium in Sydney's Bondi Beach and elegant shops in several Australian cities for the clothing company Calibre.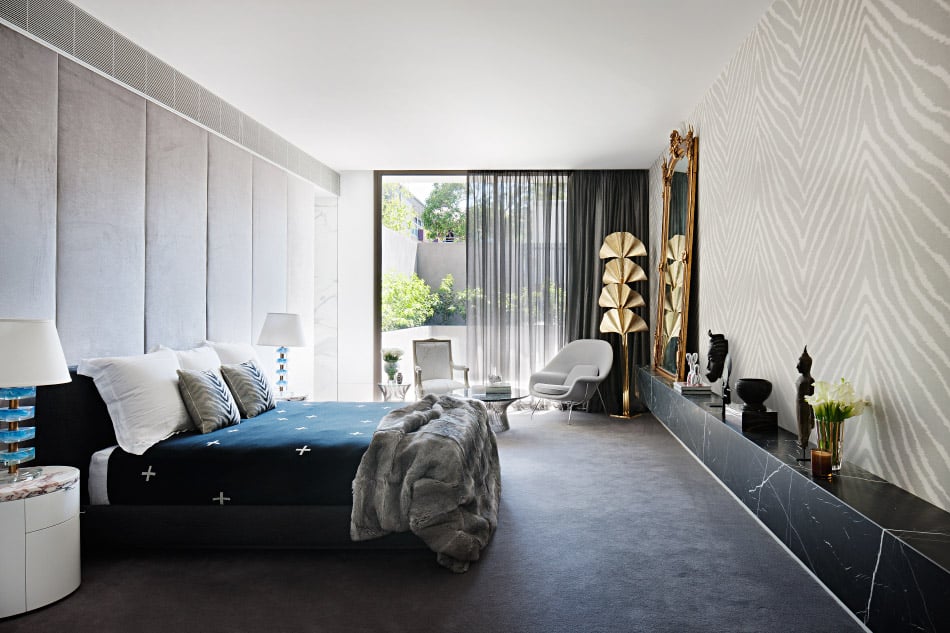 Thanks to his seemingly effortless ability to mix periods and styles and his elegant use of such materials as marble and glass, he started to attract noncommercial clients. In his new monograph, Intimate: A Private World of Interiors (Thames & Hudson), Hicks writes: "My experience in retail, where space is precious and planning needs to be precise, has informed my work on highly detailed residential spaces." Soon these spaces, with their clean, sophisticated deployment of furniture and art, were being regularly published in Australian design magazines, notably Belle and Vogue Living, and local industry awards filled his shelves.
He is now expanding his reach and his renown by releasing Intimate, which celebrates his oeuvre in a volume as meticulously and attractively designed as his interiors. The opening photos in his introductory text and the first pages of each of the four sections, for example, are printed on matte paper, in contrast to the bulk of the images within the chapters, which are all on glossy stock. Hicks also made a conscious decision to have almost no captions, because, as he explains, "it showcases the design work itself and does not tie the work to any specific place or period. I believe my projects are in an international style that could sit anywhere and are timeless."
In a rather unusual move for a debut decorating monograph, Hicks decided to use the book to illustrate his design process rather than just his designs. To that end, he has broken up the volume into thematic sections instead of chapters covering one home at a time. "I believe it gives insight into numerous projects at once," he says. "It also allows a contrast and shows the depth and breadth of my work."
---
"I believe my projects are in an international style that could sit anywhere and are timeless."
---
Page by page, the book reveals a designer skilled in handling many different materials and textures, from vibrantly patterned wallpaper to thick carpet. "My buildings and interiors are simple and highly functional, yet elegant and sleek," Hicks writes. He achieves a luxurious sense of calm with his preference for mainly monochromatic fabrics that are set off by predominately white walls, with occasional bursts of color coming from carefully chosen furniture and accessories
The book's four sections follow the order of Hicks's design process. In the first, "On Architecture," he writes that the construction itself "forms the essential bone structure for every building project I embark on." He continues, "With the inside informing the shape and form of a building, the internal delineation of space creates a template over which we fashion a beautifully balanced, elegant and resolved object."
Hicks gets into more decorating detail in the second chapter, "On Interiors," in which he discusses the big-picture demands of interior design. "I often work on larger homes and, while a vast canvas may seem to be a designer´s nirvana, it's not always so. With so many rooms to fill, and when many of these rooms are generous, it can be challenging to create unity."
In the book's third section, "On Decoration," Hicks writes, "The decorative layer is the finishing flourish…. It comes after the creation of the structure." The final section, "On Sourcing," presents a portfolio of shops, boutiques, galleries and artisanal studios where he acquires furniture and objects or has them made to his specifications. Here, Hicks explains in detail his philosophy on furnishings and lighting while sharing his favorite places to shop, both close to home — in Sydney and Melbourne — and farther afield: in Paris (Galerie Yves Gastou); the south of France (Galerie Harter); Milan (Rita Fancsaly), Rome (Hannau); Florence (Traslucido); Los Angeles (Kelly Wearstler, Dragonette, Downtown and J.F. Chen); and New York (Craig Van Den Brulle and 1stdibs' own gallery, on the 10th floor of the NYDC).
The spaces pictured throughout Intimate beautifully bear out Hicks's assertion in the book that his "decorative vision consists of an eclectic mixing and merging of eras and cultures, intertwined with a layering of furniture styles." Indeed, the book's unique format, the designer's insightful words and the elegant photography bear witness to the designer's ability to combine furnishings from disparate eras, styles and places, always with an accomplished and deft hand. In a single corner of a room shown in the volume's closing pages, for example, he confidently combines a mid-20th-century Eero Saarinen Womb chair with a French 19th-century armchair and a solid-brass, leaf-like Gingobilo floor lamp designed by Carlo Giorgi in the 1970s.
Such confidence no doubt served him well when he met Ashley Hicks — the decorator son of his namesake — in Los Angeles during this year's Legends of La Cienega. "It was great to meet Ashley," he recalls. "I was amazed by how a shared name and career can allow you to have a connection with someone."
As for Ashley, he seems to have found humor in the situation. When he signed a copy of one of his own books for his Australian confrere, he inscribed it "To Dad."
---
David Hick's Quick Picks on 1stdibs