These days, it feels like we could use a portal to another dimension — or at least the suggestion of one. Luckily for us, there's something to satisfy that craving: Broken mirror, a six-and-a-half-foot-tall panel of reflective glass with a soft frame of hand-hewn polyurethane, which creates the illusion of a breach in the wall that one could step through into a starry realm.
The interdimensional piece was born of a collaboration between Gufram, a leading player in Italian radical design since the 1960s, and Snarkitecture, the futurist New York design practice founded by Daniel Arsham and Alex Mustonen. The initial, black-hued limited edition of 77, launched in 2017, sold out quickly, sparking the creation of two related items: Broken square mirror and Broken bench.
The new additions are offered exclusively on 1stDibs through Gallery ALL, whose young founders, Yu Wang and Xiao Lu, shepherded them into being. Partnering with the gallery — a Los Angeles– and Beijing-based bellwether of collectible contemporary design — provided Gufram with the entrée into China it had been looking for. The Broken collection became the firm's first directly available to a Chinese audience.
Offered in black and white limited editions of 77 and in a gray open edition, the new pieces were to have debuted in March at Design Shanghai. But when the fair was rescheduled for November, Wang and Lu decided to launch the pieces, which are in stock and ready to be shipped immediately from Italy, on Gallery ALL's 1stDibs storefront instead.
The husband-and-wife gallerists, both 30, met in high school in Beijing. Wang, now an architect with a degree in real-estate development from Arizona State University, handles the creative end of Gallery ALL, working with artists to develop products. Lu, who came to California to study policy at the University of Southern California, manages the business side. They founded the gallery in 2014 not just to distribute or curate, but to "create something entirely new," Wang says. They wanted to incubate contemporary design by mentoring fresh talent and funding the manufacture of new decorative objects, art furniture and lighting.
Wang and Lu have distinguished themselves by developing special relationships with Chinese factories — including a foundry, a metal fabricator and facilities for resin casting and glass laminating — that are capable of top-notch production at realistic prices. "Getting similar things made in Europe or the U.S. might cost ten times as much," Wang says. "That's one way we can offer a big advantage to designers."
As a result, Gallery ALL — whose name reflects its expansive purview — has attracted a coterie of about 30 intriguing designers with whom it collaborates on exquisite limited-edition and bespoke pieces. Some of these makers are from the West, such as the New York– and Tucson-based Aranda\Lasch; the avant-garde Dutch designer Mark Sturkenboom; and the Australian Trent Jansen, who styles himself a "design anthropologist." Others are young talents from China who are as yet little-known elsewhere.
Recently, the gallery has made a Covid-related pivot, augmenting its high-end, small-production offerings with a selection of pieces that are still design-forward but more accessibly priced. Unlike their more costly limited-edition and made-to-order items, for which lead times can range from one to six months, these are open-editioned multiples, in stock and available immediately.
Among the new art pieces, which also happen to be eminently functional, are lauded Polish industrial designer Oskar Zieta's collection of inflated stainless-steel stools and mirrors (some as lushly colored as liquid emerald), which he makes by pumping air between ultra-thin sheets of metal that have been welded together. Many of the gallery's expanded offerings sell for under $1,000.
Even more economical is a newly listed collection of attractive utilitarian items by the Cantonese studio Bentu Design, including stools, side tables, lighting, lavatory sinks and plant pots. These, although seemingly carved from terrazzo, are actually made of recycled construction materials.
Innovating with new materials is emblematic of the leading-edge designers represented by Gallery ALL. Seoul-based Saerom Yoon, for instance, manufactures furniture, shelving and lighting from acrylic sheets with an embedded ombré effect that mimics sunrise and sunset.
Yoon's seductively colored geometric designs and the even more vividly hued electroplated stainless-steel tables and benches by China's Buzao — aptly named the Hot collection — are among the functional design objects in the four-figure range on Gallery ALL's 1stDibs storefront.
Of all the young Chinese talents whose careers the gallery has helped launch, Zhipeng Tan is one of the most commercially successful, an international design superstar in the making. The 28-year-old's work has been used by such well-known New York–based interior designers as Ingrao Inc., David Scott and Peter Marino. It has also been snatched up by museums, including the Columbus Museum of Art, in Ohio; and the Tadao Ando–designed HE Art Museum, in Shunde, China.
"Zhipeng came to me when he only had two pieces of work," recalls Wang. One of them was a prototype for a metal chair based on the human spine and pelvis. "He said, 'It doesn't fit in anywhere. It's not industrial, but it's not a fine art object. It's kind of between art and design.' I said, 'That's exactly what I'm looking for. I'm going to help promote you and financially support you, so you can focus on creating the designs you want.' He came up with a whole collection. I'd seen nothing like it." Thus was born the 33 Step line of anatomical seating, which is available in customizable finishes, including polished or brushed brass and bronze.
Tan, an industrial-design graduate of the China Academy of Art, in Hangzhou, counts Joan Miró and Constantin Brâncuși among his inspirations. He uses the ancient technique of lost-wax casting in his work, which also includes pieces based on plant structures and the Melting collection, another Gallery ALL exclusive, comprising tables and consoles supported by pendulous drops of gleaming metal.
Tan's creations have been highly popular in the fine-design marketplace. So, too, has the MY collection of Hong Kong–based British industrial designer Michael Young, whose faceted stainless-steel and white enamel tables and chairs were partly inspired by his study of Chinese cloisonné.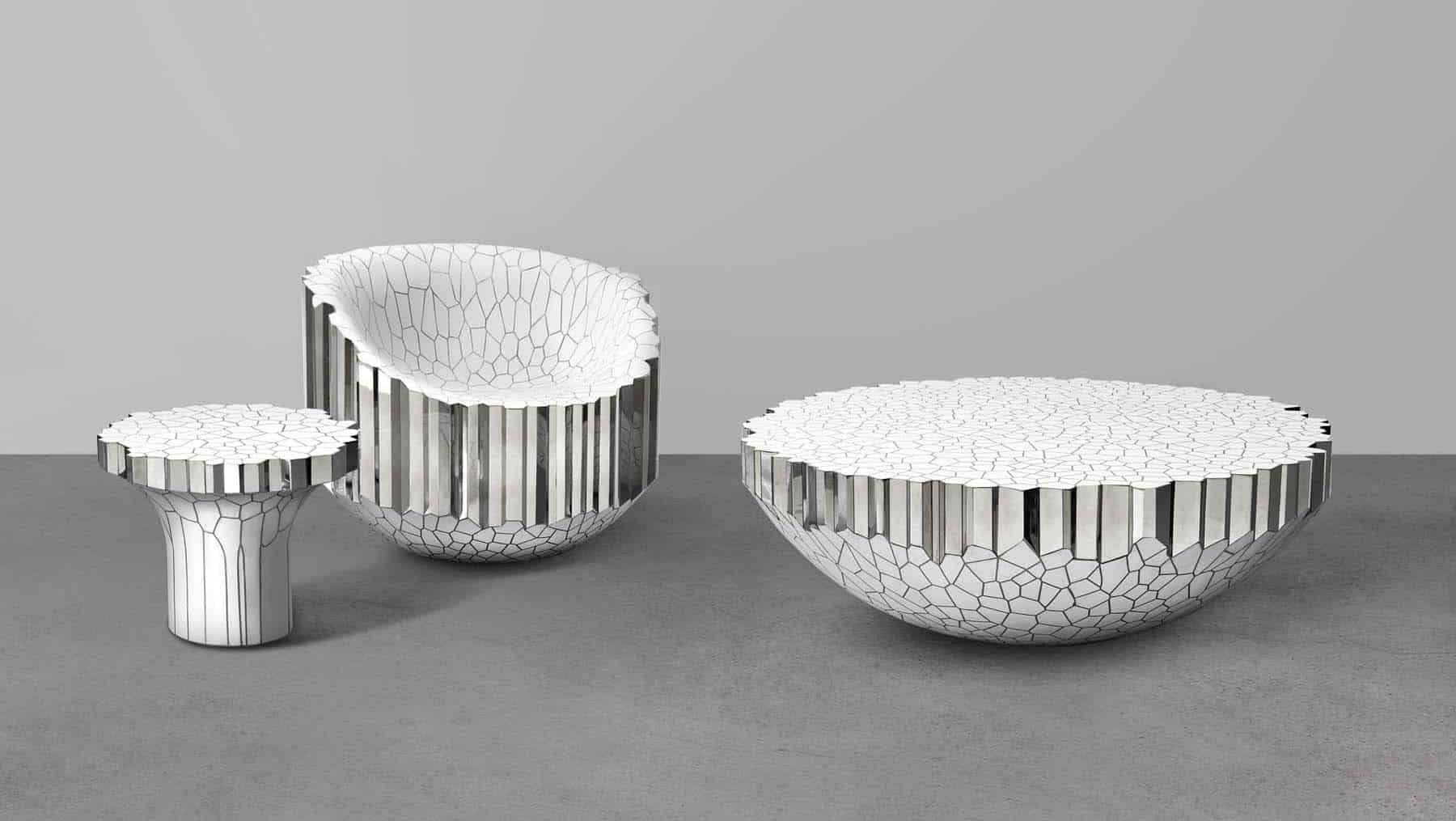 Gallery ALL's stable of designers tends to be "really hands-on," says Marsha Zhong, associate director of the Los Angeles gallery. "Zhipeng Tan literally lives in the factory and closely supervises his works' entire fabrication process." This illustrates what Wang believes is one of the most important differences between Chinese and U.S. designers: their approach to technology and fabrication.
"In the United States," he says, "what designers can make often depends on a factory's specialty, and it's very expensive. Chinese designers are able to hand-sculpt something and have many more fabrication options."
More and more non-Chinese designers are becoming excited about the possibilities presented by manufacturing in China, with Gallery ALL as their conduit. Wang and Lu currently have projects in the works with renowned Welsh artist and designer Ross Lovegrove and London brand Made in Ratio. The gallery also plans to be back on the international art fair circuit as soon as that's possible. (Normally, it participates in up to seven fairs a year, including Design Miami; Salon Art+Design, in New York; and additional events in Shanghai and Beijing.)
"We represent European artists who reside and work in Asia, and vice versa," Zhong says. "We see many young artists with tremendous creativity and skills who struggle for financial reasons. We offer resources and support to help give birth to their creations.
"Ultimately," she concludes, "we want to fill in the gap between Chinese contemporary design and that of the West, because good design is universal."
---
Talking Points
Gallery ALL's Yu Wang shares his thoughts on a few choice pieces