May 1, 2022Speaking on a Zoom call from Las Vegas, where he is working on yet another mural for a luxury brand, Ignasi Monreal gives the impression of an artist who is simultaneously exhausting and enjoying himself. His smile is that of a long-distance swimmer after a day in the ocean. "We're meant to finish tonight, but that's never gonna happen," he says, briefly ducking out of frame to receive a large pot of room-service coffee. 
The location is apt. Monreal is a master of trompe l'oeil, the art of using paint and perspective to trick the eye into seeing a 2D image as a 3D reality. So, that peculiar Vegas mixture of real and phony — like the miles of authentic Carrara marble used to create a fake Roman forum at Caesars Palace — brings out his impish sense of irony. "It's just fun for me to see this American idea of what Rome looks like," he says, "especially coming from Rome."
For the past few years, the Barcelona-born artist has split his time between Lisbon and the Italian capital, and the latter city has informed, or confirmed, his sense of the artist's proper role in society. Monreal is unusual in that he is a fine-art painter who does not eschew commercial work. In fact, he considers the idea of the "pure artist" to be a 20th-century invention, arising with Picasso.
In Rome, great art is part of the background, almost a public utility. The people who made it clearly didn't turn down much paying work. That aligns with Monreal's down-to-earth approach to what he does. "You have this skill," he says simply. "You need to make a living from it."
Recently, he has turned his hand to NFTs with a series of works called "BL00M" that headline our latest exhibition and auction of the same name, which also includes works by Shay the Surrealist, Aris Roth, SOULPAINTS and CoverArtGuy, all exploring the intersection of flowers and humanity.
Monreal, who has been working on an iPad since his teens, was baffled by the need to print digital paintings in order to sell them. Why not let the art live as digital pixels? "For centuries, painters struggled to represent light with pigment. So, now that I have light as a medium, why should I turn it back to pigment?" he wonders.
But simply using the blockchain to create a digital contract for an existing painting wasn't quite satisfactory. He got to thinking about what could exist in this medium and this medium alone.
The outcome was Tulip, Poppy and Lotus, created in collaboration with London-based animation studio No Ghost. Each presents a garden of flowers — tulips, poppies and lotuses, of course — built and animated from Monreal's paintings. The blossoms' vitality and abundance fluctuates with changes in the cryptocurrency market: When it rises, they thrive; when it falls they start to wither and die.
"It's really an investigation of what I understood NFTs to be, which is an expression of abstract value," he says. "So, it's a flower that is conscious of its own value." The series took more than a year to complete and, if it takes off, promises to be the first of many in the new medium.
The project's complexity might have been almost overwhelming, but Monreal insists that the outcome made all the hard work worthwhile. "It stands up," he says, "it has a spine."
Monreal came to prominence through his knowing, almost Warholian collaborations with big companies. His first major campaign for Gucci, "Hallucination," in 2018, featured the luxury brand's usual models transported to reimagined scenes from the history of Western painting. It was quietly revolutionary, the first time a major fashion house had used an entirely painted campaign in nearly a century.
The "Hallucination" billboard outside the Chateau Marmont, in Los Angeles, for instance, showed a version of Hieronymus Bosch's Garden of Earthly Pleasures (1490–1510) with the brand's emblematic snakes and leopards standing in for the imps of the proto-Surrealist masterpiece.
The Bosch theme was the single specific request made by Gucci creative director Alessandro Michele. Apart from that, Monreal was given free rein. "It was a love letter to the painters I love, and there was a lot riding on it," he says. "Luckily, they did sell a lot of clothes."
He describes his relationship with the fashion house as something between patronage and symbiosis, very much like those cultivated by the Medici, also great commissioners of murals and a long-running Florentine family brand. Although Brunelleschi and the rest were working to a brief that promoted the power of their patrons and, secondarily, the Catholic Church, Monreal doesn't feel his commercial production is so different; it merely substitutes models in maximalist prints, handbags and sunglasses for Jesus, angels and saints. It's art history, but make it Gucci.
Surprisingly for an artist whose posture in relation to his work is so thoughtful, Monreal insists it all happened by accident. He began his career in the 2010s as a comic-book artist and graphic designer. His ambition extended to being "a junior art director at a major brand," and he lived for a time, as he puts it, the "double life of a superhero — graphic designer by day and freelancer by night."
Eventually, his painting took over, and he quit graphic design, devoting himself to art on his own terms. He credits his continuing work on commercial projects — his other clients include Maybach, Zara and the New Yorker (to name just a few) — instead of being managed by a gallery, with allowing him the freedom to pursue more-experimental projects like "BL00M."
But these are not the only plates he has spinning. On Instagram, Monreal regularly rewards his 187,000 followers with images from his "Sobremesa" series, named for the Spanish term connoting the moment after a meal when people smoke, talk, drink coffee and enjoy conviviality.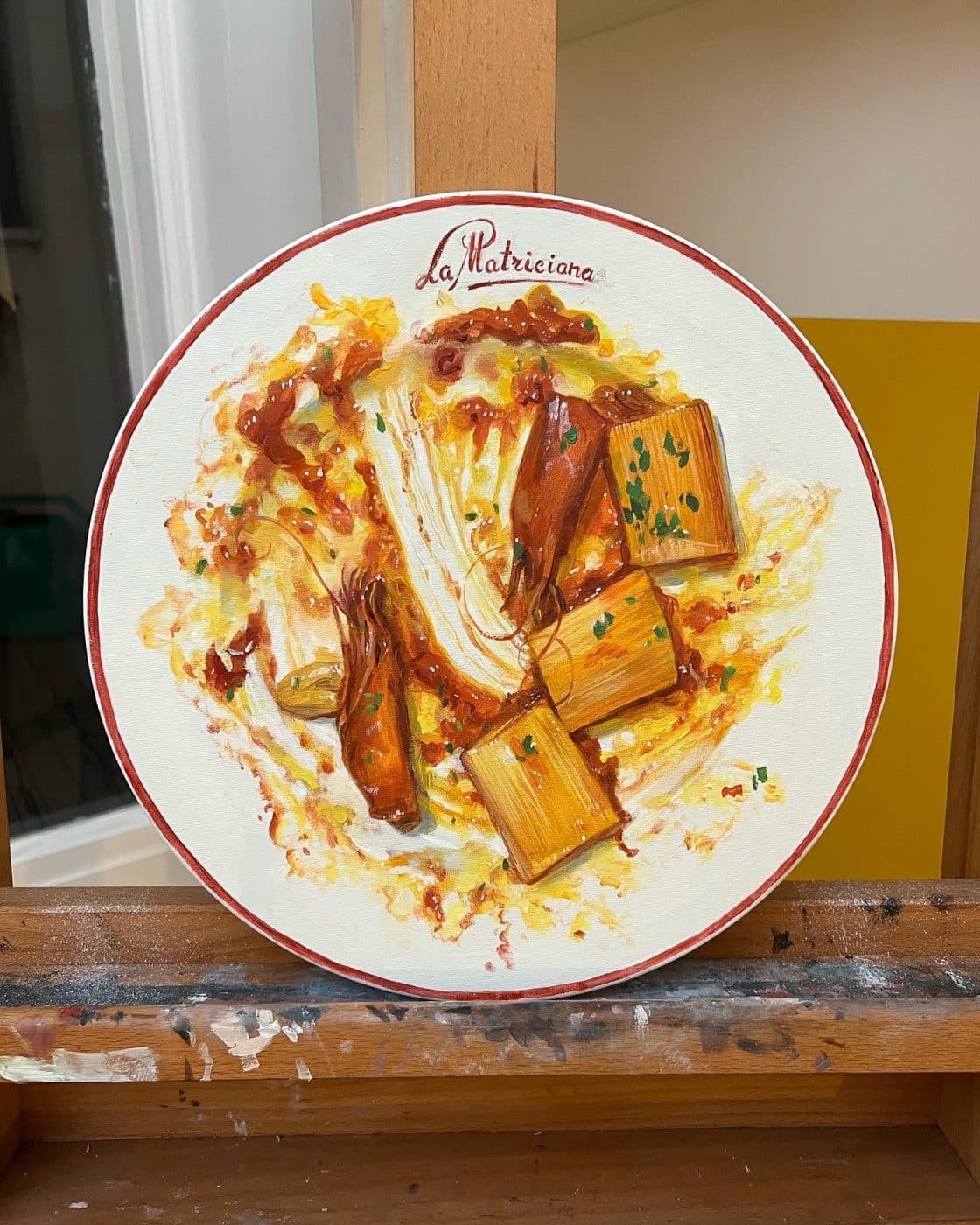 Partly a reaction, he explains, to "the luxury stuff, which tends to be all about perfection," these are still lifes with a twist: trompe l'oeil paintings on plate-shaped boards depicting messy dishes of finished or half-eaten meals — memorials to special times, oysters at the Ibiza beachfront favorite Es Xarcu, or tomato toast at his mother's house.
There is an irony to his using Instagram, a platform people have generally employed to showcase their enviable dining adventures, to display what he calls his "dirty dishes." The imitators (and there are many) who paint their uneaten avocado toast in his style are missing the humor of his work, which is the lavishing of attention on something that is about to be thrown away. His images are in the tradition of trompe l'oeil as practiced in Rome: They make the shallow deep and the ephemeral eternal.
Likewise, although Monreal admits that the tulips in "BL00M" are an arch commentary on the effervescent NFT market and the 17th-century Dutch tulip bubble, to which it is sometimes compared, he is serious about their beauty. The now-extinct Semper Augustus variety, which features in the work, was the most valuable flower to European traders in the 1600s.
"It was an absolutely beautiful tulip, worth more than a mansion," Monreal says. So the "BL00M" pieces are rich with paradox: still lifes that aren't still, flowers that will outlive their owners, digital terrariums that will continue to grow, fade and bloom so long as there is hardware to show them on.