April 17, 2022"It's not at all subtle," Diana Vreeland once exclaimed about the jewelry of designer Jean Schlumberger. "A Schlumberger lights up a whole room!" The legendary fashion editor was among legions of luminaries who championed the French super-talent in the mid-20th century, when he was a byline designer at Tiffany & Co.
Elizabeth Taylor, Lauren Bacall, Babe Paley and Millicent Rogers all had treasures from Schlumberger in their jewelry boxes. Jacqueline Kennedy sported various renditions of Schlumberger's enamel bracelets so often the press dubbed the style "Jackie bracelets."
The First Lady also frequently wore the Schlumberger ruby two-fruit clip she received from President Kennedy. And when Audrey Hepburn was filming Breakfast at Tiffany's, she posed for publicity stills in Schlumberger's Ribbon necklace, which was set with the 128.54-carat Tiffany Diamond.
Tiffany has continued to produce some of the designs created by Schlumberger, who died in 1987, and his pieces have maintained their value on the secondary market. But his work had been moving out of the spotlight it had long occupied. Until now, that is. Schlumberger's designs are currently experiencing a renaissance.
Amplifying Jean Schlumberger's oeuvre is one of the priorities of LVMH, the French luxury conglomerate that purchased Tiffany for $15.8 billion last January. Since the new owner took the reins, Schlumberger jewels have appeared on major red carpets and been prominently featured in Tiffany ads for the first time in years (in 2021, Jay-Z wore the designer's Bird on the Rock brooch in a campaign with Beyoncé). His dreamy designs inspired the decor of the Tiffany holiday pop-up boutique in New York City's West Village. And the house is just getting started with the revival.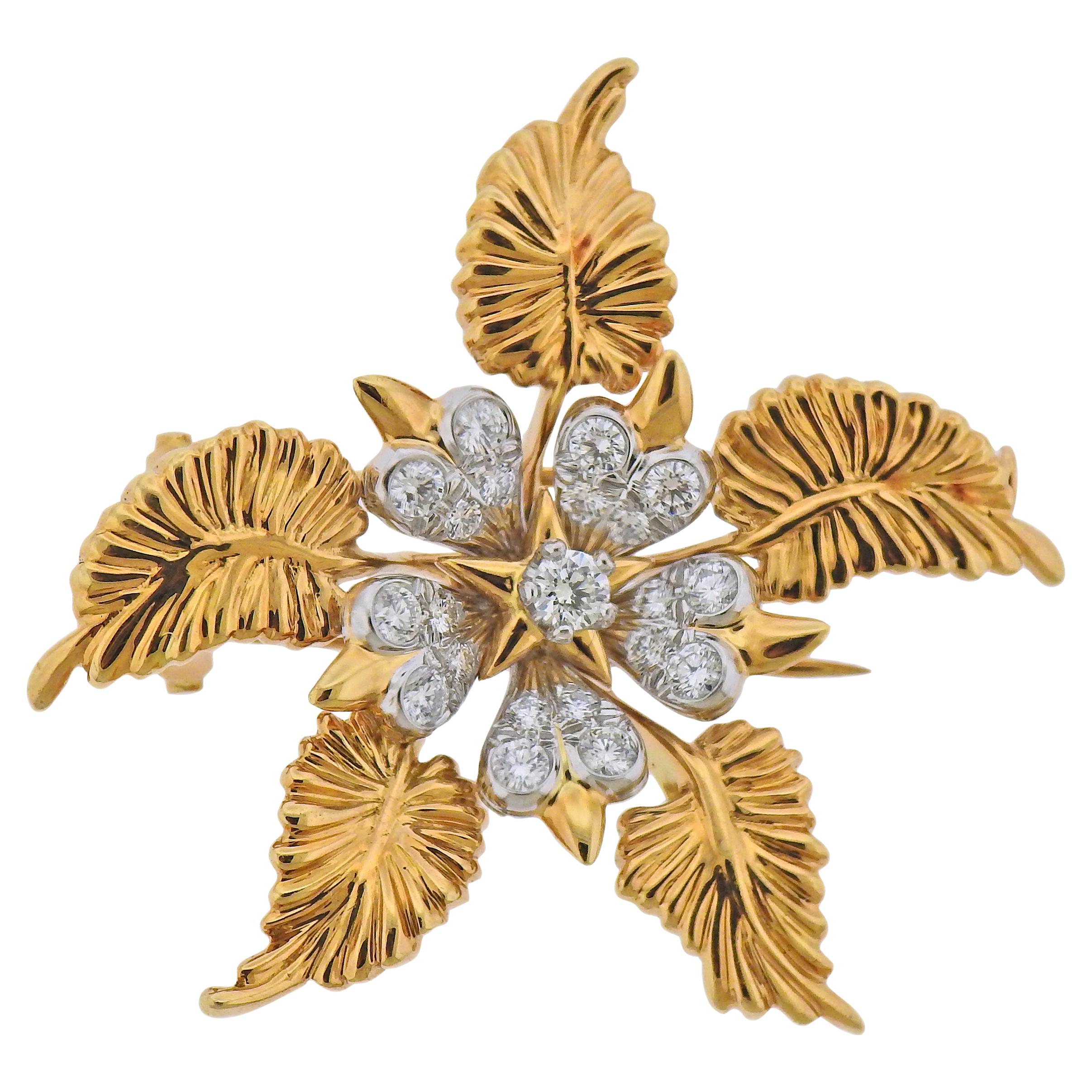 So, what is the backstory of this jewelry super talent?
Born in 1907 in Alsace (now part of France but then governed by Germany), to a prominent family of textile manufacturers, Schlumberger sketched from the time he was a young child and always aspired to work in a creative field. His parents, however, had different ideas. They wanted him to be a banker and refused to fund any art school training.
Schlumberger chose to follow his dream and moved to Paris when he was in his early 20s. Although he didn't have any formal design education, he had talent and high-society connections. In the City of Light, he secured a series of creative jobs and dabbled in costume jewelry design in his spare time.
By 1936, Schlumberger had received editorial coverage in Harper's Bazaar for the brooches he made with china flowers, originally used for funeral wreaths and found at a flea market. After fashion designer Elsa Schiaparelli saw Mona Bismarck, one of the most stylish women of the era, wearing one of these pieces, she hired the young man to create costume jewels for her collections.
Schlumberger whipped up Harlequin clips for her Modern Comedy collection. A pine cone necklace was part of the Pagan collection. The jewels were credited "Schlumberger for Schiaparelli."
Schlumberger served in the Free French Forces during World War II. When peace came, he relocated to New York and opened a fine jewelry salon on the Upper East Side with his childhood friend Nicolas Bongard, who had gained experience in the field working for his aunt Jeanne Boivin at René Boivin. Schlumberger, for his part, had deepened his knowledge of jewelry by creating pieces in Paris for private clients. In New York, he continued to attract adventurous jewelry lovers with fantastical creations that reflected his interest in flora, fauna and Renaissance style.
Schlumberger deployed precious materials like an artist, using both gold and platinum in most of his pieces to create a metallic color contrast. Unusual among jewelers at the time, he also employed semiprecious gems — such as demantoid garnets, tsavorites and rubellites — for their vibrant colors. Above all, his work was exceedingly sculptural, with goldwork projecting off the rounded surfaces. This was another departure from the conventional formal jewelry of the mid-1950s, which was usually flat and composed of platinum set with one or more of the four precious gems: diamonds, emeralds, rubies and sapphires.
Schlumberger's fame soared in 1956 when Tiffany hired him as a byline designer. The firm essentially gave him and Bongard carte blanche to conduct business the same way they had as independents. Schlumberger had a studio and boutique with a private elevator within the New York flagship. His creations for the house saw immediate success. In 1957, Schlumberger became the first designer to receive fashion's Coty Award. And a steady stream of press covered his work.
With the support of Tiffany, Schlumberger expanded his collection in all directions. Fantasy fish, a seahorse king with a crown and little Bird on a Rock were among his many whimsical brooch designs. Diamond Flower or bee motifs surrounded the center stones of his cocktail rings. Floral forms meandered across Schlumberger's necklaces and bracelets. "I try to make everything look as if it were growing, uneven, at random, organic, in motion," Schlumberger once explained.
The ready-to-wear items he developed at Tiffany include the Gold Rope X ring, the Sixteen-Stone ring and the Acorn cufflinks. "Whenever we get any of Schlumberger's classics, they sell immediately," says Marc Haziza, of Eric Originals & Antiques Ltd. "People may not know the story behind them, but they appreciate the quality and the designs."
Schlumberger's most luxurious collectibles are the enamel bracelets Jackie Kennedy made famous, which have been produced continuously, in different colors and with various styles of decorative goldwork. Sometimes, gems are scattered across the surface. "We have clients who are always looking for certain colors," notes Steven Fox, of Steven Fox Jewelry. "They appreciate the playfulness of the pieces, coupled with the extraordinary craftsmanship."
For the bracelets, Schlumberger revived the 19th-century technique of paillonné enamel, executed by a master craftsman located in the Pyrenees named Yves Bérot. The process involves applying dozens of coats of translucent enamel over gold leaf, firing the piece at a high temperature between every coat. Each time it is put in the oven, there is a risk of the enamel bubbling or cracking .
In the limited-edition book Jean Schlumberger: Bijoux, published by Franco Maria Ricci in 1976, Vreeland wrote about the jeweler's enamel bracelets in her inimitable style: "He likes to stab enamel with nails of gold, as if to hold it from flying back to the world of nature from which he's taken its color. Like the direct eyes of a beast approaching you, the nails seem to say, 'The world is tough — and wonderful.' " Vreeland's description, which could be applied to so many of Schlumberger's jewels, hints at the reason the current revival feels so timely, promising wonder in a world so many of us find tough.