It's not every day that Burberry comes calling. Then again, it's not every day that a fashion company stumbles upon a creator like Luke Edward Hall — which is just how Burberry executives found him, reaching out after seeing his work online. "They got in touch in late February, said they were interested in having a chat, and the campaign just came about quite naturally," the British artist says of his latest high-profile collaboration, which pairs his illustrations of Burberry fashion pieces with portraits by Mario Testino. "I think they found me on Instagram."
A self-professed polymath, the London-based Hall is as comfortable painting ceramic platters as he is designing fabrics with Greek-key motifs or drawing plaid cashmere scarfs. In one widely shared clip posted to Burberry's Instagram account, Hall effortlessly interprets the iconic British fashion house's new Patchwork bag in his signature style. He flips to a fresh page in his sketchbook, stirs the water in a tall amber glass, then daubs a paintbrush in his watercolors before moving it across the page.
"I love the human element of the drawings," Testino said in a statement about the campaign. "In this digital world we are living, the softness and handmade feeling adds something intimate." It also reflects fashion's current mood. Hall's whimsical versions of Testino's slick shots of model Edie Campbell and actor Callum Turner emphasize the artisanal feeling of Burberry's Fall/Winter collection.
Described by Vogue in January as the "interior design world's 26-year-old wunderkind," Hall is having something of a moment. Last fall, he left his full-time position with British architect Ben Pentreath to set up his own studio in North London, from which he's tackled a dizzying array of private and commercial commissions: painting family portraits, illustrating guest handbooks with poolside scenes for the Jonathan Adler–designed Parker Palm Springs Hotel and decorating a Georgian country house in Kent, to name a few. Prominent collaborations have included graphic pocket squares decorated with playful dachshund and martini motifs for Drake's London, hand-painted platters and plates for stylist Alex Eagle's fashion shop in London and, last April, a pop-up shop of paintings and drawings at Pentreath's home-goods store in Bloomsbury. In the same month, he participated in design gallerist David Gill's annual "Young Bright Things" exhibition in London, a celebratory show curated by W magazine contributing European editor Gianluca Longo. In New York, Bergdorf Goodman and Jonathan Adler stock his jewel-toned cushions and paintings of handsome men in tuxedos, which he sells on 1stdibs.
"There were probably two elements that we loved about Luke's work: his ability to produce really beautiful patterns and to craft motifs that would sit on top of stationery," says Taymoor Atighetchi, the London-based chief executive of Papier, for whom Hall recently created a card collection that includes cocktail party invitations and personalized note sets. The hand movement conveyed in Hall's drawings — enhanced by Papier's digital printing technique —  captivates shoppers. "Illustration is having a bit of a renaissance," Atighetchi says, adding that, in the age of Photoshop and Instagram filters, "people are yearning for a hand-done aesthetic, either through the use of color or charcoal."
Hall agrees. The luxe interiors journal Cabana, he notes, is "very much a celebration of that, of craft and heritage." Gucci's new creative director, Alessandro Michele, is also driven by this handmade aesthetic, as evidenced by his inspirational starting points, which include 19th-century rose-printed toile and intricately carved Victorian rings. (A romantic dress embroidered with tigers, evocative of souvenir jackets from the 1980s, is one striking example from Gucci's Fall/Winter 2016–17 collection.)
When asked to describe the appeal of his own colorful handiwork, Hall says, "It's anti-perfect." He prefers to use watercolor, chalk and pastel — media that can't be controlled — because he wants his work "to be free and natural."
Soft-spoken, with a delicate, youthful face, Hall views himself as an acolyte of Jean Cocteau, whose early- and mid-20th-century line drawings conjure the intimacy of romance while paying homage to Greek mythology. Hall strives to achieve something similar, he says: to make art that feels "instantaneous and quick." "I do a lot, and I throw a lot out," he admits. "To get the right expression, I'll do it again and again. Sometimes it might be the first one; other times it might be the twentieth."
---
When asked to describe the appeal of his own colorful handiwork, Hall says, "It's anti-perfect." He wants his work "to be free and natural."
---
The son of an I.T. sales manager and a homemaker, Hall was the oldest of four children, growing up in Basingstoke, a quintessentially English town in Hampshire, about an hour southwest of London. There, he spent idle days drawing and constructing bridges out of cardboard — "a very happy childhood" — and his parents encouraged his interests. At 16, he began producing a fashion 'zine with friends, which he sold in local stores and, eventually, in a few London shops. "I did all the design and held fashion shoots," he says. "One friend wrote a fake agony aunt column."
That DIY mentality proved useful at London's Central Saint Martins, from which Hall graduated in 2012 with a degree in menswear design. Starting in 2011 and continuing until 2013, he ran Fox & Flyte, an online antiques shop, with his boyfriend Duncan Campbell — a creative consultant whose agency Campbell-Rey counts Bulgari, David Collins Studio and Rizzoli among its clients — and their close friend Haeni Kim.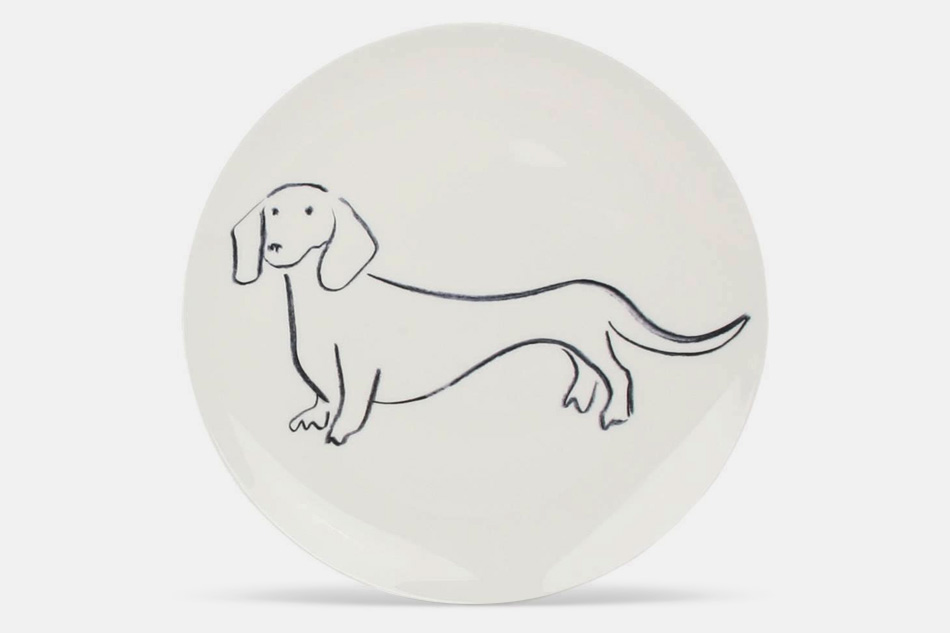 The trio's first foray into small business was really just a way to hang out, Hall says, laughing. As luck would have it, their first customer was Pentreath, who was just setting up his design firm. Pentreath invited them to take over a corner of his Bloomsbury shop for a month, and afterward, Hall kept in touch. In 2013, he joined the architect full time. "Ben has this nice approach, where nothing looks too interior designed," Hall says of his mentor's gentle and lived-in aesthetic, which draws on British interiors from the 1960s and '70s. "When I do interior design, that's the kind of style that I like."
He also likes Miles Redd, whose "American approach" to interiors, says Hall, feels Art Deco, "glamorous" and a little off-kilter. And he's keen on Swedish interiors company Svenskt Tenn, known for its use of Josef Frank's textiles. Case in point: In the Georgian house, Hall had the walls of the master bedroom done in camel grasscloth,  complementing them with modern brass nightstands; in the children's bedroom, he went ultra-playful, painting it a vibrant mix of green and yellow.
Like Pentreath, Hall prefers to take things slowly, tackling one room at a time. "I can't really imagine presenting a whole scheme for a whole house," he says. He prefers to "accumulate different bits" to create what he calls a layered look, à la beloved British decorator Robert Kime. "I don't buy everything all at once."
Hall's schedule these days is as diverse as his projects. "I get up, I either work from home" — a residence he shares with Campbell — "or my studio, just down the road from me," he says. "Today was painting and then sending some new vessels off to the potter to be fired. Tomorrow, I might go off to see the house in Kent and check out paint samples for the master bedroom."
Although he admits these are "still early days" career-wise, he is making plans for the future. "I would love to do some book covers, maybe the interior of a restaurant or hotel, and I'd like to do more ceramics," he says. He'd also like to have his own little atelier where he'd produce all sorts of things. But for now, he'll content himself with another pop-up, which he hopes to launch over the holidays or early next spring. "At the moment, I'm just saying yes to stuff and trying things out."
Shop Luke Edward Hall on 1stdibs