When Louis XIV built his fabled Hall of Mirrors at Versailles in the late-17th century, mirrored glass was still a novelty. Although ancient Middle Eastern peoples polished volcanic rock, or obsidian, the better to admire themselves, and the Romans made crude mirrors of blown glass and lead, it was the clever Venetian glassmakers of Murano in the 16th century who first devised distortion-free mirrors by backing clear plate glass with mercury. Some of them, legend has it, paid with their lives for revealing this secret to the French.
Mirrors have fascinated ever since, enduring to this day as a vital decorating tool — a surefire way to bring light and opulence to any interior, and a designer's go-to solution for rooms too small, too dark or just too bland.
"Mirrors never fail to enhance a room," says the Manhattan-based interior designer Jeffrey Bilhuber, who uses mirrors, many found on 1stdibs, in every single project. "They add depth to a room and animate everything that surrounds them, and they do it in an instant."
The creative applications of mirrors are limitless. Designer Paul Sherrill, of Solis Betancourt & Sherrill, in Washington, D.C., has mirrored the ceiling of a townhouse basement in New York City's Greenwich Village neighborhood; created a mirrored mosaic (inspired by the iconic staircase in Coco Chanel's Paris atelier) on a curved wall alongside a dramatic floating staircase for a client in San Juan, Puerto Rico; deployed vertical strips of mirrored paneling to heighten the ceiling and "bounce some light around" in a small Georgetown dining room with only one window; and lined the back of a bookcase with bronzed mirror, "a seventies aesthetic being embraced by some of my younger clients," Sherrill says.
In the powder room of the Georgetown apartment, Sherrill hung a 1940s Venetian-style mirror from 1stdibs dealer Donna Parker on a wall clad in herringbone mother-of-pearl. He explains: "It worked nicely as an ornate counterbalance" to the clean modern lines of the room's plumbing fixtures.
A pair of antiqued Venetian mirrors with scalloped tops, found on the 1stdibs storefront of Greenwich Living Antiques and Design Center, evokes a subtle Moorish motif in one of Sherrill's glamorous master baths. "They're copies of mirrors once owned by Doris Duke that brought a small fortune at auction," says Sam Pizzichillo, the longtime owner of Greenwich Living, which manufactures and imports fine reproduction mirrors, for which the back side of the glass is painstakingly hand mirrored with silver gild in Argentina and, more recently, the Philippines.
For Brian Sawyer, of the New York design firm Sawyer Berson, mirrors are far from merely decorative. "They serve a fundamental psychological purpose, especially in the city, where corner rooms are rare and you may only have windows on one wall," he says. "If you don't have mirrors opposite or perpendicular to windows, a room can feel claustrophobic."
In such contexts, Sawyer often uses contemporary rectangular brass and steel mirrors with antiqued glass from Studio Willy Rizzo, in Paris, purchased through 1stdibs dealer Mallett Antiques. His favorite type of mirror, however, is the sunburst wall mirror, a form that goes back centuries and is still being riffed on today. "I've always been charmed by them," he says. "They remind me of the altarpieces of Baroque churches in Portugal and Spain."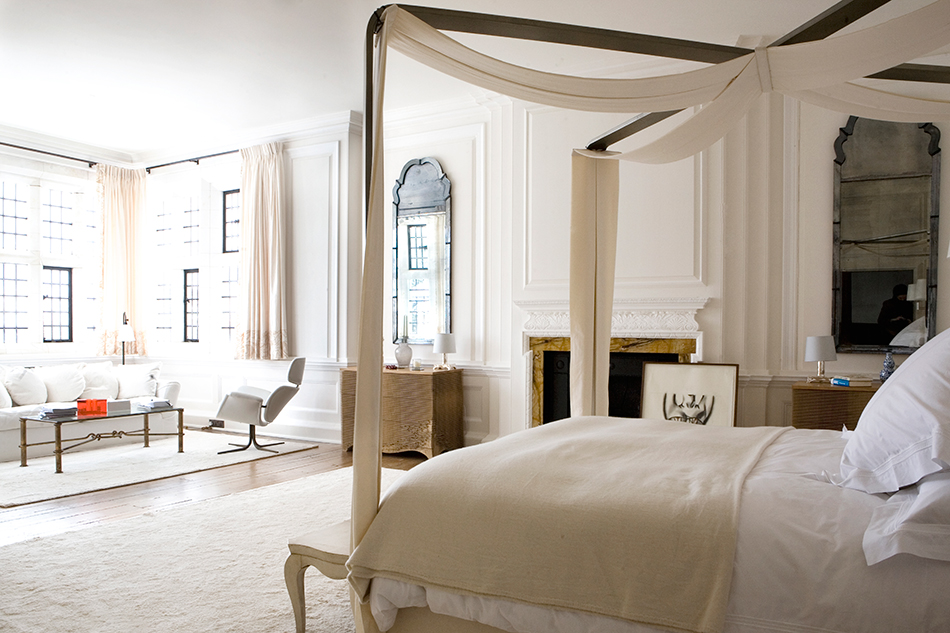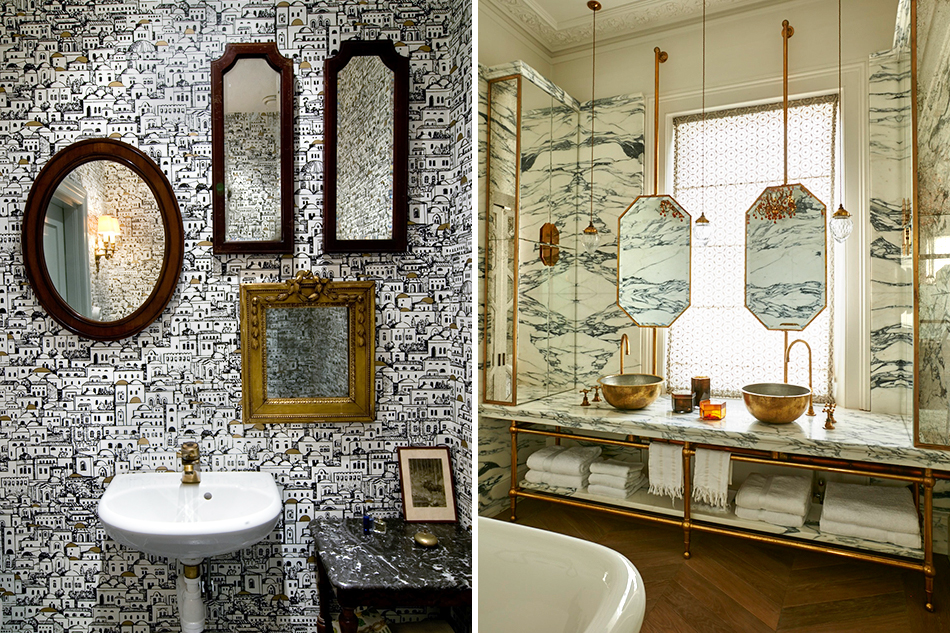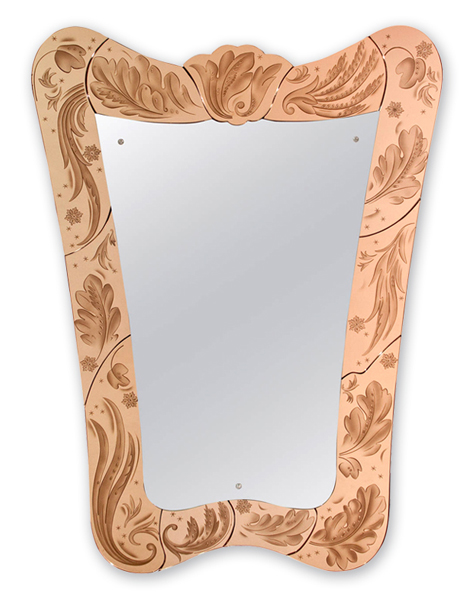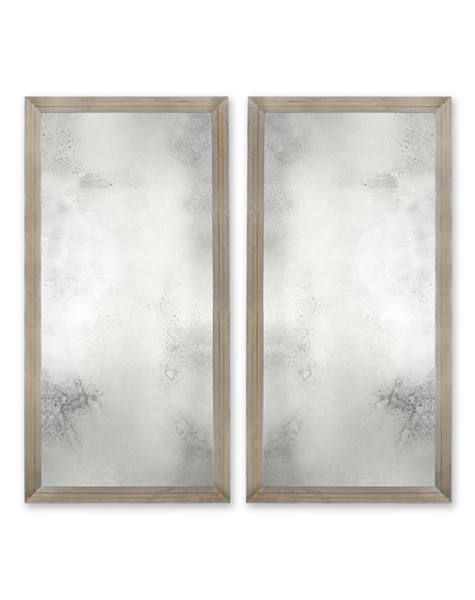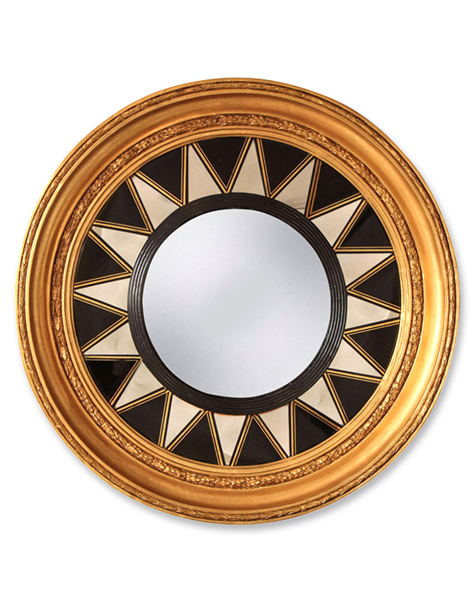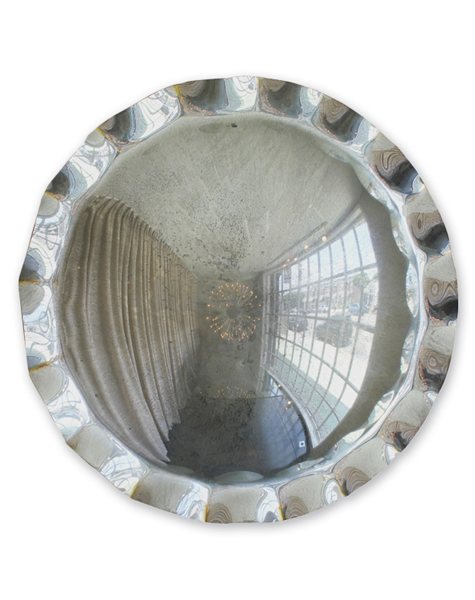 On its 1stdibs storefront, David Duncan Antiques is currently offering an English Regency–period convex mirror with a stylized sunburst motif that was added in the 20th century, supposedly by the workshop of the American decorating firm Parish-Hadley. "You could put it in a foyer above an English Pembroke or mahogany drop-leaf table, or in a Federal-style room," or even a modern room, says Morgan Sedgley, of David Duncan. "The great thing about mirrors is that they can be assimilated into any kind of interior."
Daniel Harrison, owner of H.M. Luther, a 1stdibs Recognized Dealer, says he has sold all his 18th– and 19th-century mirrors and now focuses on 20th-century ones, including an Italian mirror with a rose-colored glass frame designed by Pietro Chiesa and executed in the 1930s by the skilled artisans at FontanaArte. Its graceful stylized leaves, floating asymmetrically within the frame, "express domestic joy and contentment," Harrison says. And with its unusual curved silhouette, he adds, "it would be impossible to repair."
Robert Willson, of Downtown, in Los Angeles, has another take on mirrors, considering them to be contemporary art. The gallery's Laurel mirror, whose round, scalloped frame and convex face are sculpted from a single piece of glass, and its Mondrian-esque Mosaic mirror, both designed by Willson and made in L.A., are "decorative statement pieces," he says. "They're not to be taken too seriously."
As 1stdibs Recognized Dealer R. Louis Bofferding points out, sometimes the antique and the contemporary come together fortuitously in a single piece. The 18th-century French trumeau mirror he has on offer was originally painted and gilded, though Bofferding discovered it already stripped down to raw oak. "It would have been fussy looking to twenty-first-century eyes, but in being stripped, it acquired a kind of chic, sophisticated modernity" that, Bofferding says, was popularized by the influential British decorator Syrie Maugham, who was fond of taking first-rate examples of period furniture and bringing them down to bare wood. "It's a different take on history."
The over-the-top use of mirrored glass at Versailles is evoked by some of the elegant interiors produced by S. Cavallo Mirror Fair, a 100-year-old company based on New York's Upper East Side, which sells antique mirrors on its 1stdibs storefront. The venerable firm's specialty is "high-end mirrored interiors," says third-generation owner Stephen Cavallo. These, he explains, "consist of cast-glass moldings, polished and then silvered," along with hand-poured glass panels that have what Cavallo describes as a "soft, watery effect." Such elements may be used to clad an alcove, niche or fireplace surround or, on occasion, an entire room. Some finished spaces look "very much like a classical French paneled room," says Cavallo, while others have such an authentic Art Deco-era feel that you expect Fred Astaire to come tapping in.
Then there's the memorable example of New York decorator Miles Redd. He purchased the mirrored bath and dressing room from banker Lester Armour's estate, designed by the architect David Adler in the early 1930s, from a Chicago salvage warehouse about 13 years ago and had it reassembled in his lower Manhattan townhouse. So spectacular is the room that Redd has been known to throw parties there. And if mirrors can turn a bathroom into a ballroom, there isn't any magic they can't work.