Like many other institutions unexpectedly becalmed by a worldwide pandemic, art museums are starting to stir back to life. In the past few months, venues large and small have been making the best of a bad situation, finding online ways to meet their audiences literally where they live.
But repositories of great art, which is often grand in scale and displayed in monumental or historic surroundings, require the physical presence of human beings to wholly fulfill their purpose (and, not incidentally, to sustain themselves financially).
Art is a form of solace as well as aesthetic delight, and museums are places of contemplation and reflection, all of which the world's citizens need now more than ever. Alarmingly, the American Alliance of Museums warned last month that one-third of the institutions in the United States may not survive the financial crisis brought on by the pandemic.
"Revenue disappeared overnight," says Laura Lott, the president and CEO of AAM, which surveyed museum directors in the spring. "The permanent closure of twelve-thousand museums would be devastating for communities, economies, educational systems and cultural history."
But hope is not lost. Recently, with optimism and a bit of trepidation, museums from Western Europe to East Asia and parts of North America have reopened to the public and are already successfully navigating the new realities of safe museumgoing. Others are slated to follow suit very soon. They have reshuffled schedules to pick up where they left off in March, extending the runs of shows that were abruptly shuttered and debuting entirely new blockbuster exhibitions.
Advance online ticketing with timed entry — accompanied by constant sanitizing and strictly enforced mask wearing and social distancing — is the order of the day. The measures in place mean that some amenities, like coat checks, cafés and audio-guide rentals may be unavailable, but the art most assuredly is not.
Here's what you can expect to see at half a dozen international cultural institutions as they set about meeting the pent-up demand.
____________________________________________________
Metropolitan Museum of Art, New York
On August 29, visitors again began climbing the landmark steps of New York's Metropolitan Museum of Art, which opened with reduced capacity and all the mandated protocols, including temperature scanning, in place. The relaunch features an exhilarating new show set to run through November 1.
"Jacob Lawrence: The American Struggle," organized by the Peabody Essex Museum in Salem, Massachusetts, unveils a seldom-seen series of 30 tempera-on-board panels from Lawrence's 1954–56 magnum opus, Struggle . . . From the History of the American People. The vivid works, profoundly resonant in this historical moment, depict America's early fight for independence and the beginning of its westward expansion, including, presciently, the contributions of women and people of color.
Another intriguing event, opening October 29, is the Met Costume Institute's "About Time: Fashion and Duration," which brings together 120 garments from the past century and a half — from an 1870s silk-faille Victorian dress to Alexander McQueen's 1995 Bumster skirt — in galleries set up as enormous clock faces, with "ghost narration" by Virginia Woolf.
____________________________________________________
Montreal Museum of Fine Art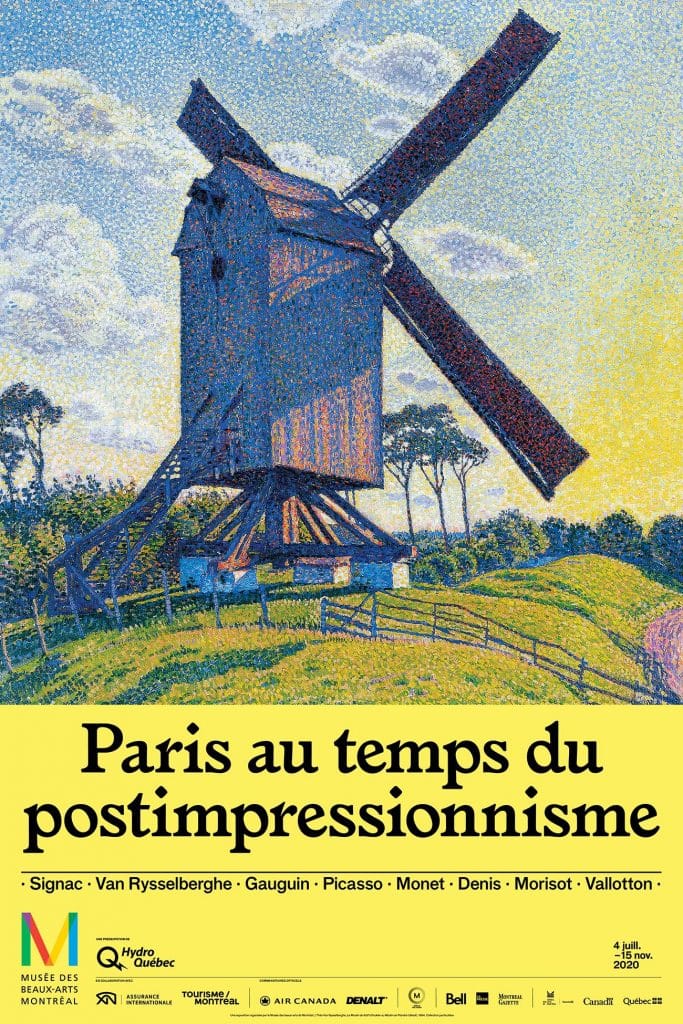 It's hard to imagine a more exuberant emergence from lockdown than "Paris in the Days of Post-Impressionism: Signac and the Indépendants," a colossal show comprising more than 500 lushly colored paintings and graphic works that was just days away from launching this past March when the Montreal Museum of Fine Art, like so many others, suddenly closed its doors.
The doors were unlocked on July 4, and visitors can now restore their souls until November 15 with works by such perennial favorites as Raoul Dufy, Paul Gauguin, Paul Cézanne and other assorted Fauvists, Symbolists and portrayers of life in late-19th-century Paris, as well as by their unfairly obscure female contemporaries, like Eva Gonzalès, Marie Laurencin and Berthe Morisot.
But the show centers on Paul Signac, the profoundly idealistic Paris-born painter and founder, in 1884, of the unjuried Salon des Indépendants, an antielitist rebuke to the establishment gatekeepers who, up to that point, had decided what was and wasn't good art. The Montreal Gazette called the exhibition — the museum's only one at present — a joyful "antidote to the quarantine blahs."
____________________________________________________
Rijksmuseum, Amsterdam
Rembrandt's majestic 1642 painting The Night Watch has been the subject of an extraordinary ongoing research and conservation project at Amsterdam's Rijksmuseum since 2018.
For most of the spring, "Operation Night Watch" could be viewed only online. The museum reopened on June 1, and as of July 8, guests can observe the conservators at work within a glass chamber, learning about the painstaking conservation process as a robot camera takes thousands of extremely high resolution photos. This is the latest and by far the most high-tech of the 25 treatments that the 14-foot-wide group portrait of the members of a militia company has received in its long lifetime.
As part of the Rijksmuseum's new protocols, a first-time visitor can choose among three prescribed one-way routes past the best of what the venerated institution has to offer. One takes in "Caravaggio-Bernini: Baroque in Rome," a 70-masterpiece exhibition of Caravaggio's radically naturalist chiaroscuro paintings and Bernini's dramatic, virtuoso marble sculptures, as well the work of their early-17th-century contemporaries, on view until September 13.
____________________________________________________
Tate Modern, London
The Tate Modern delves into sexual politics later this fall with the United Kingdom's first important survey of the work of South African photographer Zanele Muholi. For the past two decades, Muholi has documented the intimate, sometimes traumatic lives of South Africa's black lesbian, gay, trans, queer and intersex communities, which remain targets of violence and prejudice.
The show, opening on November 5 and running until March 7, 2021, comprises several series of provocative photographs — including "Faces and Phases" (2006–present), "Brave Beauties" (2014) and "Hail the Dark Lioness" (2012–present) — that powerfully challenge stereotypes and taboos.
There's plenty to see earlier in the season, too. On view currently is a massive retrospective of Andy Warhol's career organized by the Tate Modern and Cologne's Museum Ludwig in collaboration with Toronto's Art Gallery of Ontario and the Denver Art Museum. Displaying both iconic and lesser-known works from the Pop artist's still-radical oeuvre, the show had been open only five days before shuttering last March and has now been extended until November 15.
The groundbreaking video, film and neon installations of Bruce Nauman provide another highlight. Immersing viewers in the American conceptual artist's inventive universe, which sometimes ventures into disturbing themes like sadism and surveillance, the exhibition runs from October 7 through February 21, 2021.
____________________________________________________
Tokyo Metropolitan Art Museum
An ambitious exhibition uniting three great Japanese museum collections resumed in July, with the reopening of Tokyo Metropolitan Art Museum. Its subject is ukiyo-e, a populist print and painting genre that arose during the Edo period (17th –19th centuries) and sparked an appreciation of Japanese art among Western nations that continues to this day.
The exhibition, which runs through September 22, presents 450 ukiyo-e masterpieces: paintings and woodblock prints of such scenes and subjects as kabuki actors, sumo wrestlers, erotica and landscapes, including the artist Hokusai's universally celebrated The Great Wave off Kanagawa from the circa-1830 series of Mount Fuji views. An exhibition of contemporary Japanese calligraphy, part of a series showcasing work by members of the public, opens November 18.
____________________________________________________
Walker Art Center, Minneapolis
Limiting attendance to 25 percent of capacity, posting signs to direct traffic flow and replacing coat checks with lockers, the Walker Art Center in Minneapolis relaunched in July with an exhibition that was forced to close shortly after opening in February. "An Art of Changes: Jasper Johns Prints 1960–2018" presents six decades of the American master's printmaking practice.
The retrospective features 90 intaglio, lithographic, woodcut, linoleum-cut, screen-printed and lead-relief artworks. Organized in thematic sections tied to Johns's favored Pop motifs — the American flag, serifed numerals and the letters of the alphabet — it continues through January 3, 2021.
Overlapping the Johns show is "Designs for Different Futures," a thought-provoking array of proposed design solutions to challenges humans may face in 11 areas, from bodies and intimacy to food and data.
The future envisioned is often dystopian, as evidenced in Adam Harvey's CV Dazzle (2017), an extreme hair-and-makeup strategy to evade facial recognition; Agi Haines's bioprinted artificial organs (2013); and "Stranger Visions," Heather Dewey-Hagborg's haunting series of 3-D-printed facial portraits created using DNA derived from hair, cigarette butts and chewing gum collected from New York City sidewalks.
The show, which opens at the Walker on September 12 and runs through April 11, 2021, originated at the Philadelphia Museum of Art last year. The technologies on display seem more plausible (if not exactly on topic) in the COVID era than they did when the curators planned it.