The latest project by the up-and-coming interior designer Brittany Marom has bittersweet origins. The Manhattan apartment was originally purchased as a pied-á-terre for a husband and wife to use while he underwent treatment at a nearby hospital. After he passed away, his wife asked Marom to help her start a new chapter in life by giving the home a fresh, young and mid-century modern-inspired edge. Inspired by this story, we asked Marom to share her tips for refreshing — and not rehauling — a space. Read on to learn her four suggestions and see images from the project.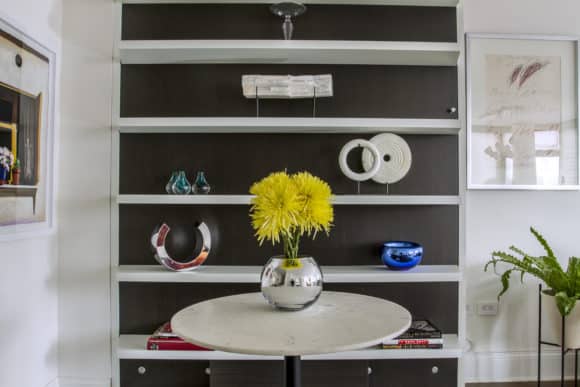 Out with the old.
When starting fresh, Marom stresses the importance of "letting go." That means a comprehensive purge of your own possessions, with an emphasis on smaller items and objects that give a general impression of clutter. "You'll feel a weight lifted," promises Marom. The designer recommends that you divide items according to what can be resold, and what may be donated to charity. But accumulated paper? "Scan them so they'll only take up space on your hard drive — or better yet, Dropbox."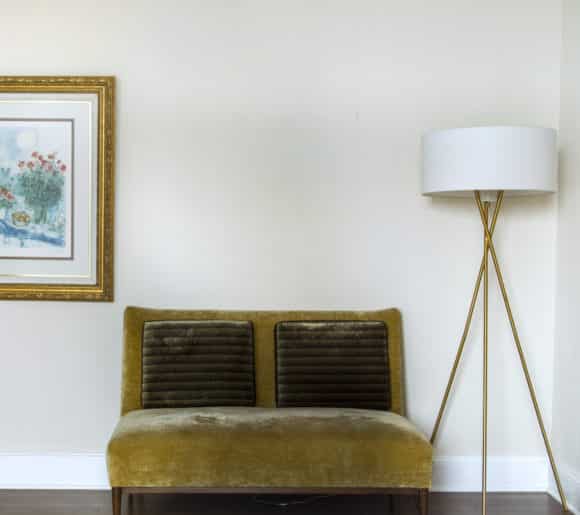 Reuse, repurpose and reupholster!
On the other hand, it's not necessary to start from scratch when it comes to larger furniture pieces. "If something has great bones," says Marom, "then just give it a facelift." This cost-efficient strategy also packs a big design punch. Marom reupholstered the mid-1960s Paul McCobb settee, above, updating the original striped green fabric to a more contemporary, romantic crushed velvet. "It now goes with the theme of a soft and feminine bedroom," she explains.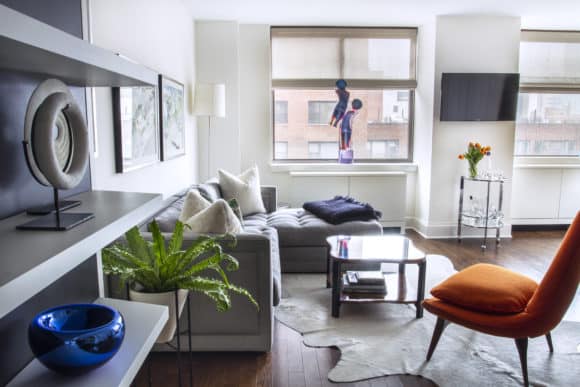 Mix and match.
A style refresh is a great time to take a risk, says Marom. "People have a tendency to get stuck in one style," but it's important to "have fun when starting anew." Marom's go-to trick is to inject a note of eclecticism, by mixing patterns, palettes and periods of design within in a single room, and the designer leans heavily on using vintage and antique pieces to add patina and warmth to her projects. But, cautions Marom, "buy only what you like and want to live with in your house. Trends can be fun but they go out of style very quickly."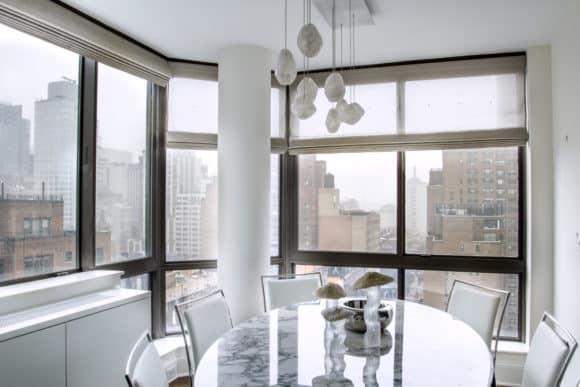 ­
Always measure your space
Marom's last piece of advice may seem self-evident, but she says that it's a common mistake. "Nothing is worse than ordering a custom sofa and not being able to get it in the door," she says. Make sure that, if you're moving pieces from a larger space to a smaller space, the furnishings have adequate breathing room. "I have a lot of clients that move from large homes with huge furniture and they forget that they are downsizing! It's so important to measure every room in your apartment so you'll know what fits (and more importantly, what doesn't)," she says.
Photography by Rebecca Pollak. See more of Marom's work on her Instagram account.