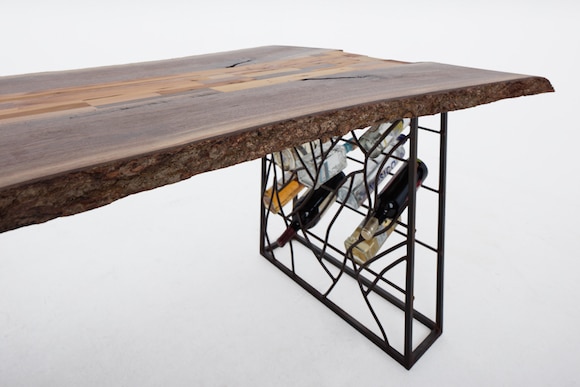 Photos courtesy of Foundrywood
Recently, Anthony Bourdain dropped by the Brooklyn workshop of Swedish furniture artisan Mats Christéen. The tv personality was filming his web series Raw Craft, in which he asks makers of all types to explain their trade.
In the webisode, Christéen, who previously worked as a fashion model and a pro hockey player before launching his company Foundrywood, builds a dining table with a matrix of reclaimed wood set between twin walnut slabs and a steel base that doubles as storage for bottles and glasses — perfect for space-conscious city-dwellers who like to entertain. The hybrid piece is available now on 1stdibs. Here, Christéen tells The Study how it all came together.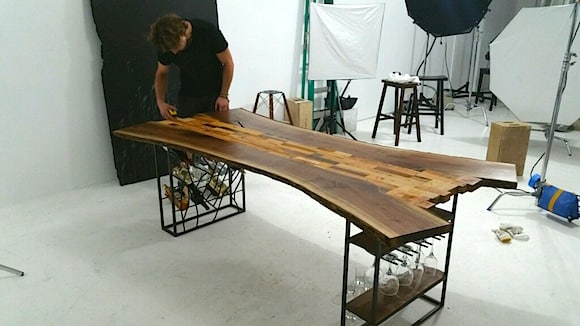 What was your process for making the Raw Craft table?
The table was constructed from two book-matched walnut slabs, which have been joined with another reclaimed board from my shop. Then the puzzle began.
Using seven different species of reclaimed wood, I cut and glued one piece at a time in a random pattern. The base is all hand-bent and -welded raw steel that's been wiped with an acid to speed up the aging process and add a weathered look. It's finished with few layers of lacquer.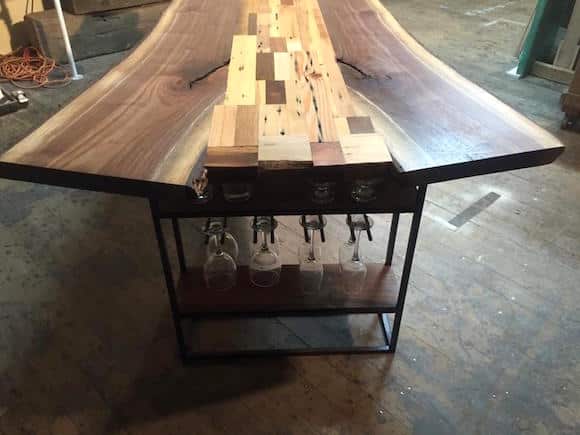 Where did you find the wood embedded in the middle?
The wood used in this piece was all extra wood from previous projects. Some of it is over 200 years old, taken down from old buildings in the New York City area. I always keep old wood until I find a use for it. The walnut slabs are also unique, and I had them sitting in my shop for months, trying to figure out the best way to bring them to life.
How was your conversation with Anthony Bourdain?
Meeting Anthony was great — very easy going and friendly. We have common interests, especially mixed martial arts, so that's where most conversations ended up. And yes, we wrapped the shoot over a glass of Balvenie [which sponsors Raw Craft].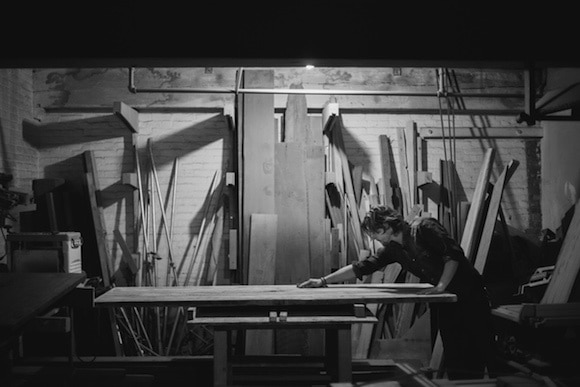 How did you get into woodworking?
My interest in woodwork started way back in my childhood in Sweden. My dad built the house I grew up in, and I was always by his side. Since I came to New York, my passion for design and handmade furniture has continued to grow, and I began to pursue it more seriously.
Finally, why did you put a wine rack in the table?
Like most things I make, if I don't have a set drawing I change my mind a few times along the way as it's coming together. I thought it was a cool idea for a base to hold your favorite wine and liquor on one side and glasses on the other. I guess a portion of my reasoning was also storage — that the base serves a purpose, too.
Watch the Episode