The Golden Globe–winning actor Kate Hudson has starred in some of Hollywood's biggest films. But for her, family is just as much a source of pride. "Being a mother is the greatest role I ever played," she recently told 1stDibs.
A mother of three — Ryder (age 18), Bingham (10) and Rani (3) — she's spent nearly her entire adult life juggling the responsibilities of being a mom and an actor, not to mention an author, producer and entrepreneur. Her spare time, when she has it, centers on her cherished Los Angeles home — a house she grew up in with her legendary mother, Goldie Hawn, and stepfather, Kurt Russell.
A self-proclaimed "1stDibber," she's a frequent shopper and collector of beautiful antique and vintage objects, from housewares to jewelry and fashion. In honor of Mother's Day, Danny Fujikawa, her fiancé (and the father of Rani), interviewed her about her family's festive traditions, parental wisdom passed on from Hawn and her wish list for the upcoming holiday.
What does Mother's Day mean for you?
Mother's Day is, I think, my favorite day because it's our day. It's my day.
I know we say all the time, "Every day should be Mother's Day," and that's true — I get it — but that's just not how life works. We get into our routines, and everyone has things that they're doing. But then, there are these special days put aside, like Mother's Day, when we get to really love up on each other.
How do you celebrate?
My man does the best Mother's Days and celebrates both me and my mom and his mother. He always sets up the most amazing breakfasts, brunches and picnics, with flowers and gifts and an amazing spread of food. And always mimosas and Bloody Marys. So, glassware, like champagne flutes, is a wonderful Mother's Day gift!
How has your perspective on motherhood changed over the years?
I don't know if my core values as a parent have changed much, but my knowledge has grown, and that has changed my approach.
I have three kids, all very different ages, and they're very different people. As I've gotten older with them, I've recognized that they need different things. That means sometimes our children learn differently, and sometimes they have different love languages. I've learned how to move with each one individually. And even though we've had the same values — we want them to be polite and to look people in the eye and to work hard — they each have to be approached so differently.
Did you learn to be a mom through your own mother?
I think my mom and I are actually very different mothers, but there are things that I love to emulate. We have a similar love for life and a similar energy, and I feel like I got that from her. She also taught me that it's good to let kids be bored. It makes them use their imagination!
If you could get your mother anything on 1stDibs, what would you choose?
Jewelry. She loves her jewelry, and I have purchased many things for her on 1stDibs.
She loves statement gold pieces. Vintage gold Cartier. I would get her a gold bracelet with a little bit of girth to it. I have hearted so many jewelry items on 1stDibs that I've never bought, but I go back and look at them all the time because they're beautiful.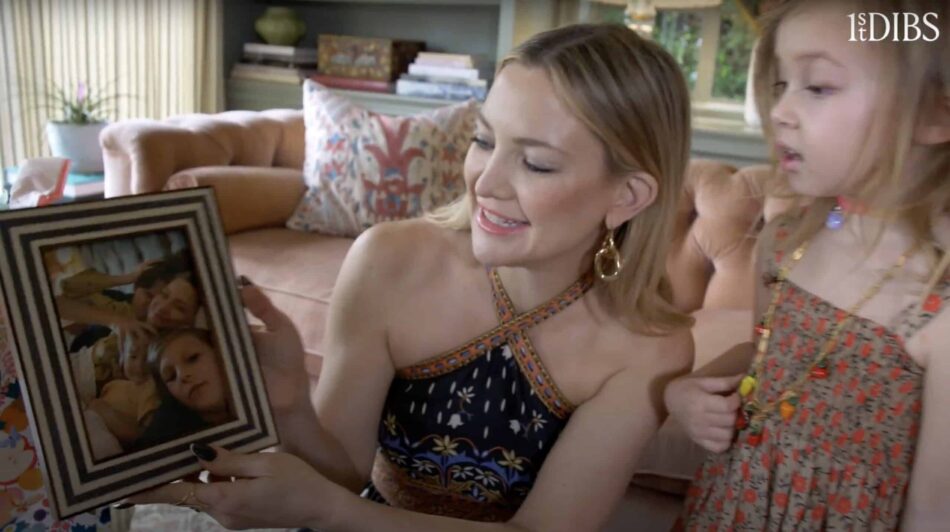 If you could have anything for Mother's Day from 1stDibs, what would it be?
A gold Cartier necklace would be great. I'm kidding. I don't expect that for Mother's Day.
I love anything for the house, really. China, vases, little pillboxes, clocks. And serveware. I love to entertain, and I collect pewter and serving trays. Even with the kids on a normal day, I'll bring out my nice things.
Tell us about the significance of your L.A. home and why it was important to you to raise your family in the house you grew up in.
I must have been 12 when my mom built a new house, a bigger house, and we all missed the one we grew up in. So, when it came on the market, I bought it. Eighteen years later, I'm still in the same house, and the memories that we've built from when we were born all the way up until now are just truly incredible. I feel warm, safe and protected by the history of this house.
What in your home was handed down to you from your mom? What objects do you hope to hand down to your children one day?
We're a big heirloom family. I have a pewter Dutch oven that was my grandma's, a dresser my mom gave me, quilts, needlepoints, jewelry.
My mom's wardrobe is and always has been spectacular, but she has never given me any of her clothes — they're probably on 1stDibs somewhere. So, of course, I'm the opposite, and I've kept everything for my daughter, everything I've ever worn. I'm like, "I'm putting it in a bag for Rani."