Mark D. Sikes is one prolific polymath. In addition to maintaining his photo-filled lifestyle blog and launching his chic ready-to-wear line Stripes, Sikes also maintains a bustling interior design practice — it was just announced that he'll be collaborating with actress Reese Witherspoon on a flagship boutique for her Draper James collection. Sikes' classic, all-American approach to interiors looks clean, crisp and fresh in any setting. Wanting to hear a little bit more about his process, we stole a few minutes of our busy Saturday Shopper's time to have him walk us through one of his latest projects: a gorgeous estate nestled in the Hollywood Hills. Scroll down to see images of the home, and find out what color combination Sikes thinks is always in style.
---
"This 1920s home combines Mediterranean and Hollywood Regency styles, and it's especially notable for its more traditional floor plan," says Mark. "This project entailed a complete renovation, including converting the former kitchen into a great room, and opening up the indoor areas to foster connections with the outdoors. The garden is the soul of this house! Both inside and out, this home is a perfect example California elegance, and indoor-outdoor living at its best."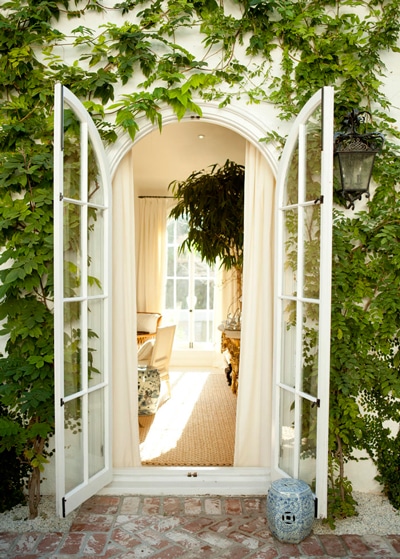 "In California it's all about indoor-outdoor living. Connecting interiors with adjacent outdoor areas expands spaces for lounging and entertaining."
---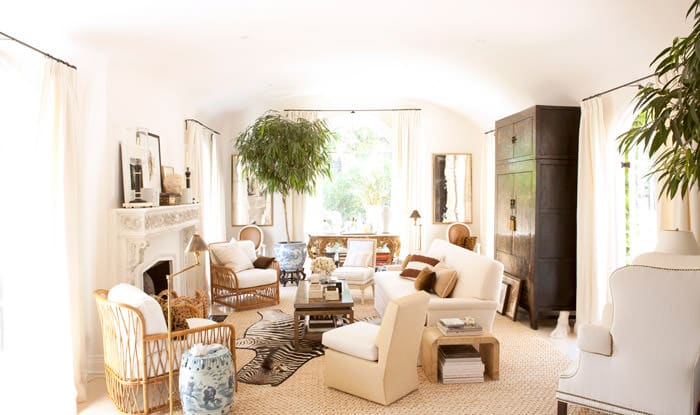 "I love a neutral palette with lots of textured, natural fiber rugs, linen, and wicker mixed with gilt, chinoiserie, plus my signature blue and white accents to create elegant, yet comfortable spaces."
---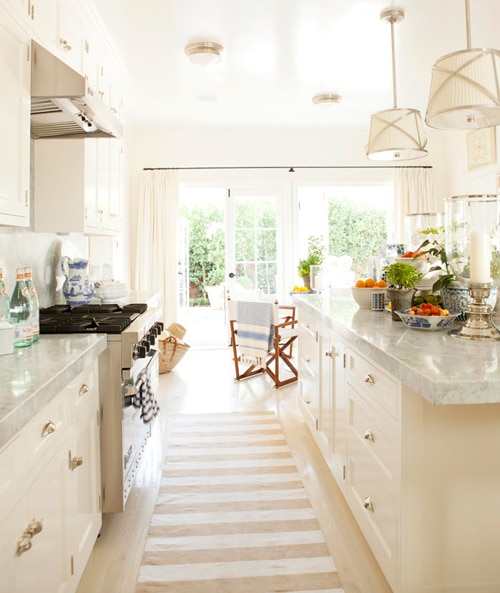 "There is nothing better than an all-white kitchen. I think kitchens are the heart of the home and should be well thought-out — fixtures, hardware, and lighting bring these spaces to life."
---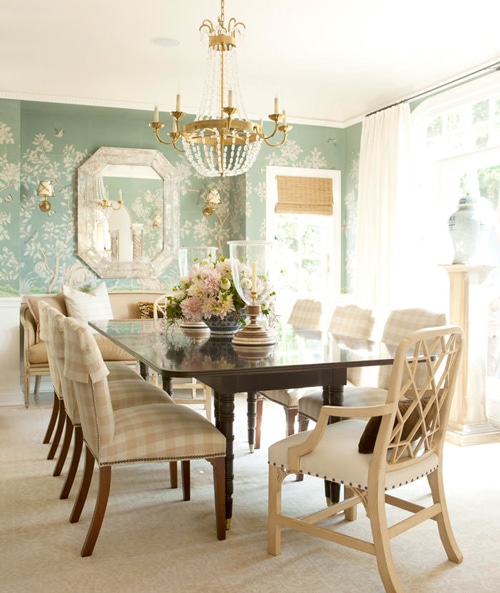 "I use a lot of chinoiserie wallpapers — Gracie Studio is my go-to — there is nothing more beautiful than a hand-painted wall covering. The use of trees, birds, water and flowers in the imagery brings the beauty of the outdoors inside."
---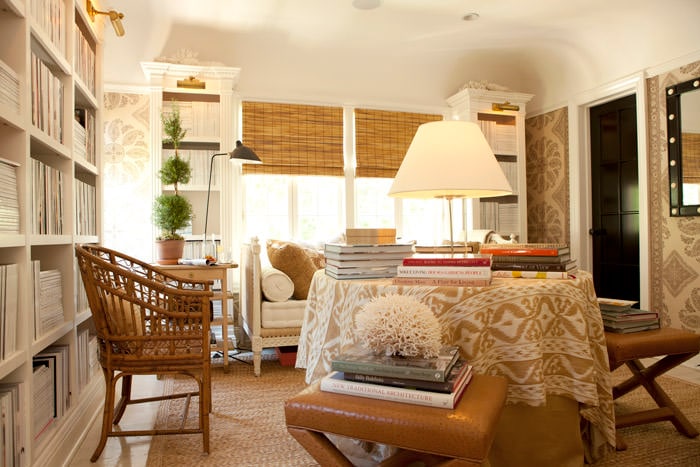 "I'm drawn to neutrals because they never grow old. I like to mix neutral textiles in paisleys, ikats and stripes, layering them with saddle brown leather, wicker and bamboo."
---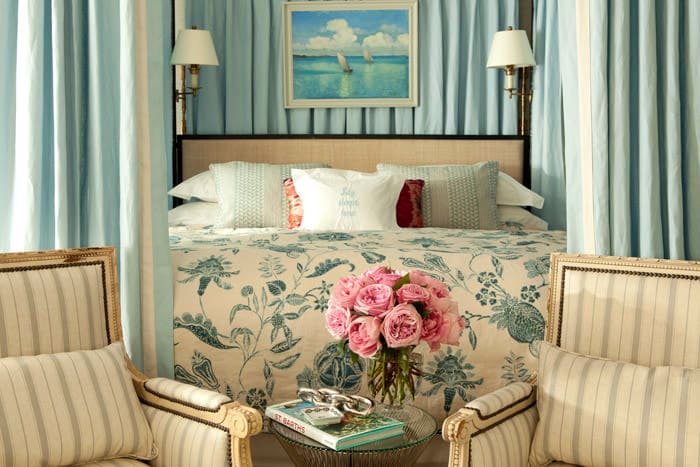 "The color blue is not only beautiful but also relaxing and calming. A blue bedroom is always a good choice, especially when using a mix of prints, solids, and stripes. I've never seen a blue and white stripe I didn't love!"
---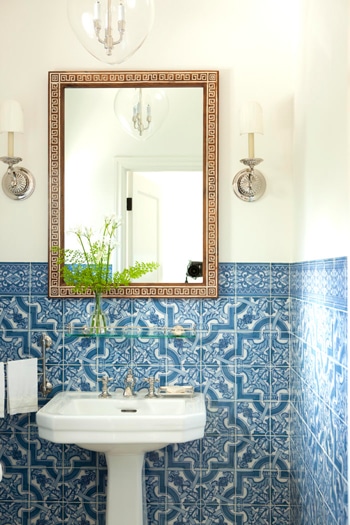 "I'm a fan of anything blue and white — especially blue and white Portuguese tiles."
---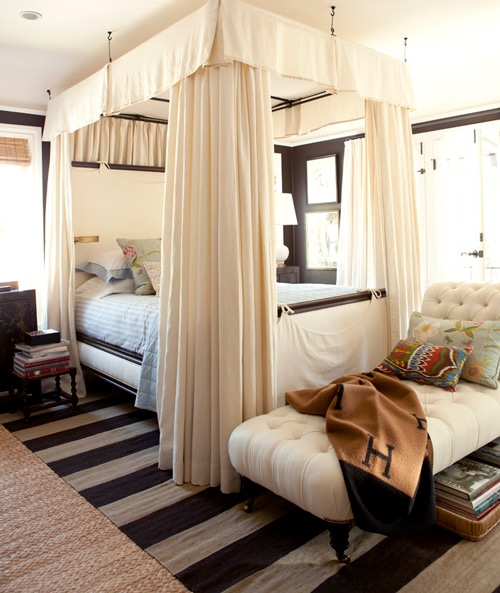 "Interior designer Billy Baldwin was known for chocolate-brown rooms with white accents and furnishings, and I've always thought that there's something sexy about that combination. It looked good then and it still looks good today."
---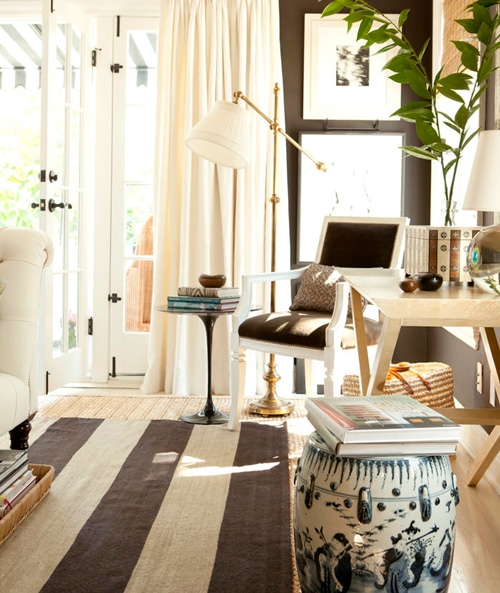 "I like to mix blue and white boxes, objects, and books in my vignettes. Stacking, leaning and clustering art always makes a room feel modern and collected."
---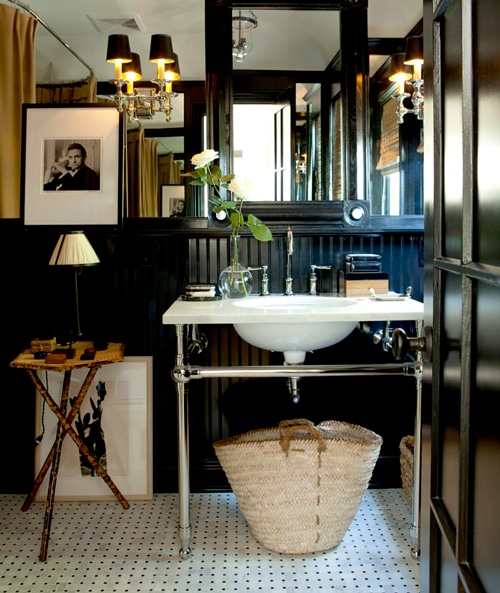 "Painting a small space black and adding a mirror is dramatic and chic. I've done this in a bathroom, a butler's pantry and in a few bars."
---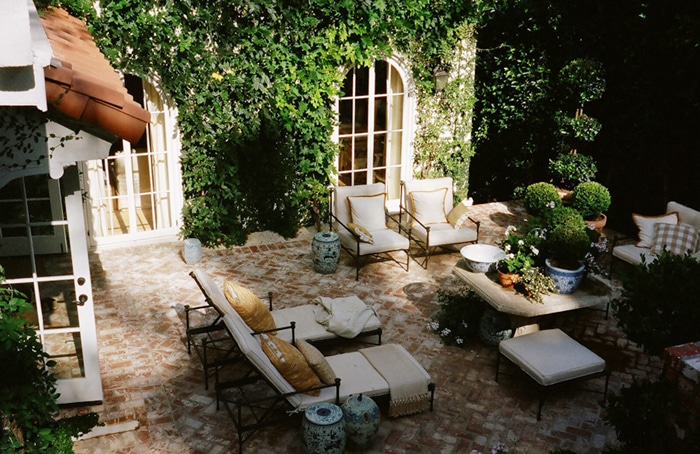 "Boxwood, ficus, and fig ivy create the perfect backdrop for outdoor living spaces — there's nothing like a lush green garden. You can also see why blue and white are my signature colors: they look just as good outside as they do inside."
---
To see more from interior designer Mark D. Sikes, shop his curated collection on 1stdibs.