Among the thrills and the challenges of planning a wedding, choosing the dress is perhaps the most pivotal — and difficult — decision a bride will make. (It probably doesn't help that the reality show Say Yes to the Dress has elevated the shopping process into an incredibly dramatic, high-stakes experience.)
But it is true that the wedding gown often informs the look of the entire event, from the choice of venue down to the cake decor, and photos from the big day will adorn walls and mantels of family members for years. In other words, the bride better really like that dress.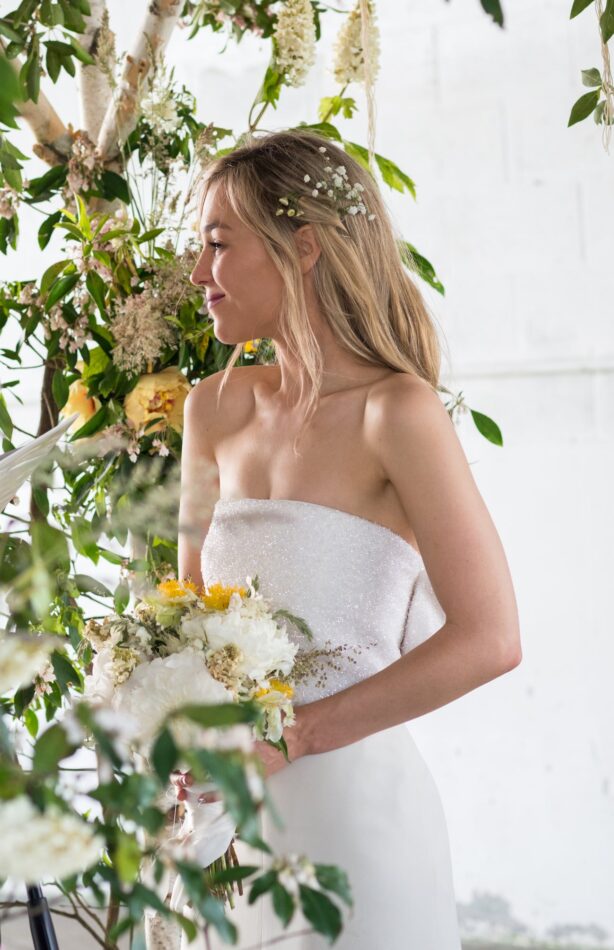 When recent bride Morgan Cole was shopping for her wedding to her longtime beau, Alex, she had a few major factors working in her favor: First, she lives in New York, and thus had easy access to top bridal salons. Second, she works in fashion, so she is knowledgeable about design and has enviable industry connections. But even with these advantages, she struggled to find a gown that felt one-of-a-kind.
As she puts it, "I went to all the bridal houses and thought, 'Why am I going to buy a dress that someone I went to high school with could be wearing the next weekend?' I wanted it to feel special."

So Cole explored other options and even considered having a dress custom made. "I wanted to step away from the wedding-factory experience," she says. But then, one of Cole's bridesmaids, Milan-based jewelry designer Bea Bongiasca, emailed her several links to dresses on 1stdibs.
One listing instantly captivated her: a Saint Laurent gown from Paris dealer Les Merveilles de Babellou. The Hedi Slimane–designed dress comprises a bustier fully embroidered with glass beads with a large bow in the back and a long, white, silk crepe train.

Cole says that before she purchased the gown, she messaged the seller, who responded right away, and they negotiated a bit. And then, in what Cole says was an uncharacteristic move, "I clicked to buy before even sending it to my mom."

After purchasing the dress, Cole, who at the time was working as a graphic designer at Oscar de la Renta,
attempted to figure out the origin of the dress, which she could not find in any recent Saint Laurent runway shows, and she reached out to some of her fashion-industry friends for help. They were able to determine that it is a white version of the black gown that Margot Robbie wore to the 2014 Academy Awards, so it's possible that it was created as another option for the actress.

"I felt like it set the tone for the wedding," she says of the dress. The celebration, which took place this past June, started with a Jewish ceremony at Pier 40 on the Hudson River. "I scouted the venue when doing the art direction for Oscar de la Renta's Pre-Fall 2018 show, and it was such a raw space, but I loved that the venue was completely unknown," Cole says. "There was no electricity and there has never been another wedding there."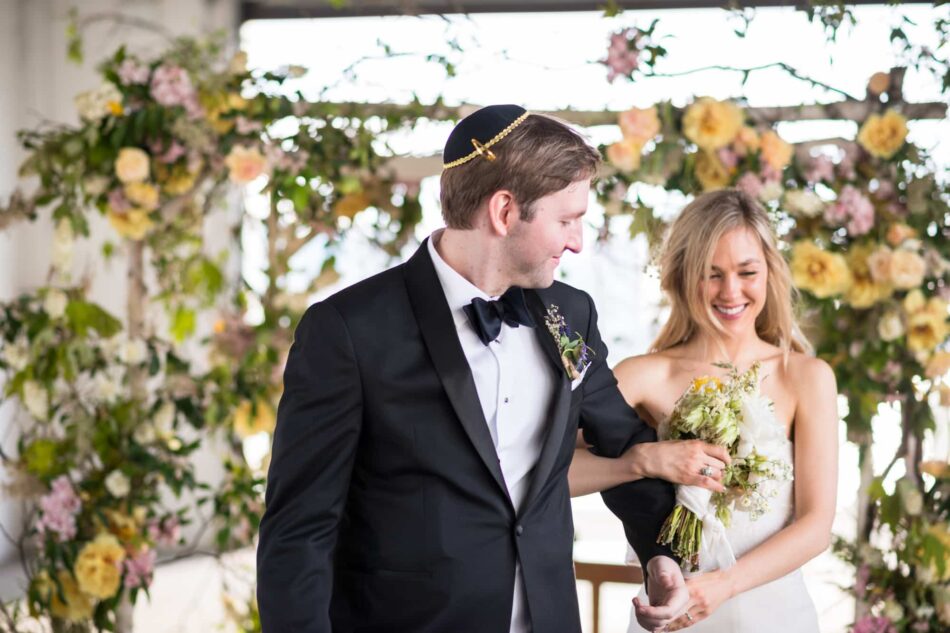 She completed her wedding-day look with a pair of her mother's Manolo Blahnik heels for the ceremony (her "something borrowed" element) and new Charlotte Olympia shoes for the reception, plus a heart-shaped Yves Saint Laurent bag. The groom wore a tuxedo custom designed by his uncle, Kenneth Cole.

Bongiasca, the same friend who found the dress, created the wedding bands. "I wanted it to be simple, as we had a traditional Jewish wedding where the band was to be naked, with no precious stones," Cole says. "So Bea used her unique 'Rice' design and engraved 'Molex forever' [a combination of the couple's names] inside."
The reception was at the High Line Hotel, with long tables topped with taper candles, brightly colored flowers and menus featuring Cole's artwork. "I wanted a wedding that felt like a 40th birthday party," Cole says of the fun atmosphere she envisioned.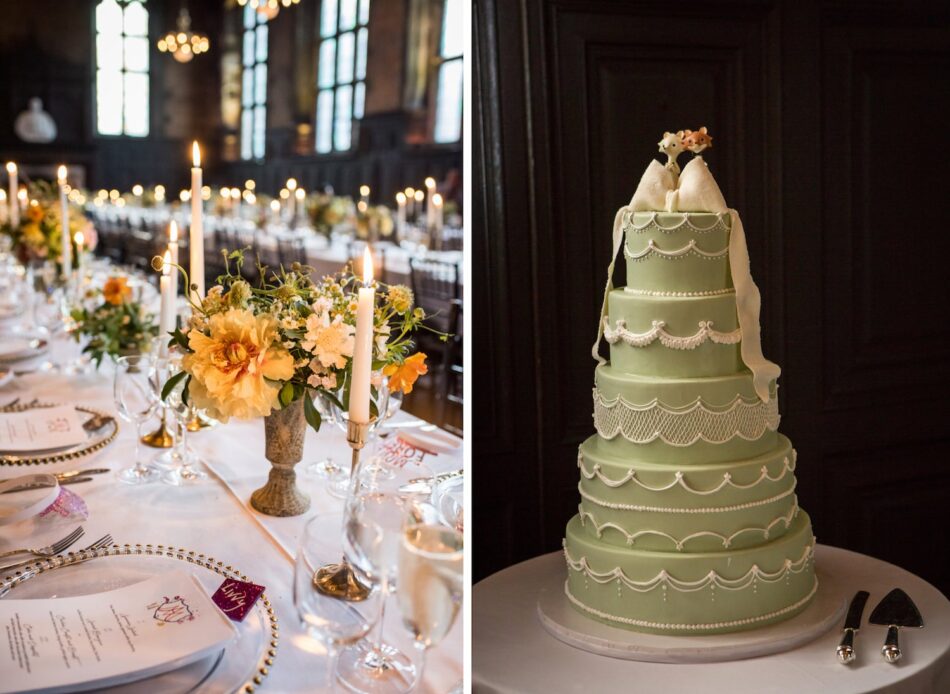 The couple didn't want to work with a traditional wedding florist, so they went with Beetlebug Studio, who designed the event to match Morgan's desired aesthetic of "Le Petit Prince meets English countryside charm."
Cole calls the pastel-green, five-tier cake "a labor of love." It comprised chocolate chip "stracciatella" funfetti cake with layers of dark chocolate, salted buttercream and strawberry funfetti buttercream. "Flavors she let us invent," Cole says of Cake Alchemy owner Lauri Ditunno. "Our cake topper was two foxes — another nod to my obsession with Le Petit Prince." Cascading from the upper tier was a white bow that echoes the one on the back of the gown.

"It was so special to be able to find a dress so unique and so truly one of a kind," Cole concludes. "One of my best friends saw the dress and said it looked like the dress Sailor Moon wore to her wedding, and that was all I needed to hear!"