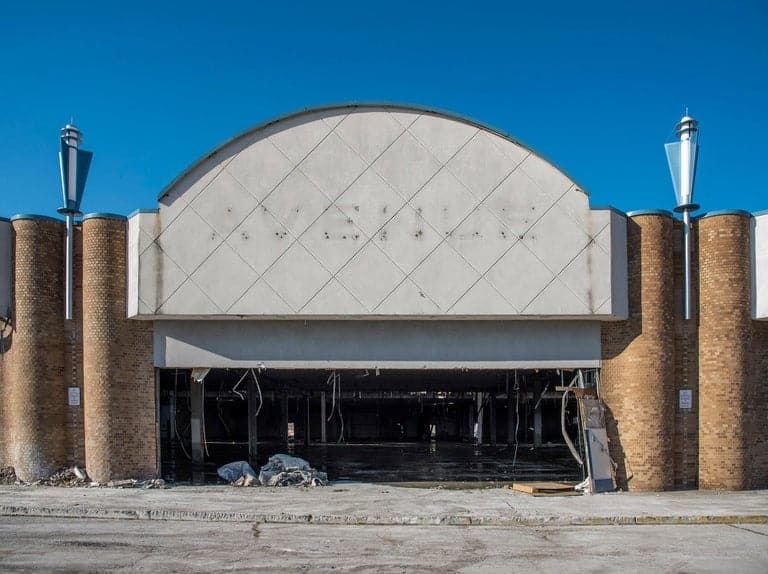 The photographer Phillip Buehler has devoted his career to exploring obsolete sites, what he calls "modern ruins." Captured in states of evocative decay, his subjects have included an abandoned psychiatric asylum, a Cold War missile silo and an offline power plant.
His latest body of work, on view in the exhibition "Mallrat to Snapchat: The End of the Third Place" — at Front Room Gallery, in New York, through January 12 — may elicit more nostalgia than the others. It's a look at New Jersey's defunct Wayne Hills Mall and, by extension, at the dying culture of middle-class suburban shopping centers across the country.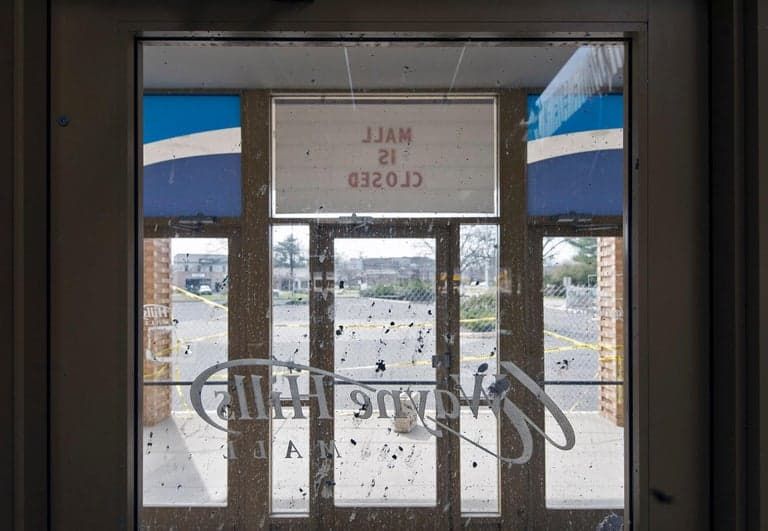 In Buehler's photographs, taken as the mall was being demolished to make way for a grocery store, the stores have been stripped of all fixtures and ravaged by the elements. Some still have signs that identify them as former music or photo-developing shops. Eerie as they are, these shots convey Buehler's fond memories of the "mallrat" scene of the 1970s and '80s.
At the gallery, he has installed an homage to his favorite mall store, Sam Goody — complete with a turntable and bins of albums — and even booked an appearance by an original Wayne Hills Mall Santa. The week of the show's opening, he spoke with The Study about the malls of his youth, his attraction to dying spaces and the future of shopping.
---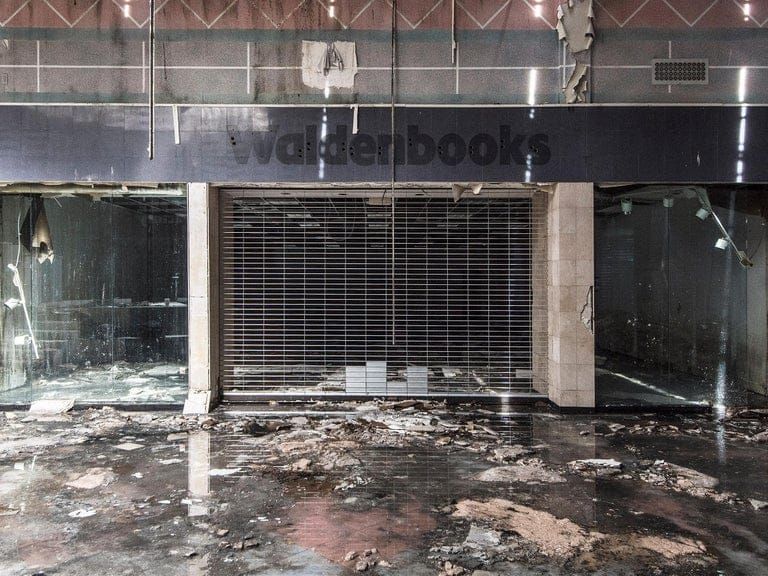 What was your personal experience of mall culture, growing up in New Jersey? Did you go to the Wayne Hills Mall as a teenager?
I grew up in a working-class town about 15 miles from the Wayne Hills Mall. My friends and I went as soon as we got our driver's licenses. There wasn't much going on in a suburb without a downtown. It was all happening at the mall — flipping through albums at Sam Goody or magazines at Waldenbooks or shopping for jeans at the Gap.
How was the mall similar to other modern ruins you've photographed? How was it different?
I started photographing abandoned places the same year the mall opened, 1973, when I was a senior in high school. At the time, New York was falling apart, with empty piers and abandoned or burned-out buildings everywhere. Back then, nobody was photographing them, so I had no art references — most were cinematic. Two films released in 1968 made a big impression on me: 2001: A Space Odyssey and Planet of the Apes.
The Wayne Hills Mall is one of the only modern ruins I've photographed that I actually remember from when it was thriving. This ruin was much more modern than the others. It had been vacant for only about five years, although it looked like it had been abandoned for decades. It was also very different from other dead malls, which are usually just sealed up, awaiting redevelopment.
It looks more like a disaster zone than a construction site, as if a hurricane or tornado had come through. What exactly happened there?
The mall started to atrophy around 2008, when the Sam Goody at one end closed. The owners put up a wall to close off that part, and as more stores closed, they moved the wall. Sometime after the last stores closed, in 2014, they removed the metal covering the seams in the roof, allowing rainwater to pour in. That brought down the drop ceilings and left lakes throughout, creating wonderful reflections and giving it that postapocalyptic feeling.
Is there a particular image that most resonated with you? Or a particular store?
Sam Goody was the first sign I saw when I entered the mall to photograph, and that was a weird déjà vu moment — as a teenager I spent many hours flipping through record albums with friends. In the exhibition, I'm using music to transport people to 1973, the year the mall opened.
The image that most resonated with me, though, was the atrium ceiling. When you shoot it from underneath, it looks almost like a kaleidoscope. Architecturally, it reminded me of the orbiting space station from Stanley Kubrick's 2001: A Space Odyssey.
Are there any historical artworks, artists or photographers you were thinking about when you made this series?
I was thinking about Warhol, brands and consumerism but focusing more on the role malls have played in how we connect to each other. I'd read Ray Oldenburg's book The Good Place when it came out, in 1989, and thought about what we would lose as a society as malls disappeared. In the book, Oldenburg used the phrase "the third place" to represent that place you go after home and work, like the pub or the mall.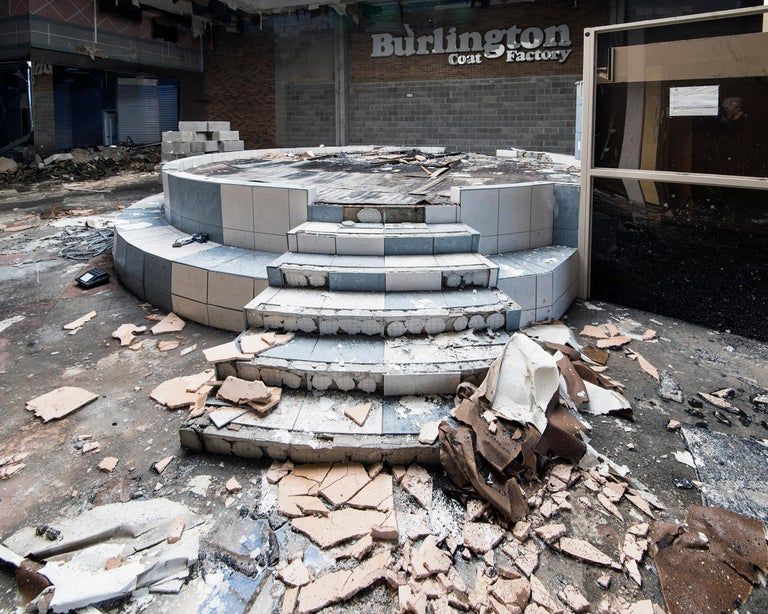 Although middle-class malls like Wayne Hills are on the way out, other, more upscale malls are thriving. Have you been to Hudson Yards, in Manhattan, or the American Dream Mall, in New Jersey's Meadowlands? What do you make of them?
The new malls are trying to stay alive by doing what Amazon can't: give shoppers an experience. The American Dream Mall is as much an amusement park as a shopping center, with a ski slope, rides and theaters. Hudson Yards was smart in adding art galleries into the mix. We'll have to wait and see if anyone besides affluent tourists visit these malls — I doubt they'll be filled with mallrats and mall walkers, like the old malls were.
Malls that can't afford to reinvent themselves will fade away. I hope part of what I experienced as a kid and teenager survives, because Amazon doesn't have a Santa Claus.