Every interior designer will tell you that decorative objects are what make a house a home. Without them, a space can feel like a movie set — full of the requisite furniture but lacking any trace of the people who live there.
Decorative objects trumpet the homeowner's personality while bringing a room to life. For designers, they present an opportunity to express their creative vision.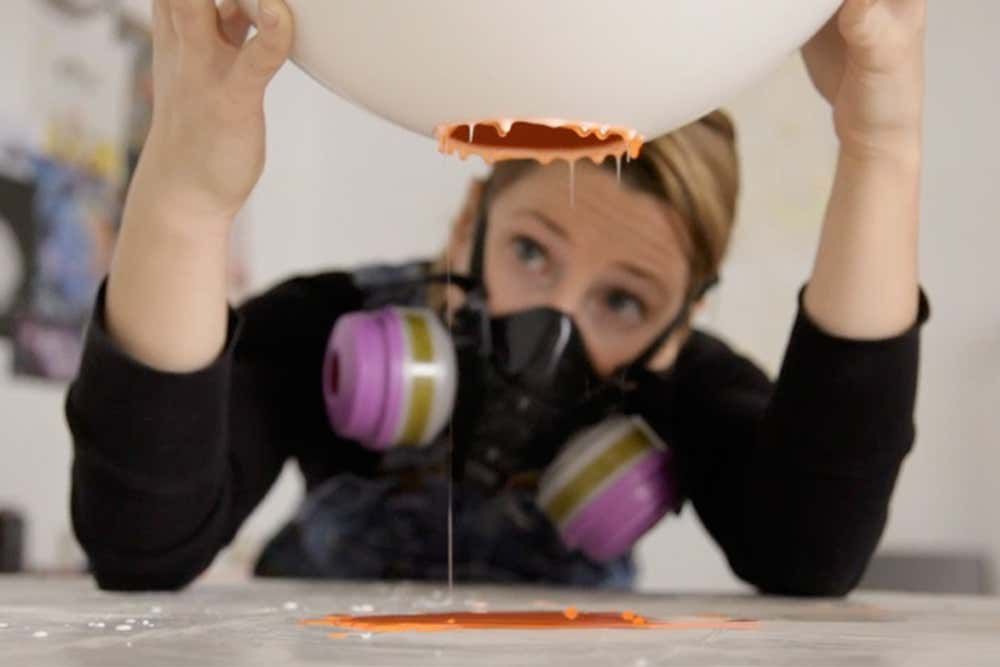 Here, we highlight 11 established makers of unforgettable decorative pieces. From colorful perfume flacons to steel vases inspired by the geometric works of Russian suprematism, each makes a lasting impression.
---
Reflections Copenhagen
Black-and-white photographs of flamboyant Art Deco boudoirs from the 1920s inspired these graphic crystal perfume flacons designed by Reflections Copenhagen's Danish cofounders, Julie Hugau and Andrea Larsson. The pair was intrigued by the idea of an oversize decorative object living among everyday beauty items like makeup and combs.
Old doors, vintage graphics and magazine cutouts provided even more inspiration. No two pieces are ever alike — each is made by hand in a crystal factory just outside Shanghai.
Before that, they lived as a series of colorful sketches in Larsson's notebook. Asked if they would ever create a simple minimalist piece, the playful designers demur. "Yes, maybe," they say. "We have no rules. But we do tend to shy away from the totally simple style."
---
MADEINBRITALY
Is the role of an artist to "put problems forth" and not solve any, as Oscar Wilde so cleverly pondered in his 1890 theatrical essay "The Critic as Artist"? It's a provocative idea, and one the Italian ceramic artist Andrea Salvatori found ripe for a peculiar experiment with terraglia, or Tuscan clay, and a cutting-edge 3D printer by WASP.
The aim, says MADEINBRITALY curator Marco Venturi, was to make the machine go bonkers, cramming dozens of spheres inside as it dutifully printed layer upon layer while following instructions.
"There was an aspect of unpredictability of the overall structure holding up and not collapsing, something which partially happened in one of his first trials," says Venturi, whose impressive roster of creators — all of whom have personal ties to Britain and Italy — includes decorative artist Francesco Raimondi and ceramicist Claudia Frignani. "The hope was to create a totally novel, never-seen-before sculptural object." Several months, ad hoc plaster molds of ceramic spheres and cycles of drying, glazing and firing later, Salvatori's oddball experiment has taken a shape of its own.
---
Kiki & Joost
When the Dutch designer Kiki van Eijk, of Kiki & Joost, found a discarded mesh sleeve for a wine bottle lying around her Eindhoven studio, she knew what she had to do — tinker. "It felt like I was creating almost a 3D drawing or a skeleton of an object," she says of the whimsical Floating clock that came into being from her twists and knots. "It was a sweet process of playing with a simple material that brought me to a magical object."
With each aluminum clock carefully constructed by hand, no two pieces are ever the same, and each feels imbued with its own personality. Which is just as van Eijk likes it, as her clients are constantly requesting personal touches like different colors or shapes. "The most challenging part is keeping a good proportion without constricting them," van Eijk says. "I always want the clocks to have an organic feeling as if they broke free from the wires."
---
Atelier Crestani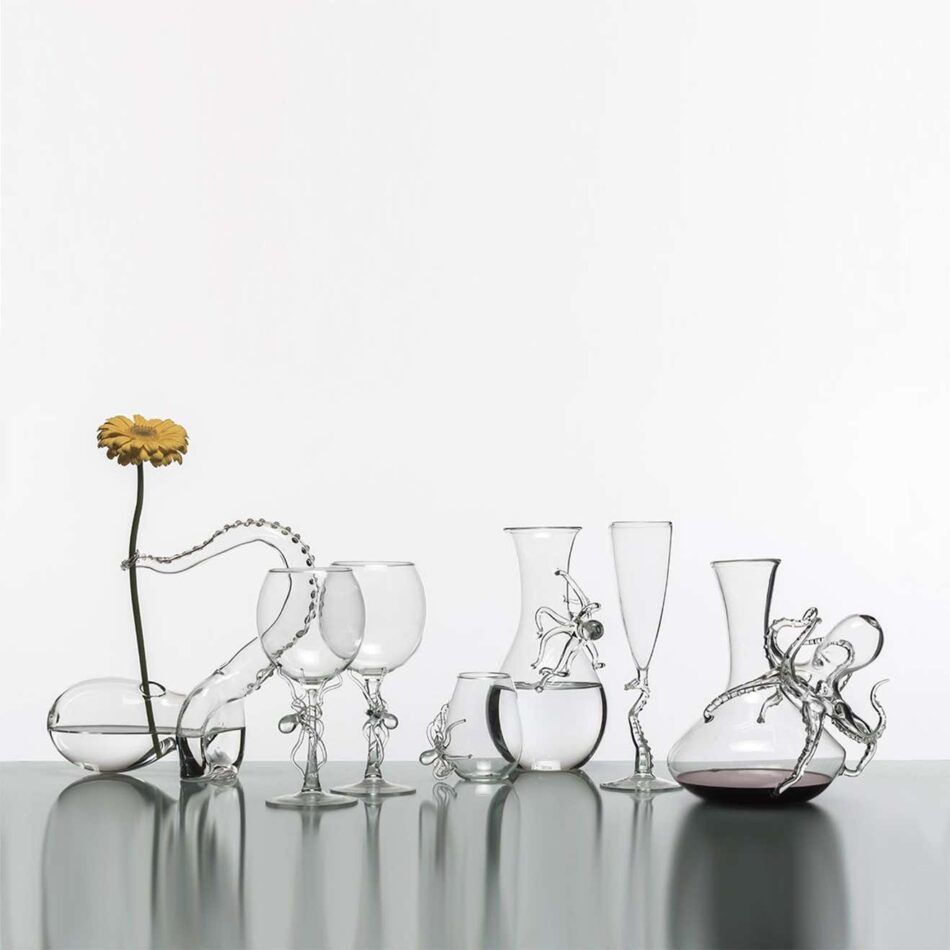 As the son of a bonsai artist, Simone Crestani was surrounded by mystical little trees growing up. Their meticulously shaped forms left an impression on him, and to this day the young glassmaker is drawn to re-creating them in his work. From his home in Camisano Vicentino, Italy, Crestani crafts exquisitely detailed glass bonsai sculptures using the ancient lampworking technique made famous by Murano glassmakers in nearby Venice.
"I'm an artisan before being an artist," says Crestani, who first encountered glass working as a boy and apprenticed under Massimo Lunardon. "Glass is my material, and it's the only medium I can use to express my thoughts," be it a decanter topped with an octopus, a manhattan glass inspired by a chem lab or a candelabra dotted with pale pink roses.
Countless hours spent in the workshop have taught him to trust his instincts. "I don't try to follow [an idea] strictly, but I just use it as a guideline and then I follow the flow," he says. The end result could be summed in one word: magical.
---
Helle Mardahl
As a little girl, Danish designer Helle Mardahl dreamed of owning her own candy shop. So it's only natural that she turns to candy for inspiration as a grown-up. Her playfully misshapen vessels, aptly called Bon Bons, are an "embodiment of dreamy candy colors" in melty glass — perfect for resting on nightstands or anywhere else a dose of pretty is needed.
"To me, colors are a refreshing source of positive energy, and I love being surrounded by colors," Mardahl says. Imagining a "candy universe really allowed me to use colors in a delicious and sensuous way."
Noting the most rewarding aspect of the process for her is designing, Mardahl says she takes her time when walking her production team through her vision. "The thing I hope most to achieve with my glass design is to create something unique that makes people happy."
---
Bitossi Ceramiche
In 1956, Irving Richards made an intro for the ages. After hiring Ettore Sottsass to design ceramics for his New York imports company, Raymor, he connected the Milanese design polymath to Bitossi's art director, Aldo Londi, who introduced Sottsass to ceramics.
Sottsass was hooked, and for years he would travel to the Bitossi factory in Florence to visit his good friend Londi. There, at Londi's insistence, he experimented with clay — a fanciful one-off vessel here, an ambitious series of cylindrical goblets inspired by Egyptian and Indian artifacts there. "Sottsass and Londi were a match in terms of enthusiasm and courage," says Bitossi chief executive and art director Ginerva Bocini Bitossi. "They had no reservations about venturing into daring experiments."
Noting that both men suffered from PTSD after serving in the Italian army during World War II, he says, "they shared a strong emotional understanding and an idea of life, of creative life, as a continuous battle against the horrors of war, of death." This graphic black-and-white totem, made the old-fashioned way in that storied factory in Florence, is a testament to their powerful vision.
---
Vetro Vero
In their studio in West Grove, Pennsylvania, Josie Gluck and Michael Schunke, of Vetro Vero, craft all the gorgeous pieces they sell. "We are the designers and the makers. We are the source," says Gluck. "We make everything right here in Pennsylvania."
Their vibrant blown-glass vessels — or flat pitchers, as Gluck likes to calls them — draw on color theory and the relationship between shapes. While their asymmetry subtly gives them character, it's the interplay between colors that creates the sense of conversation.
"We are always looking for refinement, clarity and a form that has both and upward and outward lift," Gluck says. Here, they've accomplished all three.
---
Noom
"I often say that if you are a creative who works and walks the same path that Kazimir Malevich once did, it's only a matter of time before his presence starts to inspire you," says industrial designer and Noom cofounder Kateryna Sokolova. She ought to know: The firm's office, in Kiev, Ukraine, is on a street named after the Russian suprematist.
And the geometric structure of Sokolova's Malevich vase, made of perfectly oxidized copper and turquoise-colored steel, does indeed echo its namesake's distinctive works. "Many people think steel is a great structural and decorative element primarily for architecture," Sokolova says. "To me, as an industrial designer, it has always been a highly sustainable and eco-friendly material for creating timeless design pieces."
---
Elyse Graham
"We've designed a good deal of chaos into our process, so each piece is a bit of a surprise," Los Angeles artist Elyse Graham says of the vases in her Black Magic collection. "I love how the cohesive color palette allows for the patterns to meld where the layers intersect."
Unlike most creatives, Graham determines her process first, then identifies what she wants to create. For the resin vases, which embody the idea of revealing what is hidden, she chose a rough mold that enabled her to mask the interior colors until the pieces were cut and sanded to their final shape. "We are constantly experimenting while casting the vessels," Graham says, "so the challenge is in embracing the unknown."
---
Maison Fragile
Maison Fragile founder Mary Castel takes her tableware seriously. "Two years ago, I invited seven artists, including Safia Ouares, to interpret the idea of the rue de Paradis, in Paris," says Castel, who is based in Limoges.
"My great-grandmother had a porcelain shop, and the sellers on this street also specialized in French porcelain and crystal. So, in a way, this plate with a pattern by Safia Ouares is a tribute to my great-grandmother and to the French manufacturers."
Coming from a family of gourmets — her uncle and father run a restaurant in Paris, and one cousin is a sommelier — she makes sure her plates are practical. "An artisanal, artistic and gastronomic moment" is how Castel describes the work on her site.
---
Gumdesign
"Complicated, long and difficult to make" — so Gumdesign designer Laura Fiaschi describes the company's surreal Avvolti collection. A mind-bending pairing of industrial cardboard and Carrara marble, the pieces are produced via an arduous and mathematically complex process that begins with making hundreds of cut elements that must fit together precisely.
A specialized tool is built to fasten the closed cardboard shape with glue. Then, the designers coordinate with artisans to patiently craft the marble. "Usually, cardboard is used to protect precious objects," Fiaschi says. "The Avvolti collection is very special — it flips the materials." Here, the box is the most important part.