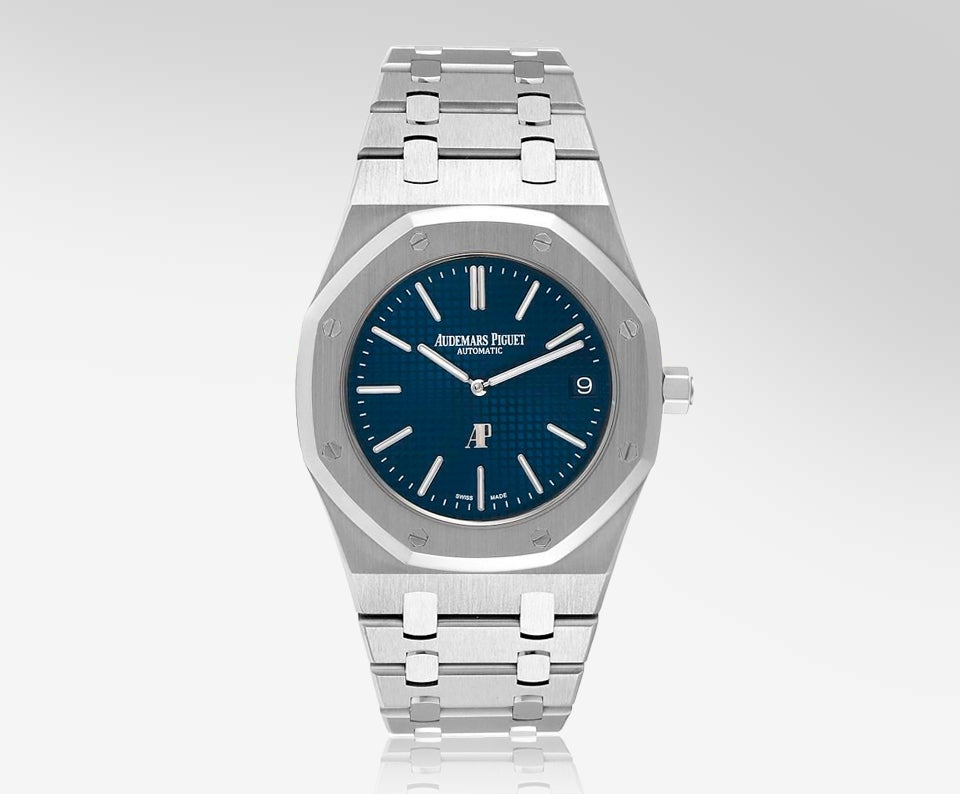 Iconic Designs
Royal Oak Watch
About the Design
For vintage watch collectors everywhere, Audemars Piguet's Royal Oak is a stylish, widely coveted status symbol. It features the incorporation of an unconventional material that would one day prove revolutionary to watchmaking, and for celebrated Swiss designer Gérald Genta (1931–2011), it is perhaps his best-known work. Incredibly, its story begins with a simple inspiration: the humble screw.
First introduced in 1972, the Royal Oak wristwatch featured a now-legendary design that Genta borrowed from antique diving helmets. More hardware than garment, these helmets were crafted in brass and attached to a diving suit with large screws. Genta translated the motif from the rim of the diving helmet to Audemars Piguet's newest timepiece, setting eight miniature screws into an octagonal bezel, which surrounded a textured "tapisserie," or tapestry, dial. Following its launch at what would become the Baselworld watch and jewelry fair, Audemars Piguet aptly touted a "bezel locked dramatically to its face, tightly as a porthole."
In addition to its unique bezel design, the Royal Oak — named for a group of vessels in Britain's Royal Navy, according to legend — was also unorthodox for its material. Though stainless steel is a ubiquitous option on watches today, in the early 1970s its use was visionary. The Royal Oak was the first luxury sports timepiece to be made from the durable material — a perfect choice for blending the form and function that are now synonymous with sports watches.
Stainless steel also allowed for a more integrated connection between case and band, paving the way for the seamless bracelet-style bands that have since been adopted by nearly every watchmaker. The knit-like design of the Royal Oak's band is echoed by the original model's trademark tapisserie dial, a guilloché backdrop achieved by a precise engraving process. The textural element, paired with the Royal Oak's sturdy steel and delicate yet industrial screws, gives the timepiece a unique combination of elegance and weight.
Arguably the most prolific freelance watch designer in history, Genta designed timepieces for Omega, Patek Philippe, Cartier and Bvlgari, to name a few, but the Royal Oak remains one of his most influential. Since the debut of the original, Audemars Piguet has continued to issue new collections of the style, including men's and women's versions in yellow and pink gold, models encircled with diamonds and many more.
Audemars Piguet Royal Oak Watch
More Audemars Piguet Designs