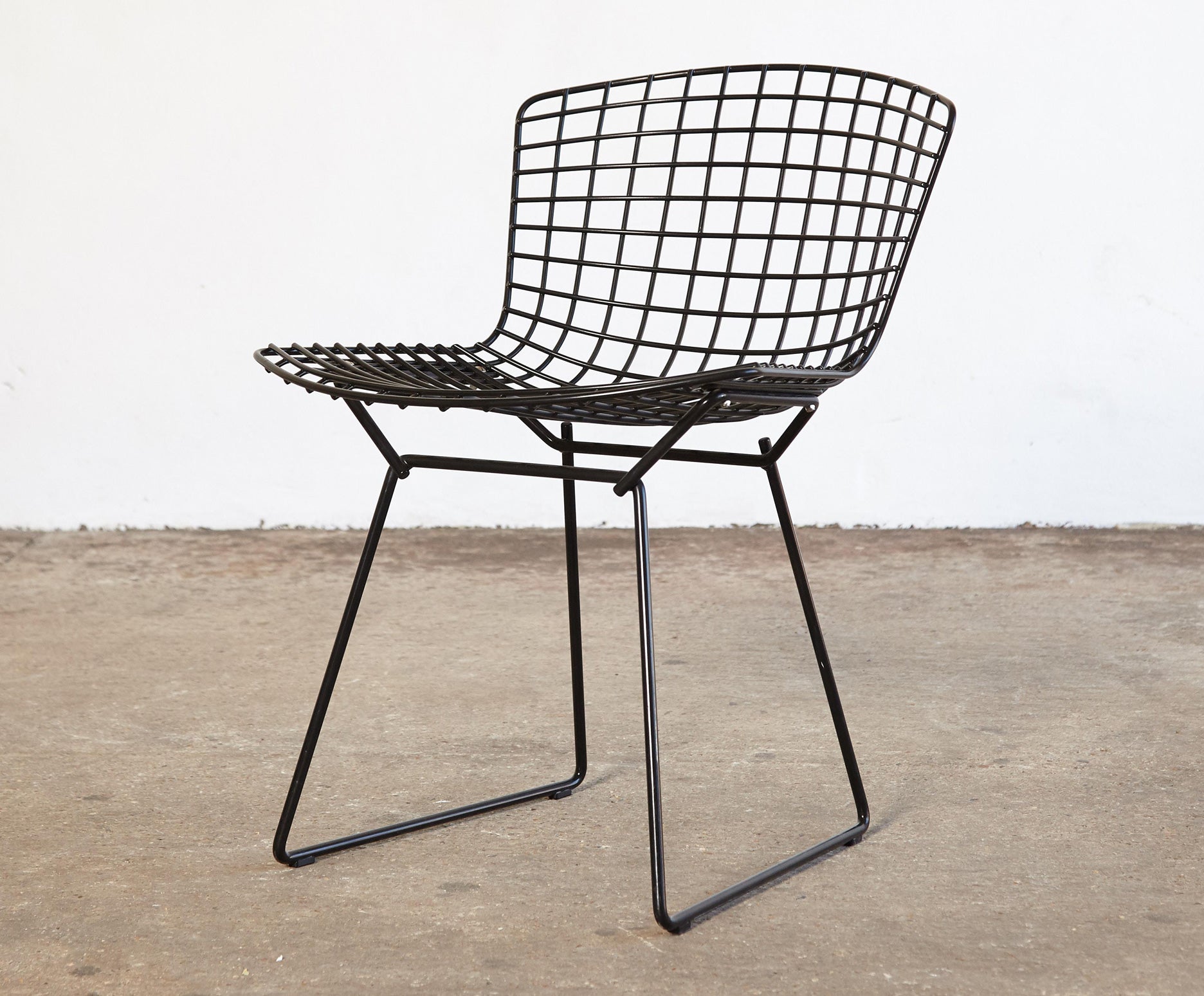 Iconic Designs
Bertoia Side Chair
About the Design
When Hans and Florence Knoll invited Italian-American artist Harry Bertoia (1915–78) to move from California to Pennsylvania in 1950 to work with their new design firm, they did not ask him to develop any specific pieces but instead to investigate whatever interested him. That open-ended experimentation led to the 1952 Bertoia Side chair, which was fitted with a fluid metal lattice that gave the seating an ethereal quality. Bertoia considered his collection of chairs created for Knoll Associates to be "mainly made of air, like sculpture," as he bent steel wire into striking lightweight forms.
While these chairs were innovative in their use of industrial materials, they also had a progressive approach to the ergonomics of seating. Bertoia had previously collaborated with  Charles and Ray Eames on molded plywood chairs — what would become the LCW (Lounge Chair Wood) — yet was miffed by the lack of credit for his work. He went on to take a job in engineering for the human body at the Point Loma Naval Electrical Lab in La Jolla, California, during which he created metal sculptures in his spare time. The opportunity from Knoll, another of his former classmates at the famed Cranbrook Academy of Art in Michigan — Bertoia met the Eameses and Knoll and later taught metalworking there — gave him the time and space to devote himself to his own ideas independently. And, as with all Knoll designers, he would get named recognition for his designs.
In a garage in Bally, Pennsylvania, he set up his metal shop and developed ideas for the welded steel grids he would use in his seating. At the time, most chairs were constructed from wood; Bertoia saw the potential for graceful and comfortable designs in the strong material of metal. Along with the Bertoia Side chair, he created the Diamond chair with a diamond pattern in its metalwork and the undulating Asymmetric Chaise (which was too complicated to manufacture until 2005), all with the transparent volume that gives his metal furniture a sense of floating.
Although he would shift to making art rather than furniture, Bertoia still worked on a number of sculptural and architectural designs for the Knoll Planning Unit in the years that followed. Knoll, Inc. has produced the Bertoia Side chair since it was introduced, with its durable materials and optional upholstery or seat covers that can be snapped on and off, making it popular for indoor and outdoor seating.
Previously Available Items
More Harry Bertoia Designs