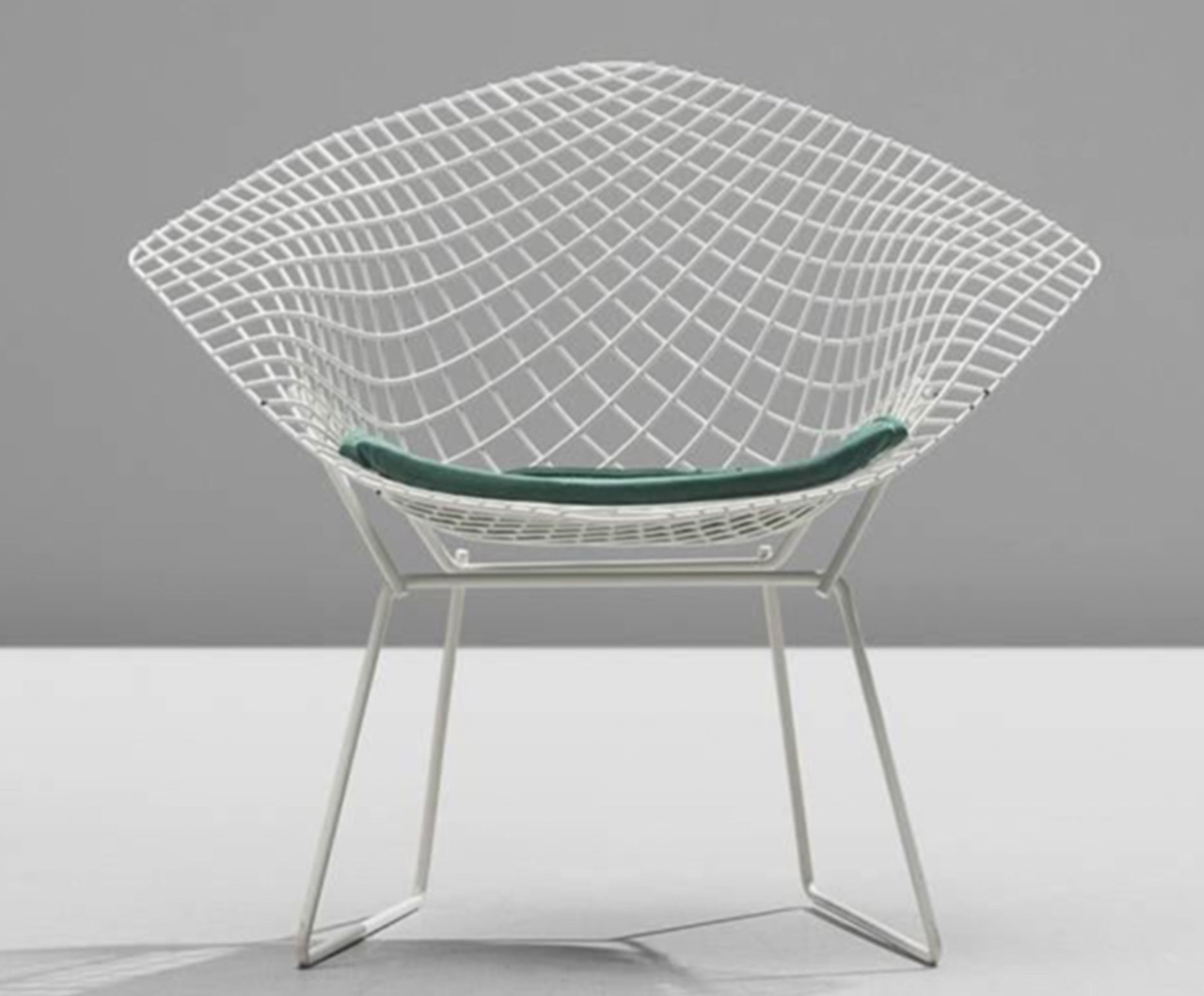 Iconic Designs
Diamond Chair
About the Design
To fully understand the design of Harry Bertoia's (1915–78) 1952 Diamond chair — an austere and photogenic work of woven steel wire, the intricately sculptural wings of which create the illusion of sitting on air — it helps to go back to his college days: In 1937, the Italian-born artist and designer, who emigrated to Detroit at age 15, earned a scholarship to Cranbrook Academy of Art, the illustrious Michigan design school that attracted such luminaries as Florence Knoll, Eero Saarinen and Charles and Ray Eames. Bertoia was deeply influenced by the Eameses, especially by the sculptural quality that was so prominent in the furniture they made. In the 1940s, he left Cranbrook to work for the couple, developing the molded plywood furniture that would become a trademark of their designs.
Bertoia learned to weld while employed by the Eameses, but left their workshop in anger over the lack of credit he received for the important contributions he made there — a dispute that would come to play an important role in the Diamond chair's development. He eventually took a job at an electronics lab, where he analyzed human mobility for the purpose of designing electronics with easy-to-reach knobs and consoles. 
When his former Cranbrook classmate Florence Knoll tapped Bertoia to make furniture for the Pennsylvania company she had recently founded with her husband, Hans, the designer was swayed with the promise of full credit for designs he produced. Armed with a newly minted background in ergonomics as well as the knowledge he gathered from experimentation with the Eameses, Bertoia capably applied what he'd learned over the years at Knoll, where he utilized thin wires of welded metal to produce pieces that appeared to be floating in the wind — yet remained surprisingly comfortable and supportive. The Diamond chair, a widely revered component of the innovative metal furniture line that Bertoia designed at the company, has been in continuous production at Knoll since 1952 and is available in four finishes today.
More Harry Bertoia Designs