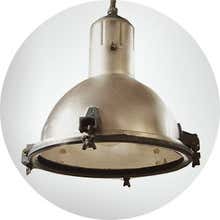 Industrial Style
Industrial-style furniture has experienced a resurgence in popularity with the rise of interest in minimalist design.
It's a look that celebrates the past even as it suggests vigor, productivity and brawn. The newly chic industrial style of decor repurposes the simple, sturdy furnishings of an earlier world of commerce — brushed-metal storage cabinets and display shelves, task lamps and pendant lights with enameled shades, work tables with worn wooden tops and cast-iron bases — and couples them with aesthetic touches emblematic of energy and optimism, from bright upholstery fabrics to flowers.
The rise in prominence of the industrial style has come hand-in-hand with the residential repurposing of former manufacturing and warehouse districts throughout the United States, Canada and Europe. In many loft apartments created in shuttered factories, the architectural envelope has been left intact.
Industrial-style interiors feature elements like raw brick walls, exposed steel beams and oak floors whose history is written in every pit and gouge. Patina is the keynote to a decor in sync with such surroundings. On 1stDibs you will find designs that wear their age beautifully — and were built to last.
A.S. Aloe Company stools for sale on 1stDibs
The A.S. Aloe Company stools are available for sale on 1stDibs. These distinctive items are frequently made of
metal
and are designed with extraordinary care. There are many options in our collection of A.S. Aloe Company stools to choose from, although
brown
editions of this piece are particularly popular. In-stock we have 1 vintage editions of these items, while there is also 0 modern edition to choose from. Many of the original stools by A.S. Aloe Company were created in the
industrial
style in
united states
during the
1930s
. If you're looking for additional options, many customers also consider stools by and . Prices for A.S. Aloe Company stools can differ depending upon size, time period and other attributes. The price for these items starts at
$485
and tops out at
$485
, while pieces like these can sell for
$485
on average.