The pendulum swings, and having swung, swings back. The trend away from brick-and-mortar stores to online sales comes full circle at 1stdibs' glittering new Gallery atop a historic former warehouse in West Chelsea, where the satisfactions of in-person browsing are fully integrated with the ease of online shopping.
The concept is a boon for those who want "to touch and feel and interact with the things they're buying or showing clients," says Chicago-based Nate Berkus, a nationally renowned interior designer — and, for the past five years, a 1stdibs dealer of vintage and antique treasures — who immediately snapped up some square footage. "There is a moment when you want that tactile connection. This great new space in a vibrant neighborhood in New York City was something I couldn't say no to."
As of mid-February, more than 50 exhibitor booths were spread over the Gallery's 45,000 square feet. The space is located on the penthouse floor of a monumental 1891 edifice on 11th Avenue at 28th Street that sits amid the art galleries of Chelsea, the bustling new Hudson Yards commercial and residential development and the ever-popular High Line elevated park. In fact, the elevated train tracks of the High Line formerly serviced the Terminal Warehouse, as the building was long known. The Gallery is open Monday through Friday to trade and civilians alike.
Inside the 1stdibs Gallery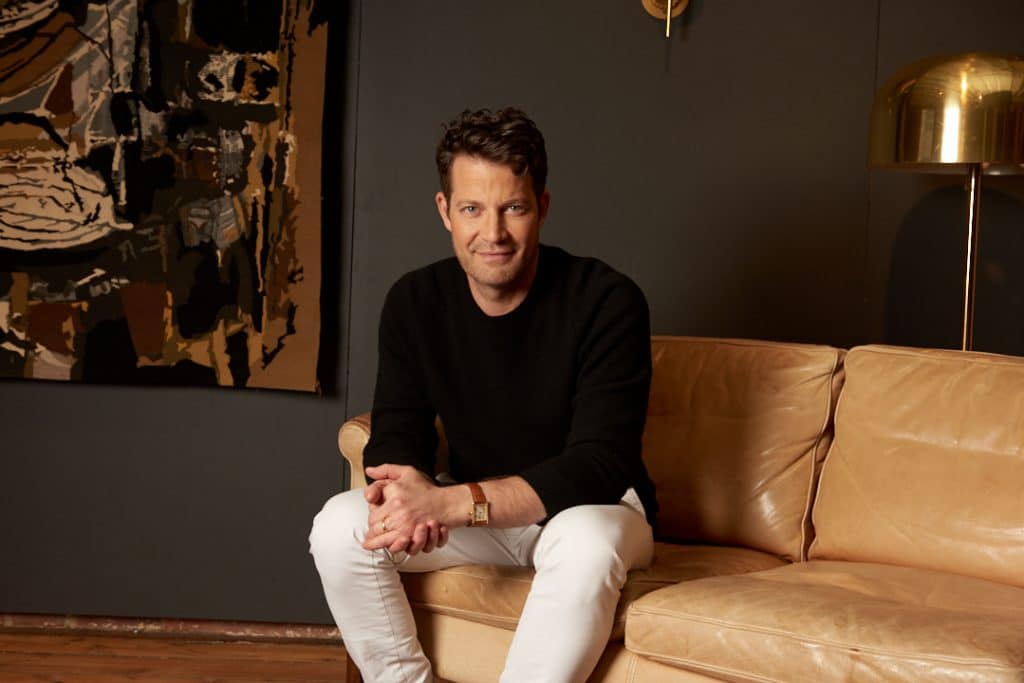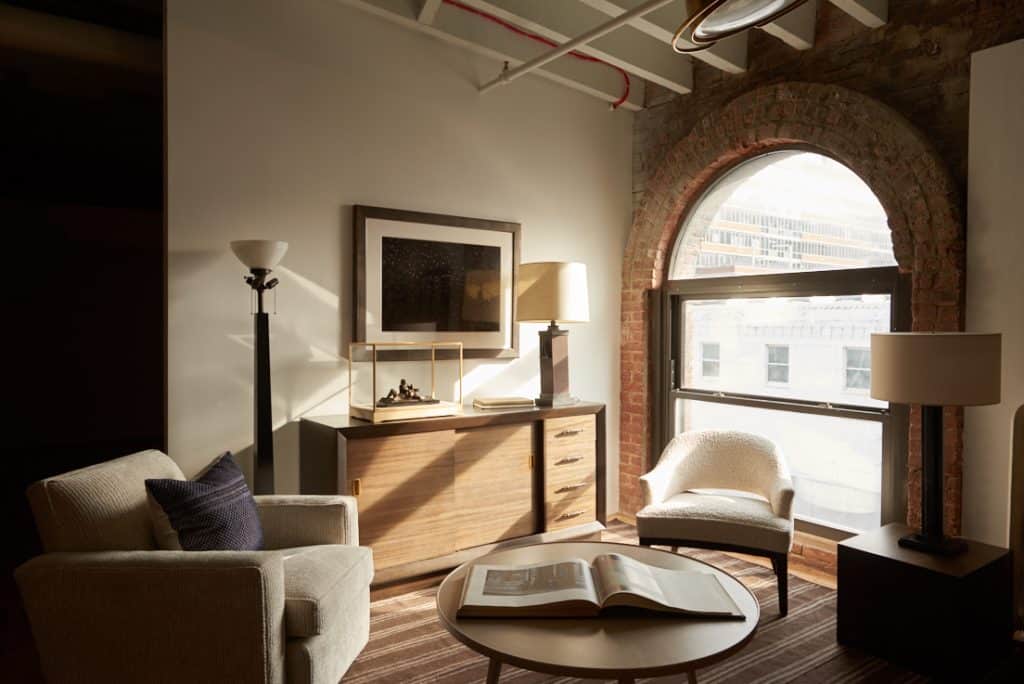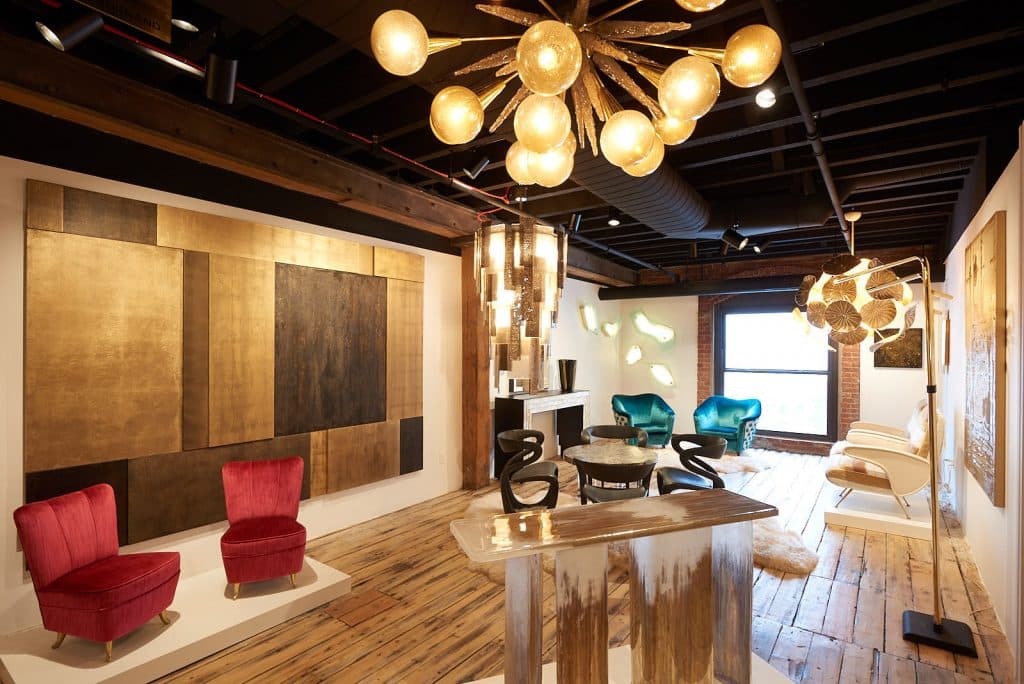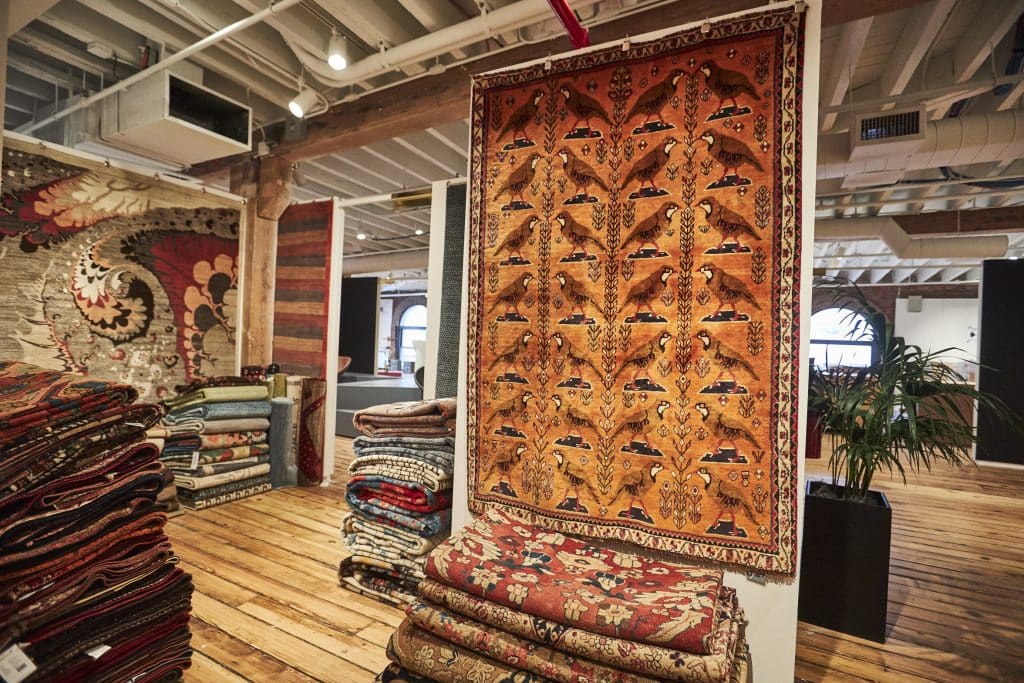 Each of the purpose-built booths is a "magical chamber where you can have a different experience," says Trattie Davies, of Manhattan-based Davies Toews Architecture, which converted the raw industrial space to an of-the-moment selling floor spilling over with wares from 1stdibs' roster of vendors. Wandering through it is an adventure akin to visiting a high-end souk where crystal chandeliers hang from beamed ceilings, antique carpets are piled on vintage wood floors, Brazilian modern furniture is silhouetted against arched windows and brick walls, and ornate 18th- and 19th-century furnishings look remarkably at home alongside sculptural, cutting-edge exemplars of contemporary design.
Rotating installations of art and furniture and room settings ("vignettes") by top interior designers using only items from 1stdibs add to the sense of discovery and surprise. Among the debut projects are "The Line of Beauty," a witty installation combining four centuries of portrait busts and pedestals from the Los Angeles–based interior design studio the Archers, and "Kind of Blue," a room by Brooklyn-based Chango & Co., known for its vivid and playful interiors. "We've put together a room we feel represents our style," says Susana Simonpietri, creative director of Chango & Co., "and we've sourced solely from 1stdibs goods."
In organizing the vast square footage into cohesive display areas, the architects took their design cues from the 1stdibs website, which Davies calls "captivating but simple, with a clear, refined armature within which you can see the exquisite nature of the objects." With her partner and husband, Jonathan Toews, she revisited the Metropolitan Museum's period rooms, drawing inspiration from "the way you're able to move among radically different time periods and frames of reference." The couple then conceived dealer booths with varying characters — some dark and intimate, others bright and open, all intended to allow individual exhibitors "room to interpret."
Technology is omnipresent, with iPad stations placed throughout for the convenience of visitors. Clients can look, touch and feel the merchandise, assess it in three dimensions and at full scale, then make on-the-spot purchases via the 1stdibs website or 1stdibs app. "Through research and interviews, we know our users do not only shop online," says Xiaodi Zhang, chief product officer at 1stdibs. "They find the off-line experience just as valuable, and we set out to build seamless experiences that enhance the retail experience with technology. With that in mind, we have created a space that facilitates serendipity and discovery. With a simple QR code scan by their smartphones, users can pull up the item on 1stdibs. From there, they can check out with one click or save the item for further research. If they aren't ready to make a decision, they can use the View in Room feature on our app to visualize the item in their home."
The new space offers seating areas and glass-walled conference rooms where designers, dealers and clients can meet (the Gallery was conceived to be not just a sales hub but a welcoming gathering spot for design lovers). There is also an in-house photo studio, packing and shipping areas and catering facilities for events large and small.
For 1stdibs Gallery exhibitors, who hail from eight countries and 10 states in addition to New York, it's an opportunity to affordably claim a piece of Manhattan real estate in a hip, desirable neighborhood spearheaded by the rapidly rising Hudson Yards complex. "As our customer base is largely in the U.S., we jumped at the opportunity to have a gallery in such an incredible physical location," says Simon Stewart, founder of the London gallery Charles Burnand, which both sells vintage design jewels and commissions limited-edition lighting and furniture from a stable of esteemed artists and interior designers. "As good as photography can be, there's nothing quite like the sight of Murano glass with twenty-four-karat gold and sterling silver floated on the surface."
Some of the names on the brass plaques that identify the booths, like Lost City Arts, Pascal Boyer, Area ID, Solo Modern, Greenwich Living Antiques and Highland Park Modern, will be familiar to residents of the New York area. Many come from afar, which adds to the freshness of the material on display and a visitor's sense of surprise and discovery. These include Gallery All, from Beijing and L.A.; Galerie Philia, from Geneva, Switzerland; Anaktae, from Athens, Greece; and Morentz, from the Netherlands, which masterfully restores and reupholsters iconic 20th-century furniture by Carlo Scarpa, Eero Saarinen, Mario Bellini and the like.
Inside the 1stdibs Gallery
American 20th-century furnishings pack the booths of, among many others, the Swanky Abode, of Ohio, and Chicago's Modern Drama. With exhibitors ranging from established brands like Nate Berkus and Newel to young Brooklyn-based companies like De La Vega Designs, which crafts furnishings it describes as "rugged modernism," and Greenpoint Hill and Fresh Kills, which are sharing a booth filled with signed mid-century pieces and original pottery, a visit to the new 1stdibs Gallery is sure to be both dazzling and fruitful.
"Our customers are multichannel, so we need to be as well," says David Rosenblatt, CEO of 1stdibs. "We felt there was an opportunity to create a better experience in an environment where both consumers and designers can shop, using the Gallery for discovery, then buying online."
Now, collectors and designers don't have to wait for the major art and design fairs to come to New York for a few days each year. At 1stdibs' new Gallery, they have access to a rich array of beautiful things all year long.