Two decades ago, as Bernd Goeckler, one of the pioneering gallerists of New York's East 10th Street, was thinking about his business's future and potential expansion, he reached out to his young niece Katja Hirche, who was at the University of Stuttgart, in Germany, studying history, linguistics and Italian culture. Soon, she was making her first trip to the United States, "whisked away," as she recalls, "for a quasi-internship" — a temporary position that became a permanent residency.
Up to that time, the two had met only once, and very briefly, when Hirche was a young teen. Although they'd spoken on the phone since then, they barely knew each other. Hirche grew up in the Baroque town of Rastatt, not far from Baden-Baden, while Goeckler — who died in December at age 78 after a distinguished career purveying exceptional antiques and decorative arts to some of the world's most discerning designers and collectors — was raised mostly in Switzerland before moving to the U.S. in 1989. There, he established his eponymous store on what has become New York City's last remaining antiques row. "He built this business and was very proud of it, and he wanted to keep it in the family," says Hirche, standing in the soaring space, where mesmerizing pieces of mostly 20th-century European furniture and lighting mingle with specially commissioned works by masters of contemporary design.
When Hirche, who is now the director of Bernd Goeckler Antiques, landed in New York in the summer of 1998, she didn't know quite what to expect. "When I spoke with Bernd on the phone, he had the deepest voice," she says. "I imagined a grand persona, very intimidating, but when I met him 'officially' for the first time, he was such a loving person." Although many years apart in age, the two found they shared a similarly intense work ethic. Goeckler became Hirche's mentor in the business, and she became an instrumental part of the Bernd Goeckler operation.
Hirche may not have realized it at the time, but she was entering the domain of a legend. With Goeckler's passing, the antiques world lost a powerhouse. His death brought forth an outpouring of affection from the interior design community. "Bernd was such a special man, with his open smile and perfect manners," says New York–based designer and 1stdibs 50 member David Scott. "He was a mentor to me. His guidance and connoisseurship informed my interiors. I'll miss him."
The blue-chip antiques dealer worked closely with many others on the 1stdibs 50 list of top design professionals, including David Kleinberg, Monique Gibson, Steven Gambrel, Sara Story, Pembrooke & Ives, Thad Hayes and Victoria Hagan."People like Bernd make us better designers," Story says. "He was a great listener and had such a discerning eye. He never failed to pinpoint the right piece for a project." Adds Gambrel, "Bernd had a singular eye for the refined, timeless twentieth-century antiques that are hallmarks of New York style. If not for him, many projects would lack the great finds he brought back from his endless travels." Kleinberg remembers him as "always a step ahead in seeing value in what was yet to be discovered by everyone else."
Given Goeckler's acumen, he no doubt surmised that the young woman he called over from Europe would have an affinity for the decorative arts. "My mom was a museum buff," says Hirche, who inherited her mother's interest in antiques and craftsmanship, particularly the inlaid woodwork of the 18th and 19th centuries. At the time of Hirche's arrival, the Bernd Goeckler gallery was all about Austrian giltwood chandeliers, neoclassical commodes, center tables, wall clocks and Louis XVI furniture and Hirche has not forsaken her appreciation for pieces of that ilk. "I don't want to let go completely" of such material, she says. In fact, she enjoys bringing pieces like a French rosewood Louis XVI commode of the late 18th century to the attention of a younger audience. Inlaid with marquetry, it's practical, finely made and, thanks to the vagaries of the market, well-priced.
But Hirche is even more enthusiastic about recent initiatives she's taken to commission limited-edition collections in which her own keen eye has played no small part. One was undertaken in anticipation of last fall's ON10, a festive annual event when East 10th Street's stores stay open late and invite the community to view their offerings in a leisurely manner. The commission brought together two Italian artists with whom Bernd Goeckler had worked individually in the past. "I thought Roberto Rida's linear and very precise work would marry with Simone Crestani's organic glasswork in a very magical way," Hirche says. "I asked them to collaborate."
Rida is an expert in the work of Fontana Arte and artisanal Murano glass; the young Crestani is a glass virtuoso known for his unique flame-working technique and use of borosilicate glass, a material that subverts expectations around the fragility of glass by being nearly unbreakable and that permits an extraordinary level of detail.
Together, these two masters of contemporary Italian design created the dreamlike Duetto collection. Among the series' exquisite objects are the Avatar chandelier, a shallow bowl filled with what appears to be a delicate thicket of illuminated glass bonsai; the circular Scarabei mirror, with lines of glass scarabs radiating from its center in orderly procession; and the Hubble 9000, a four-part standing screen of gleaming patinated brass and borosilicate, held together by 9,000 minuscule nails.
The Duetto Ursula chair began with a 1950s wooden chair, which the artists gilded and encrusted with barnacle-like bits of borosilicate. Despite all that ornamentation, according to Hirsche, it's eminently usable. "I am allergic to form over function," she says. "You have to be able to sit on chairs and put your feet up on coffee tables."
An Antiquaire Extraordinaire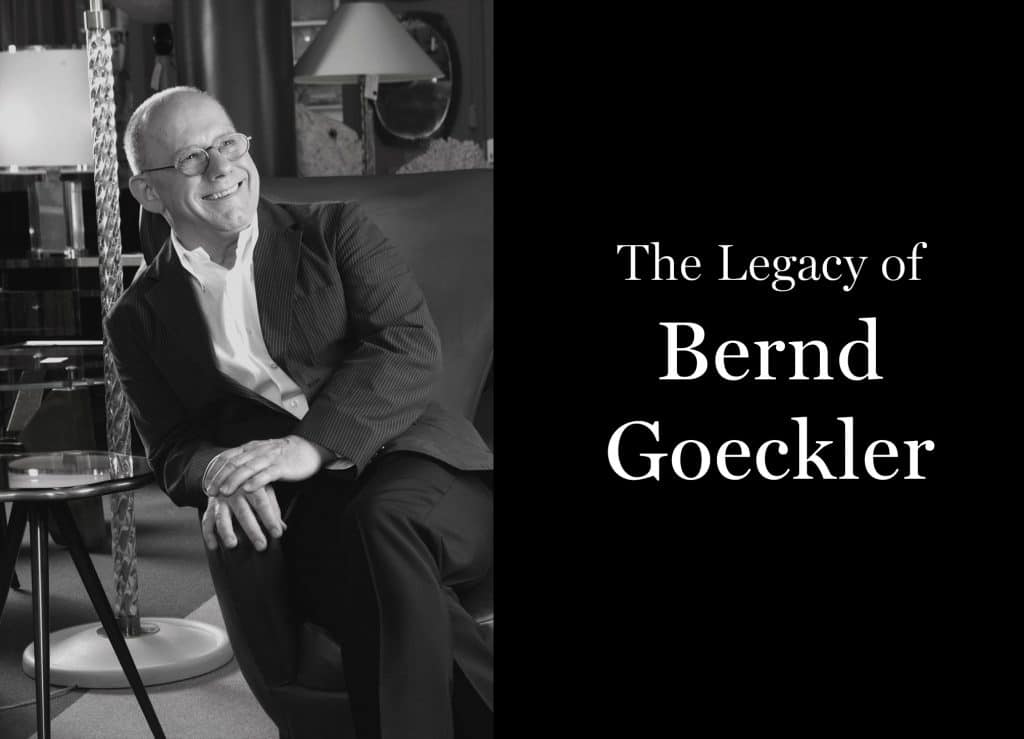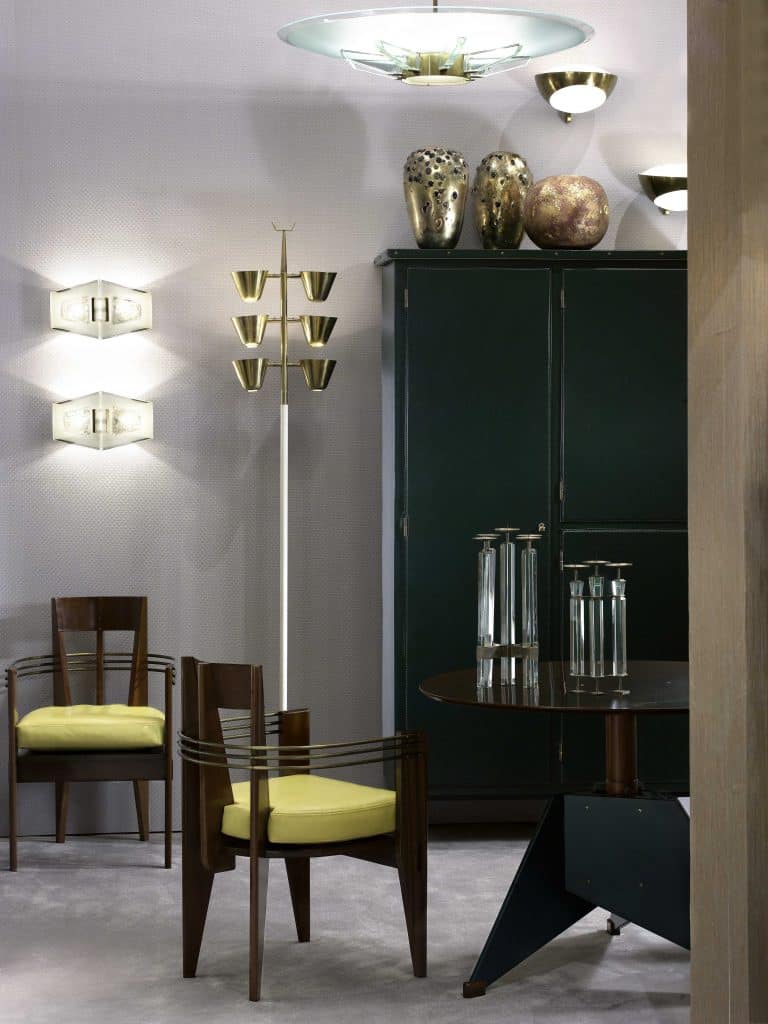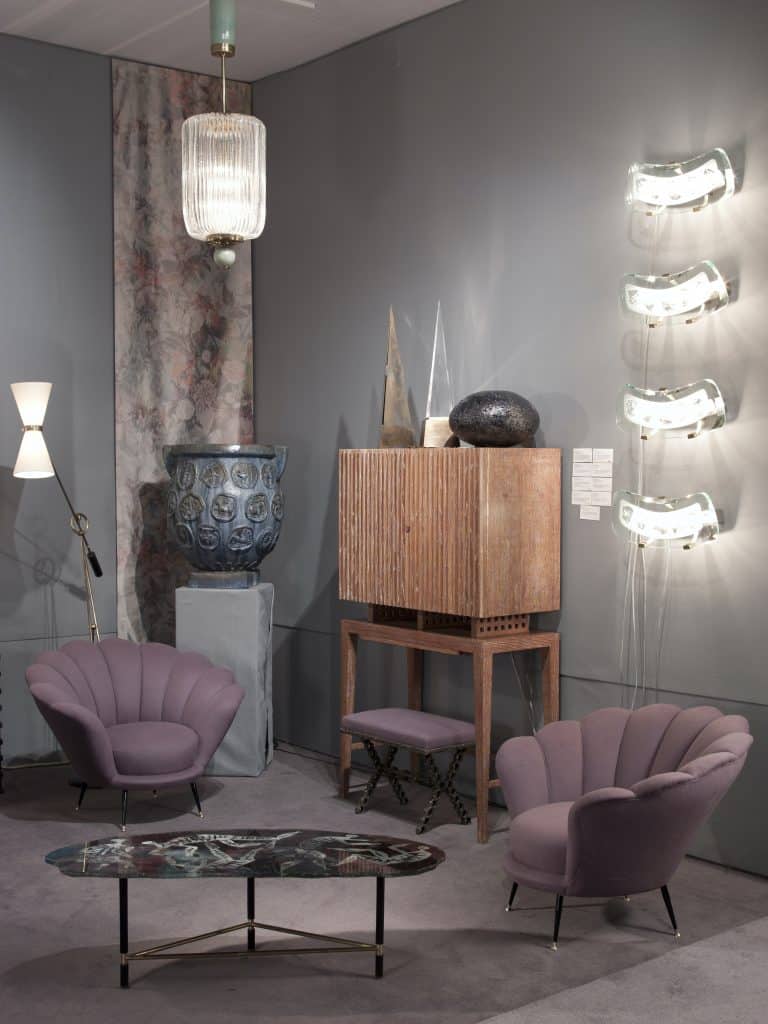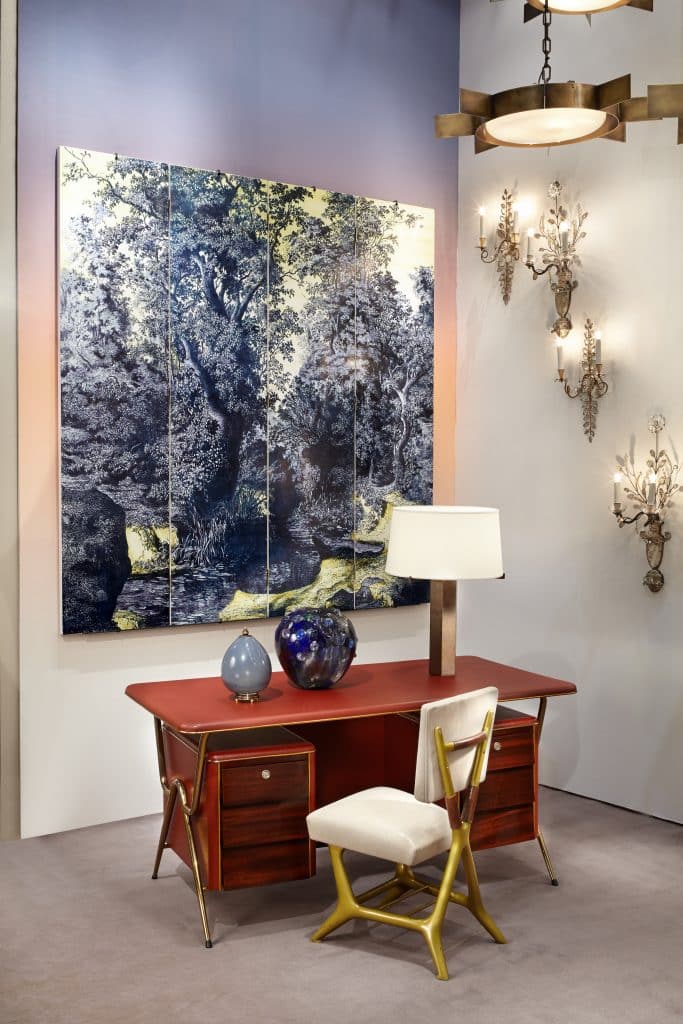 Hirche uses the term editing to describe her work with Robert Marinelli, a bicoastal contemporary designer whose extraordinary wood, bronze and glass pieces are modern interpretations of classic forms. She commissioned Marinelli to render some of his designs, like the Art Deco–inspired sandblasted-oak Blythe cabinet, in such luxurious materials as quartz crystal and gilded bronze. Other items in the collection include the sleek Tristan cabinet, with a matte bark finish; the piano-lacquered Chaneau dresser; the curvaceous Lara sofa; and high-style riffs on 1930s dining chairs.
At the gallery, all these works are illuminated by a phalanx of chandeliers of many styles and periods, which cast an otherworldly glow over such uniquely glamorous pieces as the Ellisse coffee table by the late Italian artist Gabriella Crespi, a massive oval of red travertine with leaves that glide out smoothly on ball bearings; and a polished-bronze sideboard with lapis lazuli insets by French designer Erwan Boulloud. Boulloud, says Hirsche, "has an impressive vision and the craftsmanship to back it up." An 11-foot-long textured-oak sideboard with goatskin doors by Osvaldo Borsani dates to the late 1930s, while a pair of Louis XVI marquises, newly upholstered in leather, now belong squarely to the 21st century.
Hirche buys mostly unrestored vintage pieces. That way, she says, "I can be sure they're authentic." Much of the restoration of metal and lighting takes place just downstairs from the gallery, in a basement workshop where craftsmen bring pieces to the pinnacle of perfection. (For items requiring expertise in woodwork, glass and lacquer, the gallery enlists the help of trusted restorers around the city.)
Ten flights up, the loft apartment Goeckler shared with his husband, Carl D'Aquino — himself a renowned interior designer who works in partnership with architect Francine Monaco — feels like an eclectic outpost of the Bernd Goeckler gallery (though its furnishings are not actually for sale). Filled with surprising juxtapositions like a mid-20th-century Eero Saarinen dining table surrounded by gilded late-18th-century neoclassical chairs and a Louis XVI confidant set before a minimalist Maison Jansen table, it's of a piece with the broad purview Hirche intends to maintain going forward.
The gradual shift from more antique material to Art Deco and then modern and contemporary design began when Goeckler, who was known for his foresight and ability to adapt to the changing tastes of his customers, was still an active participant in the business. "We saw an opportunity to make the shop less of a one-trick pony," Hirche says. It is far from that. These days, as she single-handedly shepherds Bernd Goeckler into the future, Hirche has ensured that its offerings, especially its custom creations, are ever more varied and boundary pushing. "I think a dealer has a bit of a responsibility to educate clients and introduce them to things they might like," Hirche says. "This business is like fashion. You have to think ahead."
Katja Hirche's Talking Points