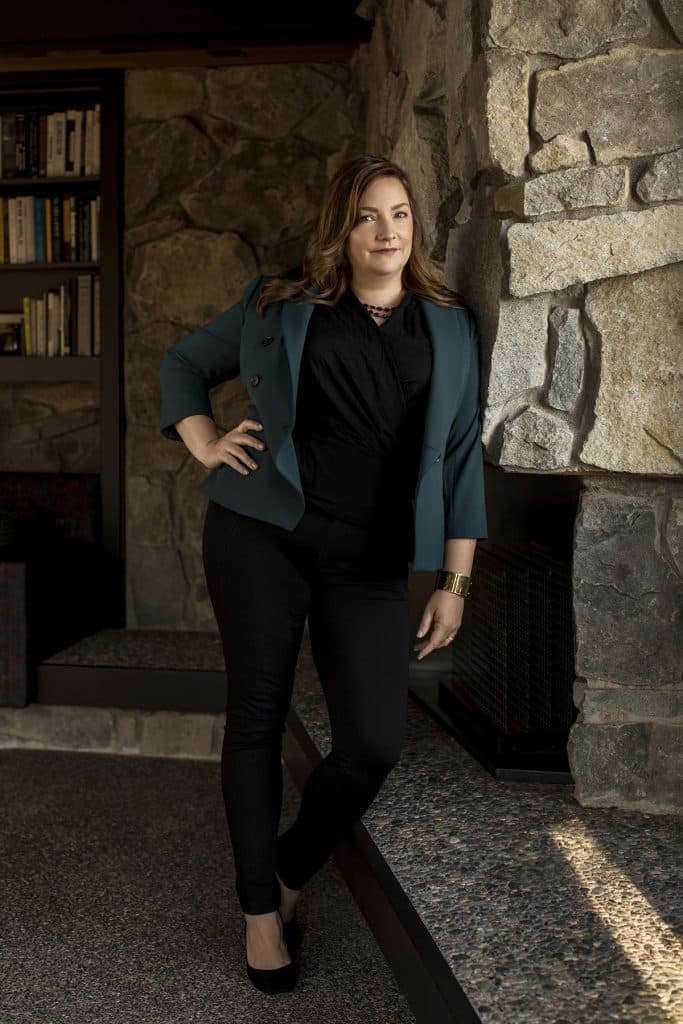 January 24, 2021As a teenager in Seattle, Charlie Hellstern (then Charlie Ann Barttels) was happiest rearranging her bedroom, listening to records and thinking about what she would do when she grew up. There were a lot of professions to consider. Her mother was a ballroom dancer turned psychotherapist. Her father was a rock and roll guitarist, vocalist and DJ who became an award-winning video editor.
At the Art Institute of Seattle, she studied interior design, a field in which she could be part therapist (like her mom) and part editor (like her dad). "I wanted to help people with personal spaces they really cared about," she says. "It's an amazing job I get to do, especially working with couples when they're polar opposites. I try to find the common ground."
After a detour into retail design, she was hired by Olson Kundig, the nonpareil Seattle architecture firm. There, as founders Jim Olson and Tom Kundig designed some of the world's most beautiful, and widely published, houses, Hellstern helped grow the interiors studio. "That was my graduate program," she says.
In 2017, following 13 years at Olson Kundig, she left to start Charlie Hellstern Interior Design, carrying lessons from "grad school" with her: "I learned from Jim Olson to use the landscape as inspiration for the interior palette," Hellstern says. "For instance, flooring materials might resonate with the color of the earth outside." Similarly, she says, "Tom Kundig taught me how to choose materials that don't compete with the site, the people and — if they're collectors — the art in their house."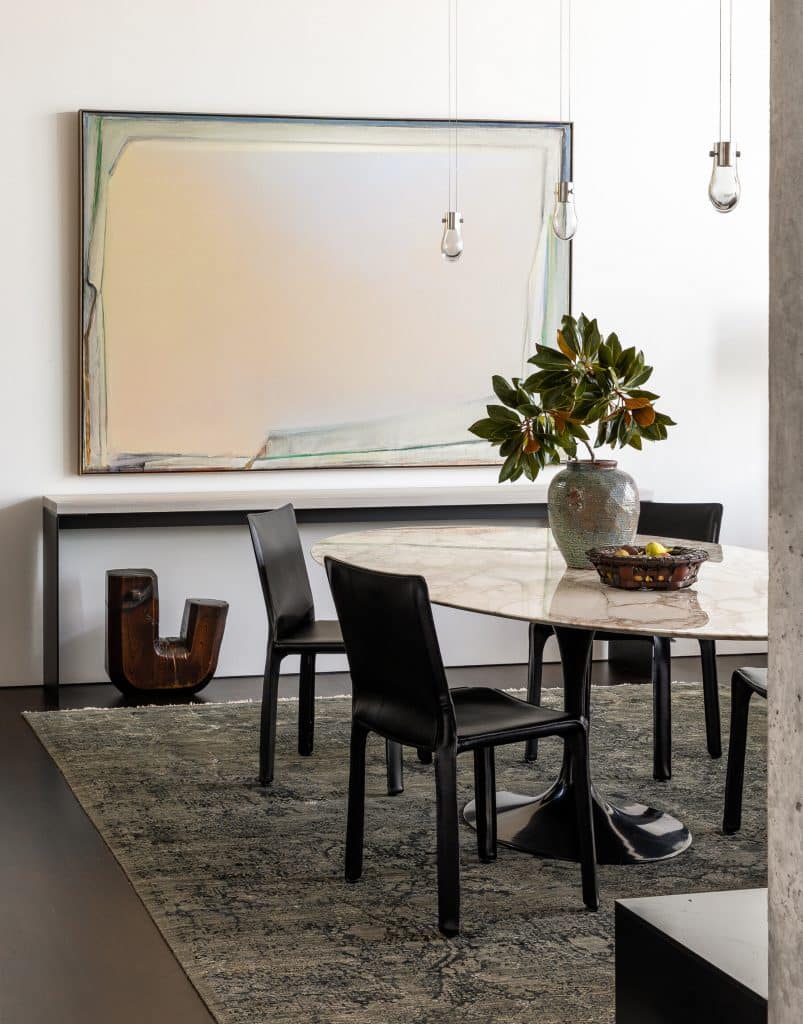 Hellstern now has seven employees in her Seattle office. Her goal in her projects is to create homes that reflect their owners' interests, cultures and beliefs, she says, noting, "Real beauty isn't superficial. It has a depth that deserves to be taken seriously and cherished."
Like her husband, Chris Hellstern, an expert in sustainable design at the Seattle architecture firm Miller Hull, she is an environmentalist who is happy when clients conserve resources by redoing houses, rather than demolishing and starting over. (If she is working on a new building, she tries to make its interiors timeless; the longer something lasts, she explains, the greener it is.)
Among her most challenging recent jobs was redecorating a lakefront house designed by Kundig and completed in 2010. Its original owners had an extensive collection of contemporary art, and Kundig had scaled the rooms to accommodate their largest pieces. Hellstern's clients, who had recently purchased the property, weren't collectors, and they needed her help choosing furniture that made the big spaces feel cozy.
One of the new owners, a photographer, decided that her favorite place to work was right at the end of the entry hall. Hellstern wanted to give her a desk worthy of that prominent location, and to make it look built-in. To achieve that, she repurposed an aluminum relief by Texas artist Eric Breish. The artist, Hellstern says, "didn't complain when we cut the piece up" — which she had to do to accommodate the desk's operable parts.
On top of the desk, looking like a contemporary sculpture, is an early-20th-century Solomon Islands feather belt, which was used as a form of currency. It is one of several pieces whose natural materials and rough textures complement the sleek architecture.
In the living room, a pair of oversize Piet Boon sofas face a Strap Desi coffee table from Luma Design Studio; the pieces are low enough to let light bouncing off the lake reach deep into the house, as Kundig had intended.
In the dining room, a group of Cassina Cab chairs by Mario Bellini surround an Eero Saarinen Tulip dining table. Against one wall is a whitewashed-poplar and blackened-steel console from Chadhaus. An iridescent Michael Dailey painting and a 3-D ceramic artwork by Katy Stone pick up on the light from the lake. A highlight of the foyer, meanwhile, is a fixture made by Erich Ginder of die-cut linen over a laser-cut plywood frame.
The look couldn't be more different at a vaguely French, turreted 1920s house in Seattle's Washington Park neighborhood. Hellstern's old boss Jim Olson had recently renovated the century-old building. When she was brought in to do its interiors, Hellstern knew she wanted to keep the focus on the spectacular arched windows that give the rooms character and class. Because the owners had a lot of colorful artworks, Hellstern generally stuck to neutrals for the furnishings.
And to make her young clients and their children comfortable, she opted for durability. "There's an elegance in the material and the use of craft, but you don't feel like you can't put a drink down," she says of her design. To Hellstern, family comes first, which she made very clear in the breakfast area. There, over a custom banquette, she hung the children's artworks alongside prints by Pablo Picasso and Henri Matisse — all of them framed the same way.
In the dining room, Holly Hunt Siren chairs surround a custom dining table, while in the living room, a pair of Dessin Fournir Dupre sofas face a Hellstern-designed coffee table of Oregon walnut and bronze-plated steel. A Radius armchair by Antoine Schapira — purchased from Michael Del Piero Good Design — mimics the curves of the windows.
Upstairs, each bedroom has a distinctive feel. For the daughter, Hellstern designed a "dreamy bunk bed" and hung a ceramic antler chandelier by Jason Miller, setting up a safari theme. In the son's room, she paired another bunk bed with a custom dresser. "It's a highboy that isn't as wide as a typical highboy," explains Hellstern, who also designed the room's storage bins on orange casters. Woods wallpaper from Cole & Son makes the room feel like a campground.
A bookcase-like sculpture made of cast glass by artist Dennis Evans established the palette for the parents' bedroom, which Hellstern says includes "all the colors of the Seattle sky." At the foot of the custom bed is a mahogany and brass mid-century modern bench by Harvey Probber from Tom Gibbs Studio.
The owners of another prewar house — this one a Spanish Colonial in the Madison Park neighborhood — asked Hellstern to redo their basement. She made the job a lot more glamorous than it sounds. The clients, a couple with two young kids, wanted her to turn several forgotten spaces into rooms for a variety of family activities, from board games to arts and crafts to Netflix nights to slumber parties.
In her design, Hellstern salvaged the terracotta basketweave-pattern floor ("I don't like to make changes when it isn't necessary") but altered the look of nearly everything else.
She had local artisans build an interior window — to make the family room and a neighboring craft room feel connected — and create a mirror to brighten a passageway leading to the rest of the house.
The family room has a custom banquette that Hellstern made extra-deep, giving it what she calls a "jump-into corner." It faces an ebonized-oak table by Sawkille, a maker in Upstate New York. Pieces like a Love chair by Moooi and Carl Hansen Embrace lounge chairs provide a wide variety of seating options. Elsewhere, in a crafting area, steel and woven leather chairs by Mark Albrecht surround a square walnut project table by Chadhaus.
If it doesn't look like any other Hellstern project, that's OK with her. "I don't design for Instagram, and I don't focus on trends," she says. "My work is about taking cues from clients."
Charlie Hellstern's Quick Picks