Whatever your temperament, situation or preferred breed, there is a dog out there for you. And as a current publishing boomlet suggests, there's also a dog book for you, regardless of your interests and style.
The best of these new volumes emphasize the huge breadth of canine diversity — with a sense of awwwww cuteness throughout — as well as the many kinds of owners out there.
Home design and interiors are a big theme in these pages, with good reason: Our furry best friends need a chic place to sit, stay and lie down. The books show that it's possible to create one, whether in a modernist Palm Springs getaway, a cozy seaside retreat or an elegant old stone home in the English countryside.
Trust us: You won't be able to keep your paws off these fetching tomes. (Sorry.)
---
At Home in the English Countryside:
Designers and Their Dogs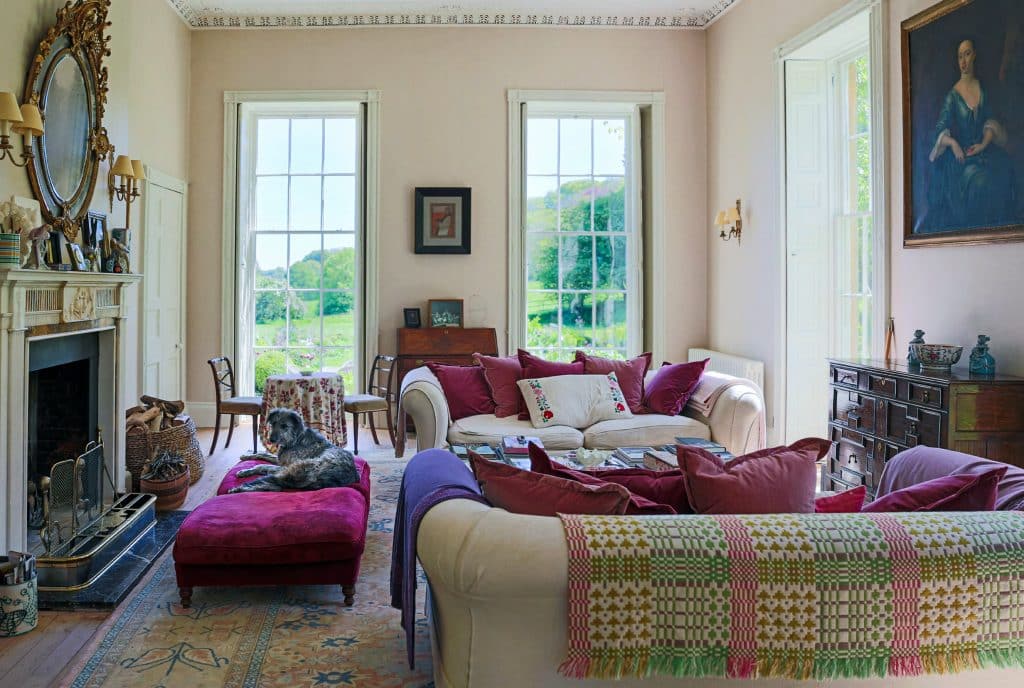 Susanna Salk, the author of several home and lifestyle books, combines three irresistible topics in this Rizzoli release. Her text is joined by an introduction from interiors specialist Nina Campbell (who writes "an English country house is not a home without a dog") and bolstered by Stacey Bewkes's photographs.
Here, readers are introduced to 300-year-old venerable stone houses and lush, rose-dotted gardens, and to their owners, prominent creative talents all. Anouska Hempel, for example, sits with her two labs under a veritable waterfall of wisteria at her Bath retreat, a 1711 Dutch-style beauty with moldings for days, which she has stuffed with maximalist-chic baubles.
This being England, these elegant homes also abound with artistic representations of dogs, from figurines to wallpaper. Two stone dog sculptures flank designer Katharine Pooley and her Jack Russell terrier on the steps of the front entrance to her old stone home, dubbed the Coach House, in Oxfordshire.
Salk and Bewkes spent a year planning the itinerary before they set off on their epic drive, from Cambridgeshire (where they photographed author Bunny Guinness gardening with a Jack Russell named Grace Jones) to Wales (capturing designer Penny Morrison in a Regency-style house with three dogs amid a riot of patterns). These country dogs all look eminently relaxed; you would be too.
---
Cool Dogs, Cool Homes:
Living in Style with Your Dog
There's definite truth to the old saw that dogs look like their owners. The question now is, beyond being covered in hair, do interiors become more like their four-legged occupants? Author Geraldine James doesn't provide a definitive answer in this CICO Books release, although James Gardiner's photos reveal a lot of dog-shaped depressions in sofas, and Flora the Westie is very similar in color to the couch she seems to favor.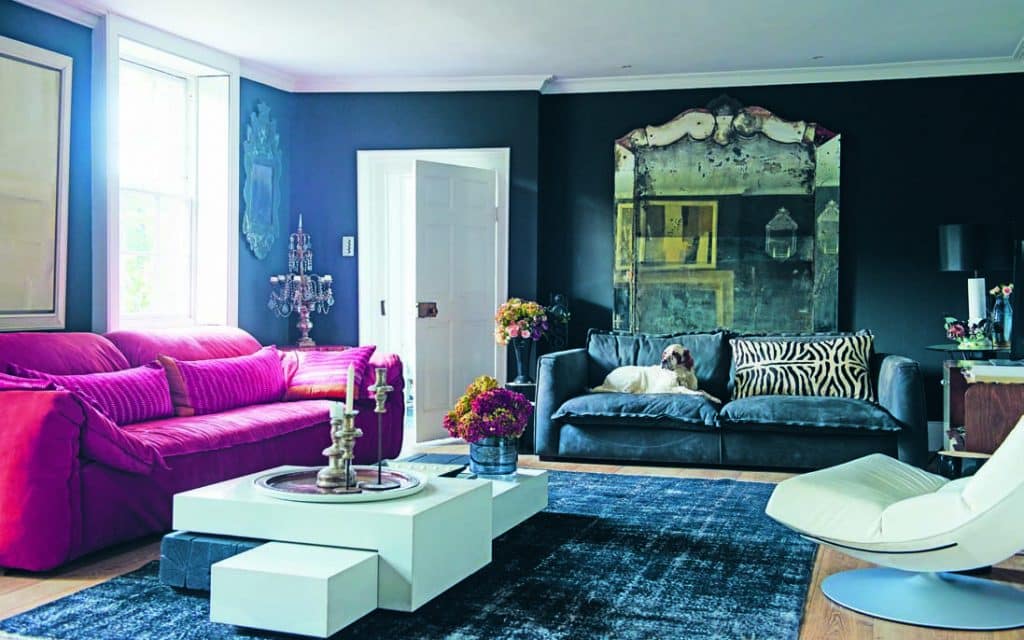 It is divided into five sections, so you can skip to the flavor that suits you: Urban Dogs, Country Dogs, Shoreside Dogs, Design Dogs and Rescue Dogs. That these categories aren't exactly parallel — some relate to the type of hound, others to the setting — exemplifies the charmingly British offhandedness of the book, set in London and elsewhere in England. Any volume that can feature Kiba, a fluffy white Japanese spitz who likes to hang out by Philippe Starck Louis Ghost chairs, along with George, a German wirehaired pointer who blithely ignores his seaside environment's kicky contemporary design, including the zebra-patterned rug, has truly covered the water bowl, um, waterfront.
---
Resident Dog, Volume Two: Incredible Homes and the Dogs Who Live There
Photographer Nicole England follows up her first volume, published in 2018, with a daring departure: a dog book in which some of the shots are totally dog-free. The order of the title's topics also seems to signal her priorities; home design comes first. Like the suspenseful absence of the shark in Jaws, the relative canine scarcity here has the effect of heightening the excitement factor; you're always looking for a tail around the corner.
The book, from publisher Hardie Grant, favors stark contemporary architecture — lots of spare and powerful concrete walls — and modern design landmarks, like an Eero Saarinen Womb chair and a Vladimir Kagan sofa in an ivory bouclé. It bounces around the globe from New York City, where Simon Doonan and Jonathan Adler's ebullient and colorful apartment harbors the mutt Foxylady; to Washington State, where a restrained Olson Kundig–designed wood-framed residence is home to Louis the labradoodle; to Mexico City, where a striking house by legendary modernist architect Luis Barragán is enjoyed by not one, not two, but eight dogs of various breeds. This octet looks great against Barragán's signature design move, a series of walled enclosures that, in this case, are painted a shocking pink.
Designer Kelly Wearstler's mutt, Willie, meanwhile, is pictured racing around her modern home in Malibu, California, at times staring quizzically at the marble slabs in front of him. He may look like he's devising his own MasterClass, just like Mom, but he's probably just thinking about dinner.
---
Palm Springs: Modern Dogs at Home
This book, authored by photographer Nancy Baron and released by Schiffer Publishing, takes its cue from the spare mid-century modern architecture it celebrates. There's a bare minimum of text about each dog and a simple identification of the homes' architects, who include top names like William Krisel, Herbert Berns and Donald Wexler. George the goldendoodle is pictured swimming in the pool of his 1959 Karlisa Company house as happily as any other Palm Springs resident would, with the San Jacinto Mountains providing the perfect Instagram background.
Many of the dogs are rescues. Fido Galore, a pit mix, probably never imagined that she'd move from languishing in the pound to lounging on a luxurious, shaggy throw in a 1969 house by Krisel. Although it's not stated explicitly, there seems to be a connection between the preservation of these masterful modern homes — not a given when architecture fashions changed at the end of the 20th century — and the embrace of unwanted dogs. All it takes is the right eye to see the beauty that exists in all things.
---
Good Dog: A Collection of Portraits
How photographer Randal Ford got the 150 pups in Good Dog to sit so still is a mystery. (Then again, he is a fauna-picture specialist, whose 2018 Animal Kingdom captured significantly less tame and domesticated beasts, so he clearly knows what he's doing or employs good trainers.) Ford's lovely images in this Rizzoli volume have a classical simplicity to them, all the dogs posed like supermodels, some with wind in their fur, against plain backgrounds. Ford is a kind of Richard Avedon of dog art, in most cases avoiding the arty whimsy of William Wegman in favor of a more noble take that looks into the subject's eyes for understanding; it wouldn't be surprising if the dogs themselves had commissioned these flattering portraits.
In the book's brief introduction, author W. Bruce Cameron states that "it is virtually impossible for a human to disappoint a dog." Perhaps, although some of the dogs' names are head scratchers. What did a borzoi do to earn the moniker Brexit? Is he always itching to leave? On the other hand, it's easy enough to figure why an Afghan with flowing white hair would be called Starlight Express; there's a certain '80s glam-rock vibe at play. Among the elements making this a worthy addition to your bookshelf is the index, which includes little stories about each pooch pictured. It's here — where we learn, for instance, that Merlin the husky puppy likes to howl at the moon — that the dogs really find their voices.
---
Dogs: Photographs 1941–1991
Certainly, Walter Chandoha's career was marked by unusual longevity and consistency. The New Jersey native, who died in 2019 as he approached 100 years old, spent his life documenting canines. He authored 35 books, including the 1973 guide How to Photograph Dogs, Cats and Other Animals. He snapped photographs at dog shows, on the street, in commercial studios — anywhere he could. The result is pictures of widely varying styles. A new book from Taschen celebrating a half-century of his work contains images of dogs flying through the air, sitting at the beach, featured in ads, framed against brightly colored backdrops and captured in timeless black-and-white portraits.
Chandoha seems to have had a particular soft spot for puppies, and who can blame him? Charmingly, many of the photos are candid, with dogs yawning, nipping at each other or variously frolicking. Chandoha enjoyed letting dogs be dogs, and he was open to waiting for a moment that couldn't be planned. Some images feel like snapshots, and are all the better for it. This book serves as a generous, open-hearted family-of-dog album.