October 25, 2023Estee Stanley knows how to get a party started. Although the Los Angeles–based interior designer, entrepreneur, wife and mother of two kids and two dogs almost always has her personal and professional plate full, she's equally dedicated to feeding and entertaining family and friends. "We love to party. We're partiers," she proclaims. "We have dinners, or drinks and desserts, at least once a month — even if it's just ten people. It's fun trying to connect people and get my different groups of friends together."
Having begun her career as a top Hollywood fashion stylist, Stanley counts among her vast social circle fellow designers, pop singers, movie stars and fashion icons. During fittings at her previous homes, clients like Mary-Kate and Ashley Olsen, Jessica Biel and Justin Timberlake noticed her flair for interior decoration ("They'd ask, Who did your house?" she recalls, "and I'd say, Oh my God, it's me!") and tapped Stanley to work on their own residences. "Design and fashion are about making people beautiful and secure and confident," she says. "The process is so personal. You really get to know people and bond."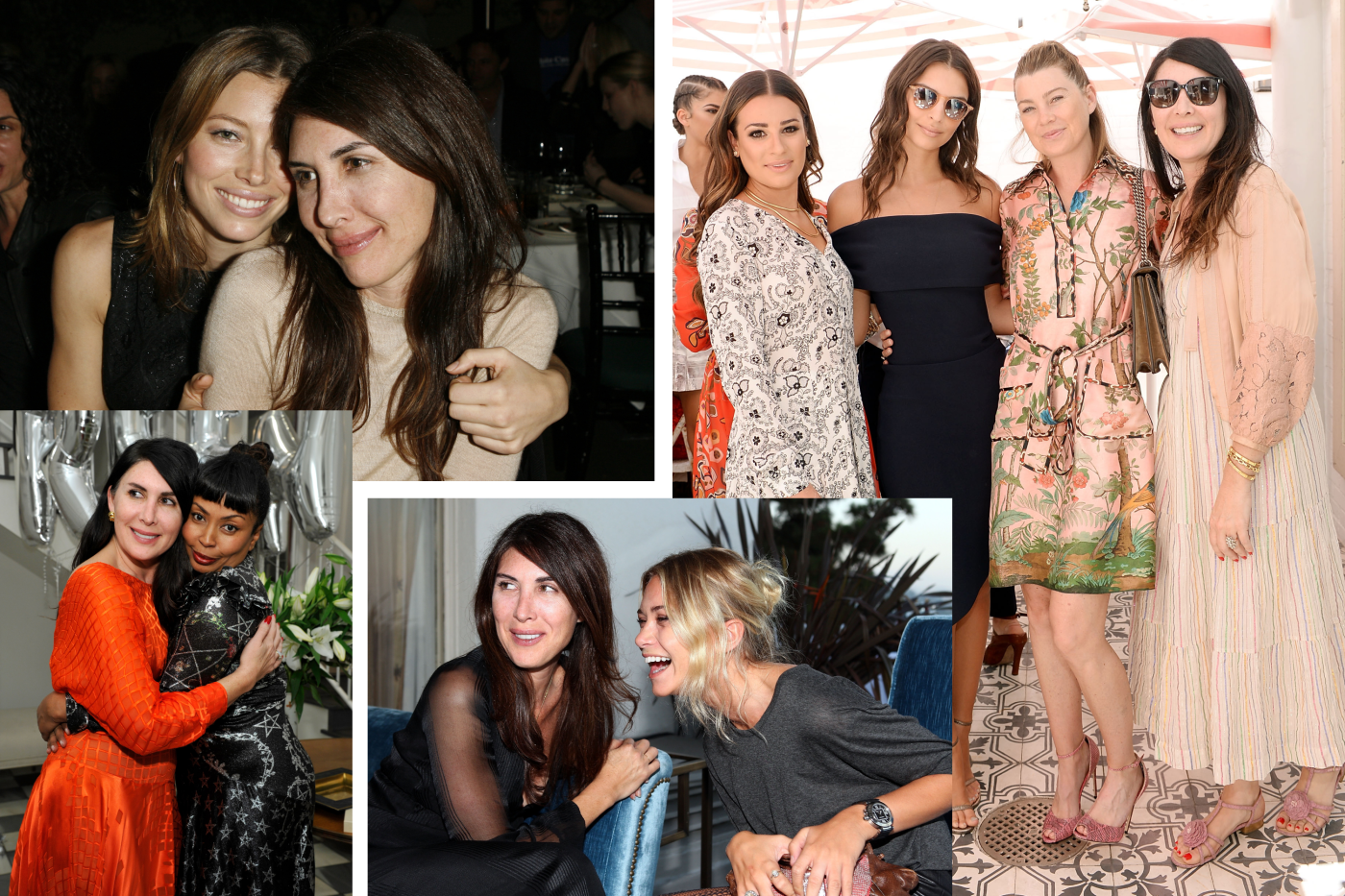 Throughout the 2000s, she honed a distinctive style, mixing updated French– and English-style tufted chaises and roll-arm sofas, antique chairs, minimalist tables, dazzling vintage accessories and eye-catching art for an effect that is refined yet casual and romantic, with just a twist of eccentricity.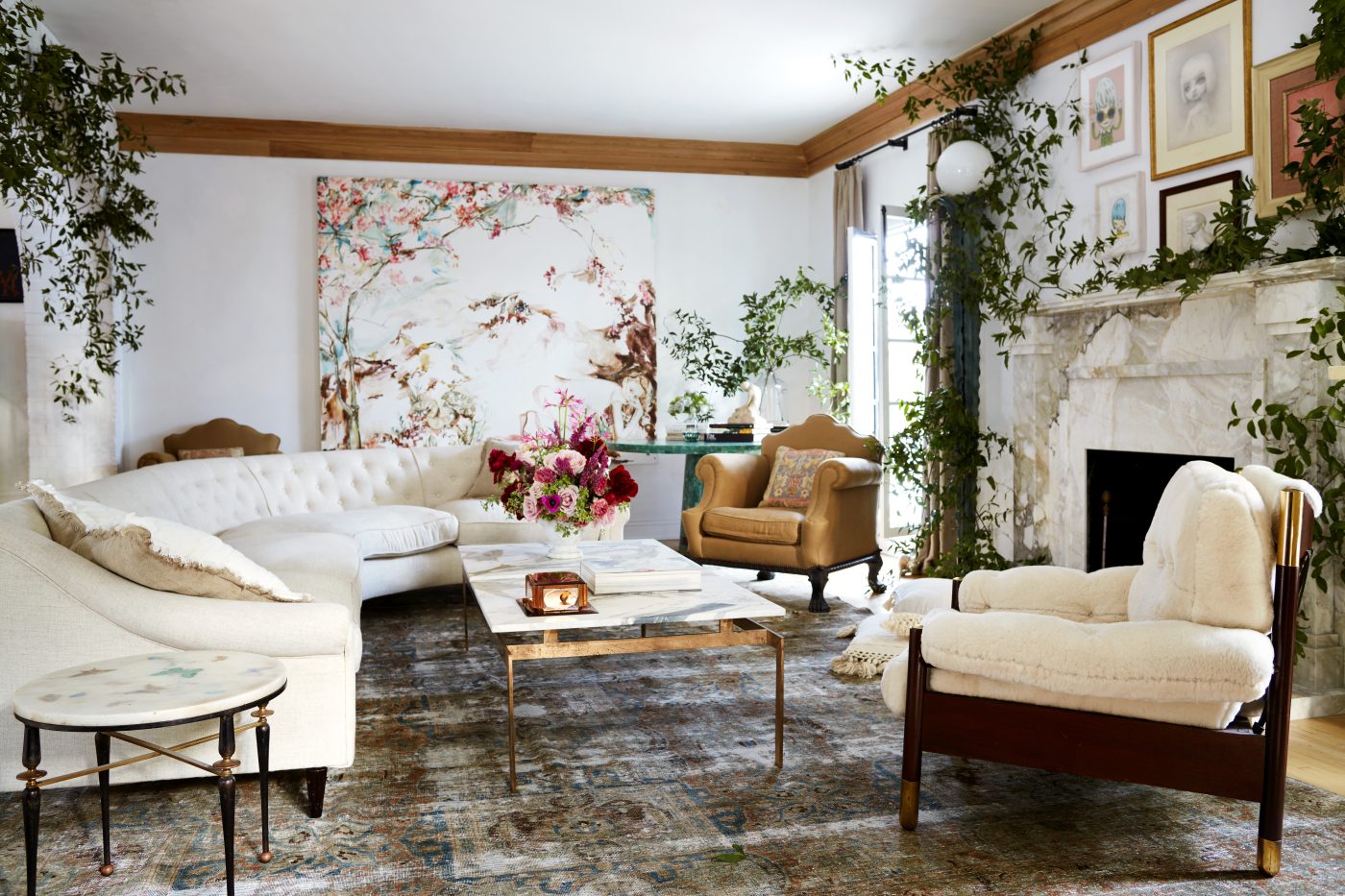 Over the past decade, Stanley has designed, among other projects, getaways for Ellen Pompeo, in Sag Harbor, and Patrick Dempsey, in Malibu, as well as the interiors of Los Angeles restaurants like Petit Trois. During the pandemic, she conceived and founded The Eye, an agency representing nearly 50 architects and home and garden designers, including 1stDibs 50 honorees Kara Mann and Michael Hilal.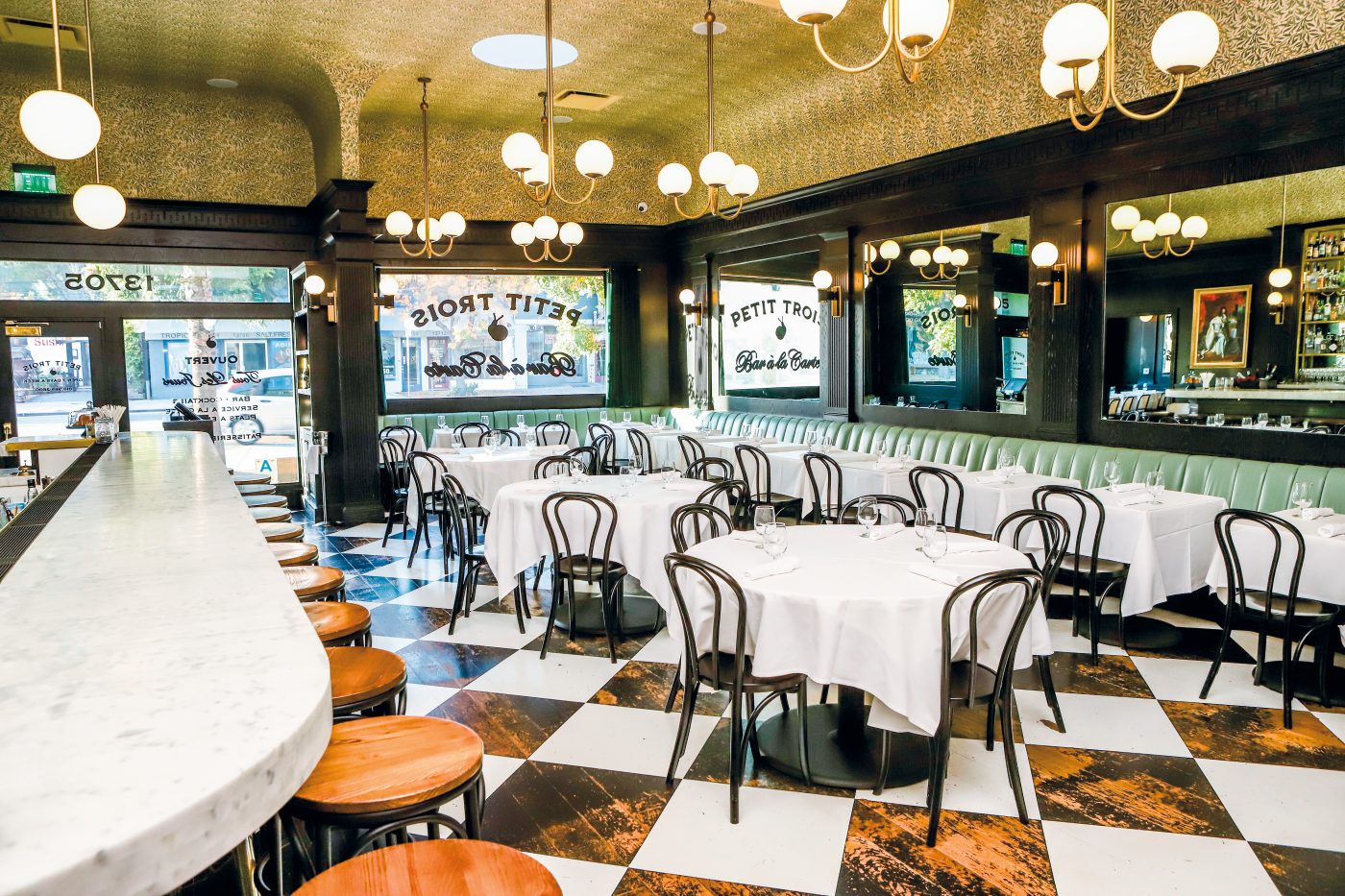 "I always had an agent when I was a stylist, and when I became a designer, I thought, 'Where's the agent?' " she says. "At The Eye, we find projects, negotiate deals and navigate contracts so the artist can just be an artist." As if all that were not enough, Stanley just launched Gone Bananas Bread, a store at the Los Angeles Farmers Market selling different kinds of banana bread, including the cheekily named Nucking Futs.
On a recent visit to her home, Introspective talked to Stanley about her easy approach to entertaining, how she brings elegance to her home for the holidays and the stylish pieces she curated for her 1stDibs auction.
Where did you learn to be a great hostess?
When I was growing up in the suburbs of Newport Beach, my maternal grandmother, Florence, would have twenty people over for Friday night Shabbat dinner. Her house was furnished in nineteen-sixties modern, but she made it look so warm and cozy. I learned everything from her. She was so hospitable and gracious and always dressed in style.
Walk us through a typical evening with Estee.
I like to start at eight p.m., and there is no "go-home" hour. There will be people in almost every room of the house. A lot of them hang out in the kitchen, which annoys me, and the dining room is packed because that's where the food is. People can eat and drink wherever. Every inch of this house is to be used. And while I don't want things to get trashed, I have so many parties that I must accept the wrath of the day after.
As a fashion stylist, how do you dress?
Sometimes, I'm fully dressed up and in heels, sometimes jeans and a sweater. I quit styling about six years ago, but I still love Dries Van Noten, Fendi and Gucci accessories, Manolo Blahnik shoes, Tiffany jewelry and Anita Ko bracelets.
What do you cook for guests?
Oh, I don't cook. I bake. Sometimes, we'll have catering, sometimes a taco truck. One night we ordered pizza from six different places and had a taste test.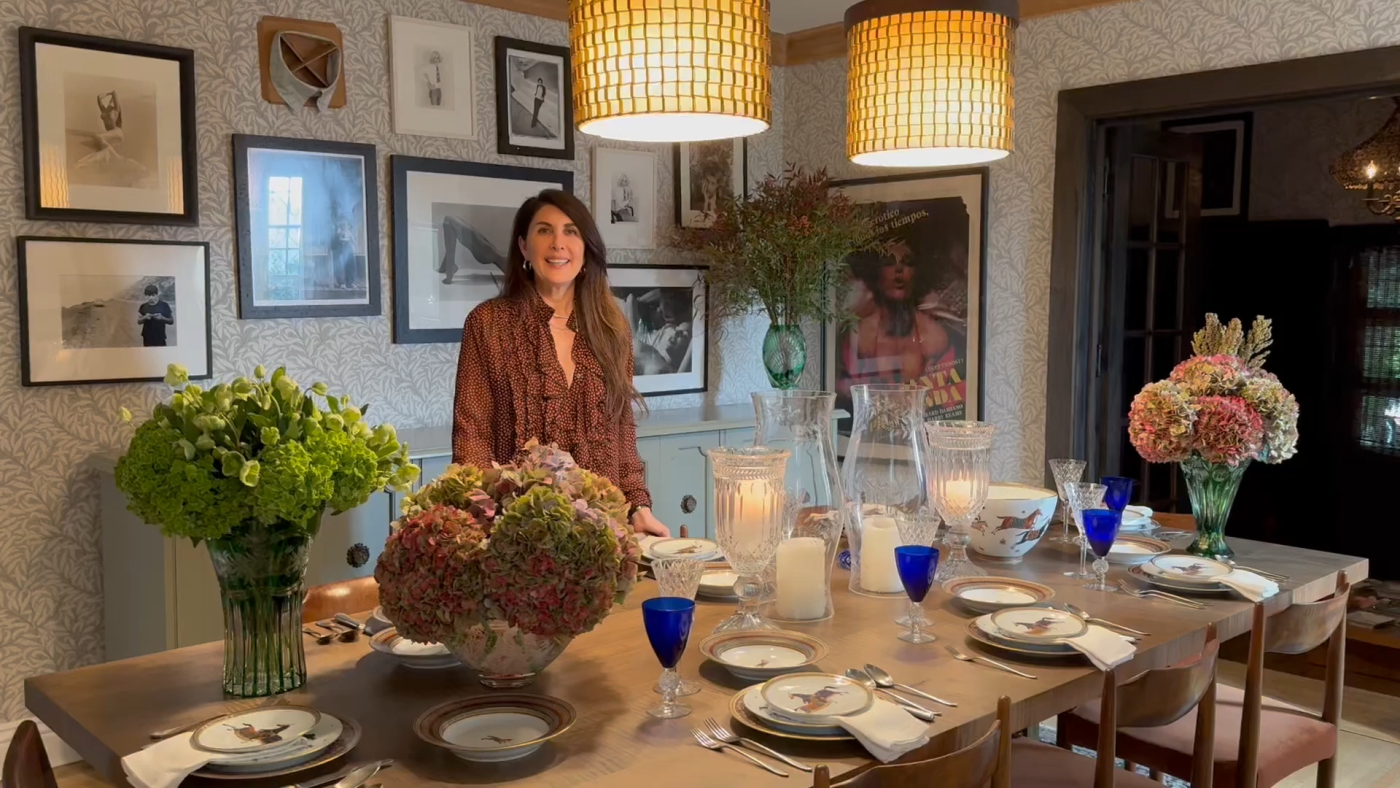 How do you entertain for the holidays?
I am known for my fresh-flower tree that I do every year. It takes a long time and doesn't last that long, but it's beyond. And in the dining room, I love to have my favorite flowers — hydrangeas, tulips and roses — in Bulgarian glass and William Yeoward vases. For a sit-down dinner at my BDDW table, I use Hermès Cheval d'Orient plates and Christofle cutlery, lots of hurricanes, candles, and vintage glass. I have so much glassware it's embarrassing. I had a birthday party and put it out everywhere and told people to take home what they liked.
Let's dive into the auction. I couldn't help noticing you chose a lot of glassware.
I love it in colors. I love it carved. I love it etched. I love any type of glassware that's beautiful and I could drink alcohol out of. There's a set of mid-century blown-glass snifters, cordials and shot glasses in all these beautiful colors and shapes that you can mix and match, a stunning set of Orrefors tulip glassware and Versace amber-crystal wine glasses from Rosenthal that I wish I had right now to put on my table.
Speaking of tables . . .
I love this Roche Bobois dining table in Murano glass. It is such a statement piece. I've never really seen anything like that in anyone's home, and I would love to have a party on it. These 1985 dining chairs by Gianfranco Frattini remind me of my own dining chairs. I like a low-back, slightly industrial look — nothing too fancy or frilly — like a chair you'd find in an Italian office. And I'm a firm believer in having side tables for parties. I hate when there's nowhere for me to put down my bag or drink or food. This bronze side table, which was made in the nineteen eighties and has a pink marble top, or any antique table brings character and vibe into the home.
What else is a necessity?
Even if you have a small dining room, it's nice to have a piece of furniture that can serve as a bar or self-service area. I have a buffet from my grandmother, who also had a lot of Mastercraft Hollywood Regency pieces that my mother took, unfortunately. You don't necessarily need a buffet. You can also use a bedroom dresser — just take out the clothes. Or invest in an antique, like a mahogany French Empire commode, which always feels classic and elegant. And I like to hang portrait art and photography above a buffet, which can be a great conversation starter.
What do you covet for centerpieces on your dining table?
I love candlelight, so it's hard not to be attracted to Erik Hoglund's work for Kosta Boda, like the brass-and-glass candelabra that is so elegant and has such a bubbly champagne vibe. There's a large, beautifully detailed porcelain swan, which could be used for flowers or as a tureen for food, lemons, candy or even a Trader Vic's Scorpion bowl — just add straws. And then, there's a gorgeous hammered-pewter Cartier bowl with a scalloped rim. I mean, it's Cartier, why wouldn't I love it?