November 14, 2021As a curator and dealer of 20th-century design and art from America, Brazil, Scandinavia and continental Europe, Frank Landau is a believer in "crossing borders." This is apparent in the international scope of his gallery, founded 26 years ago in Frankfurt, Germany, as well as his art fair collaborations with the Zurich gallery Dierking, which combine Landau's design collection with contemporary art and African sculptures, and his 2015 launch of a Frankfurt art space with gallerist Anita Beckers.
"Border crossing" also serves as a colorful shorthand for the toggling among the disciplines of architecture, design and art practiced by many of Landau's favorite modernists.
"What interests me most is the question of where design ends and art begins — and the other way around," says Landau, who displays furniture like 1940s and '50s Paul Frankl cork-topped tables, Hans Wegner Papa Bear and peacock chairs, 1980s brass sconces by Warren Platner and ceramics by Bruno Gambone alongside Buckminster Fuller lithographs and sculpture.
His eponymous gallery also pays homage to the notion that even before the birth of a global economy, modern design was an international language. "I was one of the first European dealers to bring American designers to Europe," he says. "Many of them — Vladmir Kagan, Paul Laszlo, T.H. Robsjohn-Gibbings, Greta Magnusson-Grossman — originally came from Europe, and this history is often reflected in their work."
In addition to those marquee names and such other celebrated American designers as Charles and Ray Eames, Edward Wormley and Florence Knoll, Landau promotes lesser-known U.S. talents like Kipp Stewart, Tony Paul and Jane and Gordon Martz.
He champions German art and design, as well, like the 1970s geometric compositions of Anton Stankowski and Herman Glockner and the furniture of Bauhaus craftsman Erich Dieckmann, postwar modernists Egon Eiermann and Herbert Hirche and contemporary woodworker Johannes Hock.
Landau's exhibition space — which hosts readings, art performances and wine tastings too — is located in the middle of Frankfurt's art district, in a historic building from the Wilhelminian era of the early 1900s. He also maintains a separate facility with an upholstery and restoration workshop. "No effort is too much to make a chair, sofa or lamp shine again," he explains.
Landau lives in a loft that reflects his wide-ranging tastes, with crates mounted on his kitchen wall for shelving and furniture that includes a 1960 slate-topped table by Paul Evans and Phillip Lloyd Powell and a 1964 cabinet by Antoine Philippon and Jacqueline LeCoq. To accent these pieces, he says, "I combined a large number of very minimalist lights by Serge Mouille with modern ones by Studio Kai Linke and timeless modern art that is calm, not narcissistic."
With a background in computer science and IT, Landau found his way to design by a circuitous route. "As a student, I worked in the film industry in the props department," he recalls. "That's where I had my first contact with design objects. And then, I just followed my passion and intuition."
Here, Landau speaks with Introspective about Scandinavian masters, his favorite books, sculptural lighting and what he collects just for fun.
What's the most unusual object you've ever handled?
A six-by-six-meter demountable house by Jean Prouvé. Prouvé was once quoted as saying, "Never design anything that cannot be made." These houses represent the height of Prouvé's rationalist and functionalist ideal and provided a solution to the housing crisis for those made homeless following the Second World War.
The components of the houses could be shipped directly to bomb-devastated sites and assembled in a single day. Approximately four hundred were produced. Only a handful are known to have survived.
How do you continue to learn and gain expertise about design?
Quite simply, I have an interest in and enthusiasm for beautiful things. In Frankfurt, I like to visit the Museum Angewandte Kunst, which focuses on design and fashion, and I have collected a huge library. Some of my favorite books are The Soul of a Tree by George Nakashima; Minimalism in Germany. The Sixties; Ettore Sottsass: Tutta la ceramica; and Lygia Clark: The Abandonment of Art, 1948–1988.
We also produce catalogues on styles like Scandinavian and Brazilian modern that are free in our gallery and sent with every order as a gift.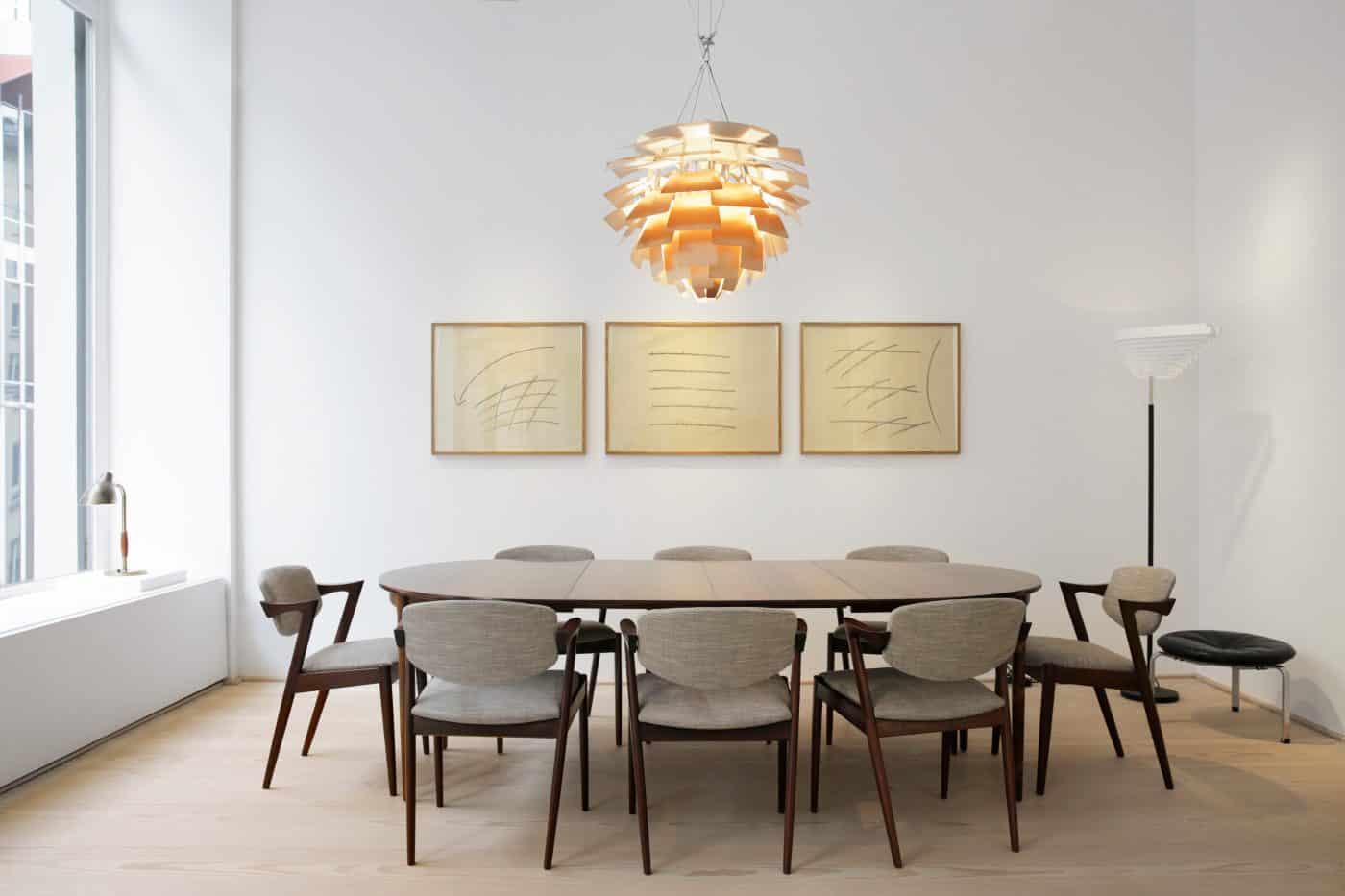 You offer lamps by designers like Ingo Maurer, Mitchell Bobrick and Gino Sarfatti. Why does lighting intrigue you?
They are designs that not only give light but give warm light, cold light, hard and soft light. They are also sculptures that reflect a unique light depending on the finish of the material. Paavo Tynell is one of my favorite designers of lights. I love his quality and way of working materials.
What makes Scandinavian design world-class?
The talent with which Hans Wegner expressed himself in wood is singular. Vilhelm Lauritzen aspired to timelessness in his lighting designs, and Fabricius and Kastholm captured the heartbeat of international tendencies.
All of them, however, abided by the rules of functionalism — a philosophy with an enormous wealth of ideas and a visual sense of form that created groundbreaking poetry and crossed borders, expanding outside of northern European countries in the nineteen fifties as a new style, a new variation of modernism.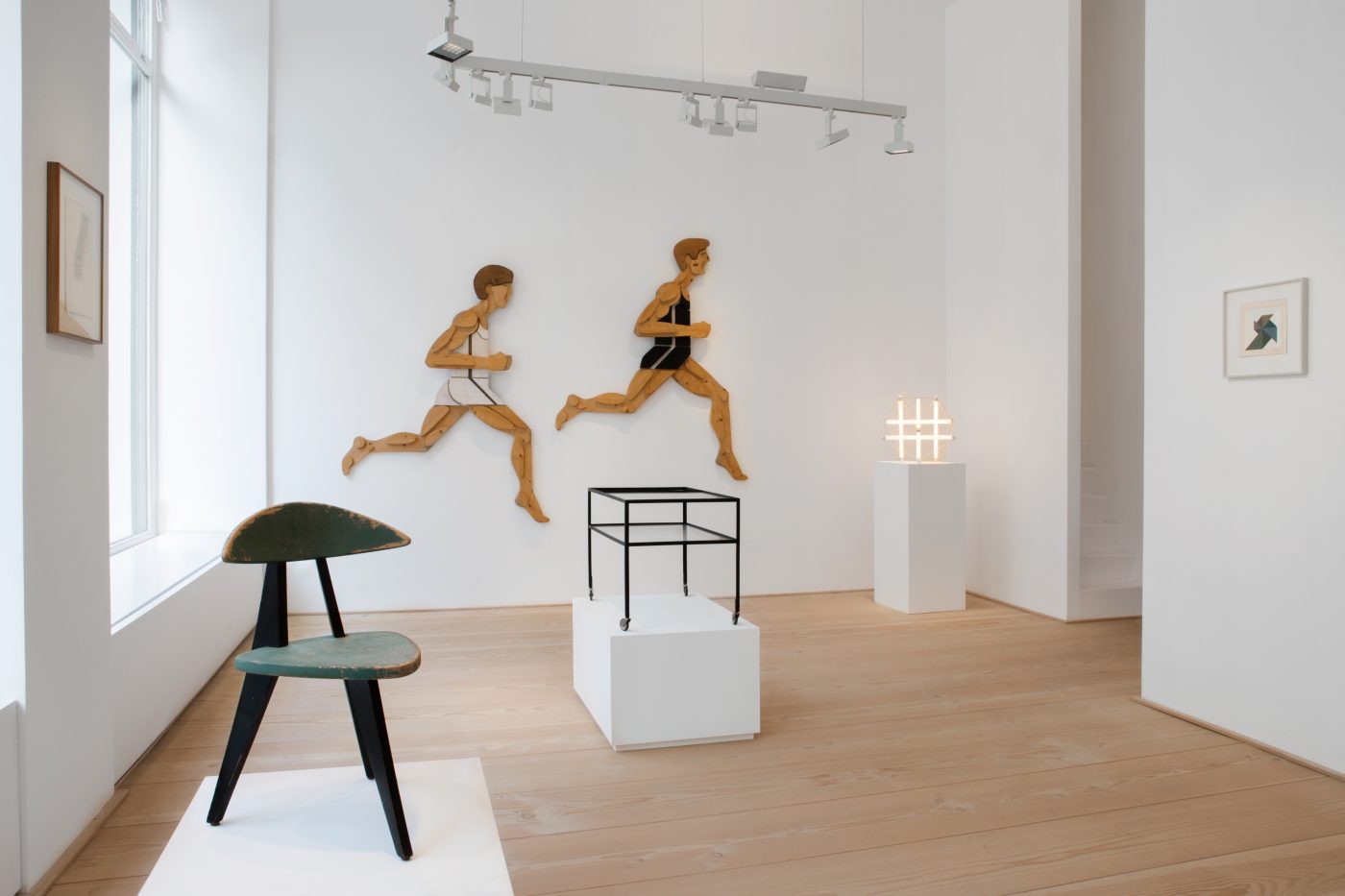 What trends do you see in the design marketplace?
Natural materials, like the wood furniture of George Nakashima and Axel Einar Hjorth and designs in rattan by Franco Albini, Paul Frankl, Kerstin Hörlin-Holmquist, and Janine Abraham and Dirk Jan Rol.
Tell us about your guilty collecting pleasures — the items that people would be surprised to learn that you love.
Models of mushrooms that were made for classrooms, the early versions in wood and the later ones in plastic. And my Nudie's Rodeo Tailors Western shirts, with embroidery and pearl snap buttons. I don't need a special occasion. I wear them whenever I feel like it.
Frank Landau's Talking Points