November 12, 2023Enter the impressive worlds created in recent residential projects by Brooklyn's Frederick Tang Architecture, California wine country's Lindsay Gerber Interiors and San Francisco's Kendall Wilkinson Design.
---
Frederick Tang Architecture
The design of this two-bedroom apartment in Midtown Manhattan — in a building with architecture by Foster + Partners — came with a bit of a challenge for the firm's founding principal, Frederick Tang, and its head of interiors, Barbara Reyes. It required, as Tang puts it, for them to work "with one hand almost tied behind our backs."
The returnee client — who originally found the firm through 1stDibs' designer directory — liked the studio's work so much on the first NYC pied-à-terre they did for her that she came back to them for a larger one. But this second commission came with some significant constraints. Chief among them: Foster + Partners' sleek, angular architecture.
"The challenge was embracing the environment and making it comfortable for her," Reyes says. "It has these beautiful white-oak floors, really nice stone and walnut finishes and all this glass. It's all very streamlined. The client wanted warmth, because of the colder materials."
Usually, the firm would use saturated color and graphic patterns to warm things up and add personality. But the homeowner's personal aesthetic tended toward the neutral and monochromatic. Thus that hand-tied feeling.
Reyes responded by layering texture instead of pattern or color. And in choosing the furniture — including vintage and one-of-a-kind 1stDibs finds — she considered how each piece's form would fit with every other element in the room. Reyes compares it to curating art, with the apartment as gallery.
"The client is an art lover, so we treated the pieces as if they were sculptures," she says, explaining that she and her team looked for items that would play off each other. "Something interesting happens when you have that contrast, between old and new, shiny and matte, smooth and rough."
A case in point is the sitting area, which Reyes and Tang defined in the open-plan interior using an angled contemporary sofa whose sleek lines they softened with nubby, ivory-hued upholstery. They added more texture with a fluffy sheepskin ottoman and a cream-on-cream custom rug whose abstract pattern is rendered through different-height piles. Even the artwork the firm selected — a woven piece by Hiroko Takeda — is neutral in color and rich in texture. A quartz and brass Demuro Das coffee table provides an oh-so-smooth counterpoint.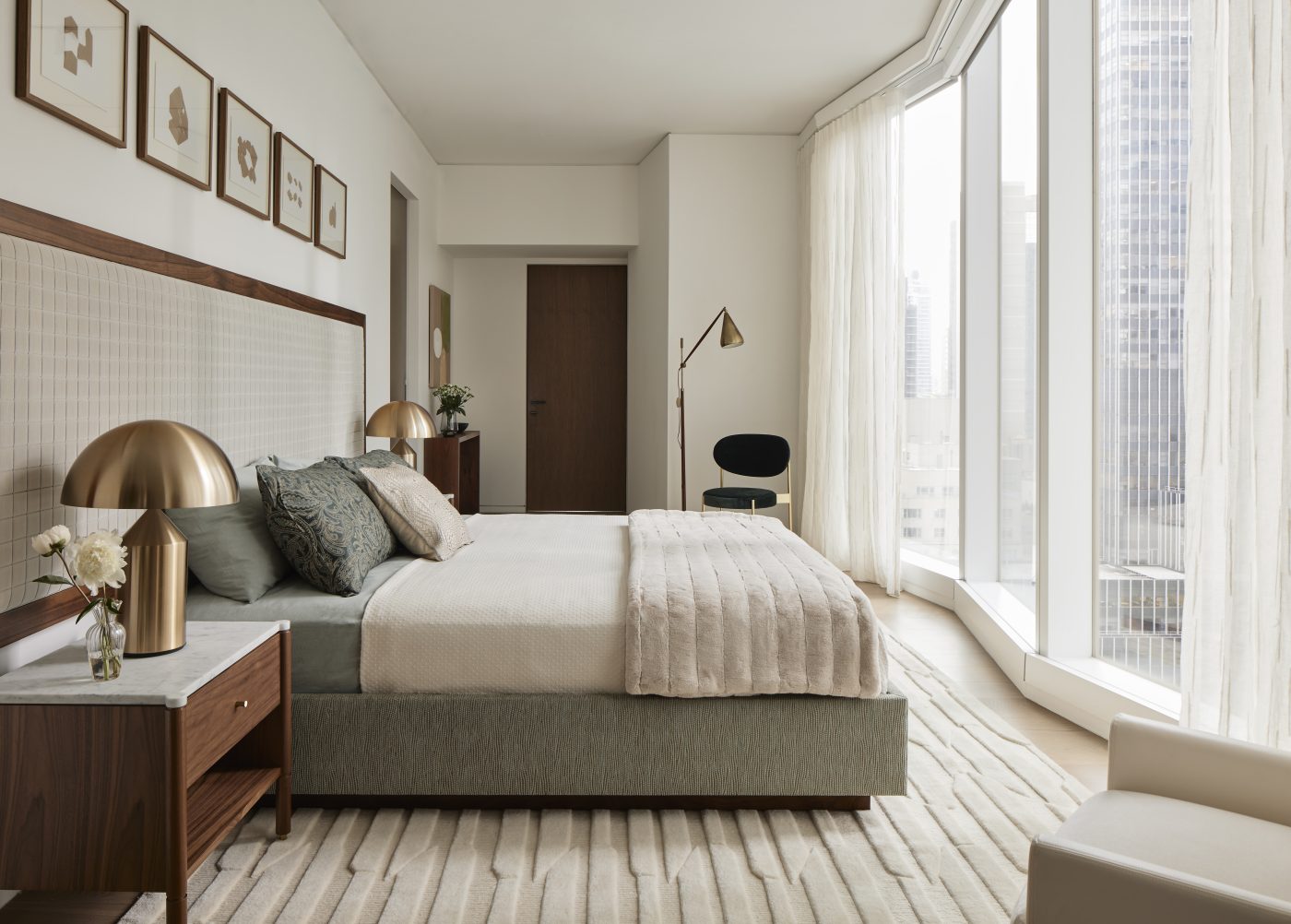 The dining area's monumental 1970s glass-topped, white-marble Angelo Mangiarotti table jibes with the spare, cool and elemental aspect of Foster's architecture. Reyes countered this with ARNE JACOBSEN's iconic, organically shaped SERIES 7 CHAIRS for FRITZ HANSEN. The Brutalist-leaning crystal-and-brass pendant light above "feels like jewelry hanging from the ceiling," Reyes notes.
In the main bedroom, the designers managed to sneak in a bit of color. "We knew the client loved green, but she's so hesitant about color, we used it sparingly." They upholstered the long, custom tufted headboard in barely-there jade, the bed in a slightly darker shade and a single brass-framed VERNER PANTON Series 430 chair in deep emerald.
Further texture, if not color, comes from the oatmeal-hued bespoke wool rug. Additional vintage items — an Alexander Purcell Rodrigues Vista lounge chair and ottoman, a Swedish floor lamp from Jarontiques — provide character.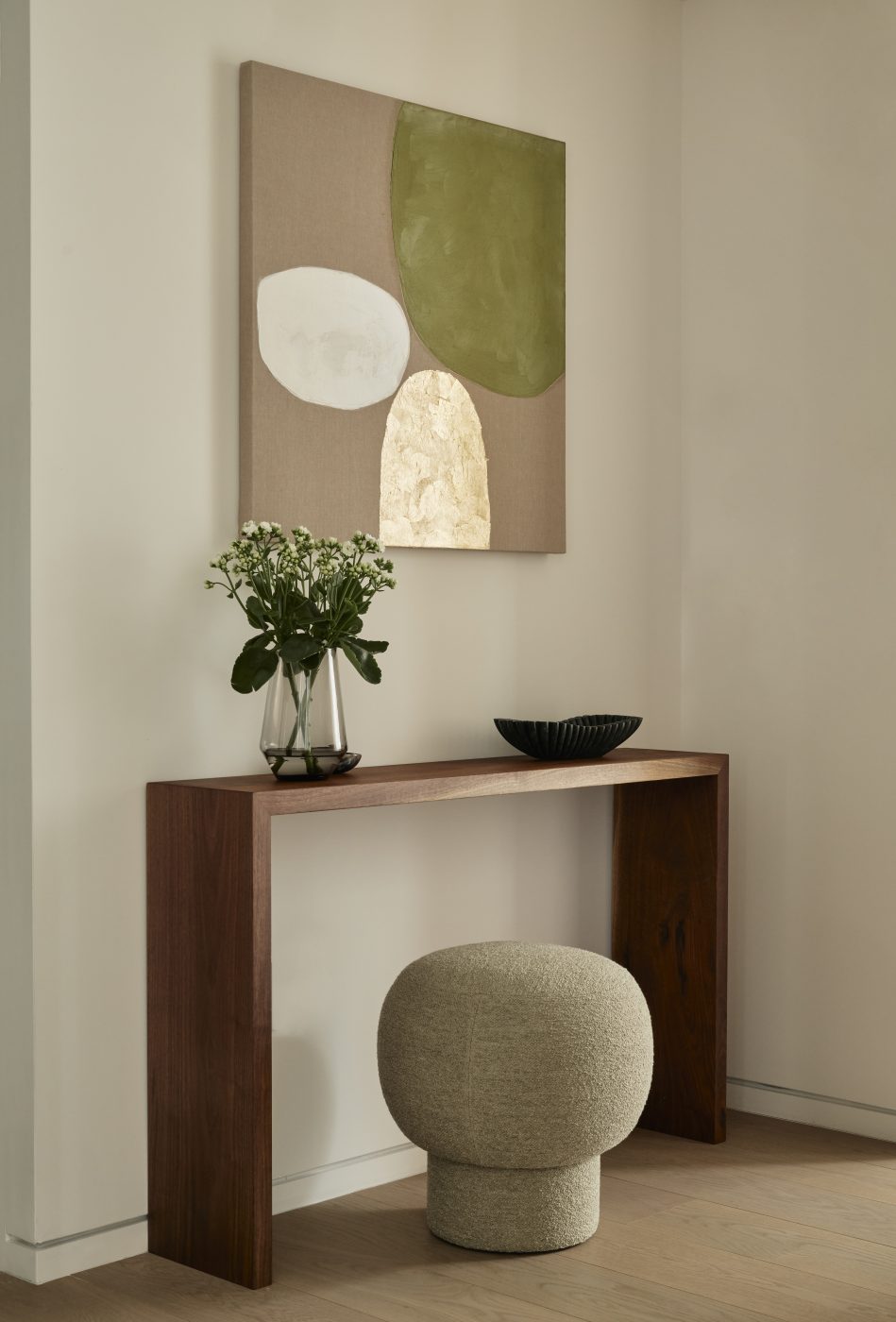 "With our interiors, we usually like a color that's a little off, or a pattern that doesn't completely match but somehow does, and we're big fans of wallpaper," Reyes says of the firm's signature decorating moves — none of which they could use here. "This was our version of turning it down a notch. It's a quiet version of what we normally do, but we love it.
"That's what makes every project interesting. It's never the same equation," she concludes. "Instead, it's always the same question: What interesting spin can we put on this space?"
---
Lindsay Gerber Interiors
When a designer creates a home for clients, the project usually comes with a fairly firm finish date. Punch lists and supply-chain holdups notwithstanding, at a certain point, the install happens, and the project is done. When a designer imagines her own home, however, the timeline becomes much looser, and "finished" a much fuzzier concept. And that can be a very beautiful thing.
This is something the Bay Area's Lindsay Gerber has discovered over the past few years, since moving with her husband, Brett Northart, and their two young daughters from a San Francisco apartment to a 100-year-old Sonoma farmhouse in need of some TLC.
"It is slowly evolving, even as the overall narrative remains the same," Gerber says of the home, which she wanted to feel warm, welcoming and cozy, as well as a bit moody and earthy. "Three years from now, everything will look different but also somehow the same. There's space and time for it all to come together."
That's not to say that she didn't have to move with some, if not all, deliberate speed. The couple bought the place in summer 2020, at the start of the pandemic and a few months after the birth of their second daughter. In need of more space and fresh air, they wanted to get out of the city, and quickly .
That fact determined many of Gerber's initial design decisions. For one thing: no major renovations. Another factor she had to consider was the need to build in flexibility, so the design could adapt as their daughters grew up and requirements changed.
At first, she focused on what she could fix easily and quickly: White oak that a favorite supplier could get her in a hurry replaced green tile floors. Out went yellow walls in favor of her preferred blank canvas, Benjamin Moore's Simply White, in nearly every room.
One exception to all that white is the dining room, now swathed in Benjamin Moore's Black Beauty. "There's something great about a dark room," says Gerber, who puts one in nearly every project she designs. In this house, with its low ceilings and intimate interiors, the dark dining room "feels like it could be carved out of a mountain — the opposite of the light, bright open spaces that are the 'modern farmhouse' look."
She furnished this dining cave with a travertine table that her mother had acquired through the late, great San Francisco decorator Michael Taylor, hanging a ruched-silk-shaded pendant above. In accord with the evolving decor, she's already changed the seating a few times, from clean-lined modern-classic Jean Prouvé Standard chairs to a pair of relatively ornate late-19th-century Scottish armchairs to the vintage French pieces from dealer Alpes-Marin there now.
Leaving space for new acquisitions — as well as fate and good luck — has been key for Gerber. Since it's her own house, she has the freedom to wait for the right items to come along at auction, in favorite local antiques shops and, of course, on 1stDibs.
Take the piece currently serving as a credenza in the living room. The carved-elm William and Mary dresser, made in England around 1725, appeared one day at Obsolete, and she jumped. "I measured, and it fit perfectly between the corner and the door casing. It's like it was made for the wall it's now on," she says.
"The way we design for clients, ninety percent is done all at once, and then, maybe for ten percent, we can wait to find the right pieces ourselves or when the homeowners travel. With our house," she says, laughing, "it sometimes feels like it's only ten percent done."
Her girls don't seem to mind, however. "They like to say this house hugs us," Gerber shares, "and it really feels that way."
---
Kendall Wilkinson Design
It's not every day that a designer gets a second bite at the apple — that is, a chance to help former clients reimagine the same home. Bay Area interiors star Kendall Wilkinson got just that with this commission. About 10 years after she first decorated their 1912 Tudor overlooking San Francisco's verdant Presidio park, the homeowners, a couple with two children and a dog, asked her to come back.
Over the intervening decade, "they'd started to really collect art," Wilkinson explains, "and they now wanted to level up the furniture and, really, the whole house. They wanted to modernize it, putting in more sculptural, contemporary furniture" — to accord with the works they planned to display — "while still maintaining the traditional, classical architecture."
They'd come to the right place. Wilkinson's firm has an impressive number of historic San Francisco homes under its belt, nearly all of them notable for the way she carefully balanced past and present.
In her work, she notes, "the floors, ceilings and walls tend to be more classically designed, in keeping with a lot of the architecture here, and then the furniture can be more modern and clean. If you do all modern, or all traditional, the interior doesn't have personality or character. The mix adds that."
This project puts that mix beautifully on display in the living room, where a bold, scarlet-imbued artwork by Yayoi Kasuma hangs over a fireplace. "It's so red, and there's so much color in it, we decided to cool down the tones with blue and grays," says Wilkinson.
Extending from the custom carpet and tailored settee to the Donghia lounge chairs and up walls appointed with their original classical moldings, these more understated hues, says Wilkinson, "let the Kasuma stand out."
Another standout: the Biedermeier chest-turned-bar that shares an antiqued-mirror-clad nook with a corner banquette and a 1970s smoked-glass Vistosi chandelier from AixoDesign. "There are quite a few one-of-a-kind pieces and antiques in the home," says the designer. "We went on 1stDibs quite a bit."
In the family room, a mod 1stDibs find — a rectilinear chrome, lucite and glass coffee table by Pierre Vandel from the 1970s — sits between two curvaceous sofas, one by Vladimir Kagan, the other Holly Hunt. Wilkinson upholstered both in the same soft-turquoise indoor-outdoor fabric.
"We had this leveling up of maturity in how the clients were growing into their furnishing and art collecting," Wilkinson says, pointing to the Wolfgang Tillmans hanging over one of the couches. "But they wanted the home to be welcoming and inviting, too, and to be able to hang out on that Kagan sofa and just watch a football game."
The entirely redesigned kitchen similarly balances formality and fun, old and new. There, diamond-paned leaded-glass cabinet fronts echo the large original Tudor-style windows of the living room, and Calacatta marble counters and all-white cabinetry strike a classical note.
But the polished nickel Julian Chichester pedestal table base almost looks like a contemporary Anish Kapoor sculpture, a modern effect enhanced by the Eero Saarinen Executive chairs that sit at it.
Artist Donald Moffett created the abstracted floral motif of the artwork hanging in the kitchen by extruding paint onto the canvas through cake-decorating tips. The clients thought that made it a perfect fit for this baking and cooking space.
In a house with art this contemporary, getting the mix of antique and modern just right could have been an impossible task. But Wilkinson handled it with finesse.
The secret to her success? The pieces of furniture she chose here, she explains, "were all very carefully curated not to compete with the art. Instead, they embody an artistic sensibility."