May 22, 2017Architect Charles A. Platt's reserved 1905 facade is a red herring. Inside the redbrick Georgian townhouse at 125 East 65th Street, the 45th installment of the Kips Bay Decorator Show House is an unrestrained celebration of a kind of theatrical glamour that thrived from the 1940s until just before the disco generation sprinkled sparkle and glitz everywhere. A showhouse is by definition an experimental venue. But this year, designers went for broke. Even Billy Cotton's supposedly down-and-out Attic SRO bedroom is swanked up with Fromental wallpaper, a leopard-print Stark carpet and Jules Leleu armchairs from Maison Gerard. Some designers used this prominent platform to challenge preconceptions about their "look." Several also channeled high-society decorating icons. Here, a floor-by-floor tour.
---
Main Floor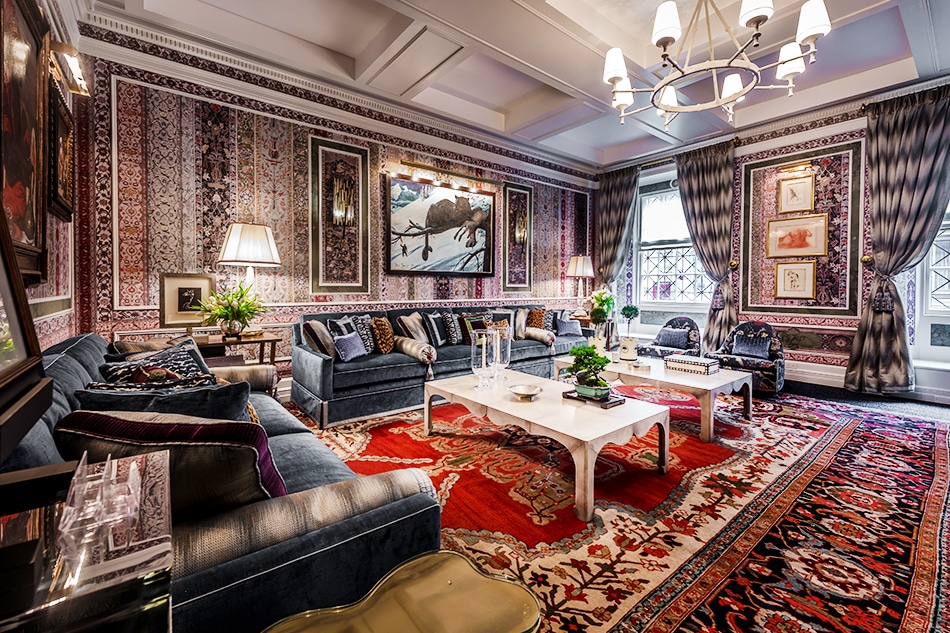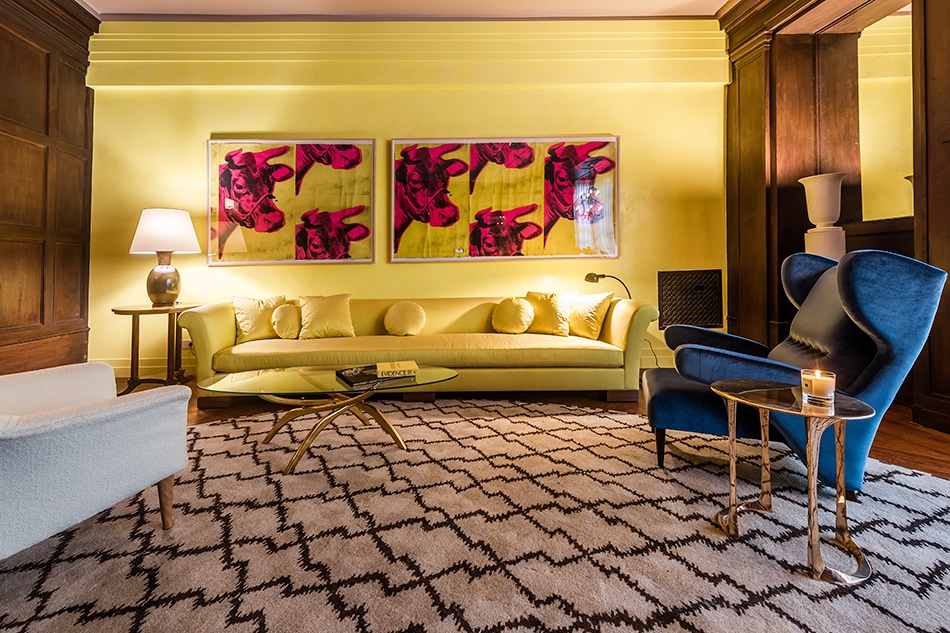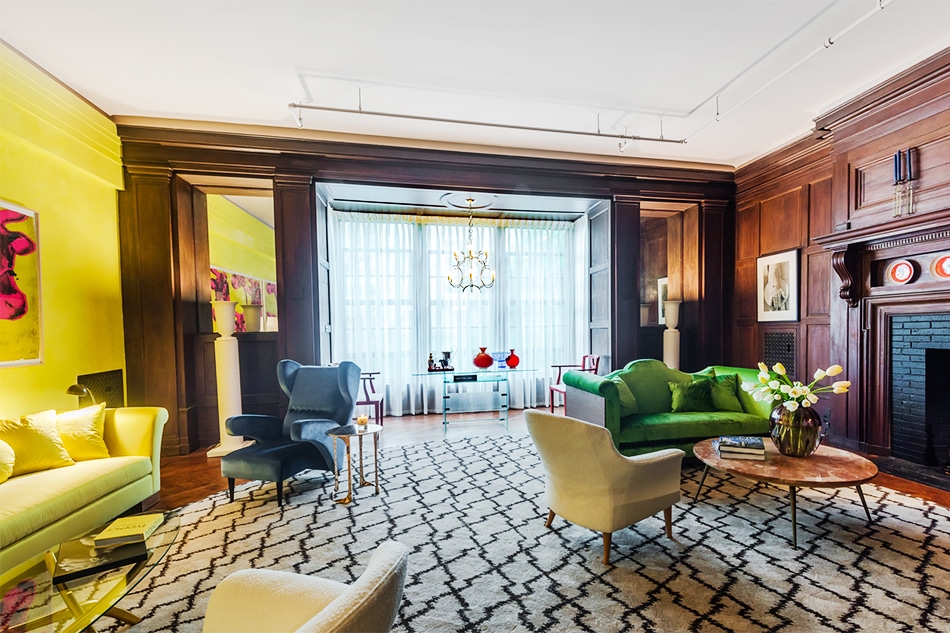 The dramatics begin right inside the door, where Toronto-based Powell & Bonnell deployed high-contrast white and black in the entry vestibule and the foyer that follows from it. In the light and bright entryway, they have displayed many of their own furnishings (available at Dennis Miller) alongside a freewheeling selection of objects: a marble bust of a Moor from Churchill Galleries, a Lladró porcelain macaw, antique mirrors and more. Moving into the nearly all-black foyer, visitors find painted recessed paneling hung with six of the firm's tortoiseshell replicas, making it look a bit like Anthony Redmile's eccentric Kings Road shop in the 1960s–'70s. If there were a prize for the most inventive device for dissimulating the pipes that snake along the ceilings throughout the house, it would have to go to Zac Ridgely, whose Toronto-based Ridgely Studio Works created a sculpture of hundreds of black crisscrossed dowels that hangs beneath, and almost completely obscures, the offending plumbing.
"Who wants to see me do another groovy loft?" Richard Mishaan asks rhetorically when people express surprise at the "ode to Renzo Mongiardino" he created in the house's parlor. Silk brocades and leopard prints abound in the room, which is wrapped in wallpaper made by Iksel in London that replicates a paneled reception room of a 17th-century Syrian house (now in Berlin's Pergamon Museum). The ebullient salmagundi includes a 19th-century Persian rug from FJ Hakimian, Hervé Van der Straeten sconces, a Stephen Antonson plaster chandelier, Walton Ford's panther painting from Paul Kasmin and a stunning Édouard Lièvre mirror from Maison Gerard.
With his design for the showhouse's salon, Robert A.M. Stern also surprised. "Most people aren't familiar with Bob's interior spaces, which are playful and quirky," says Lauren Kruegel, an interior design director at the architecture firm. The Stern team shocked the relatively staid, paneled room to life by painting one of its walls in Farrow & Ball's chartreuse-y Yellowcake. Custom pieces blend with Italian furnishings from the 1930s to the '50s — a glass Giò Ponti table from Van den Akker Antiques and a prototype Carlo Mollino coffee table from Tom Thomas Gallery — plus framed pieces of an Andy Warhol cow wallpaper peeled from Stern's own house.
---
Second Floor
Without knowing what Powell & Bonnell planned for the procession of entrance spaces, Jonathan Savage coincidentally picked a black and white scheme for the stairway leading to the second-floor landing, having MJ Ateliers, of Los Angeles, create a chinoiserie-style wall treatment by hand applying white plaster to black canvas.
To one side of Savage's stairwell is Ken Fulk's unrepentantly flamboyant second-floor dining room, its walls covered in a lush custom de Gournay mural based on the life of his fantasy client, an Upper East Side doyenne who hides exotic escaped zoo animals in her garden. Antiques from Newel, Scully & Scully tableware and Leontine linens practically pale by comparison. Across the way, Kirsten Fitzgibbons and Kelli Ford — the sisters who collaborate as Kirsten Kelli — present a drawing room wallpapered in a Phillip Jeffries wattle-and-daub pattern. Fitzgibbons calls the space "spectacular, but light and airy." It includes, she says, a "jeans to ball gown" assortment of objects and art: Gabriella Crespi demilunes from Bernd Goeckler, animal sculptures and modern armchairs (covered in natural shearling and Pavoni gold leather) from John Salibello and a center table from Lorin Marsh. Clearly, her fictional client, like many in the house, is highly acquisitive and possesses extraordinarily eclectic tastes. Several rooms bespeak a penchant for exhibiting collections in a way that stirs conversation and contemplation.
---
Third Floor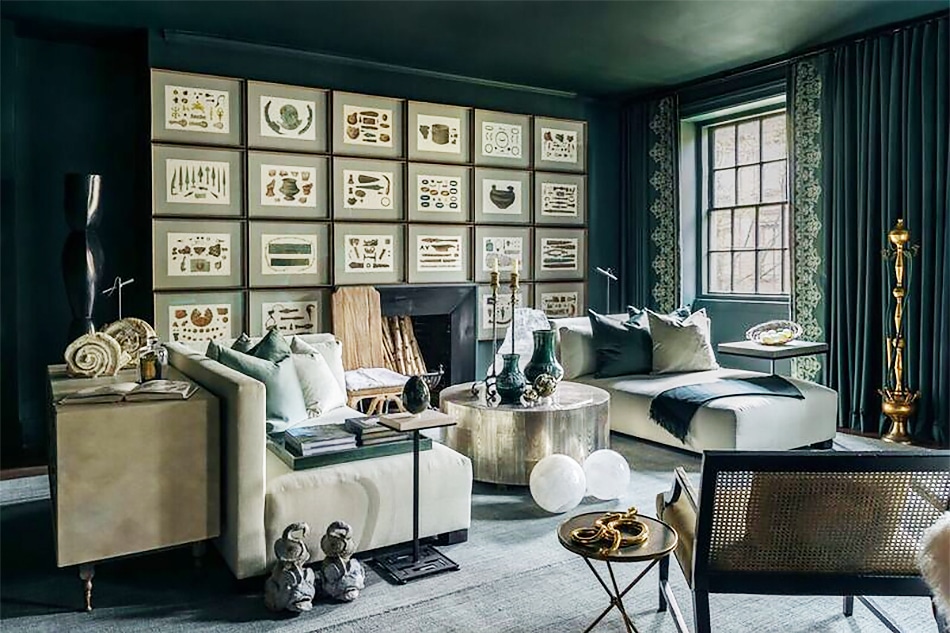 Another example of this proclivity is Robert Stilin's room, one flight up. "I wanted to showcase other kinds of work I do," he says. "Everyone thinks of me as the guy in the Hamptons who designs beach houses." Here, in what he has dubbed a "collector's lounge," Stilin reveals an affinity for sculptural furniture like Jim Cole's cubist metal bench from Magen H Gallery and a Vincenzo de Cotiis side table, as well as Franco Albini chairs from Donzella.
Across the hall is Susan Ferrier's smoky master bedroom for McAlpine, which highlights collections that skew toward the natural sciences. "I'm not timid," says Ferrier. "Being bold makes people feel safe." The room takes its "intellectual statement," she explains, from the 1960s archeological lithographs — which Ferrier discovered in an online auction — that cover one of its walls. Also on display are a vintage museum poster of an ammonite, massive whale ribs that could be mistaken for elephant tusks and Feliciano Béjar Ruiz's perspective-distorting magnifying-glass "Magiscope" sculptures.
---
Fourth Floor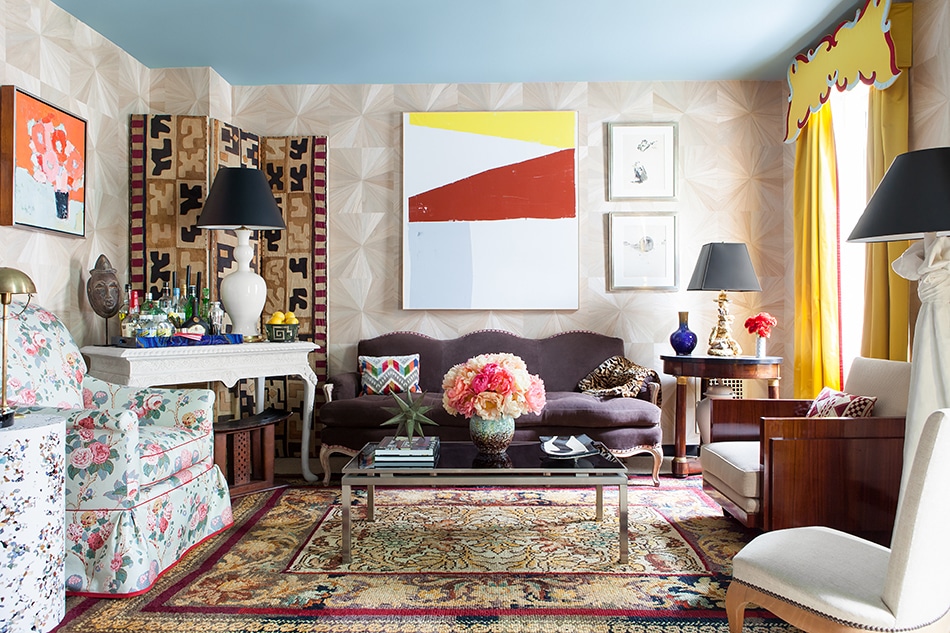 The muses for Nick Olsen's tiny but chic space were the homes of Yves Saint Laurent and Pierre Bergé. Their use of chintz at their place in Morocco, for instance, inspired the upholstery on a chair.  Olsen paired this with pieces more typical of the couple's Deco-bedecked Paris apartment: Gilbert Poillerat–style mirrors and consoles from Gerald Bland and Maya Romanoff wood-veneer wallcovering mimicking Jean-Michel Frank–style straw marquetry. Christian Bérard fashion sketches from Liz O'Brien evoke the men's haute-couture world.
Imbued with a rich, inky palette, Neal Beckstedt's attic sitting room sports exposed wood beams and a charcoal-colored plaster fireplace with Jean Royère andirons from BAC. Brightening the room are a 1950s Piero Fornasetti screen from Darrell Dean and a 1942 Fritz Hansen shearling chair from Collage.
Beckstedt says his design was inspired by a Pieter Hugo portrait of an African woman that he saw at Yossi Milo Gallery and that now hangs prominently in the Kips Bay room. "I conjured a North African, eclectic vibe — mixing colors, textures and patterns in the same subtlety as the photograph to capture the mood of this incredible woman."
That same bravura mix of color, texture and pattern — although not always so subtle — informs most of this year's showhouse, which is on view through June 1. Could a new era of operatic interior statements be at hand?