June 21, 2020Nazmiyal Collection, in Midtown Manhattan, is a wonderland of antique and vintage rugs spanning eras and cultures, from 17th-century Persian Kirman carpets and mid-century modern rugs by Märta Måås-Fjetterström to art rugs by the likes of Pablo Picasso, Joan Miró and Paul Klee. This variety has made it a premier source for exceptional floor coverings.
Owner Jason Nazmiyal's vast array reflects his voracious appetite for rugs of all kinds. "I like everything," he says. "My taste varies from third-century Coptic textiles to mid-twentieth-century Moroccan and Scandinavian rugs."
Why Designers Seek Nazmiyal's Rugs
Even as Nazmiyal Collection sells directly to homeowners, it also remains a favorite among such top-tier designers as Michael S. Smith, Victoria Hagan and Thomas Jayne.
"You always know you're going to see some beautiful things there," says Jayne, who estimates he has purchased more than a hundred rugs from Nazmiyal over the years. "A lot of rug dealers are very technically conscious. They talk about how many knots a carpet has and all the points of connoisseurship that add value, but Nazmiyal understands the artistic value as well. Sometimes, how a rug appears gives it as much value as how it was made."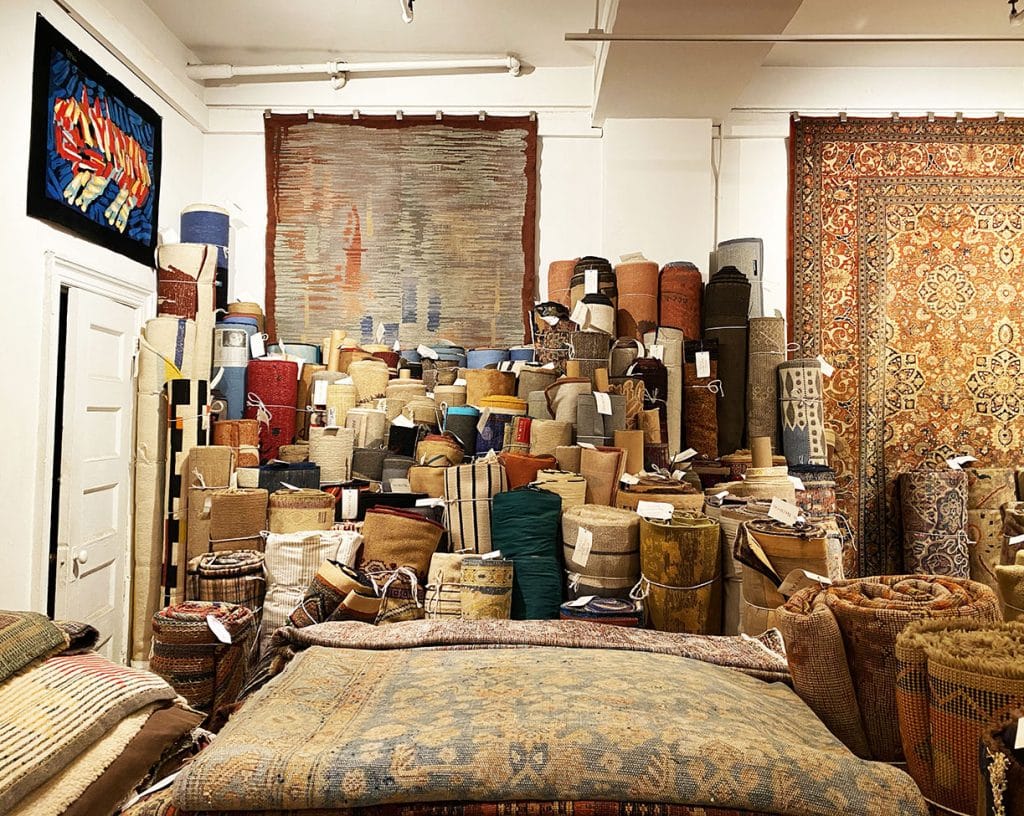 Jason Nazmiyal Goes from Humble Beginnings to Vintage Rug Dealer
Nazmiyal hails from Iran and has sold more than his fair share of Persian rugs, but it would be wrong to assume that his success grew directly from a multigenerational family business that he took over or inherited. Instead, his story is a classic American tale of hard work, perseverance and creativity.
Raised in Tehran, Nazmiyal was the son of a restaurateur. When the Iranian Revolution began, in 1979, he was a teenager. His parents sent him and his brother to study at American University, in Washington, DC.
In the years that followed, as the value of the Iranian toman plummeted, he was left on his own with little financial assistance. "I worked as a busboy, pumping gas and doing whatever I could to support my tuition," says Nazmiyal, who studied computer science.
After graduation, in the early 1980s, while searching for a way to make ends meet, he accompanied a cousin who had gotten into the rug business on a delivery run to Short Hills, New Jersey. There, they spied an empty 700-square-foot storefront and decided to set up a carpet shop of their own, together with Nazmiyal's brother.
"We knew nothing and were learning every day," says Nazmiyal. After many long hours and much heavy lifting, they developed a solid customer base. They expanded the store into a larger space next door and opened a second New Jersey outpost, in Morristown.
Expanding the Nazmiyal Collection's Empire
By 1995, Nazmiyal was ready for his next challenge. He decamped to Manhattan, where he established a wholesale operation focused on supplying rugs to other dealers. Business was brisk, and he attracted clients around the world.
It seemed like a wise move, up until the economic fallout of the terrorist attacks of September 11, 2001, disrupted his operation.
"After that, it became so hard to collect money from the dealers," says Nazmiyal, who was left with a stockpile of antique rugs that weren't going anywhere.
Nazmiyal Goes Online
Looking for a remedy, Nazmiyal drew on his training in computer science. He decided to once again sell directly to consumers and designers, as well as through auction houses, but to extend his strategy online.
He generated informative blog articles about the design and manufacture of rugs, whether a minimalist floor covering or a handwoven Moroccan piece with an intricate geometric design. He worked hard to get his content noticed by search engines. "Every other rug dealer was laughing at us," says Nazmiyal. "They asked, 'Who would buy a rug without seeing and touching it in person?' They said it was impossible to sell online." (The experience will sound familiar to many 1stDibs dealers.)
The Nazmiyal Collection Merges Antique and Mid-Century Modern Rugs
Of course, it was anything but impossible. Nazmiyal's rug business flourished. The digital pivot also prepared his company to remain strong during the pandemic. More people than ever began visiting his site, reading the articles, searching the inventory and requesting more information, he says.
As the years ticked by, he added modern and custom carpets to his showroom's offerings, in response to client requests. His greatest passion, however, remains seeking out old rugs with remarkable designs and colors. "But finding good examples is difficult and becoming even more so with each passing year," he says.
Nazmiyal hunts every day for rugs to add to his collection and each week purchases about 10 of the best examples he can find, ranging from Scandinavian mid-century modern rugs to Art Deco and Turkish designs.
He hopes people who might not have appreciated these treasures in the past will take a second look. "Antique and vintage rugs are unique," he says. "Each piece has its own extraordinary story to tell."
---
Talking Points
Jason Nazmiyal shares his thoughts on a few choice pieces.