Nearly 40 years after leaving his hometown of Baton Rouge, Thad Hayes retains only the faintest of drawls. But the engaging decorator has not lost his Southern charm — nor the traces of his training in garden design at Louisiana State University (LSU), which especially informs the edited, elegant interiors he creates for such fashionable clients as Marc Jacobs, Leonard Lauder and jewelry designer Brooke Garber Neidich.
Perhaps because of his background in landscaping, the New York–based Hayes believes that his diverse projects feel appropriate to both their architecture and geographic settings. This is true whether Hayes is reenergizing a 1930s Palm Beach, Florida, manor with playful, tropical touches or offering a fresh take on a classic blue-and-white theme for a family-friendly beach house in New York's Hamptons. "An in-tune-ness with the natural environment has always been with me," he explains, adding that this sense of a personal connection extends to his relationship with homeowners. "If we can understand who our clients are, we can make their homes just as an artist would make something site specific."
Hayes has always been attracted to the arts and design. As a child, he regularly accompanied his mother, a skilled seamstress, to the neighborhood fabric store. Back home, he would pore over her collection of design magazines, and by age eight, he was sitting in on meetings between her and her interior decorator. "That was the first time I thought, 'This is a profession,' " he says, recalling how he carefully selected a green fabric with forest scenes for his childhood bedroom.
His mother also used to take him on "field trips" to local plantation house museums and the French Quarter and the Garden District in nearby New Orleans. He was further exposed to the regional aesthetic by his father, an amateur but passionate furniture dealer specializing in 18th- and 19th-century Louisiana plantation antiques (similar to the pieces made during the same period in England and elsewhere in the U.S. but with what he calls "less fussy detailing and almost a primitive elegance"). "Certainly, seeing antebellum plantations and old structures in New Orleans enlivened in me a love and appreciation for old things and history," says Hayes.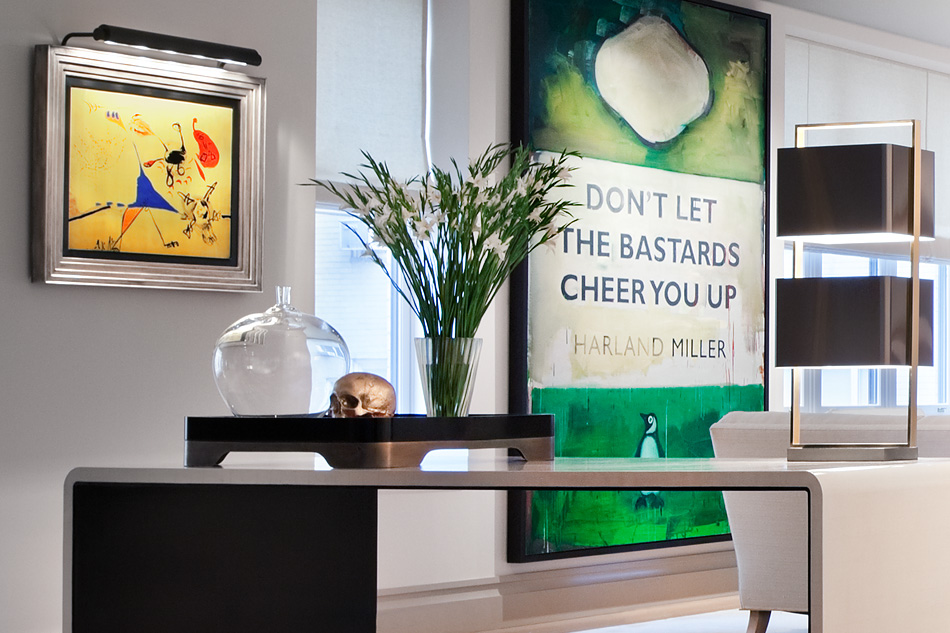 After graduating from LSU with a degree in landscape architecture, Hayes arrived in recession-entrenched New York City in 1979, where the only work he could find had him installing plantings for apartment rooftops and terraces. After meeting designers and architects on job sites and taking several classes at the Parsons School of Design, he decided that interiors should be his next move. In 1982, at age 24, he became assistant to minimalist design legends Bob Bray and Michael Schaible, best known as pioneers of the then-trailblazing  "High Tech" style. This aesthetic emphasized a sleek look and the residential use of industrial elements, like commercial carpeting on floors and duck cloth upholstery for such icons of mid-century modern furniture as Mies van der Rohe chairs. "It was an urban look and feel," Hayes says of Bray and Schaible's style, "designed for urban living with dirty shoes and ease of maintenance."
By 1985, Hayes was ready to go out on his own. One of his first solo projects — an apartment for menswear designer Terry Wilke, of Wilke-Rodriguez — blended state-of-the-art steel and lacquer elements with a sprinkling of more rustic pieces like a farm cupboard and an antique wire potato bin that recalled his Southern background. It earned him a spread in the New York Times Home section.
Today, Hayes's mix of contemporary and more traditional elements has evolved into the distinctly clean and modern style that is his current signature.
"Stylistically, I think I'm all over the place," Hayes demurs when asked to define his aesthetic. His studio often works with traditional furniture, and rarely could their projects be defined as strictly hard-edged modern. "I think the common thread in my work is that everything is well edited. There's an underlying simplicity," he says. "We go through things, and anything that is not necessary in a room we let go of. We say, 'Do we really need six fabrics when three tell the story?' It probably comes across as being more modern because of that."
---
"If we can understand who our clients are," says Hayes, "we can make their homes just as an artist would make something site specific."
---
For a 2010 project prominently featured in Architectural Digest, Hayes subtly wove some unexpected elements into two 19th-century brownstones in Boston's Back Bay neighborhood that he seamlessly integrated into one youthful and serene family home. "What I wanted to do was get rid of whatever images you had of Boston and Commonwealth Avenue and not get into cliché-heavy, brown New England furniture," he says, relating how he scoured antiques stores and auction houses for quirky pieces —  T.H. Robsjohn-Gibbings chairs; a large, square 1950s French train station clock — that would make the house feel lighter and less serious while maintaining its historic ambiance.
He hit the same note with a pair of 1960s Italian Sputnik chandeliers from Van Den Akker that grace the side-by-side entryways, as well as statement-making pieces like a pewter and bronze Philip and Kelvin LaVerne cocktail table from Donzella and a gold-leaf Wiener Werkstättte cabinet, which stand out from the neutrally hued, tailored settees in the formal living room.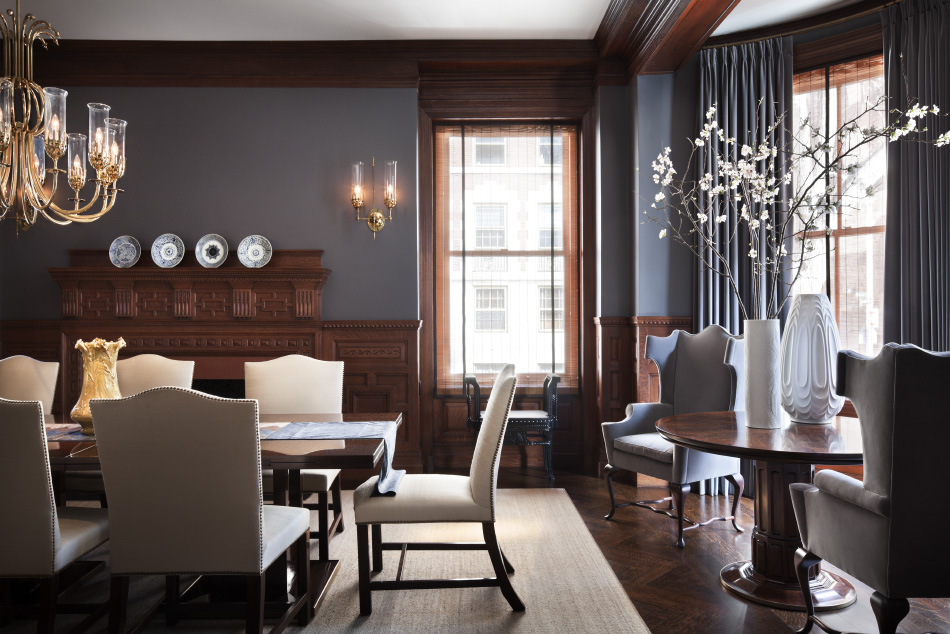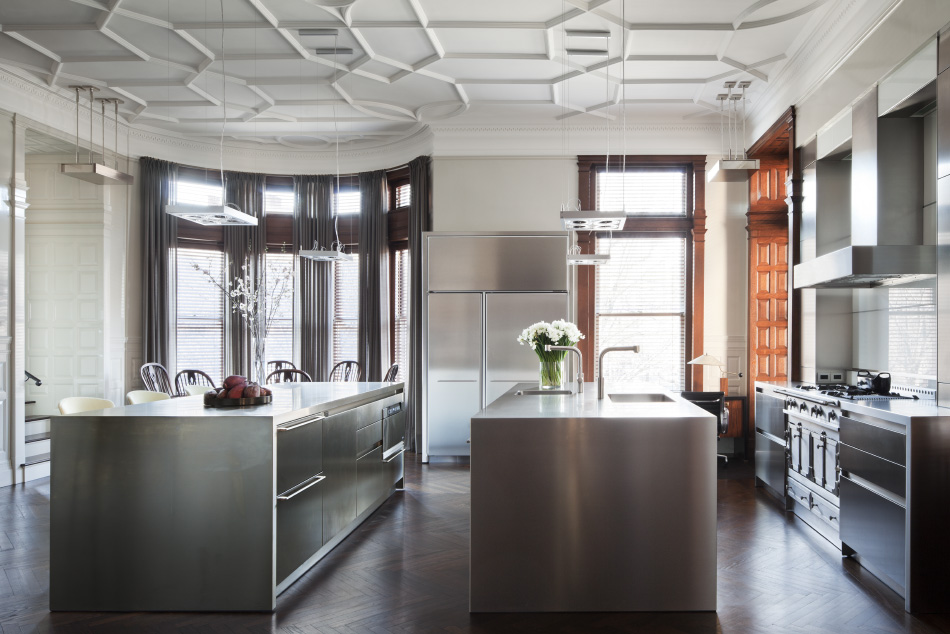 Hayes designed much of the other furniture for the project himself, playing with the forms and styles you might expect to find in a grand old Boston house to create highly original pieces. For a new take on the typical wingback chair, for example, he found inspiration in a 1960s example, then added an undulating scroll back. And in a dramatic gesture that nods to his time working with Bob Bray — who, he says, "would make something out of nothing, just some crazy scale to throw everything off" —Hayes and the house's architect, Dell Mitchell, fabricated an oversize black Portora marble fireplace for the library. "The house is a culmination of a lot of things," says Hayes. "I think it speaks to my roots of seeing old homes when I was a kid and then kind of moving forward through sixties shelter magazines."
Hayes's mandate for a refurbished prewar Fifth Avenue penthouse in New York was to showcase the owner's outstanding collection of modern and contemporary art, including work by Jackson Pollock, Gerhard Richter and Ross Bleckner. Although the art was the focus, Hayes didn't want the furniture to seem "flat and dull" in comparison. So he juxtaposed strong sculptural pieces — including a Horst Bruning leather daybed and a pair of Ceylonese ebony and marble tables with winged lion-head feet — with four custom-designed elongated club chairs and a sofa, all covered in the same neutral linen.
The majority of the apartment walls are also covered in linen, but Hayes blanketed the library in large, flush walnut panels. These make the room "look like the inside of a modern wood box," he says, and provide a sleek backdrop for vivid Damien Hirst butterfly prints. For the library, Hayes designed a leather and quilted-silk sofa, and, for the living room, he created boxy leather variations on the club chairs he uses in many of his projects. "We love club chairs," says Hayes. "Their origins go back to the nineteen thirties and forties, so they feel quintessentially New York."
Hayes calls the modern glass house in coastal Massachusetts that he helped design for landscape architect Douglas Reed, his college roommate, one of his more personal projects. He collaborated with both Reed and architect Maryann Thompson to create a house that would capitalize on the surrounding river and land. "We wanted an indoor-outdoor feel," he explains, "so you feel like you are in the meadow." The resulting architecture is reduced and clean, evoking a simplicity that is equally embodied in the furniture: Paul McCobb brass and leather stools, Hans Wegner oak Wishbone chairs and a waxed, rift-cut, white-oak console.
"Douglas and I both traveled through Japan and have an affinity for the Japanese sensibility," Hayes says. "Everything is very considered." This includes the palette. Hayes based it on the colors of the bark and leaves of the property's grove of sycamore trees, which are visible through floor-to-ceiling windows — and are, of course, another reflection of both Hayes's and Reed's deep interest in landscape architecture.
Much as he did when he was composing beautiful gardens at LSU, Hayes balances unity and variety in his interiors, adding splashes of color, decorative surprises and extraordinary pieces that create clear focal points. Although he tends toward reduction — or "self-restraint," as he calls it — weeding out whatever is unnecessary, what remains always grows into a perfectly planted mix of the time-tested and the new.
---
Thad Hayes' Quick Picks on 1stdibs