Few things are more seductive than a cool swimming pool on a sweltering summer day. Looking at a photograph of a beautiful pool brings about a multi-sensory rush: the slip of chilly water against the skin; the sweet, vaguely ammonic scent of chlorine; and the pleasantly dulled-out quality of underwater sound. Swimming is a near universal pleasure, and a historical one. Hieroglyphic drawings from ancient Egypt depict the pools found in noblemen's palaces, and classical Greeks and Romans lit huge, underground bonfires to heat their manmade swim spots.
Thankfully, technology — and hygiene — has evolved in the past few thousands of years. Today, advancements in engineering allow for pools of astonishing beauty and ingenuity to be built around the globe. In the spirit of summer, we've gathered over 20 images of some of the world's most spectacular pools. Dip into the below examples that are found in locations as diverse as Fez, Morroco; Zushi, Japan; and Kuwait City, Kuwait. They may be far-flung, but they all share the ability to make you feel instantly refreshed upon viewing.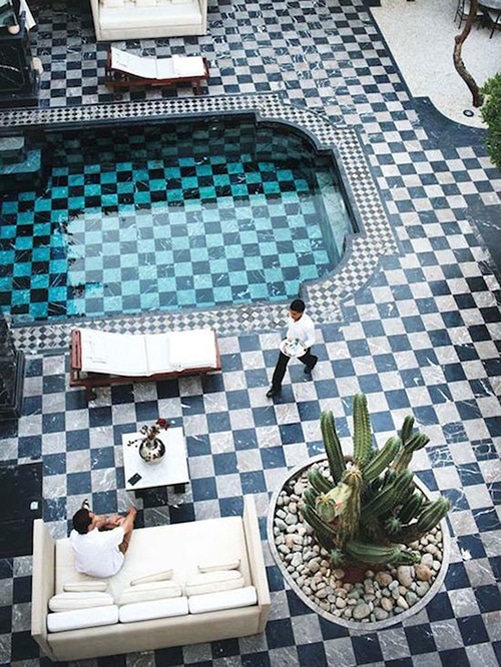 The pool at the Riad Lotus Privilège in Marrakech, Morocco uses classic checked tiles to dramatic effect. Image via Condé Nast Traveler.
---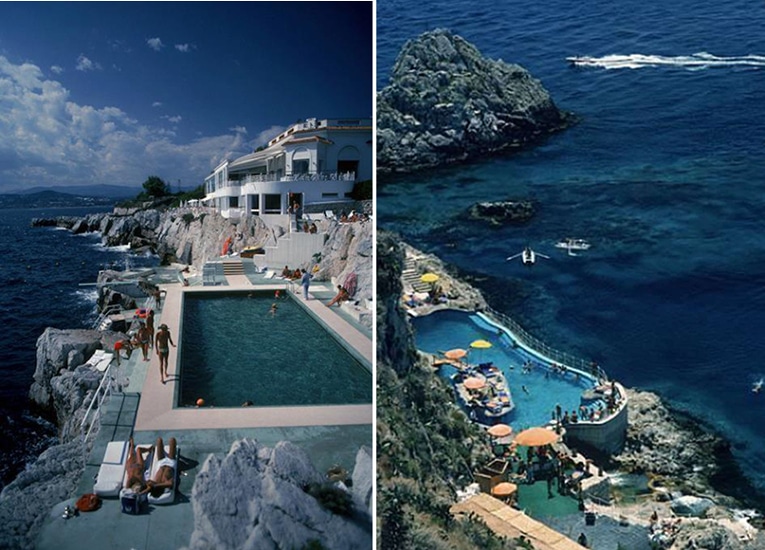 Two refreshing images from society photographer Slim Aarons. Left: a shot of the Hotel du Cap Eden-Roc from 1969. Right: Aarons' 1975 take on the Hotel Taormina in Sicily.
---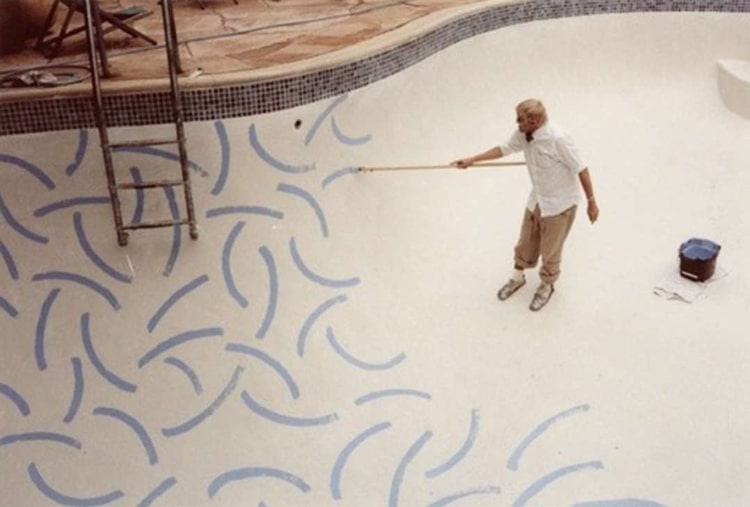 Artist David Hockney is captured adding his trademark blue squiggles to the floor of a swimming pool in this candid image. The British-born Hockney began to paint lush, figurative pools after an early 1960s visit to Los Angeles.
---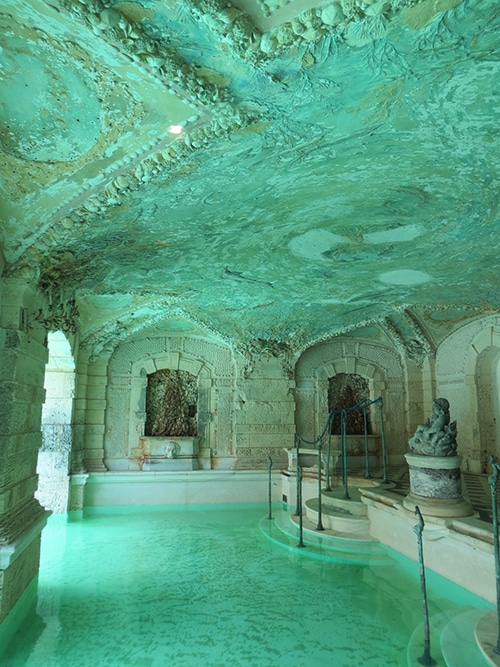 An exquisite, Venetian-style grotto on the grounds of Miami's Vizcaya Museum designed by the eccentric, aristocratic artist Robert Winthrop Chanler. Industrialist James Deering built Villa Vizcaya in the early 1900s to serve as his winter home.
---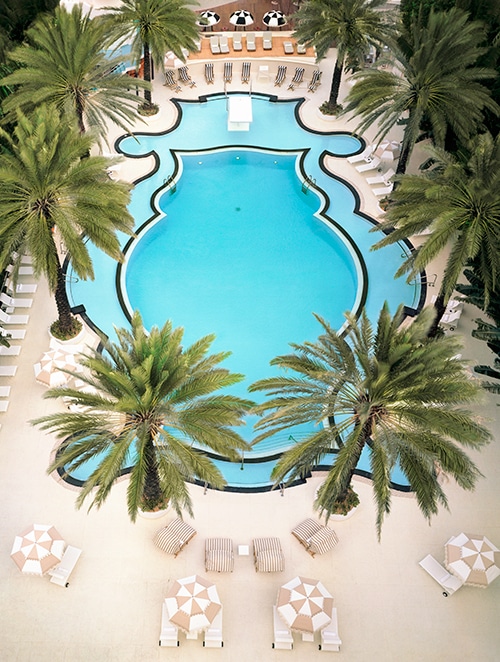 The Art Deco pool at the Raleigh Hotel on Miami's South Beach has been an icon of the neighborhood since 1942. It gained national fame in the 1950s, appearing as a frequent backdrop in the films of swimmer and actress Esther Williams. Image by Nicholas Koenig.
---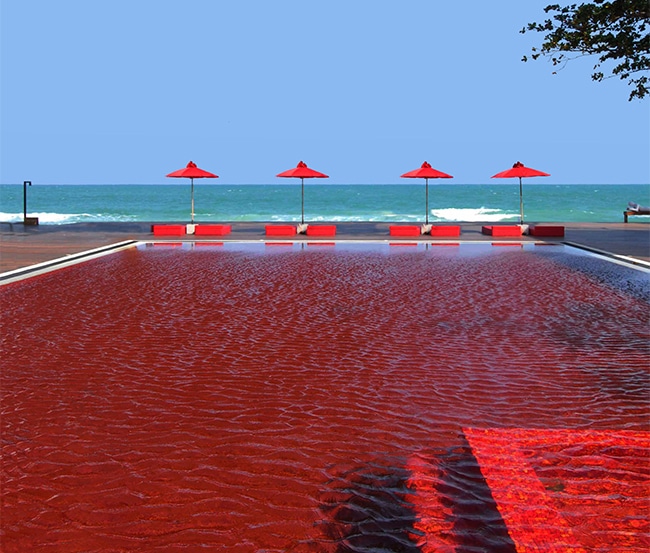 At the Library Resort — located on the island of Koh Samui in eastern Thailand — red, orange and yellow tiles give the beachside swimming pool a vibrant ruby hue. Photograph by Kentaro Masujima.
---
An ultra-modern pavilion — complete with an outdoor fireplace! — lends a note of contemporary geometry to this hillside Palm Desert pool, designed by Vance Lorenzini. Photography by Scott Mayoral for Central Meridian.
---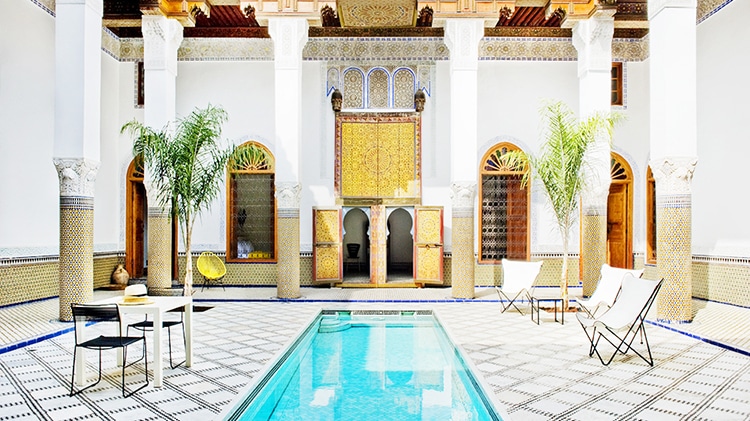 In Fez, Morocco, ornate woodcarvings and intricate tilework are beautifully juxtaposed by a simple, narrow pool. Photographed by Bruno Suet for Côté Sud.
---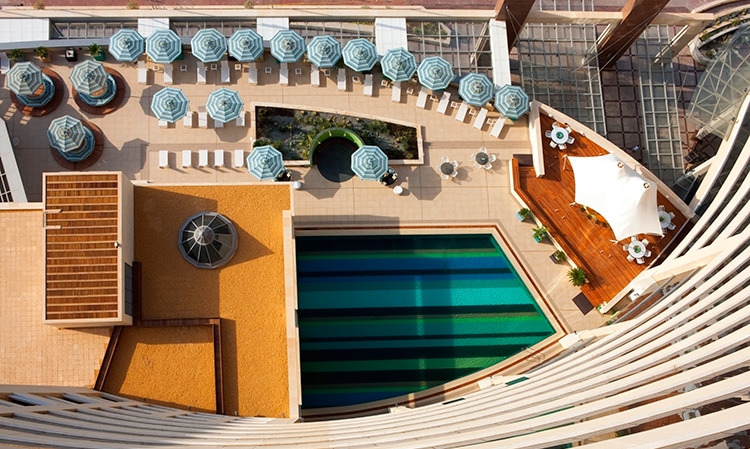 A collaboration between architect Matteo Thun and the Italian fashion house Missoni, the Missoni Hotel in Kuwait City uses the label's signature stripes as a motif for the floor of it's rooftop pool. Photograph by Gerry O'Leary.
---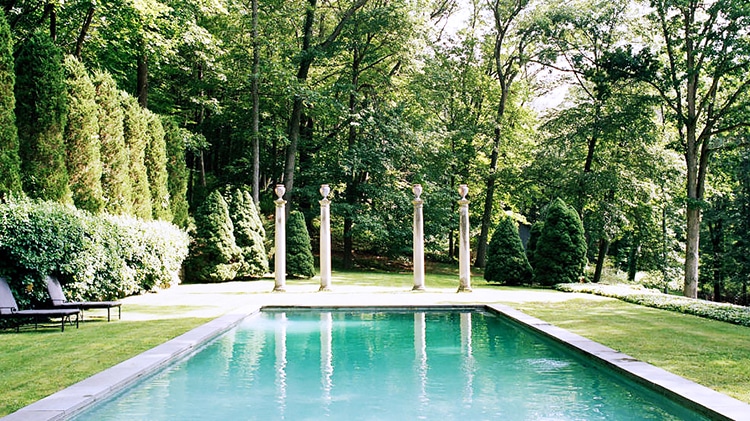 At designer Stephen Sills' Westchester estate — which Karl Lagerfeld once called "the chicest home in America" — antique limestone columns serve as a dramatic footer to the grass-lined swimming pool. Photograph by François Halard for Town & Country.
---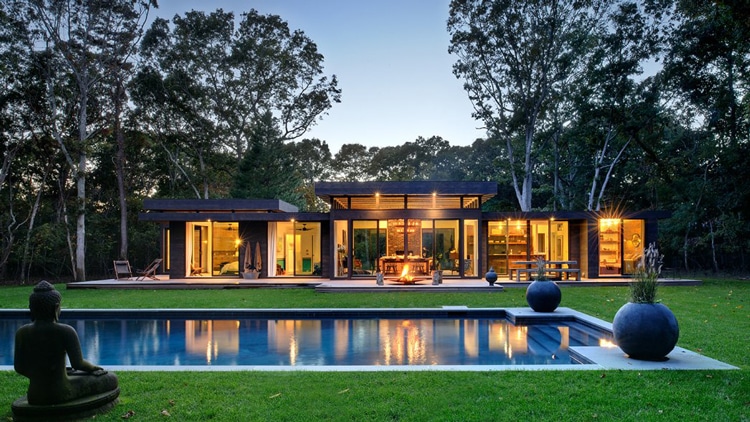 For her family's Amagansett summer home, designer Athena Calderone commissioned architecture firm Bates Masi to update the original 1960s structure. A long, horizontal pool echoes the planarity of the building.
---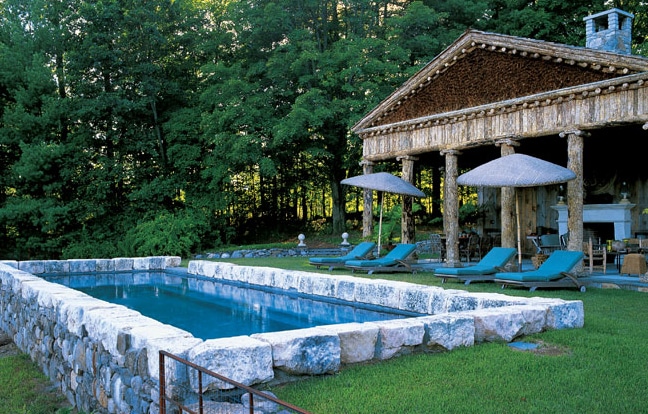 At her 18th-century Connecticut estate, interior designer Bunny Williams cleverly employed logs and acorns to create a rural spin on traditional Greek Revival architecture for her pool house.
---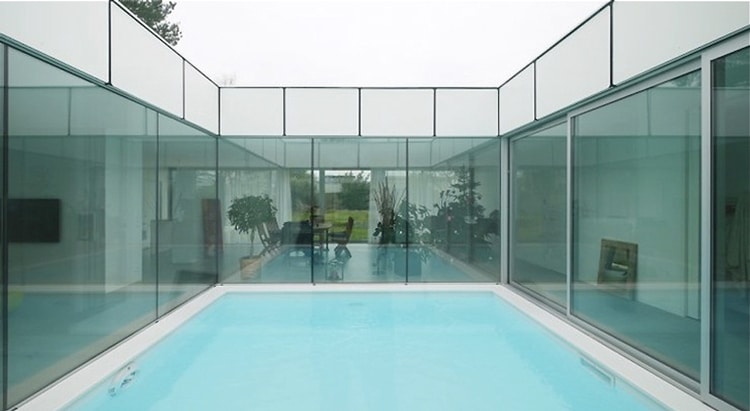 For a project in Sébastien sur Loire, French architecture firm Avignon-Clouet placed this glass-encased pool at the center of the home. In the evening, light emanating from the rooms creates a shimmering "water lantern" effect.
---
In Beverly Hills, the ivy-covered pool house at the former home of interior designer Kelly Wearstler reflects the property's glamorous Hollywood Regency-style architecture. Image via The Coveteur.
---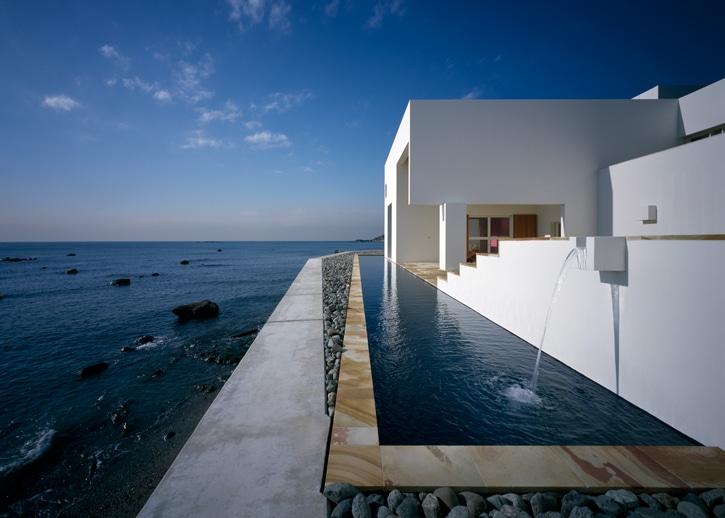 This seaside home in Zushi, Japan by architecture firm Legorreta + Legorreta was designed to fluidly blend the terraced pool with the natural coastline. Image by Katsuhisa Kida.
---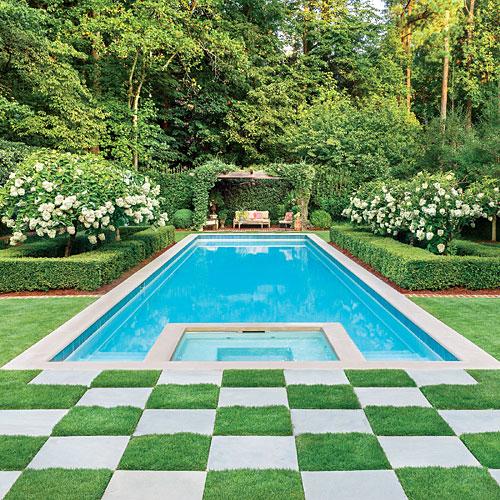 This backyard pool achieves a classic elegance through the use of a checkerboard paving scheme, a trellised wooden pergola and neat olive hedgerows. Image by Roger Foley via Southern Living.
---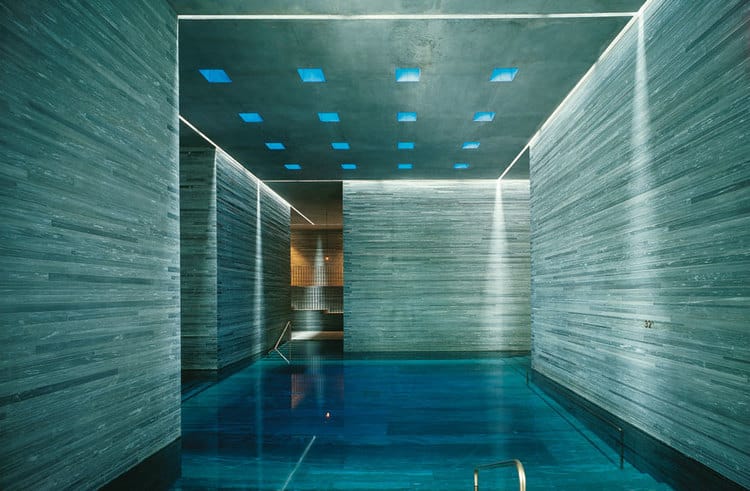 Architect Peter Zumthor won the 2009 Pritzer Prize for his design for the Therme Vals, a hotel and spa in Switzerland. The elaborate bathing complex is comprised of interlocking, rectilinear spaces constructed out of locally quarried Valser Quarzite slabs.
---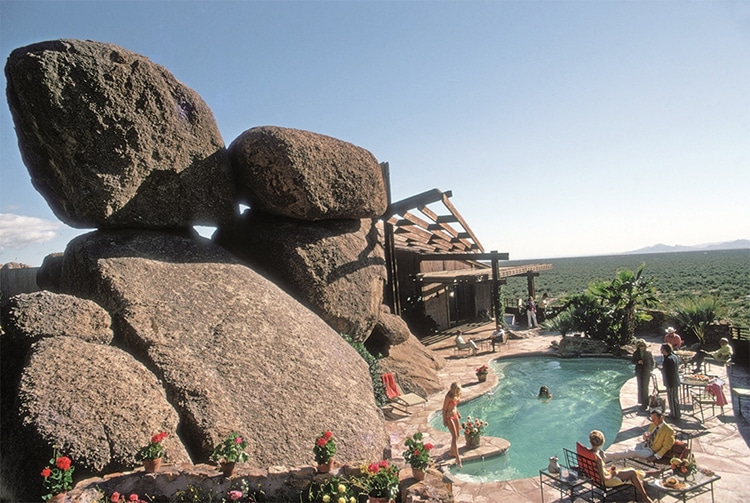 Photographer Slim Aarons aptly titled this 1973 image "Flinstone Home." The pictured estate — Bouldereign in Carefree, Arizona — had gained fame three years earlier for serving as a location in director Michelangelo Antonioni's counterculture masterpiece Zabriskie Point.
---
A contemporary update on an age-old past time. Left: French architecture firm Studio KO accented this spare, Luberon, France pool with a Boffi Bains sling chair. Photo by Dan Glasser. Right: The black-bottomed pool at architect Wallace Cunningham's San Diego Crescent House personifies Space Age-chic. Photo by Richard Powers.
---