Alexander Girard was the peaceful rebel of American mid-century modernism. His fabrics, furniture, interiors, graphics and decor countered the streamlined austerity of Danish design with acid colors, folksy figuration and funky geometric patterns. In many ways, his work spawned the "We Are the World" globalist style that became mainstream in Western pop culture in the 1970s and '80.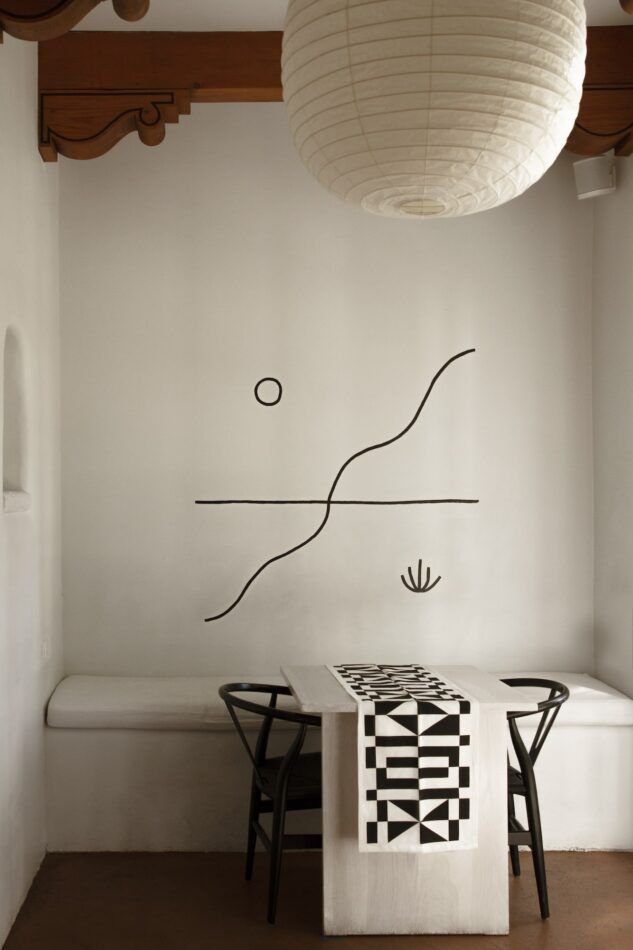 Girard, who was born in New York City in 1907 and grew up in Florence, Italy, spent his latter decades in Santa Fe, removed from the American design capitals of New York, Los Angeles and Detroit. He and his wife, Susan, made their adobe house there into a laboratory for bold experimentation and amassed a collection of 106,000 pieces of folk art from all over the world, much of it stored in their "bunker," which was really a vast archive.
Ten thousand of those pieces are now on permanent view at Santa Fe's Museum of International Folk Art in a rollicking display that mixes cultures and doesn't reveal the items' origins with explanatory wall text. The Girards wanted the creations from Alaska, Mexico, Poland, Ethiopia, Japan and elsewhere to intermingle. We are the world.
Although Girard collaborated closely with Eero Saarinen, George Nelson and Charles and Ray Eames and the like, and was director of design for Herman Miller textiles from 1952 to '73, he never fit neatly in the history of modernism. And for that reason, he hasn't attained the lasting fame of his fellow designers.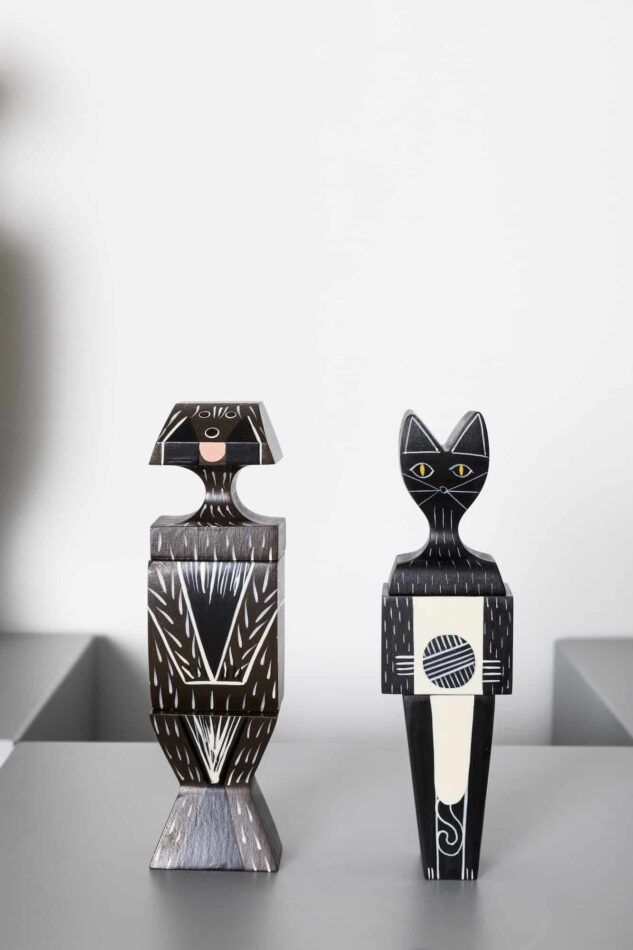 Still, his work keeps coming back in the 21st century. And because of its very difference from the rest of modernism, it always appears fresh. Following the designer's death, in 1993, Girard's family gave his archive of drawings and prototypes to the Swiss furniture company Vitra. Today, his grandkids Kori Girard and Aleishall Girard Maxon oversee the Girard Studio, charged with sorting through this trove for pieces to reissue.
On a recent Girard-focused press trip to Santa Fe, which included attending the opening of the traveling retrospective "Alexander Girard: A Designer's Universe" at the Museum of International Folk Art, The Study got a chance to see Vitra's latest release of Girard accessories.
The new pieces are mostly black and white, including a coffee mug covered in the designer's lively Geometric A pattern and a tray, pillow and wall relief imprinted with his iconic International Love Heart motif. These, along with more colorful Girard decor, looked right at home against the white adobe walls in the desert-chic lobby and bar of Santa Fe's El Rey Court hotel during a press preview.
Through the end of August, the Vitra Spring/Summer 2019 Girard Collection accessories are also being artfully displayed in a pop-up at the 1stdibs Gallery, in New York. We talked there with Kori Girard and Aleishall Girard Maxon about tending their grandfather's legacy.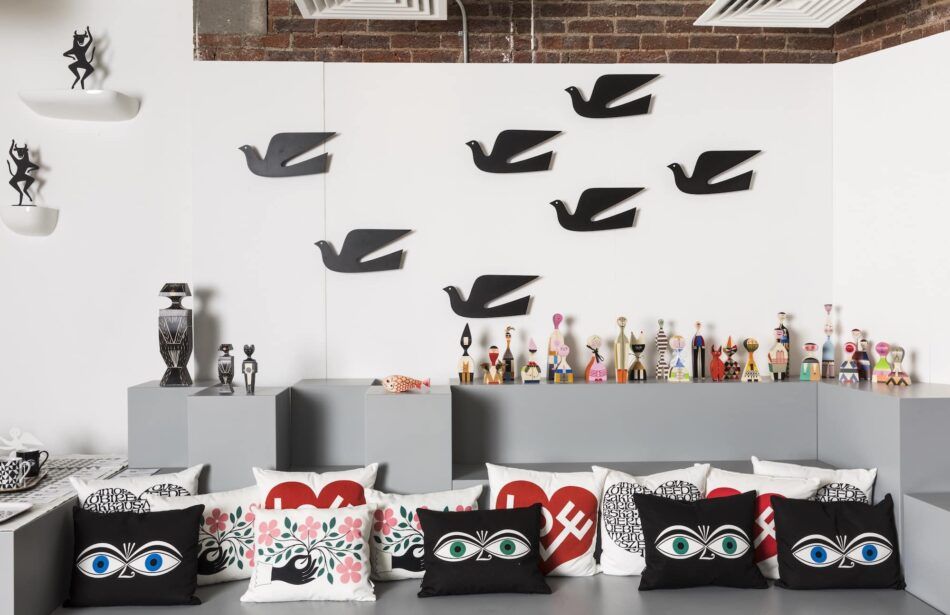 ---
How did you go about picking the pieces for the accessories collection?
Kori Girard: Choosing the pieces is a collaboration with our incredible team at Vitra. The vast majority of our grandfather's design archives live there, and we have been combing through them since we were teenagers. There are thousands of pieces, so it has been slow and steady over many years. Choosing which work to reproduce is a delicate, involved and highly considered process that we are continually honing.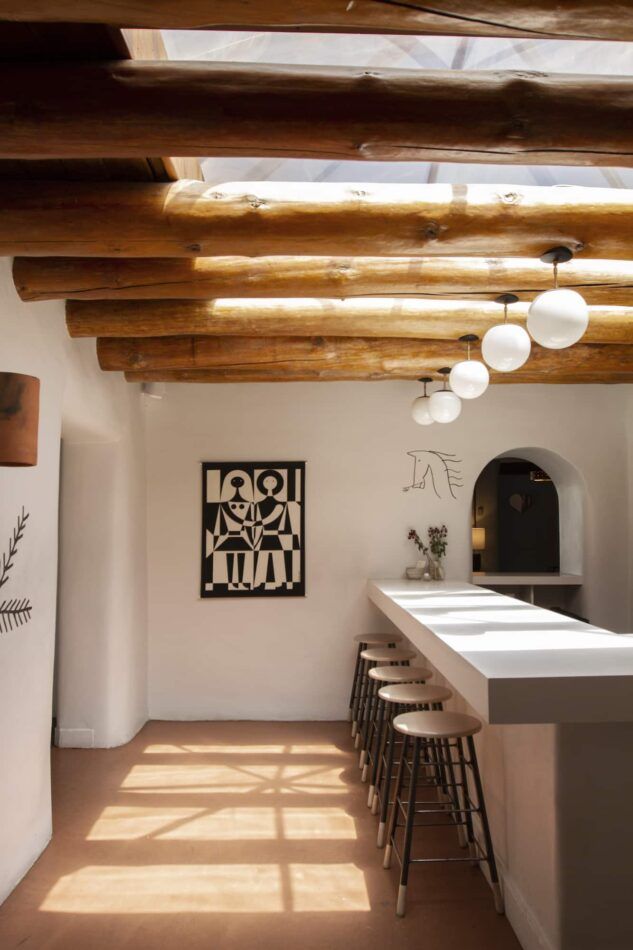 Aleishall Girard Maxon: Each time we consider something, we look at it from many angles — including, of course, how and where to produce it and what the environmental implications of the production will be, the product's relevance in today's world and how well we can honor the original.

What's it like for you two to run the Girard Studio?
Aleishall: As you can imagine, an archive and body of work of this magnitude is not a simple thing to manage, but we are very lucky that our father, Marshall, worked so hard to keep it all together. Ultimately, finding it a home at Vitra has been key for us, as the firm has been a wonderful partner in preserving and reintroducing this work.
Kori: We stepped in as part of a natural evolution in what needed to happen to maintain the integrity and momentum. It has been such an honor to share our grandfather's vision with more of the world, and the more we do, the more it speaks for itself and takes on a life of its own, which is how it should be.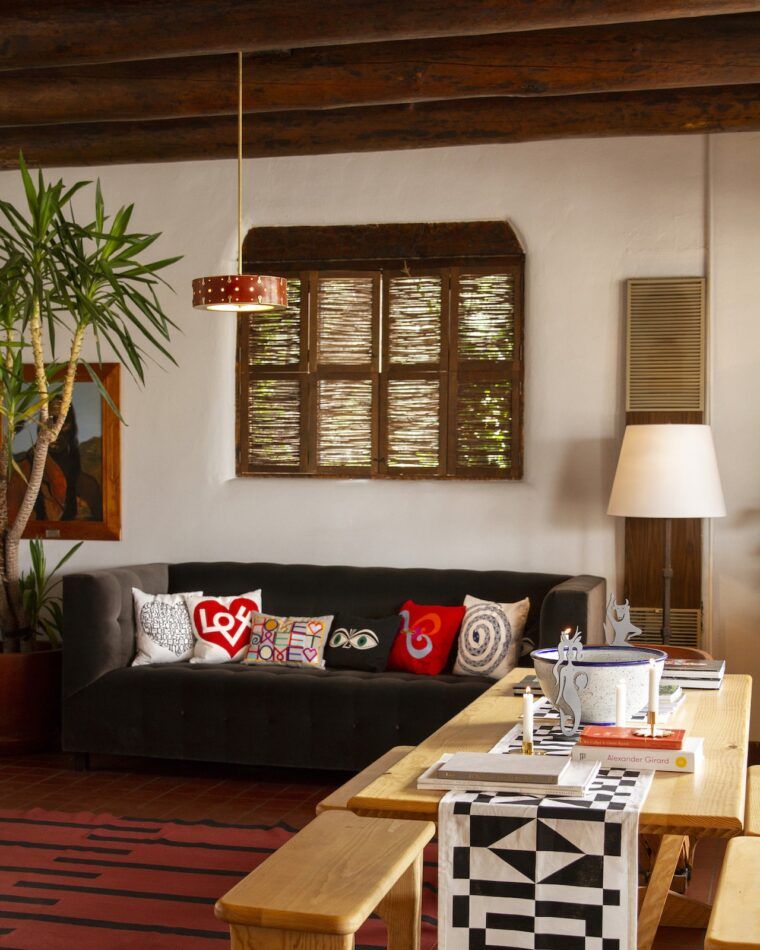 How do you think his folk art collection inspired his work?
Kori: From a young age, our grandfather was exposed to his own father's collection of antiques and furniture. We believe that growing up in Florence with the family antique business created a fertile ground for his interest in craft and folk art traditions. From the beginning, he was fascinated with the idea of contextualizing his work, understanding that he was not creating in a vacuum but was a part of a larger lineage. Perhaps more than anything, he appreciated the humanity and honesty of folk art.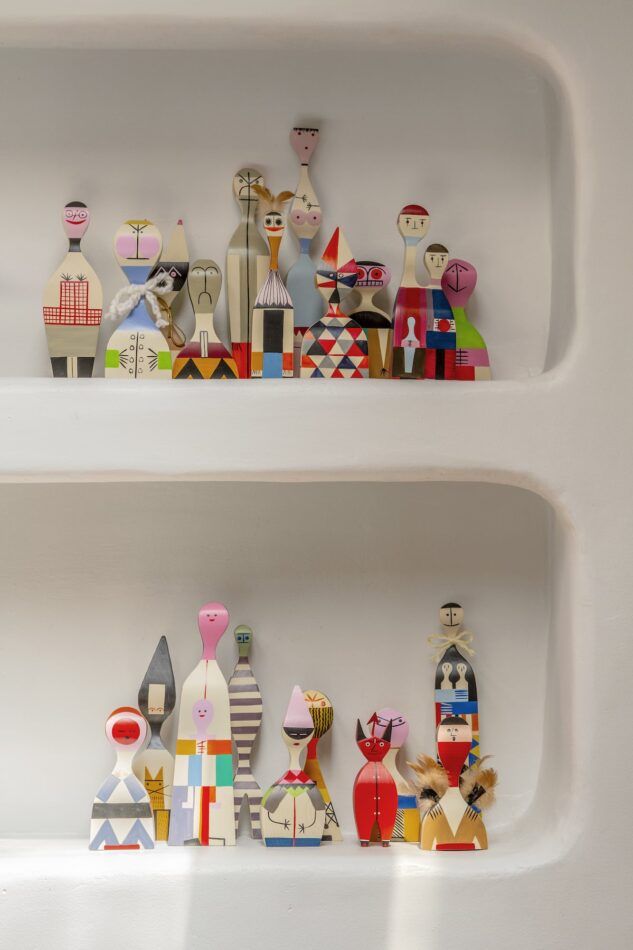 Speaking of folk art, what was it like to rediscover those vibrant wooden dolls that were reissued a while back?
Kori: The wooden dolls were something we came across early on, more than a decade ago. It was while the archive we had given to Vitra was still being unpacked and sorted, and no one had seen these before. When we found them, it was like meeting long-lost relatives, and we were instantly transfixed.
Aleishall: It took a bit of discussion to imagine how we were going to produce them in the same way he had — on a band saw, with hand-painted finishes. But after many trials, we found a sustainable fit, and the dream became a reality. It has been incredible to watch as they've grown to have a life of their own and really come to represent the work of our grandfather in many ways.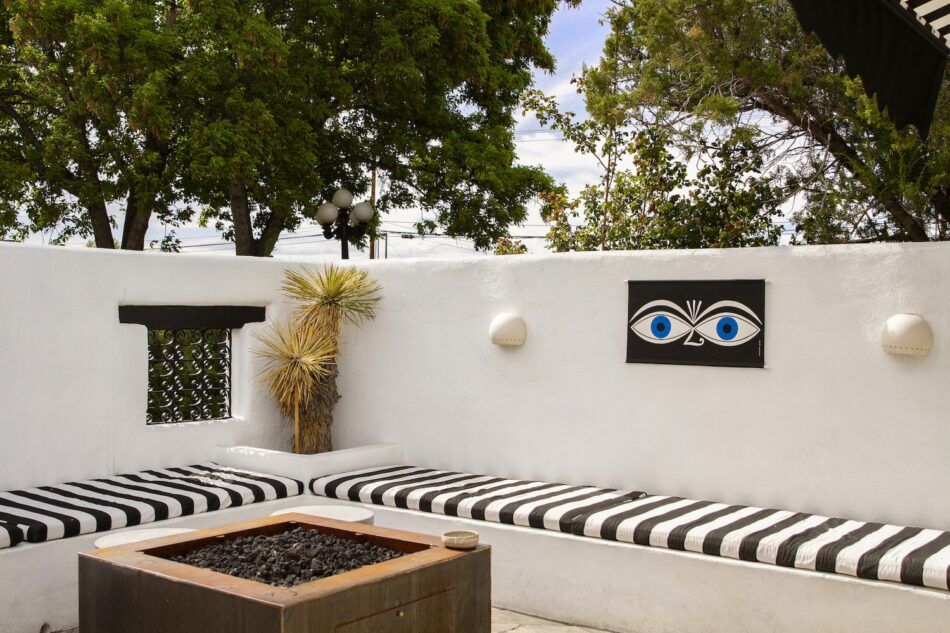 How do you suppose living in Santa Fe influenced your grandfather's designs?
Kori: Living in Santa Fe affected his work, as far as we can tell, in every way imaginable. Its unique landscape and diverse inhabitants are two reasons it has long been a haven for alternative minds and creatives. He had a great respect for and interest in the Native American population living in and around New Mexico as well.
Making regular visits to the surrounding pueblos, he established friendships with many of the artists over the years. It is also important to mention the proximity to Mexico and the rest of Latin America, for which he had a deep appreciation and whose varied cultures and arts had an ongoing influence on his work.

When you were young, what was it like to visit your grandparents' house and encounter their collection?

Aleishall: We grew up two minutes away from our grandparents' home in Santa Fe, and visiting them frequently was something we looked forward to. Their house was a bit like an ever-evolving treasure hunt. We were typically allowed to roam free throughout the house, as long as we were respectful and didn't break anything. Every room had its own unique atmosphere and particular objects that we were drawn to.
Kori: There was a sitting room at the end of a long hallway that overlooked the garden, and it had these giant seed pods as tall as we were hanging on the wall. The formal living room had at its center this beautiful scalloped brass table that was covered with shiny objects of brass and copper from all over the world. Our favorites were the coal pillows, which were historically used as a source of heat in India.
Aleishall: The kitchen was magical as well. Our grandmother was a very good cook, and it had been designed as a kind of organized altar to food. The cabinets had these mandala-like collages made from pasta and beans set behind glass. And best of all, there was a cubby in the kitchen where they regularly deposited toys that were just for us — it was always exciting to see what was new.