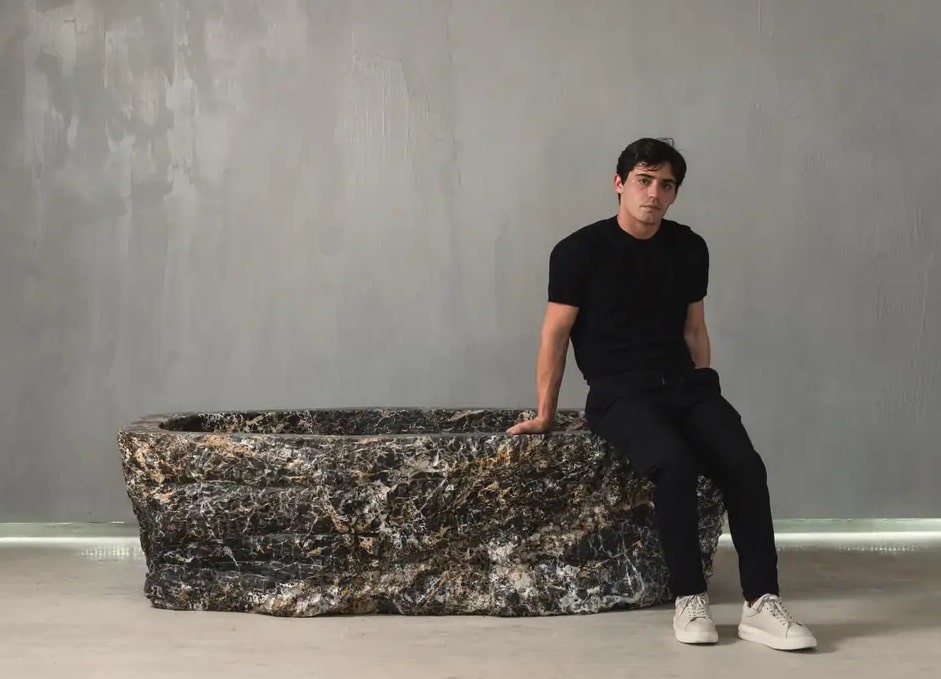 Bathtubs occupy a particular place among furniture. One may fleetingly touch a cabinet or recline for a while in a chair. But full bodily immersion — with one's skin in contact with the water and the contours of the tub — is essential to a bathing ritual.
In the design of such a tactile object, the material is key to delivering an optimal experience. That perhaps explains why Andrés Monnier's Baptiz rock bathtub is so alluring. The rough-hewn stone basin conveys a connection with the natural world and a promise of corporal and spiritual rejuvenation in sync with the holy rite of the work's title.
The hefty piece is rendered from a massive block of Portoro marble sourced from the Dominican Republic. Created during Monnier's second residency with Santo Domingo's Marmotech Design Center, it was included in "Montesino," an exhibition of work by Latin American artists presented by the Geneva-based Galerie Philia during Design Week República Dominicana in March.
Monnier, now 24, grew up in Guadalajara, Mexico. After graduating from Universidad Autónoma de Baja California with an engineering degree, he started out creating fire pits and slowly transitioned to making other pieces in materials such as marble and limestone. In his Baja California studio, he handcrafts furniture that pays homage to the materials' traditional association with monumental sculpture.
"Andrés pays attention to the vibrations, personalities and chromatic details of every different type of stone he works with," says Galerie Philia owner Ygaël Attali, who is including a new Monnier fire pit in "Desacralized," the gallery's Milan Design Week exhibition in a deconsecrated church in the city's central district.
From a plinth-like daybed to a haunting candelabra, Monnier's dramatic creations combine the commanding weight of the stone with a mysterious gentleness. In the Baptiz tub, the rock and the water invite us to reconnect with the elements and ourselves.