Bamboo, the reed-like, woody grass revered the world over for its attractiveness, durability and unbeatable versatility, has a purity and elegance that Ming Dynasty dignitaries, European royals and workaday folks alike have appreciated throughout the centuries.
So why is bamboo — in its many forms — so enduringly popular? The grass itself is classic-looking and pleasingly geometric, and it evokes a subtle exoticism that's both glamorous and (due in large part to its sustainability) highly attainable. It's an organic material that provides a link to nature, helping us to bring a bit of the outside in, in an elegant yet no-frills way that seems comforting and familiar.
Plus, bamboo's lightness and slight irregularities make it the perfect counterpoint to heavy-feeling interiors. Scroll down for two mood boards of 1stdibs' bamboo offerings — from folding screens to Gucci heels — along with the rooms that inspired their creation.
---
Bamboo in Bright Colors

1. Four-panel painted-paper screen of birds and bamboo, 1890s. 2. Andrea Claire Constantin 4: BCDE chandelier in bamboo and brass. 3. Bamboo with a Bust of Henry VIII, 2014, by Mary Vernon. 4. French bamboo mirror, 1970s. 5. Vallauris Raku ceramic vases, 1960s. 6. Rupert Nikoll Austria table lamp in bamboo and brass, 1950s. 7. Maison Jansen bamboo palm-tree floor lamp, 1970. 8. Maison Jansen bamboo palm-tree floor lamp, 1960s. 9. Faux-bamboo armchairs with faux-tortoise vinyl upholstery, 1970s. 10. Hollywood Regency faux-bamboo dresser, 1970s. 11. Jona 18-karat yellow-gold bamboo ring, new. 12. Jean Mahie 22-karat gold pendant necklace with bamboo links, late 20th century. 13. English wooden tray on a later faux-bamboo stand, 1900. 14. Yves Saint Laurent Rive Gauche bamboo-print cotton blazer, 1990s. 15. Hand-knotted bamboo-silk Quisque Vitae area rug, new.
Colorful Bamboo Interior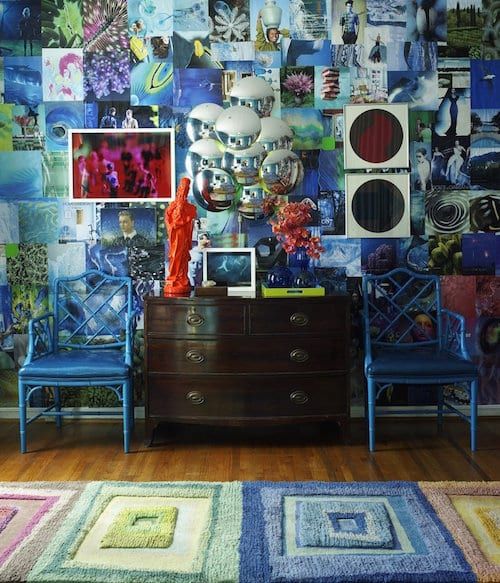 An eclectic mid-century modern bedroom in Miami by Doug Meyer Studio. Photo by Mark Roskams
---
Bamboo in Natural and Metallic Hues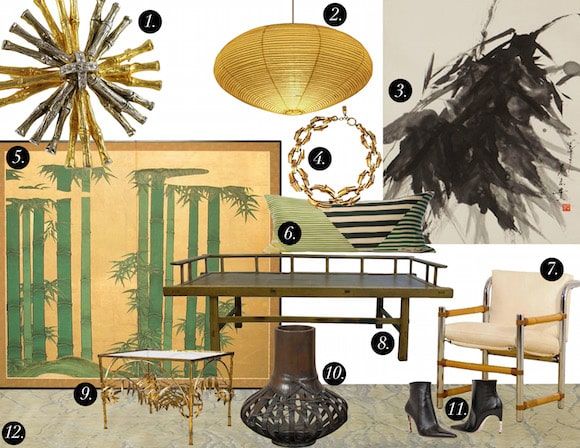 1. Mimi di Niscemi gold- and silver-tone bamboo brooch, ca. 1970. 2. Isamu Noguchi for Akari bamboo-frame pendant lamp, ca. 1950. 3. Bamboo, 1977, by Minol Araki and Teishi Jūgatsu. 4. Yves Saint Laurent gold-tone bamboo-link necklace, 1970. 5. Japanese two-panel screen, 19th century. 6. Pierre Cardin silk-scarf pillow with Irish linen backing and bamboo insert, new. 7. Chrome and bamboo loungers, ca. 1970. 8. Qing Dynasty Shanxi bamboo and elm opium bed. 9. Hollywood Regency gilt faux-bamboo and palm-leaf cocktail table, mid-20th century. 10. Meiji Period bronze vase, late 19th century. 11. Tom Ford for Gucci goatskin ankle boots with bamboo heel, 21st century. 12. One-of-a-kind hand-knotted silk, bamboo, and wool area rug, 2015.
Natural Bamboo Interior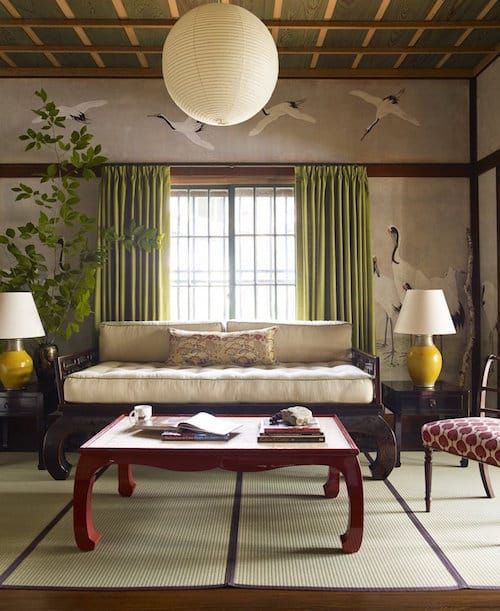 Adirondacks pavilion country house by Katie Ridder Inc. Photo by Eric Piasecki