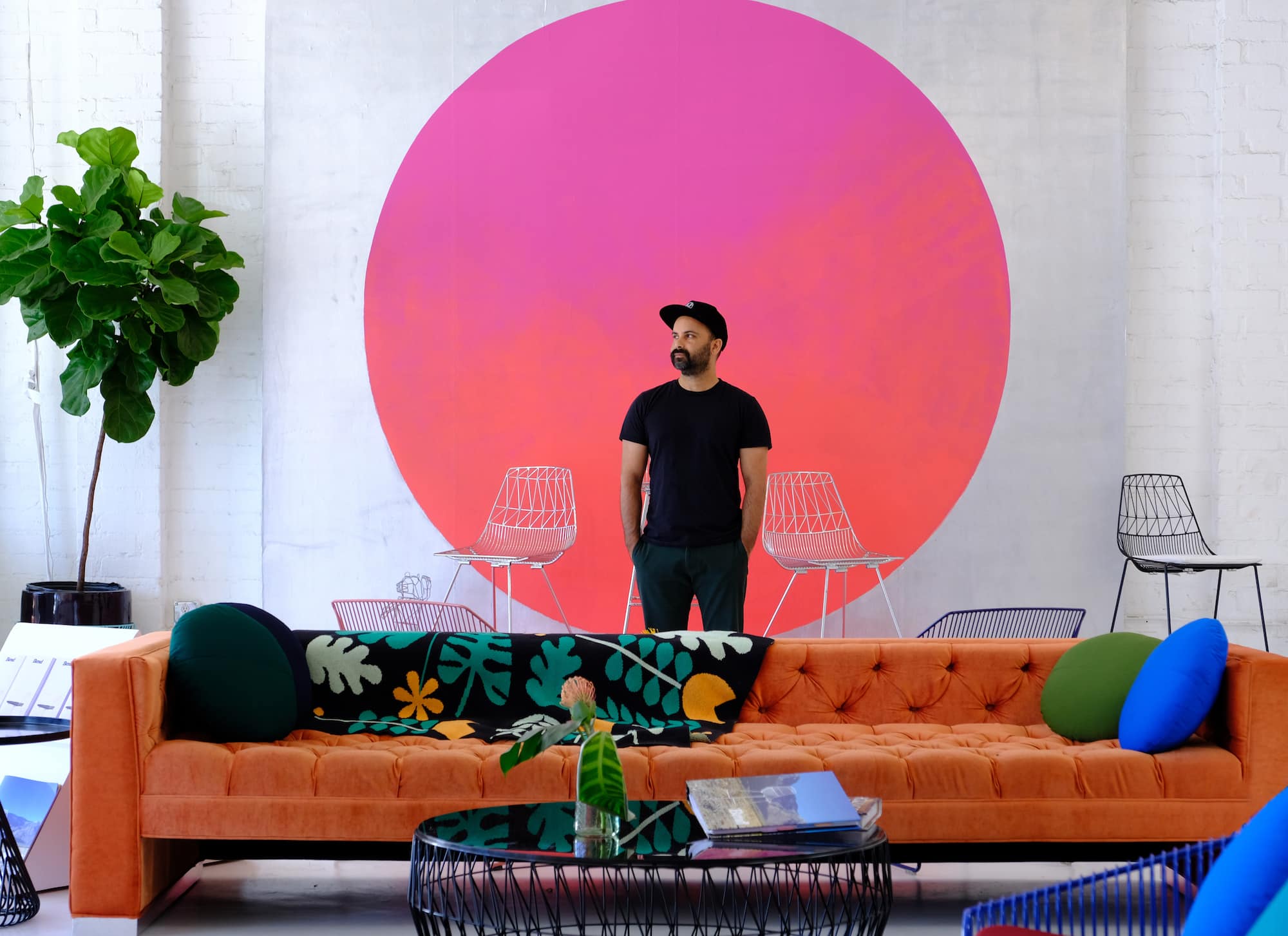 Coming up with a version of an iconic mid-century piece that garners the approval of both the design world and the masses is a pretty tall order. But not, it seems, for Gaurav Nanda, founder of the Los Angeles–based design studio Bend Goods, which turns out sleek indoor-outdoor wire furnishings made with hand-bent recycled iron and powder-coated in technicolor shades.
Nanda knew from early on that he would end up running his own business. He credits his mother and father with serving as models. "I come from a family of entrepreneurs," says Nanda, who was born and raised in Detroit, where his parents ran a community newspaper press. "It's totally different from what I'm doing now, but it was fun to see that evolve and grow as a kid."
Even so, Nanda didn't immediately venture out on his own. After college, he worked as an automotive designer for General Motors in Michigan, crafting vehicle interiors and exteriors. "It was really all about shapes," he says. "We were using 3-D software, so a lot of the work was in wire frames, and you're taking that wire mesh and creating a shape out of it to get the vehicle's form."
Seven years later, Nanda was ready to shift gears and conceived the chair that would propel him into a furniture design career. "I loved the Bertoia chair, and I originally thought about using it in my own home," he says. "But I thought maybe I wanted to do something different, to mix it up. I had some ideas, so I started drawing and sketching and came up with the Lucy chair." That design set the tone for Bend Goods' signature sculptural, geometric aesthetic.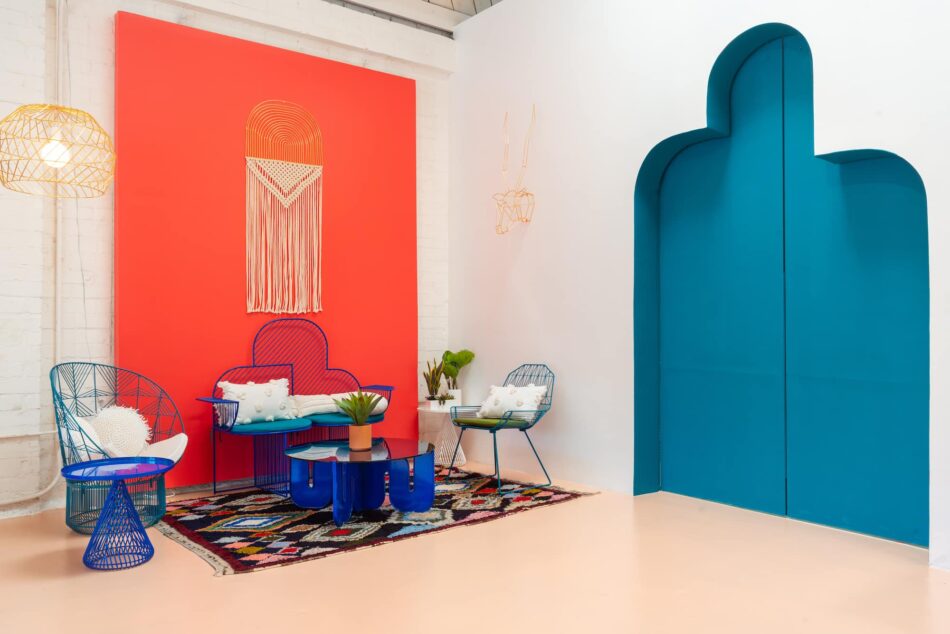 It took Nanda a couple of years to finalize his concept and locate a manufacturer to produce a prototype that checked all his boxes for design and comfort. "One of the things we did with the Lucy chairs is that we kept the wires of the seat very close together," he says. "When you sit on it, you can't really tell that you're sitting on wire as much as on other chairs where the spacing is much larger." He chose iron as a material for environmental as well as aesthetic reasons. It's highly recyclable, he points out, adding that sustainability is very important to him.
Lucy's innovative wire construction, along with its geometric patterning and clean-lined base, caught the attention of the editors at the Apartment Therapy website. They spotlighted the chair in a feature, establishing it as a cool, functional design piece with a minimalist millennial edge.
Lucy took off. Nanda had just moved to Los Angeles from Detroit, and requests for the chair began pouring in from home retailers and, eventually, restaurants. Over the years, even tech giants, including Facebook and Google, have sought out multiple examples for their offices.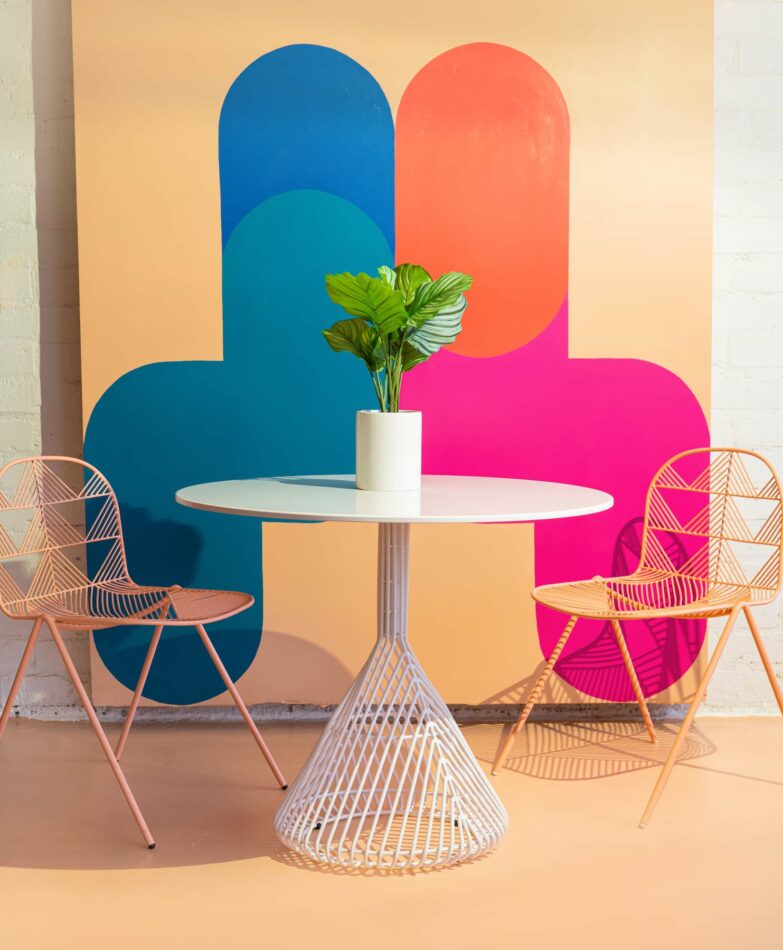 "That one chair led to five other full pieces," Nanda says of his debut collection, which launched nearly a decade ago and included a dining chair, two lounge chairs and a side table. "We've carried the wire spacing through most of the products," he adds. "That gives them the same kind of comfort but also a cohesive aesthetic quality."
The vibrant palette has also been a feature since the beginning. "I wanted to make a statement with a really bright orange for the chair, and that was kind of the start of it," he says. The palette now includes the full spectrum of primary and pastel hues.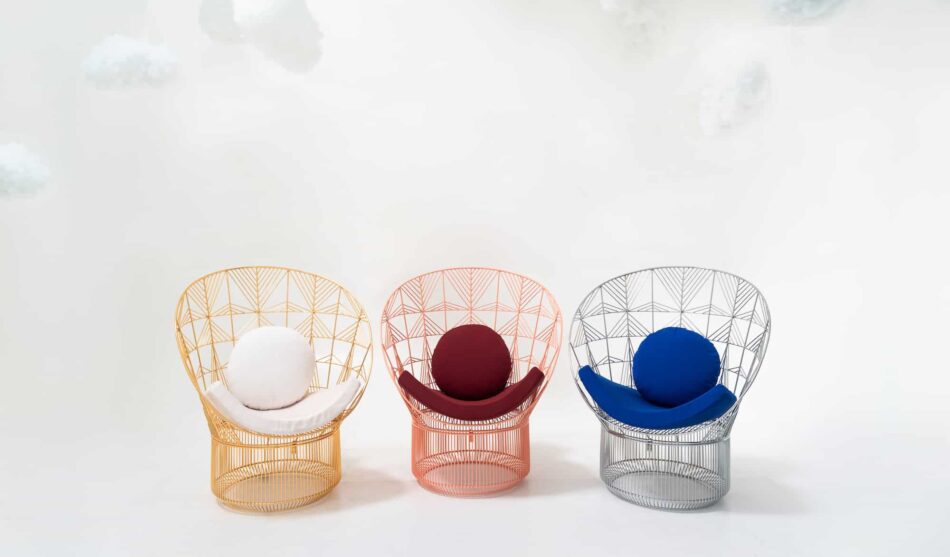 Nanda sees his experience in 3-D sculpting at GM as formative for his early designs. "In a way, it's very similar here," he says of the process at Bend Goods. He points to the development of the firm's Peacock chair as an example of that process. "We looked at the rattan peacock chairs from the '70s, and we changed the profile and the base a little bit to give it a different shape altogether," he explains. His team then worked out a flow for the wiring to provide comfortable support.
"It's a lot about the patterns you can create with the wire. That has played a large part. You can create basically any type of shape that you want," he says. "I also love the fact that you can see through the wires. In a big room, there's no obstruction, because you're seeing through everything."