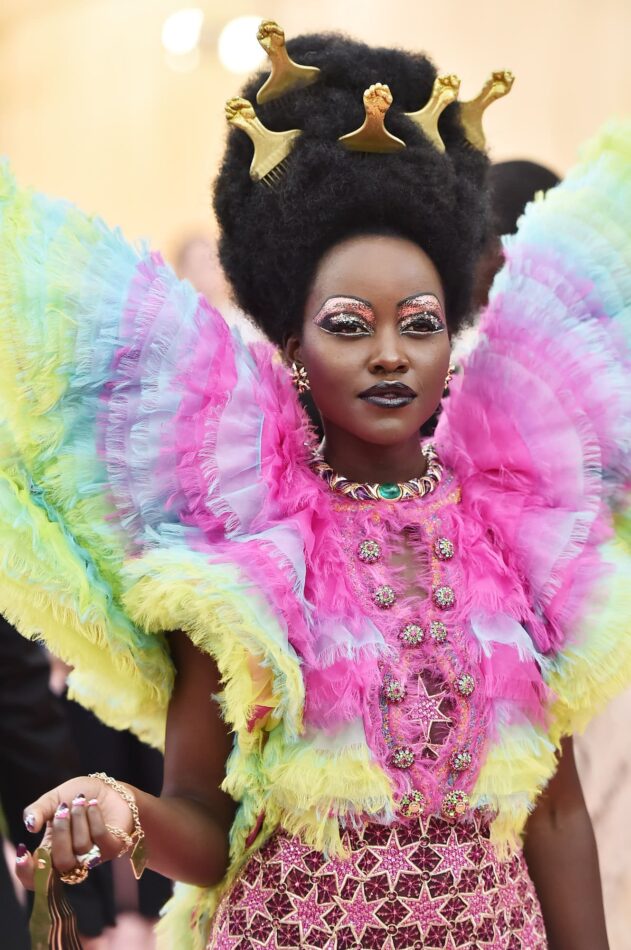 In the short time since the annual Met Gala and the debut of this year's Costume Institute show, "Camp: Notes on Fashion," fashion-related Google searches for "camp" have spiked to such an extent that the primary results no longer relate to s'mores or the great outdoors but to sequins and feathers. This reflects something of an existential crisis: What, exactly, is camp fashion?
As the show illustrates, camp has been a fabulously festooned presence for centuries, from the absurdly opulent regalia of 17th-century courtiers to the bedazzled frocks on this season's runways. And unlike the items highlighted in other Costume Institute exhibitions of late, which have zeroed in on relatively niche themes like papal couture and otherworldly high-tech fabrications, camp fashion is readily available to be bought — and worn — today.
The show's heady concept, and its title, are derived from Susan Sontag's seminal 1964 essay "Notes on 'Camp.' " That may sound painfully intellectual, but camp is essentially a celebration of pure, pretense-free fun. As vintage dealer Christophe Azemar, of Le 6 Rue Paradis, explains, going back to the word's Gallic roots: "The French verb camper means 'taking an assured or proud and provocative attitude.' For me, it's a philosophy, an intellectualization of frivolity and — why not? — a bit of bad taste."
Sontag gives numerous examples of the camp spirit, but the most definitive may be this: "It relishes, rather than judges, the little triumphs and awkward intensities of 'character.' . . . People who share this sensibility are not laughing at the thing they label as 'a camp,' they're enjoying it." Camp is about embracing the eccentric, an attitude fashion purveyor Ricky Serbin sums up as "Let the freak flags fly."
For fashion collectors, the resulting look is their holy grail. Oh! Jackie's Elisabeth Gerhold points to Elsa Schiaparelli's surrealist pieces, like her iconic lobster dress from 1937, and Venetian brand Roberta di Camerino's neo-Baroque stylings, such as its jersey dresses printed with trompe l'oeil ruffles and pleats.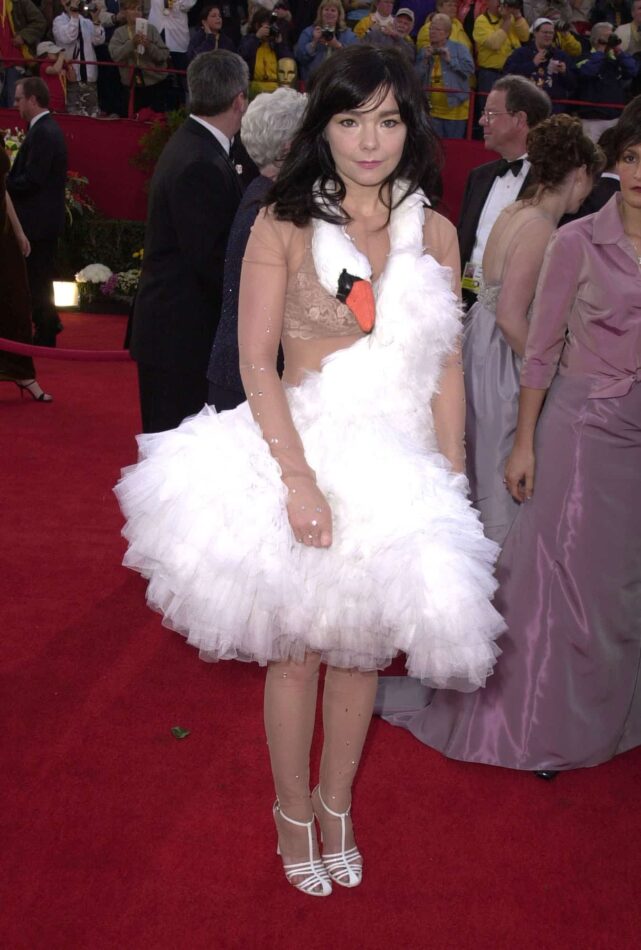 Azemar cites the pieces of modern masters like Jean Paul Gaultier and Thierry Mugler, particularly Mugler's Spring 1997 collection of "ultra-feminine, extravagantly corseted silhouettes and parade of fantastical insect-like creatures."
Evolution's Tony Tiemeyer asks, "What could be more camp than Bjork's swan dress at the 2001 Academy Awards?" Indeed, that infamously polarizing gown by Marjan Pejoski is one of the exhibition's highlights.
One name that all vintage experts agree is synonymous with camp is Franco Moschino. The late designer shocked and titillated the '80s fashion elite with his whimsical, irreverent parodies of bourgeois finery. "He ridiculed the industry hierarchies," says Tiemeyer, noting that Moschino embodied "a counterpoint to the myth of what a designer should be, should do."
Whether emblazoning a sober blazer with smiley faces or embellishing a skirt suit with cutlery, Moschino rendered high style with a hearty wink. He himself famously said, "If you can't be elegant, at least be extravagant" — words that, with all due respect to Sontag, epitomize the essence of camp.
Several of Moschino's canonical designs feature in the Met's exhibition, and many of the same pieces have been offered by 1stdibs dealers. For those on the hunt for museum-worthy duds, camp is ripe for collecting.
"Collectors of fashion seek the unusual, the extravagant, the theatrical . . . pieces that have shaped and changed the narrative of what fashion is supposed to be," says Tiemeyer. "Camp is about experimentation, breaking rules, defying expectations." Like Basquiat and Duchamp in fine art, camp is fashion at its most collectible.