If eyes are the windows to the soul, then decorative pillows are the windows to the design aesthetic of one's dreams. "They can be showpieces that are the last, final touch to an interior, like a jewel," says Irish cushion designer Katie Larmour. Think of them as the exclamation points in a room. Larmour's pillows are made from vintage fashion scarves that she fashions into cushions backed with Irish linen.
Similarly, other designers have taken to making custom pieces from textiles sourced the world over. Daniel Pontius of Simeona Leona crafts one-off pieces that he strives to make "functional and beautiful. Sometimes, the function is to provide comfort and sometimes the function is for a pillow to look beautiful on a chair that no one sits on."
Whether you're looking for a pillow to recline on or simply admire, these 10 decorative pieces will add just the right finishing touch to a room.
---
Daniel Pontius and Cirilo Domine stock their Los Angeles design gallery with an eclectic mix of globally sourced finds and in-house creations. Pontius's one-of-a-kind pillows are made from vintage textiles. He began a decade ago when he found himself with "a collection of vintage needlepoints that I didn't know what to do with. I started to cut them up and reconfigure them into more appealing arrangements."
His pieces can add visual interest to a variety of spaces, such as "daybeds with a mix of pillows," says Pontius, or — his particular favorite — "pillows stacked on the floor for lounging."
Katie Larmour hails from Ireland and manufactures her vintage and antique silk cushions and pillows in Belfast. "I've always loved a mix of old and new," says Larmour. "Combining an antique silk scarf with a brand-new Irish linen back transforms these pieces into one-of-a-kind luxury cushions."
Since launching her line, Larmour has always opted for natural, undyed Irish linen ("it is often referred to as the aristocrat of textiles," she notes). She frequents Paris's famed Marché aux Puces de Saint-Ouen to source scarves from such venerated fashion houses as Hermès, Chanel and Yves Saint Laurent.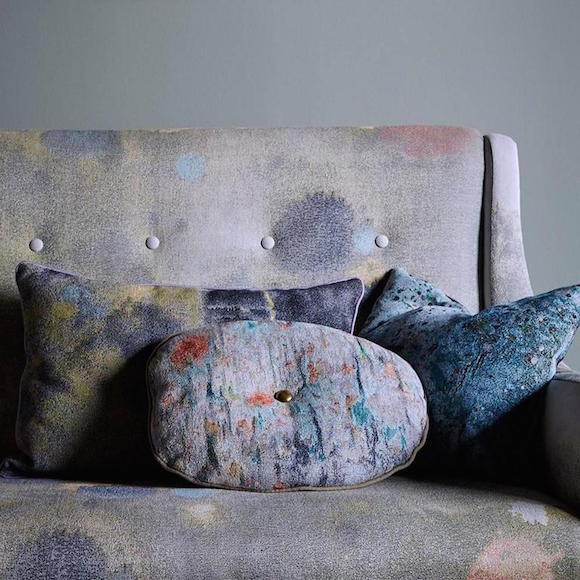 British-born, Aussie-raised, New York–based Martyn Thompson's creative background is as multi-hyphenated as his upbringing. Thompson is an acclaimed photographer and interior decorator known for his artistic fabrics and textiles. He photographs creative detritus left behind in his studio (paint blotches, drips and swirls) and utilizes these motifs to concoct abstract cotton fabrics made on a jacquard loom.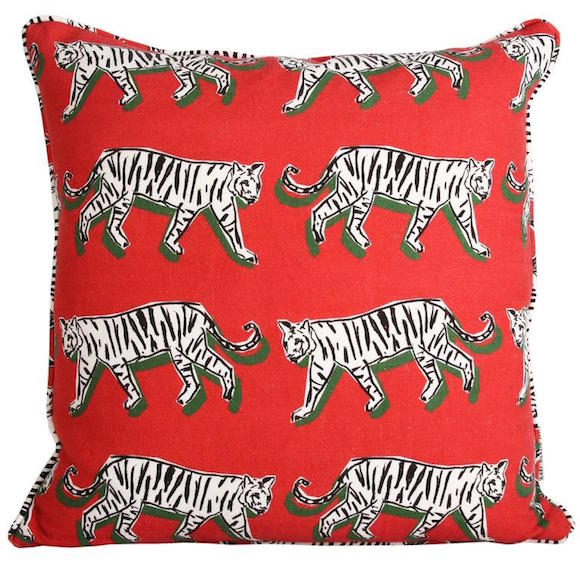 As both an artist and interior designer, Luke Edward Hall has the unique ability to see gaps in the decorative marketplace and fill them with his own charmingly devised furnishings. Case in point: pillows that feature illustrations based on his original charcoal and pencil drawings. Each one is made in England and filled with plush duck feathers.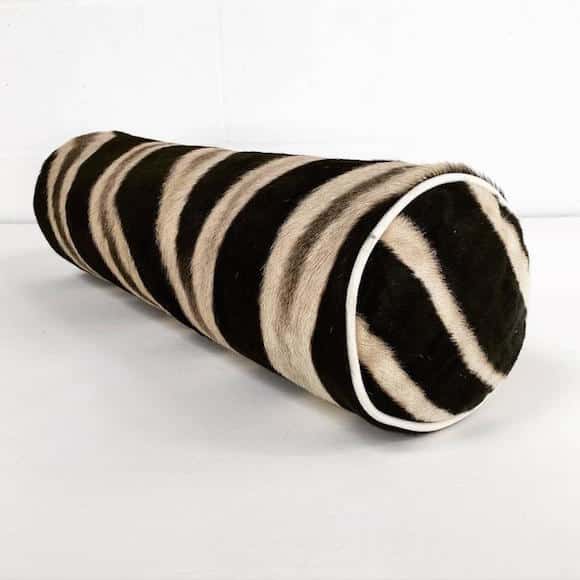 The Saint Louis emporium houses a treasure trove of furnishings made from luxurious materials sourced the world over, such as South African zebra hides, New Zealand sheepskin and Brazilian cowhide. Aside from upholstering furnishings in these exotic hides, Forsyth makes hand-cut and hand-stitched pillows in-house. They fill each piece with sumptuous goose down.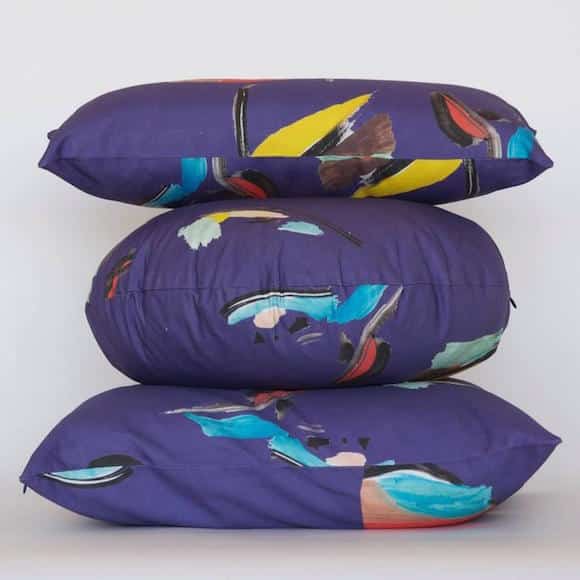 The Brooklyn studio takes its artistic approach from the Bauhaus school. The collective makes furnishings and objects that are useful while still carrying forward their aesthetic viewpoint. Cofounder Naomi Clark hand paints abstract compositions on silk charmeuse. Each one is a brilliant exploration in color.
For nearly half a century, this shop has been one of the preeminent Los Angeles purveyors of modernist furnishings and locally sourced vintage finds. For a dose of midcentury flair, Harvey's took the original — and now famed — Martinique banana leaf print made for the Beverly Hills Hotel and fashioned it into a delightful throw pillow.
Vicente Wolf stocks his Manhattan showroom with a vast assortment of objets and artifacts sourced from his global travels. He has made treks to everywhere from Borneo to Burning Man. Unique discoveries include this elaborately embroidered suzani pillow from Uzbekistan and plush velvet throws from Turkey.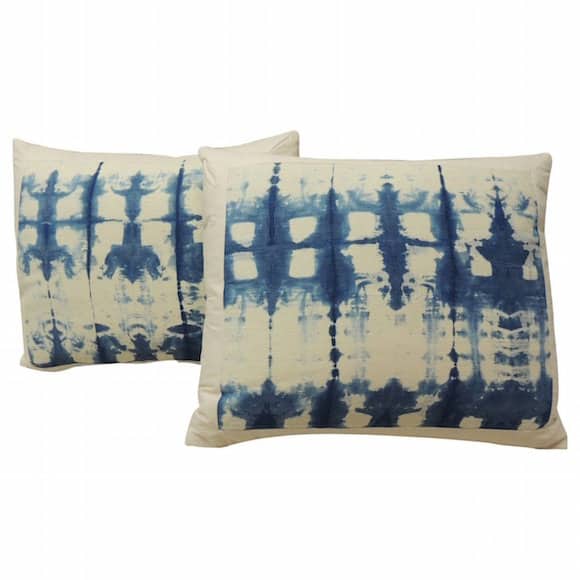 From an 18th-century French needlework tapestry to Japanese shibori linen (above) to woven cloth from Cameroon, Atelier Lam sources fabric from a whopping five continents. Finds are repurposed into hand-finished decorative pillows and filled with feathers.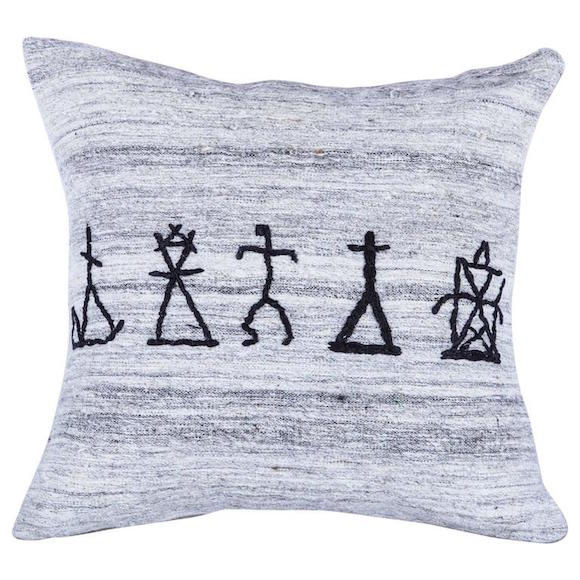 Turkish textile dealer Seref Ozen collects ancient shamanic imagery — usually drawings found on rocks and drums — during his travels throughout Central Asia. He then hires artisans to transpose these pictographs onto vintage flatwoven fabrics, such as kilims.
"The designs are given to embroiderers along with the materials, and they are asked to pick their own order of their designs randomly," he explains. By combining two ancient traditions, Ozen has discovered a fresh new look for the 21st century.
---