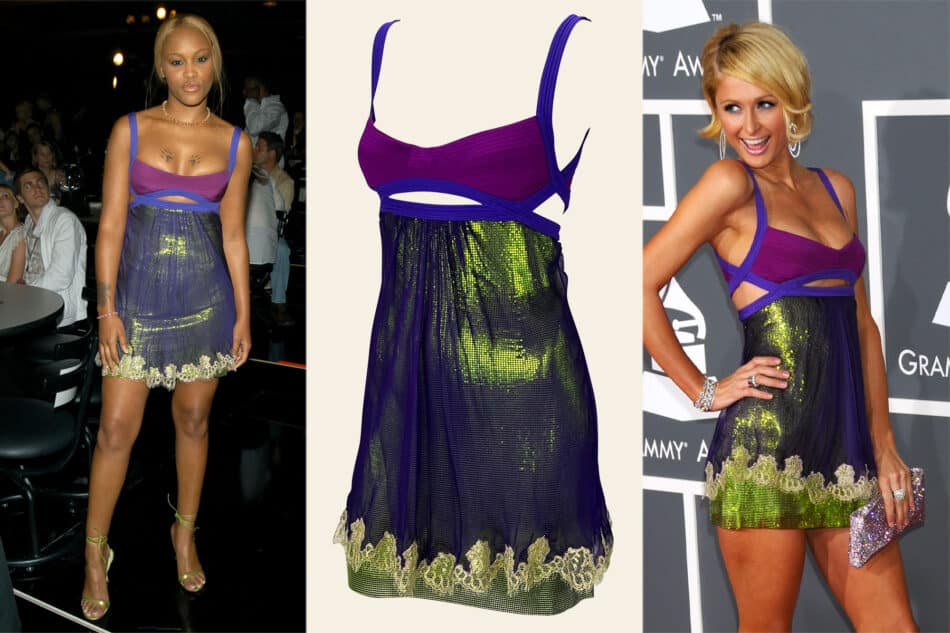 Fashion is bringing back the naughty aughties. To the delight of fun-seeking fashionistas everywhere, Y2K style is making a brazen comeback, all short and bright and ready for the party. A masterpiece of the era, this Spring/Summer 2003 Versace dress embodies what a recent New York Times article called its "gaudy and gleeful" spirit — something we're yearning for now.
Designed by Donatella Versace, it was worn to the 2003 MTV Movie Awards by Eve and by Paris Hilton to the 2009 Grammy Awards. So, from illustrious maker to celebrity wearers, its lineage is Y2K royalty.
In fact, this museum-worthy runway design melds the vision of both Versace siblings. "It puts Donatella's spin on Gianni's legacy," says Alex Cohen, proprietor of Philadelphia-based TheRealList. "The base of the dress is made of Oroton, which Gianni created in in the early 1980s. A fabric of tiny metal disks linked to mesh, Oroton clings to the body but has a fluid look." Gianni, who loved to celebrate the female form, wanted it to appear sheathed in liquid metal.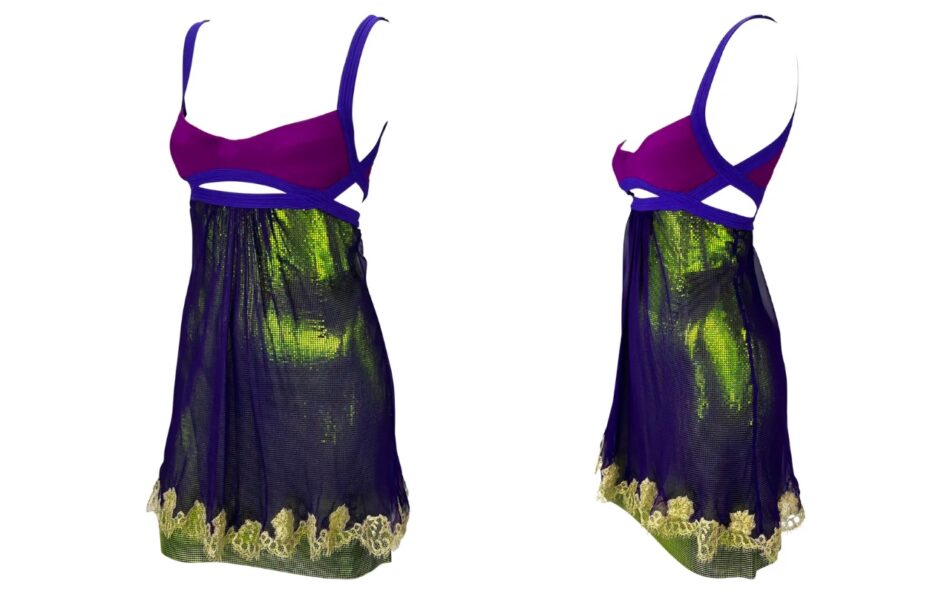 His sister's influence is evident in the bold color and lace trim. Plus, as Vogue pointed out in its 2002 review, "If anyone is perfectly at ease with lime green, magenta, turquoise, yellow and pink, and . . . cuts that go flip-va-boom when a woman moves, it's Donatella."
Ultimately, says Cohen, this design is "uniquely Versace. The baby-doll style, which was popular at the time, was also a favorite of Gianni's. It has a certain sexiness, and some of this sexiness is a play on innocence." And some of it, we daresay, is not so innocent at all.
Welcome back, naughty aughties.