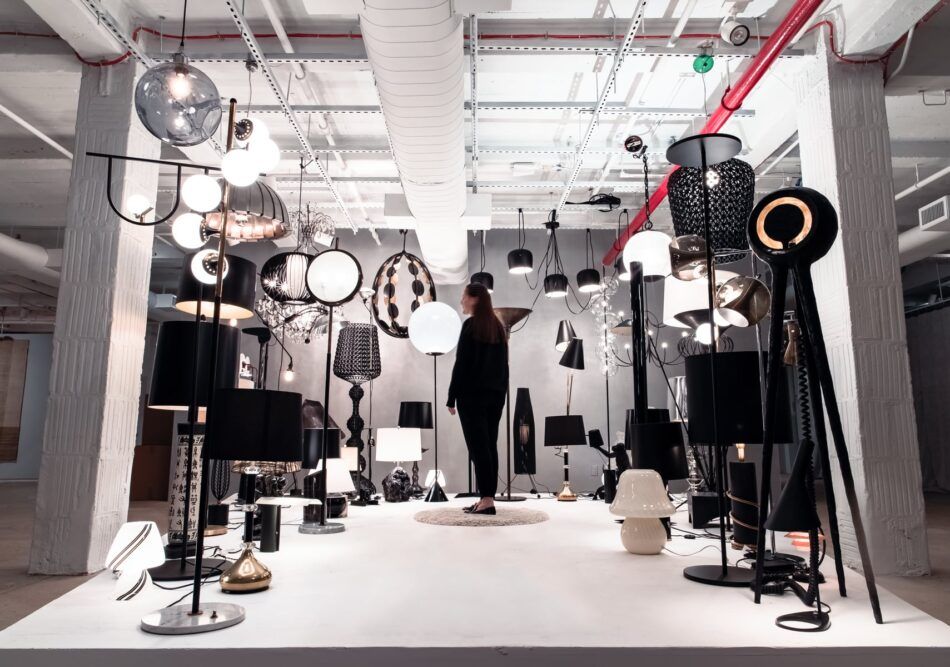 For one more week, there's a gangplank in the center of the 1stdibs Gallery surrounded by nearly 100 unlit lamps in various forms, by many different makers, from diverse eras, all sharing the trait of being black.
As you wander down the platform, you reach a point where you trigger a switch hidden under a carpet — and suddenly, shockingly all those darkened lights come to life.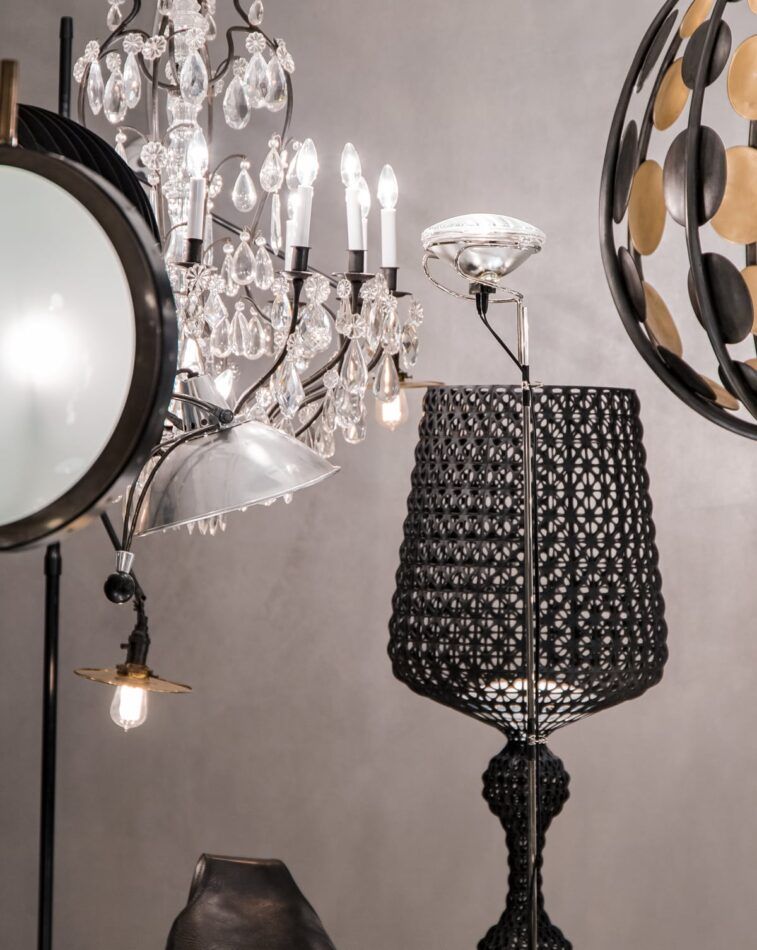 Depending on your emotional state, the abrupt bath of brightness could make you feel as if you'd reached heaven or like a critter caught in the headlights. In either case, it's an intriguing experience, and investigating your own response could give you insights into your mind.
Dubbed "Enlightened," the elaborate display (on view through October 11) was conceived by Jeff Franklin and Ana Cecilia Thompson Motta, of the creative group PlayLab. The Study caught up with the designers to find out what's behind their bright idea.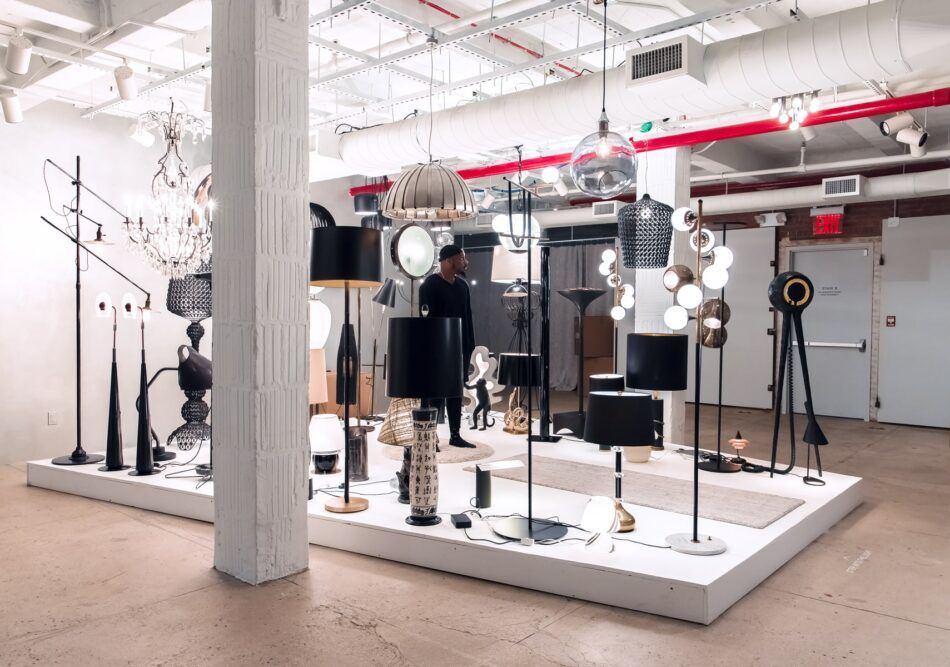 What was your overall vision for this heap of light fixtures?
Ana Cecilia Thompson Motta: When 1stdibs invited us to create an installation with a broad appeal, we thought about how to make priceless pieces approachable. Instead of simply showcasing items like at a design fair, we began looking at furniture as the medium for art experiences.
Jeff Franklin: Out of 20 or so ideas, "Enlightened" became a quick favorite, because it brought the audience inside the installation. People step into a forest of lamps, and the interaction turns the pieces on in a wave of light. It makes furniture browsing feel like a kind of fireworks show.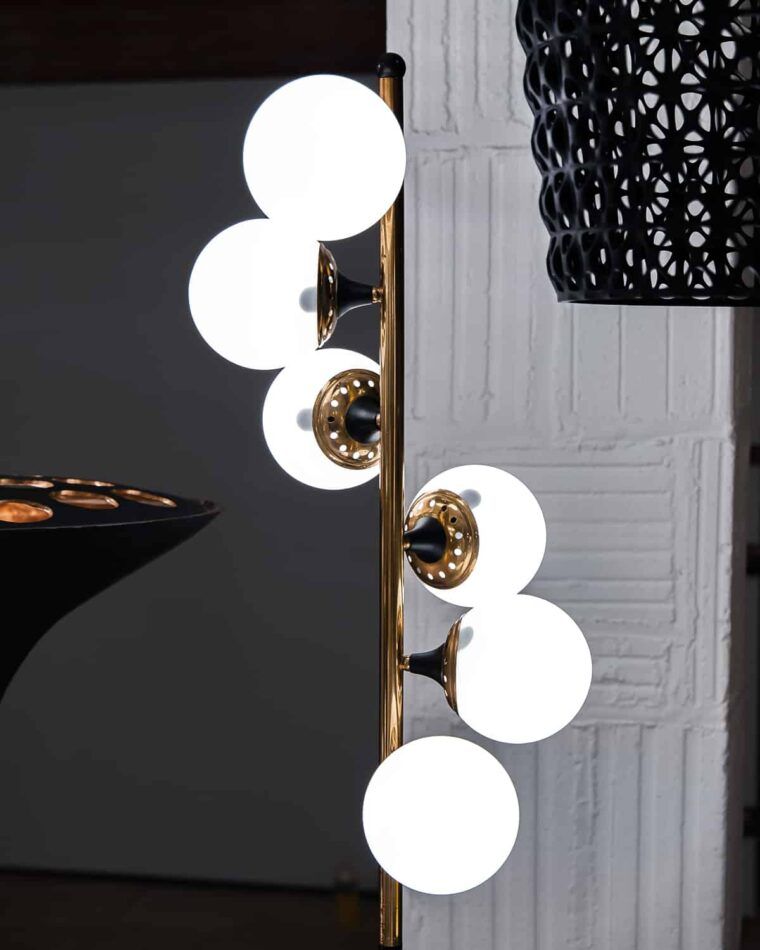 Why'd you choose all black lamps?
ACTM: The idea required a lot of different lights coming together. We curated a collection united around color so we could highlight the range of designs and details.
What were the biggest challenges you faced in realizing the display?
JF: The main challenge was technical — how to bring almost 100 lights onto a platform and have them light up smoothly all at once when triggered by a viewer. Thankfully, we worked with a group of talented engineers to make it happen.
So, how do you think it turned out?
ACTM: We loved seeing people's surprise when they stepped into the sculpture and lit it up. It made for an interactive experience that allowed people to have fun while examining lights by a huge variety of designers.
---
Jeff Franklin and Ana Cecilia Thompson Motta's "Enlightened" Picks