Waddesdon Manor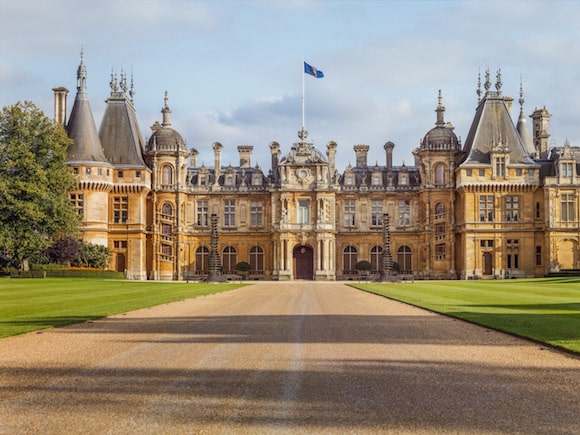 Built by Baron Ferdinand de Rothschild between 1874 and 1885, Waddesdon Manor in Buckinghamshire, England, has been open to the public since 1959. The artwork Lafite (2014–15), by Joana Vasconelos, flanks the entrance.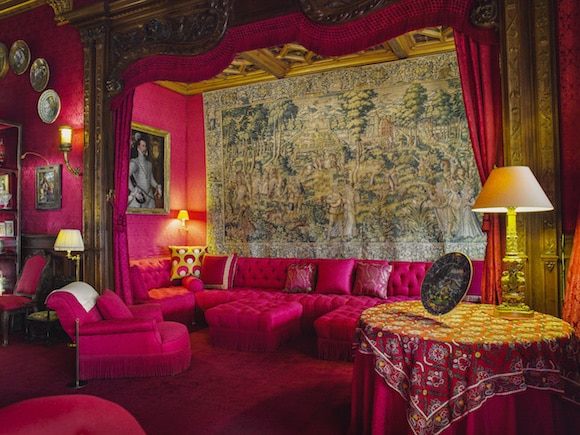 The richly hued Smoking Room in the Bachelors' Wing of Waddesdon was restored by designer David Mlinaric in 1994.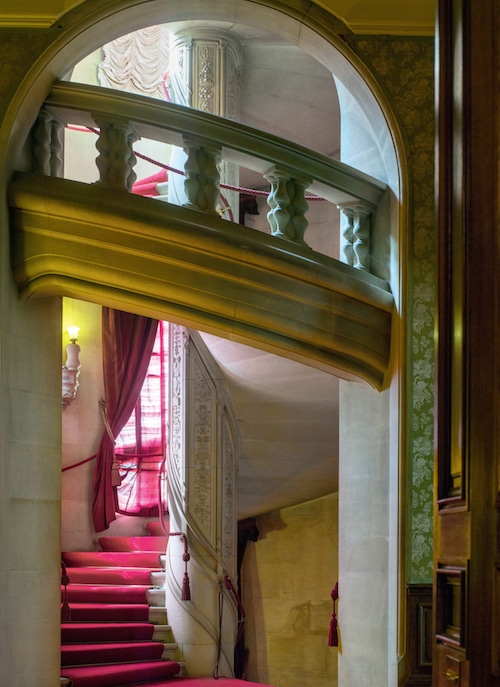 Tasseled ropes serve as railings on this second floor staircase.
Photos of Waddesdon Manor by Jonathan Becker
---
Château de Beloeil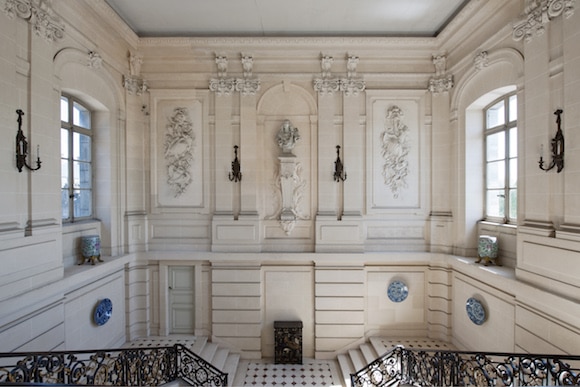 The Belgian castle, whose name translates to "beautiful eye," was built as a medieval fortress in the 13th century, and then converted into a residential palace in the 17th and 18th centuries.
Damask-upholstered bergère chairs and a chaise longue mingle with an intricate rug in this sitting room.
The library features soaring ceilings and herringbone wood floors. It houses 20,000 books and manuscripts.
Photos of Château de Beloeil by Mireille Robaerts
---
Château de Goujeonnerie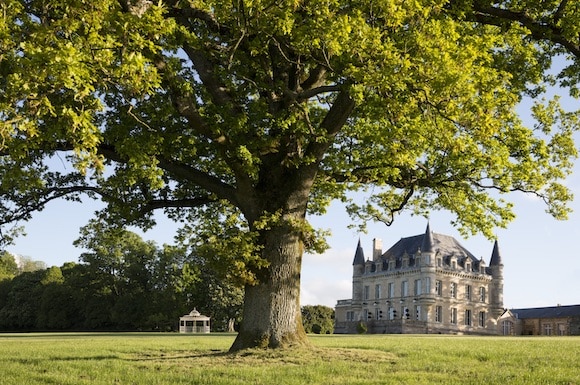 This 22-room home in Vendée, France, was built in 1872 for the local mayor and his family. In 2006, the trio behind the boutique interiors firm L3G Designs and the London restaurant Les Trois Garçons embarked on a five-year project to restore the château to its former glory, while introducing a few modern-day touches.
In the entrance hall, a pair of "unicorns" (or stuffed white horse heads affixed with horns) add a whimsical touch to the fairytale space.
A circa-1914 Josef Hoffmann palm-tree chandelier hangs over the 19th-century French bed in this ballet slipper–pink bedroom.
Photos of Château de Goujeonnerie by Paul Raeside
---
Château Fourcas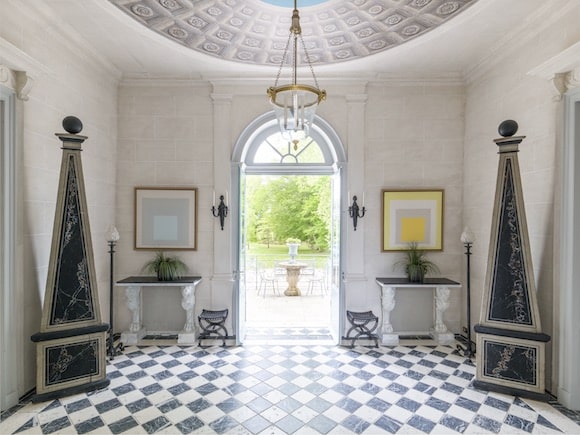 Paris-based design duo Michael Coorengel and Jean-Pierre Calvagrac spent more than three-and-a-half years renovating the 18th-century home in the Bordeaux wine region.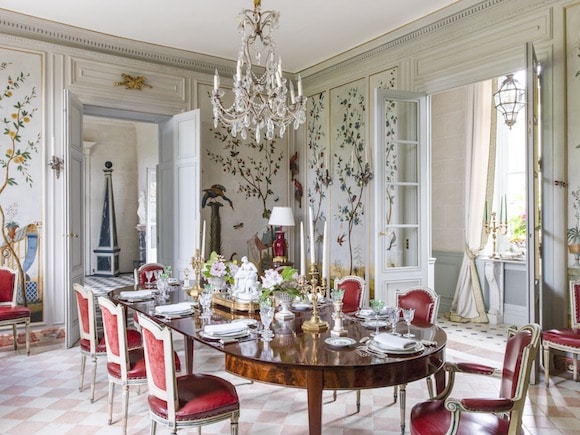 The airy dining room features wall murals and Maison Jansen dining chairs that once belonged to 20th-century writer and socialite Daisy Fellowes.
This stately sitting room is filled with paintings and mirrors in gilded frames and a wall-sized tapestry.
Photos of Château Fourcas by Stephan Julliard
---
Blenheim Palace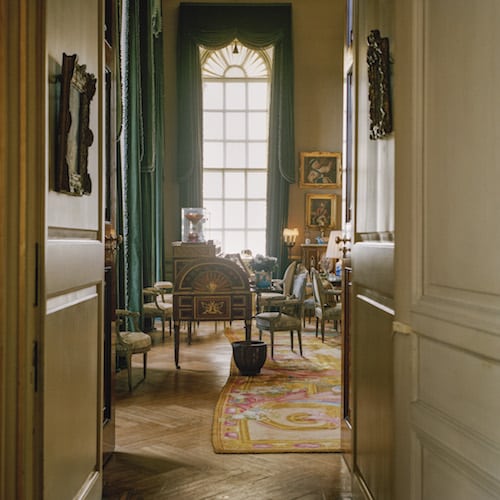 Built for the Dukes of Marlborough, the cornerstone of Blenheim Palace was laid in 1705, but due to a skyrocketing budget and other issues the project was not completed until around 1733. Above is a look inside the private sitting room.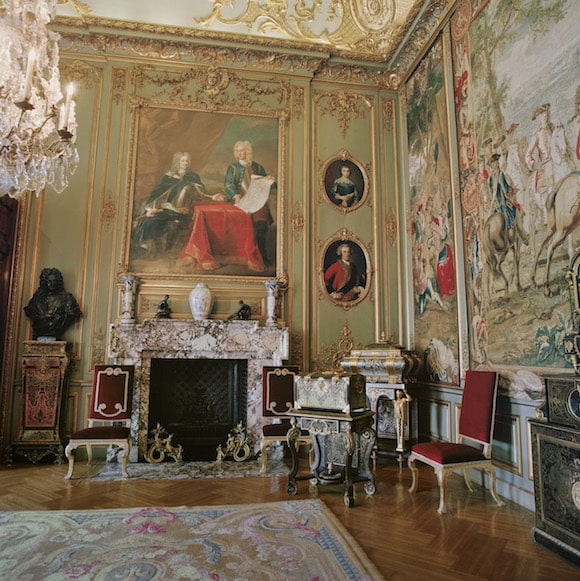 The Third State Room, one of the palace's 187 rooms, features ornate gilded moldings. The portrait over the fireplace depicts the first Duke of Malborough with his chief military engineer.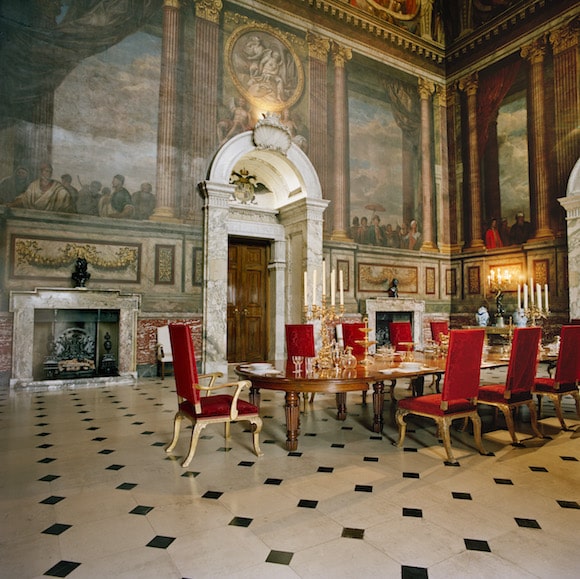 Known as the Saloon, the walls of this state room are decorated with murals by Louis Laguerre.
Photos of Blenheim Palace by Jonathan Becker, from the book Great Houses, Modern Aristocrats, courtesy of Rizzoli
---
Château Pouy Sur Vannes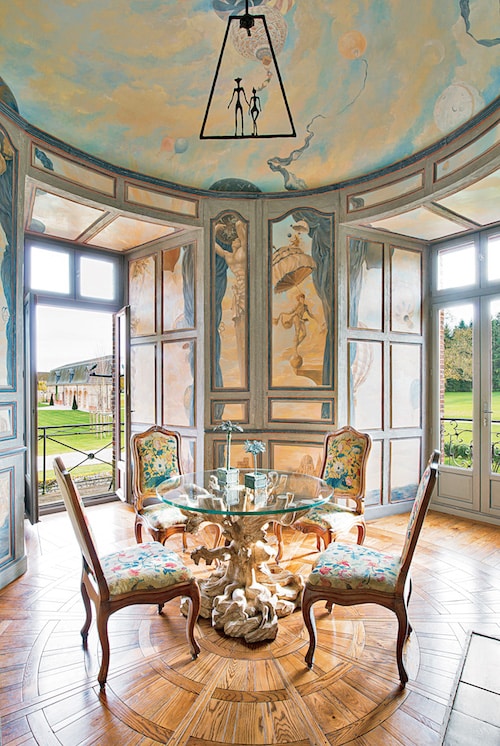 Chilean-born interior designer Juan Pablo Molyneux purchased this Aube, France, château when it was in bad shape; he then set out to make it majestic again. Above: the Salon des Montgolfières (hot-air balloons), is encased in original woodwork and crowned by a vaulted ceiling. The chairs are 18th-century Italian, and the chandelier is by Diego Giacometti.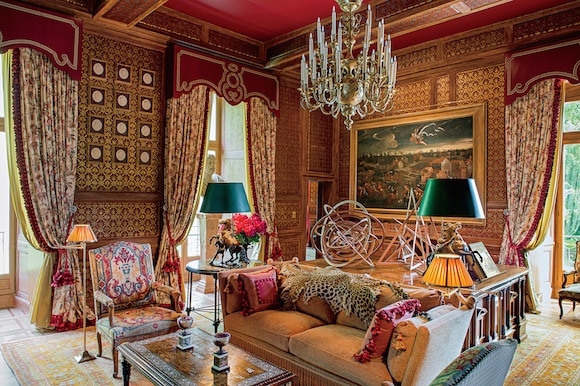 The library's original wood paneling, which is accented with cordovan leather, serves as a backdrop for dramatic decor like Regency armchairs and the Emilian School painting Victory of the Papal Troops in Castro (1649).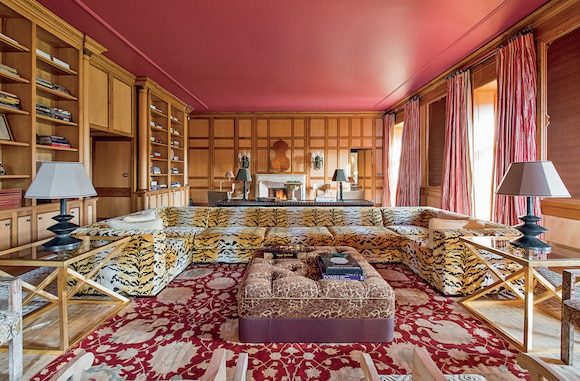 The château's screening room highlights Molyneux's passion for big-cat patterns.
Photos of Château Pouy Sur Vannes by Xavier Béjot, from the book Juan Pablo Molyneux: At Home, courtesy of Assouline