The year isn't even halfway done, but some fashion trends are already clear. From vibrant outfits celebrating the emergence from quarantine to comfy leisurewear reminding us that working from home is still a huge part of life, 2022 has many refreshing looks in store.
We wanted to know which trends people have been searching for this year. To find out, we identified 18 fashion items that have seen a search spike on Google in the past few months. Then, we analyzed their popularity on Google Trends to see which states' populations were most interested in these looks.
Most-Searched Fashion Trends of 2022
Which fashion trends are Americans searching for most in 2022?
To start, we identified top trends with significant search volume per month, as reported by SEO analysis tool Ahrefs. We ran these through Google Trends to find the ones that had search spikes in the past few months. Then, we found the state where each trend generated the most searches.
Here are some of our insights:
Bucket hats were top-searched fashion accessories.
Shoes like loafers and platform shoes were high on the list.
Low-rise, flare and straight-leg jeans were popular.

Here are some additional interesting findings:
Bucket hats, which reemerged around 2020 and then stuck around, constituted America's most-searched trend. Made glamorous by trendsetters like Rihanna, bucket hats aren't going away in 2022. Monthly searches for "fuzzy bucket hat" (5,200) and "crochet bucket hat" (9,300) are especially popular.
Here is the full list of top-searched fashion trends and the states/district where they were most popular.
California: Bucket hat, platform shoes, Y2K fashion
New York: Loafers, sweater vest, faux fur
DC: Leather pants, blazer dress, miniskirt, leather blazer, button-down shirt, oversize shirt
Maine: Low-rise jeans
Mississippi: Flare jeans
North Dakota: Shacket
New Jersey: Wide-leg pants
Utah: Straight-leg jeans
Hawaii: Crochet top
Most-Searched Fashion Trends by State
Next, we found the top-searched fashion trends for every U.S. state and district. Check out the map below to find your state's favorite 2022 fashion item.
Here are a few takeaways:
Different regions favored different jeans styles: Low-rise jeans were popular in the Northeast, straight-legs were trending in the West, and flares were most popular in the Southeast. At 1stDibs we've seen Jean Paul Gaultier trending in designer jeans and denim this year.
Shackets were trending in the Midwest.
Y2K fashion was most popular in the Southwest.
More Predicted Worldwide Fashion Trends
The U.S. isn't the only country Googling these trends. Here is the global search volume for each, according to Ahrefs. Once again, the bucket hat dominated.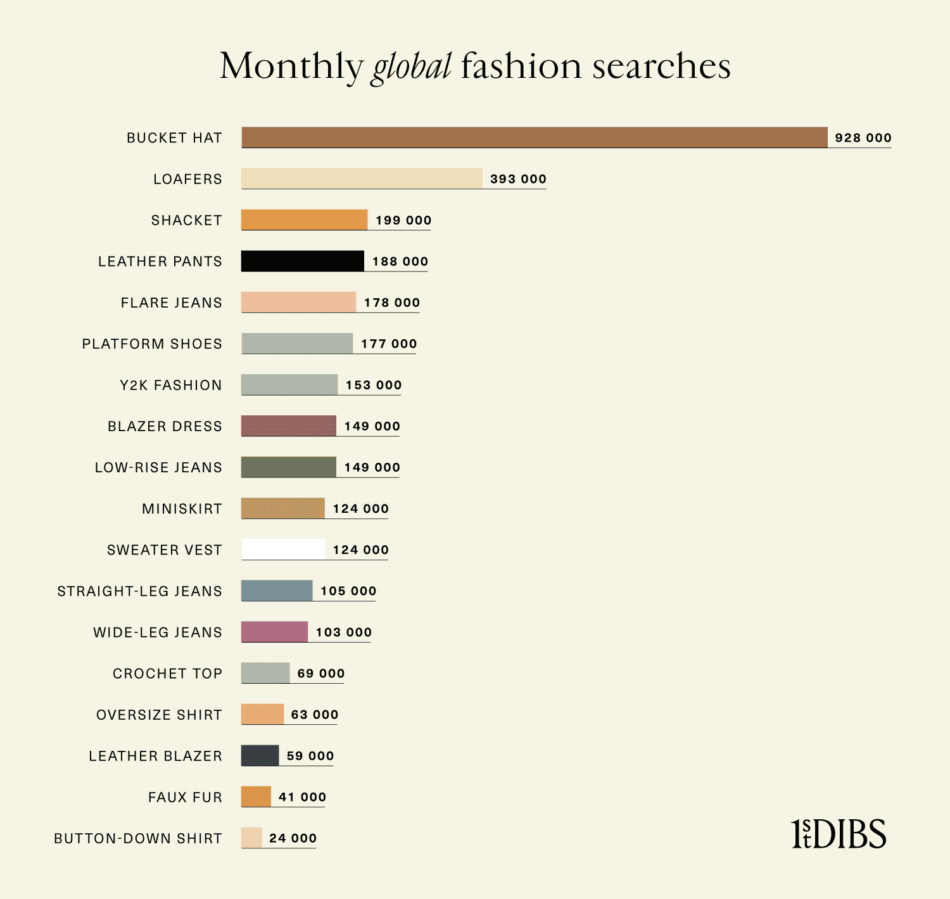 Of course, highest current search volume isn't the only indicator of what will be the next big thing in fashion. Several sources have pointed to up-and-coming trends that, although they have not yet become Google stars, are sure to shake up the fashion world as they gain visibility and popularity in the coming months.
Town & Country and Harper's Bazaar, for instance, shone a spotlight on edgy new runway garments like miniskirt suits, bold statement dresses and cutouts. They also singled out catsuits, chain belts, bright handbags and knitwear as styles to watch for this year. On 1stDibs, the top trending creator for knitwear in 2022 is Missoni, with its iconic and colorful chevron garments.
Fashion technology company Lyst made some interesting predictions in its LystInsights 2022, including the rise of sculptural dresses, multifunctional garments and oversize silhouettes, as well as a as well as a 2010s resurgence and an emphasis on 'quiet luxury" with neutral tones and leather.
At 1stDibs, we see designers like Gucci and Christian Dior leading the pack for these quiet luxury garments and accessories. Gucci has been a trending creator for leather handbags and shoes, while Christian Dior stands out for oversize shirts.
At the end of 2021, Pinterest released Pinterest Predicts 2022, based on its own global search data. Among its findings were that "dopamine dressing," meaning vibrant, electric outfits, would be a huge focus this year.
It also identified luxury watches as a category of interest, as well as "lounge-erie," soft, comfortable garments for lounging around the house or working from home. Finally, it pointed to the rise of what it dubbed "pearlcore," iridescent accents in decor and fashion, including pearl-studded gowns and pearl necklaces.
While Pinterest points to what's on the horizon, TikTok — with #fashion currently attracting 126.9 billion views and users showing off their thrift finds and creative pairings — can actually influence everyday clothing. With microtrends popping up daily, there are bound to be plenty of additional global trends rising throughout the year.
Analyzing what people are searching for gives us insight into the biggest fashion trends to come (and previous styles that will continue) this year. We're looking forward to seeing what other looks the world will embrace.
Methodology
We studied Google Trends from February 2021 to February 2022 to see which fashion trends Americans searched for in the past year. We winnowed these down to ones that had spikes in searches and pulled state data to determine where most searches for the terms occurred. We used Ahrefs to find the average number of searches per month for each term. Alaska data is limited to Anchorage.
Sources: