Design is having an assuredly decadent moment. Brass is in vogue, maximalism ruled the runways at New York Fashion Week, and Art Deco seems to be nudging its way into everything from Paris's recently opened 45-room Nolinski hotel, designed by Jean-Louis Deniot, to the new Vision Mercedes-Maybach 6 Cabriolet.
So perhaps it's no wonder that fringe — that glamorous embellishment defined by Merriam-Webster as "an ornamental border consisting of short straight or twisted threads or strips hanging from cut or raveled edges or from a separate band" — has become a recurring element in contemporary design.
"Fringes are very feminine and sophisticated," says Italian furniture designer Lorenza Bozzoli, whose sensuous Amami sofa for Moooi, Orsola table tamp and series of candy-colored poufs all feature some kind of fringe. The texture can also feel a bit rock n' roll. From delicate lights to gothic tassels and dip-dyed sofas, here are seven incredible pieces you need to know.
---
Silver Veil Table Lamp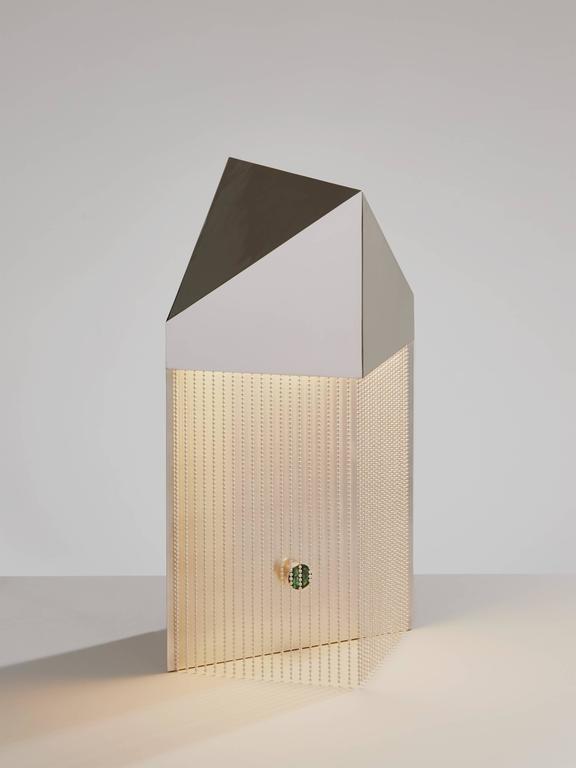 When Russell Whitmore of Erie Basin merged his expertise in jewelry with Jean and Oliver Pelle's "architectural background and modern sensibility," says Oliver, the manufacturing process took on a life of its own.
"From the metal-worker creating the body to the silver-plater challenged with the size of the lamp, from the jeweler hanging the beaded chain and making the dimmer dial to the lapidary setting the Maw sit sit gemstone, all trades overlapped and had to be carefully coordinated," Oliver explains. When it was finally time to assemble the Silver Veil table lamp in the studio, "it felt incredible to have all the all pieces fit together so well."
---
Thing Stools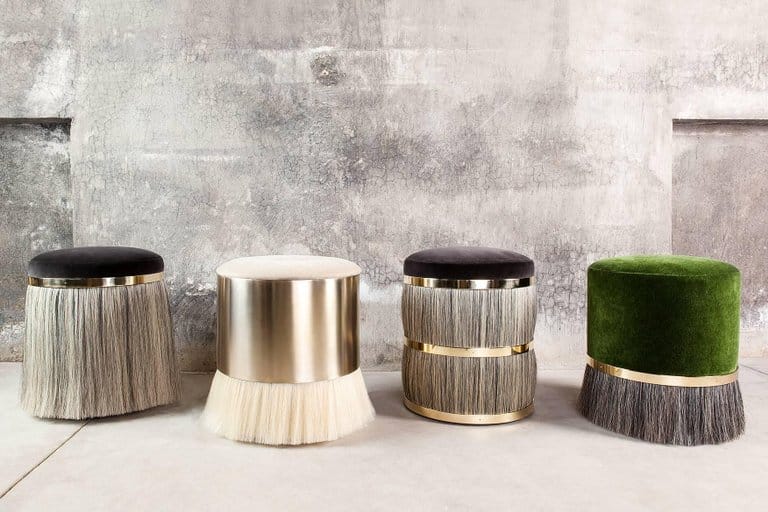 "I was getting my hair cut, and I glanced at a neck-duster brush and instantly knew I was going to incorporate this into a stool," says Konekt's Helena Sultan, who was working on other stool designs at the time. "When I saw the brush, I knew I wanted to use horsehair."
Sultan liked the material so much she ended up making four different stools, each with its own anthropomorphic persona. "The process of making them is very labor-intensive, as every step is done by hand," she says. From creating the drum-like frame to meticulously applying the horse hair, the result is a true work of beauty.
---
Picasso A**hole Floor Cushions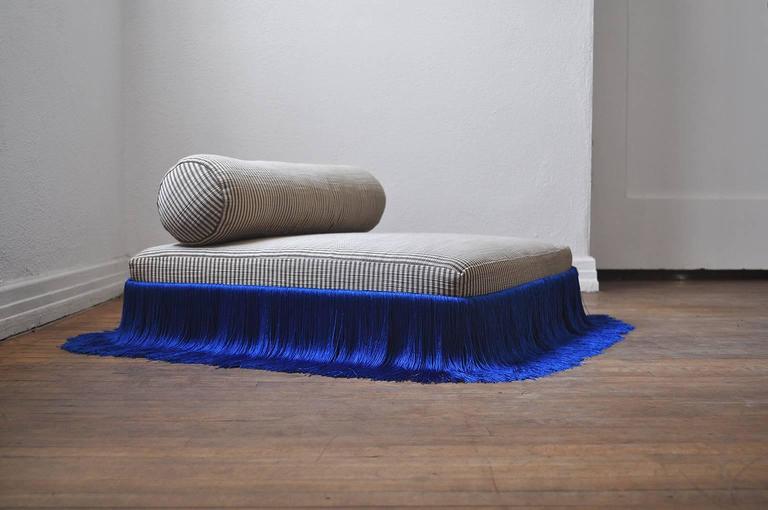 A client's request for suede floor cushions got Yaoska Davila thinking about how to create an environment for the floor. "I just wanted to be fun," says the Los Angeles interior designer, laughing. "I didn't want to take it too seriously."
Inspired by her love (and hate) of Pablo Picasso, who was known to "treat women poorly" and always wore a striped sailor jersey, she gave the pillow a personality and christened it Picasso A**hole. The shocking blue fringe, a nod to the Spanish artist's Blue Period, is especially interactive, she says. "You just want to touch it and stroke it."
---
Horsehair Tassel
Lauren Larson, of New York duo Material Lust, describes the layered tassels woven by local textile artisans To Dødsfall as an interconnected "collection of materials," whose story breathes life through the threads.
"We gather horsehair, wool, cotton, rope, rubber and latex and put them through a loom," Larson explains, "which allows each piece to take on its own fate through that process." The jet-black tail hair comes from a farm in Ohio.
---
Apollo Mirror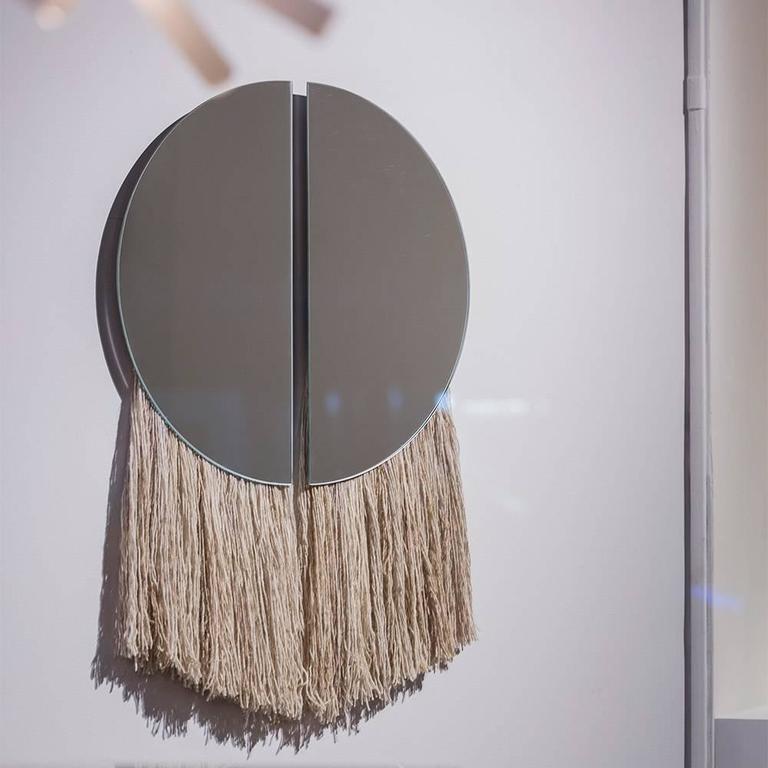 For Providence designers Ben and Aja Blanc, creating the Apollo mirror was a matter of solving a design problem — namely, how do you add warmth to a cold, industrial material? The answer came in the form of hand-spun silk wool and mohair sourced from Japan.
"We just knew that it had to be natural, then it came down to the texture and the color and the depth," says Aja, who found the material online. "It's taking two things that hypothetically shouldn't go together" — a bifurcated circle and remarkable fiber — "and putting them together, and each material seems to be better for it."
---
Amami Sofa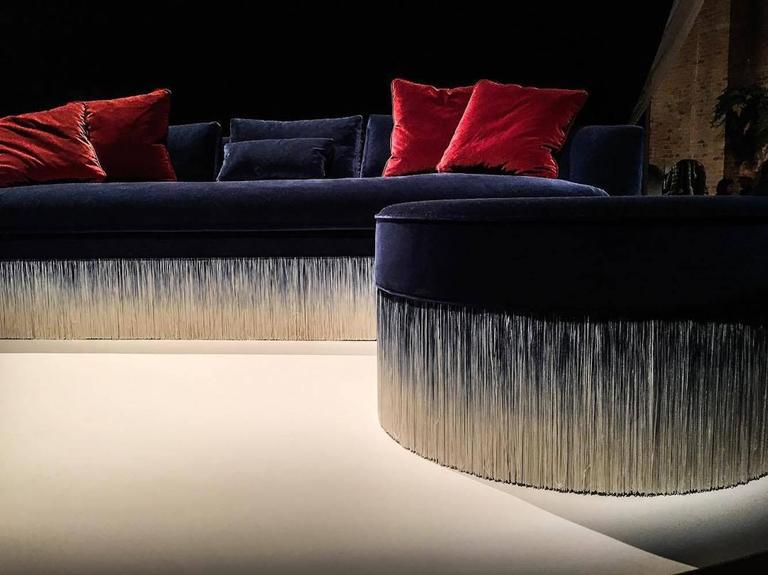 Creating an "unconventional" sofa in the Moooi tradition was the only way to go for Lorenza Bozzoli. Using what she calls a tie and dye process with an upside-down gradient, the piece required a special tool to be made, along with several tests to ensure the result had the lightness Bozzoli was after.
---
Soul on the Dancefloor Rug
When designing her Dancefloor collection for Italian rug maker CC-Tapis, Marta Bagante experimented with "different graphic techniques to express my love for nature and evolution. I've always seen life as a big party," she says. "Transforming a skull, a monkey and a heart in a dancing mix of colors as if they were an anthropological mirrorball seemed the best way to express my view on life."
With an eye toward tradition, she imagined the rugs being hung in a palace salon like tapestries in the Middle Ages. Custom made with pure silk, "the fringe is a must-have that completes the balance between colors and natural elements."