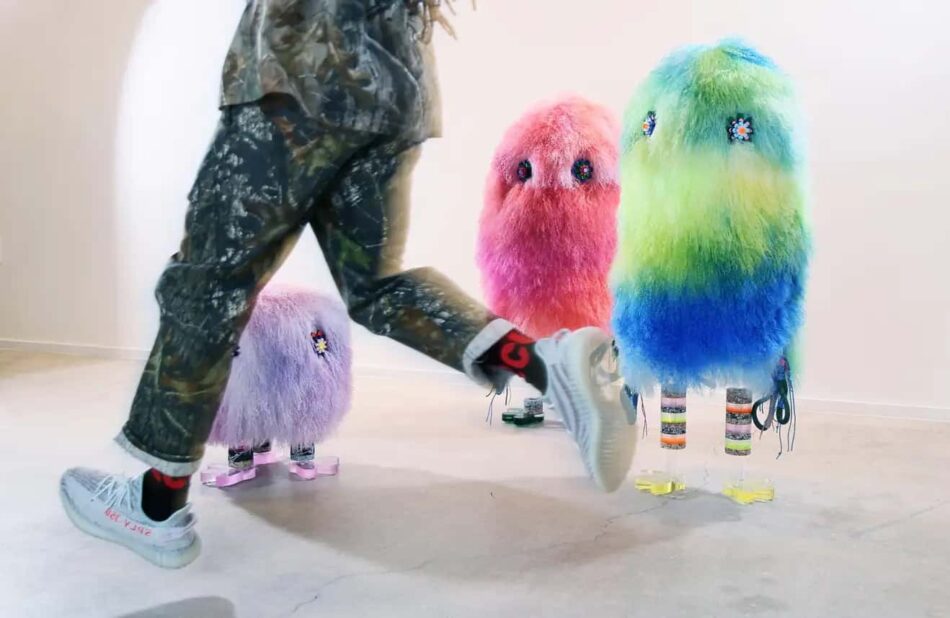 With her "Transitional Objects" series of soft sculptures, Gabriela Noelle has reconceived childhood imaginary friends as zany, swish avatars. She took their name from English psychoanalyst Donald Winnicott's term for the comfort objects held dear by young children. But unlike the companions he was describing, quickly outgrown by their juvenile inventors, Noelle's creations have no expiration date.
"They exist in an alternate dimension where they can only be seen and felt when liberated from the adult mind," says the Parsons School of Design graduate.
Each Transitional Object takes Noelle more than four weeks to bring to life, in part because of its involute artisanal layers. Hand-dyed Tibetan lambswool cloaks the body, and acrylic rods masquerade as legs, while the wooden underbelly is CNC-routed to serve as a bridge between the furry top and the more structured limbs.
The pièces de résistance, though, are the laser-cut flower eyes and waterjet-cut terrazzo anklets, which give the sculptures an intriguingly lifelike quality.
Noelle uses a freehand, "almost messy" technique to dye and knot the rope arms for the taller variants. "I never know what I'm going to get," she admits.
The design is equally rooted in form and function, with the number of legs determined by the height of the piece.
"The proportions are tricky. They have to be freestanding and heavy enough not to tip over easily," says Noelle, who produces the laser-cut and CNC-routed elements at an acrylic-manufacturing facility and assembles the parts at her Miami studio.
The blurring of the line between illusion and reality in Noelle's handiwork is emblematic of a more deeply rooted idea: that even adults need special comforts.
It stands to reason, then, that the creatures are a labor of love, in more ways than one. "My husband helps me with the sewing — his tailoring skills as a fashion designer come in handy," she says, describing her happy family production.