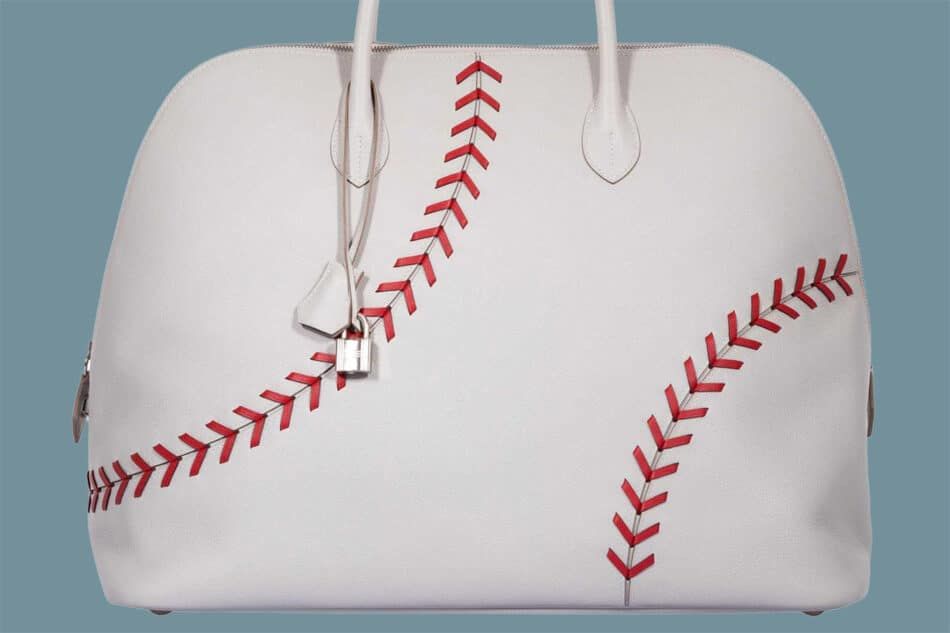 The Hermès Bolide 45 1923 Baseball Evercolor travel bag is the ultimate accessory for baseball fans who like a touch of high fashion in their gear. The limited-edition piece debuted as part of the Hermès Spring/Summer 2018 men's collection, which was designed to evoke a sense of "sophisticated letting go," Véronique Nichanian, artistic director of the Hermès men's universe, told Vogue at the time. Impeccable, but not self-serious.
"The Bolide is an Hermès staple, with a simpler aesthetic than some of the brand's other designs," says Jane Angert, a passionate Hermès collector and proprietor of JaneFinds, which is offering the bag on 1stDibs. "Created by Émile-Maurice Hermès in 1923, it was the first handbag to feature a zipper." She notes that "its understated, chic design and blend of functionality and elegance have made it a classic favorite in Paris and Tokyo," two fashion capitals recognized for their refined taste.
The smooth expanse of the Bolide's front and its simple shape make it an ideal canvas for creative variation, inspiring special editions, like one outfitted with colored wheels and another emblazoned with grinning shark teeth.
Here, the whimsical design in pearl gray with red baseball stitching embodies the overarching theme of the 2018 Hermès collections: "Let's Play." Announced with a carnivalesque celebration at the Hôtel Salomon de Rothschild, in Paris, and a playground-like exhibition in Beijing, the theme has a surprising resonance for this luxury house, renowned for its steadfast commitment to craftsmanship.
"Could we create, could we invent, could we even just imagine if we didn't play?" Pierre-Alexis Dumas, the brand's artistic director, mused at the time. "Certainly not at Hermès in any case, where our first comrade in play was the horse. . . . For 180 years this house has never stopped playing."
Once again, the venerable maison has hit the ball out of the park.