For contemporary design lovers, the 30th annual ICFF is not to be missed. The four-day gathering of 900 exhibitors from around the world opens May 20 at New York's Jacob J. Javits Convention Center, with a jam-packed schedule of exhibits and programs.
This year, Collective Design will launch Collective Concept @ ICFF, a curated group of independent designers presented in a dedicated section within the fair.
Here are some remarkable works you'll want to see while you're there.
---
Bend Goods's founder Gaurav Nanda says his Cafe chair is inspired by the "simple linear shapes" of the iron and wood seats found in French coffee shops. The new piece embodies all the qualities that the Los Angeles company has become known for: distinctively modern design and easy, stackable storage.
Made from stainless steel and rendered in eye-popping colors like Peachy Pink, the indoor-outdoor chair is "a practical place to sit," notes Nanda, who was formerly an automotive sculptor for General Motors and has presented at ICFF every year since 2011. It's also pleasing to look at.
---
When clients expressed a desire for exterior lighting, Brendan Ravenhill listened. And now the outdoor Ada sconce will be the star of the Los Angeles–based maker's booth at ICFF.
Available in three sizes and three standard finishes, plus a limited-production corten steel version that debuts at the fair, the stunning fixture "speaks to our design perspective," Ravenhill says. The sconce is complemented by the Hood family of lighting, which also makes its grand entrance here.
"We strive to create narrative through an exploration of material, physics and craft, and both of these pieces do just that," Ravenhill adds.
---
Print media may be going by the wayside, but that didn't deter Brecht Gander, founder and principal designer of Birnam Wood Studio, in Queens, New York, from making an object that's an "obvious anachronism," he says. The goal was to shift viewers' focus away from the function to the more luxurious "aspects of the design — the materiality, the formal play, the elegance or inventiveness or unexpectedness."
Combining sophisticated manufacturing processes like thermoforming with highly skilled workmanship, these small-batch-produced creations feel one of a kind, thanks to their handmade aesthetic.
---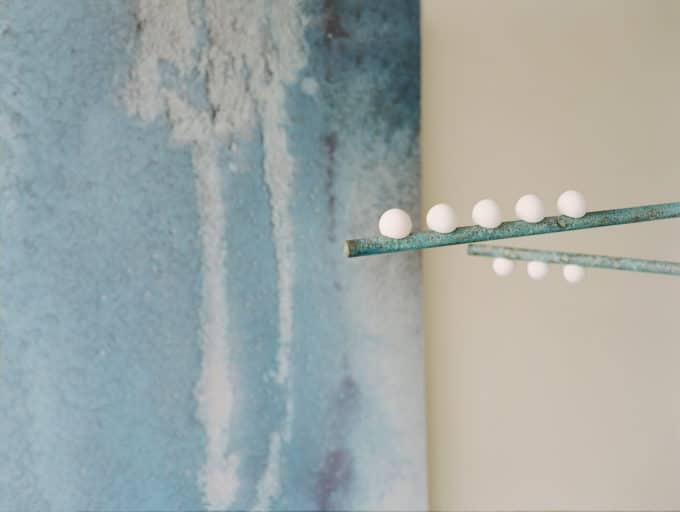 For Nick and Rachel Cope, Oceania — the Brooklyn-based couple's latest collection for their firm Calico Wallpaper — represents "the fluidity of the ocean" and the changing states of water.
"We began with a series of watercolor washes that we then scattered with salt," they explain. "The salt dissolves to leave crystalline traces that capture the soft texture of the seawater."
After taking off a year to pursue other projects, the Copes return to ICFF "with our biggest installation yet," including Cope, their new line of textiles.
---
Created especially for ICFF, the O stool "evolved from the natural juxtaposition of how we think about space and sculptural materials in contrast to the soft lines of nature," say Uruguay-born designers Emiliana Gonzalez and Jessie Young.
Like much of Estudio Persona's Art Deco–inspired output, the collection, and the blackened steel stool in particular, "looks for light in darkness and for softness in harsh steel and glass." This year marks the Los Angeles company's debut at ICFF.
---
Labrica cofounder Ricardo Velasquez conceived of the Tito drink table and side table after playing with different screw-fitting shapes. Like rook chess pieces, they resemble castle turrets and come in a natural wood finish or an inky black stain.
The Tito tables appear with other works from the Oakland Park, Florida company's Guatemala-inspired collection, including the Capirucho stool and side table, made of conacaste wood with colorful bands.
---
For Persian founder Bahram Shabahang, the intrepid designs of his rug company's Shag collection were a chance to reimagine the old ones in a previously unexplored texture.
Like all of Orley Shabahang's products, they are made from pure wool, but these particular pieces are cut higher, so they require a different knot structure in order to achieve the right texture and volume.
"Shag was designed to be eclectic and to show off the different ways a shag carpet could function," Shabahang says. "It's like a chef providing a complement of dishes."
---
An ICFF veteran — the Nyack, New York company participated in 2012, the year of its launch, and in 2013 — Symbol Audio takes a thoughtful, handcrafted approach to furniture for speakers and phonographs.
Its latest addition, the Unison record stand, comes in three sizes and features record-shop-style bins for easy digging, with more storage below. The cabinet section offers extra room for personal gear, ventilation and cable management. It can also be removed to store up to 130 more records.
---
As an homage to the shingle-style architecture he grew up with in Swansea, Massachusetts, an hour south of Boston, 100xbtr founder and creative director Brendan Sowersby designed a credenza, called Kragsyde, that feels as contemporary as it does regional.
"The most interesting part of this piece is the way the texture's shadow changes as you walk by," he says. "Sometimes, parts of it look almost flat, but then they pop out as you walk farther."
For his third year at ICFF — the Los Angeles studio participated in 2013 and 2014 — 100xbtr will also show their versatile Tri stools, bottle vases, Contemporary Pinch lounge and Raise float tables.
---
Lanette and Ryden Rizzo, the couple behind the buzzy New York lighting studio Allied Maker, tapped six local artisans — including Fort Standard, Jeff Martin Joinery and Slash Objects — to create a large totem luminaire.
Riffing on the idea of sacred objects, they sought to honor the "exquisite connection the artisans carry with their materials," such as metal and alabaster, while bolstering their mission of supporting American craftsmanship. They view this booth as a chance to show "art objects that also happen to be lighting" while having a little fun in the process.
---
The white Carrera and green Prato marble of the Florence Baptistery, one of the oldest churches in the Italian city, inspired this collection of marble vessels, says Fort Standard founder Gregory Buntain.
And while "the idea of laminating stacked pieces of stone to create larger forms was nothing new," the Brooklyn designer's excitement came from "creating thin stone walls for hollow vessels, as it's essentially mini architecture, building functional forms ring by ring," he says.
Each striking piece will be made to order, similar to the Relief Stone credenza from the Qualities of Material collection, which will also be on view in the Collective display.
---
Like "glaciers hurled into outer space," says Vancouver-based Jeff Martin, these mesmerizing vessels, made with a glassblowing mold assembled from discarded scraps of cork, are at their most intriguing in natural daylight. "The inside looks like you swam underwater and are seeing the water's reflection from below," he notes.
Martin looks forward to seeing Fort Standard's expansion on their Qualities of Material and Allied Maker's "talismanic" totems. "This year," he says, "the satellite pavilion is called Collective Concept. It is really about design research, process and physics."
---
"The Coexist collection came out of a fascination with the way parts interact with one another — how materials with very different natural properties can be formed and brought together into one coherent piece," says Slash Objects's Brooklyn-based founder Arielle Assouline-Lichten.
Inspired by golden cubes of pyrite, which create a tension between "perfect geometry and the roughness of the earth," the designer says she toyed with the idea of bringing marble and brass together in a variety of glamorous furniture.
"The natural beauty of the stone is interrupted or elongated by the introduction of the brass," she adds, noting furniture pieces whose cubes pierce a thick slab of marble or hold a brass-framed mirror. "Central to this collection is the way the pieces intersect and are held in place — each material is integral to the whole."