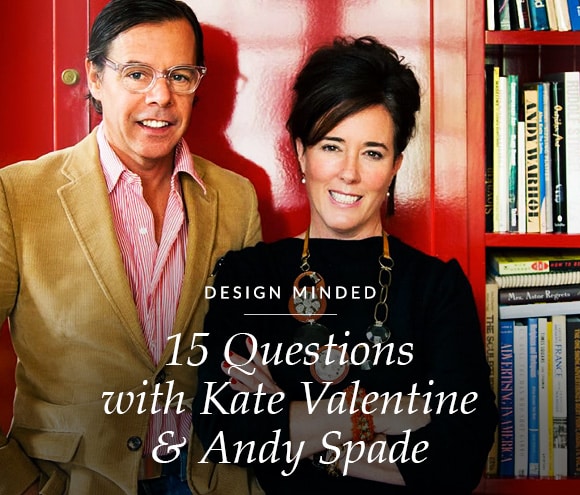 Kate Valentine and Andy Spade are bona fide fashion and design authorities. After all, they're the couple who founded handbag label kate spade, advertising studio Partners & Spade and loungewear brand Sleepy Jones. This month they debut Frances Valentine, a collection of candy-colored shoes and handbags that speaks to Kate's belief that "no one needs another shoe or bag — they have to fall in love with it." Curious to learn more about the creative couple's take on design, we asked Kate and Andy fifteen questions about their own interior decor preferences. Spolier alert: they're just as stylish as you'd expect.
---
1. What was the first piece of antique or vintage furniture that you collected?
A velvet, wing-backed chair. We found it on the street in Soho and carried it home in the rain.
2. Who is your favorite furniture designer of all time?
We're torn. Jean Prouvé and Charlotte Perriand.
3. What three words would you use to describe your own home?
Classic in structure and bones. Artful. Personal.
4. What's the sexiest piece of decor for a home?
5. Animal prints or florals?
If anything, floral.
6. What have you learned from designing fashion and accessories that you've transferred to your home?
How to mix the traditional with the modern with the personal.
7. If you could have been alive/old enough to appreciate any era of style, what would you choose?
The late 1950s and the early 1960s.
8. And what era of design or furniture piece should never be revisited?
The 1980s.
9. What's the most intelligent home design advice you were ever given?
Make sure your home doesn't look like a hotel.
10. And the worst?
"Have fun with it."
11. Most frustrating interior design cliche?
Add a "pop of color."
12. What's the best account to follow on Instagram for interiors inspiration?
There's a lot of them, but Andy really likes [1stdibs dealer Patrick Parrish's account] Mondoblogo.
13. If you had to choose one celebrity to design your own home, who would you choose?
Julian Schnabel or Helen Marden.
14. Do you have a good design aphorism or maxim that you can share with us?
Not really. Just do your own thing.
15. What's the simplest thing one can do to brighten up a space?
Buy a home or apartment with a lot of windows.