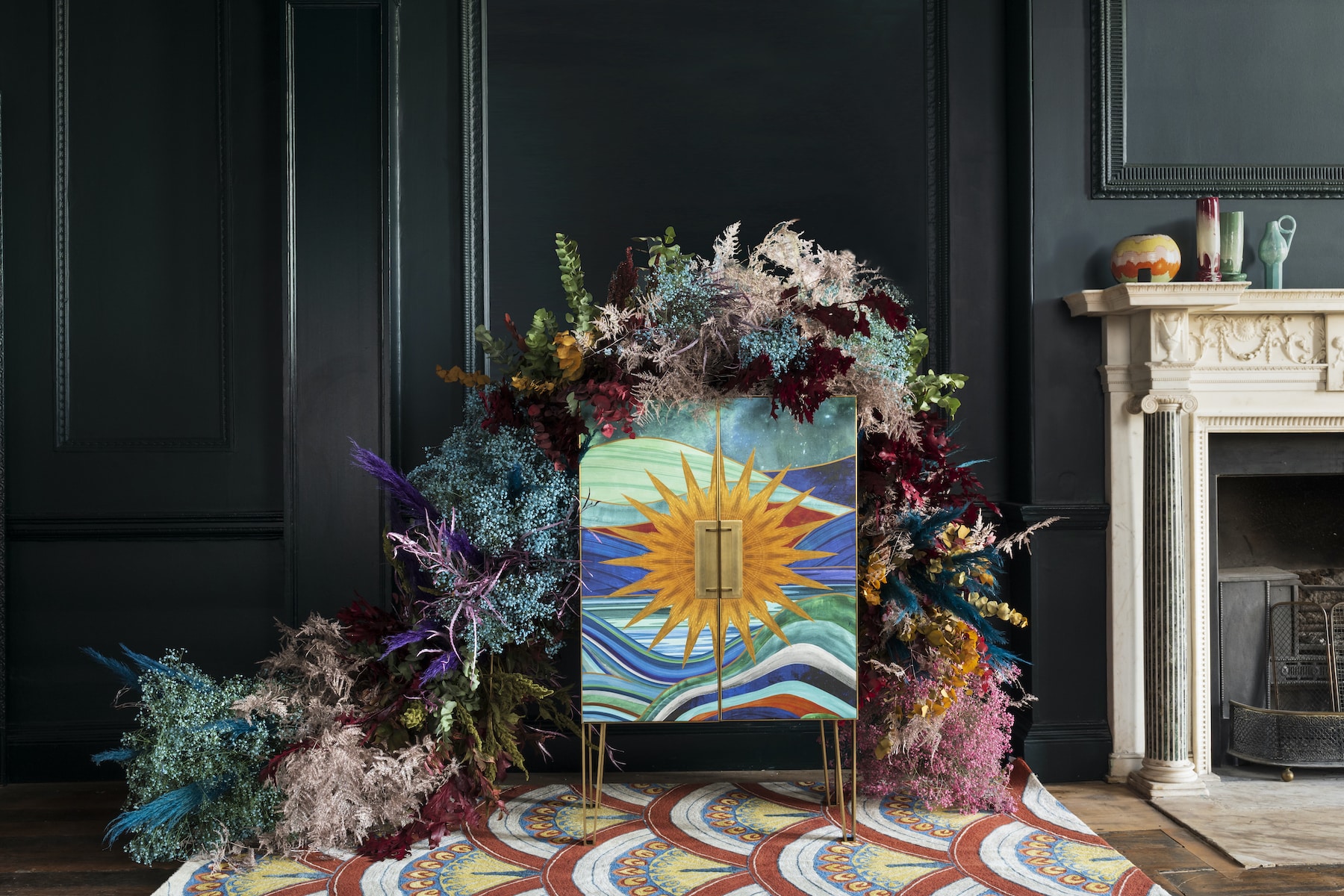 Matthew Williamson hates Zoom calls. So, when Laura and Caroline Allnatt, founders of hip bespoke furniture maker Roome London, tapped the British designer to create a delectably punchy print for their circular screen, his mission was clear. "I immediately thought of a Zoom call backdrop," he says, laughing.
Not any ordinary backdrop, of course. "What if it's really escapist and this fantasy jungle dripping with exotic qualities?" he asked. His answer: the Palm Springs print, in which lush jungle foliage pops against a shocking pink backdrop. After a year spent watching newscasters surrounded by sad potted plants and spare bookshelves, it's a breath of fresh air.
The print, part of a stunning new collection for Roome, came about as most artistic collaborations do nowadays — through Instagram. Knowing their range of pared-back designs, which include finely upholstered side cabinets and decorative boxes, were an ideal showcase for Williamson's silk-cotton prints, the Allnatt sisters slid into Williamson's DMs.
The timing was good for Williamson. Recognized for his exuberant fashion, fabrics, wallpapers and interiors, the designer had just wrapped up a lampshade collaboration with the British brand Pooky and was mostly spending his downtime painting at his "lockdown home" in the tiny coastal village of Deià, on the Spanish island of Majorca. The effortlessness of his conversations with the Allnatts also put him at ease.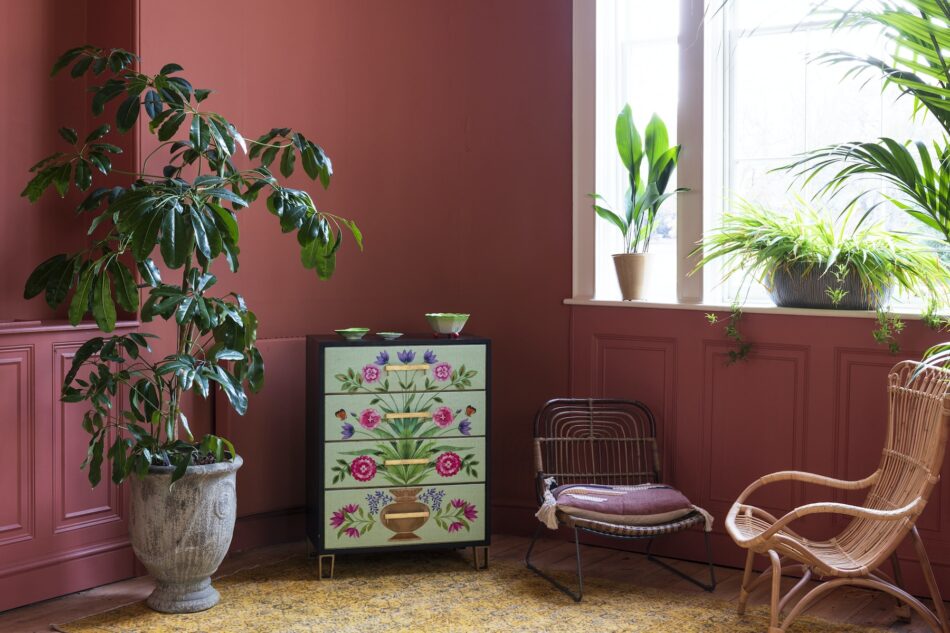 Having been given free rein in designing prints for the furniture pieces the Allnatts selected, Williamson turned to his favorite motifs and inspirations: 17th-century Indian ikats, leopard dots and florals in glowing colors like those he'd seen on his travels through Spain and India.
The resulting side cabinets, handcrafted in oak in Norfolk, England, and accented with gleaming brass hardware, are as lively as any party dress that Williamson's close friend the actress Sienna Miller would wear.
The ikat pattern he created for the line "feels like a knowing print, with connotations of different cultures," says Williamson, who subtly infused it with leopard spots, another goes-with-anything pattern.
Above all, the new collection is a testament to the joy of collaboration, evident in the appreciation each partner expresses for the other's creative processes. "His color, his techniques, his detail I love," Laura Allnatt says of Williamson.
Williamson returns the compliment. "I like the fact that they're small," he says, referring to Roome. "They're not an overstretched brand. They're doing things very meticulously."
Allnatt envisions the pieces making a splash in a neutral setting or bringing texture to an eclectic space. "They're clearly maximalist products," adds Williamson. "They're intended for brave souls who applaud and enjoy harnessing color within their lifestyle."