In 1865, Édouard René de Laboulaye (1811–83) — French legal scholar, poet and president of an organization that aided recently freed slaves in the United States — came up with the idea of presenting the U.S. with a statue representing liberty.
He believed the abolition of slavery in the country proved that liberty was attainable and that highlighting America's progress toward this ideal would inspire the French people, then living under Emperor Napoleon III, to demand their own democratic government.
De Laboulaye enlisted his friend sculptor Frédéric Auguste Bartholdi (1834–1904) to both design and promote the project. After many years of fundraising, Liberty Enlightening the World was completed in France, shipped to America and erected in New York Harbor. She was dedicated on October 28, 1886, at an event led by President Grover Cleveland.
This month marks the 135th anniversary of the Statue of Liberty's dedication. While the national treasure may have aged, the concept of freedom never grows old.
Here, we celebrate the Lady with a Torch with 12 pieces that remind us to keep striving for liberty and justice for all.
---
Lady Liberty, 2013, by Deirdre Allinson
Austin, Texas–based photographer Deirdre Allinson, who has lived and snapped pictures all over the world, used infrared film to capture this striking image of the august lady in New York Harbor.
---
New York City–Themed Cocktail Table, ca. 1950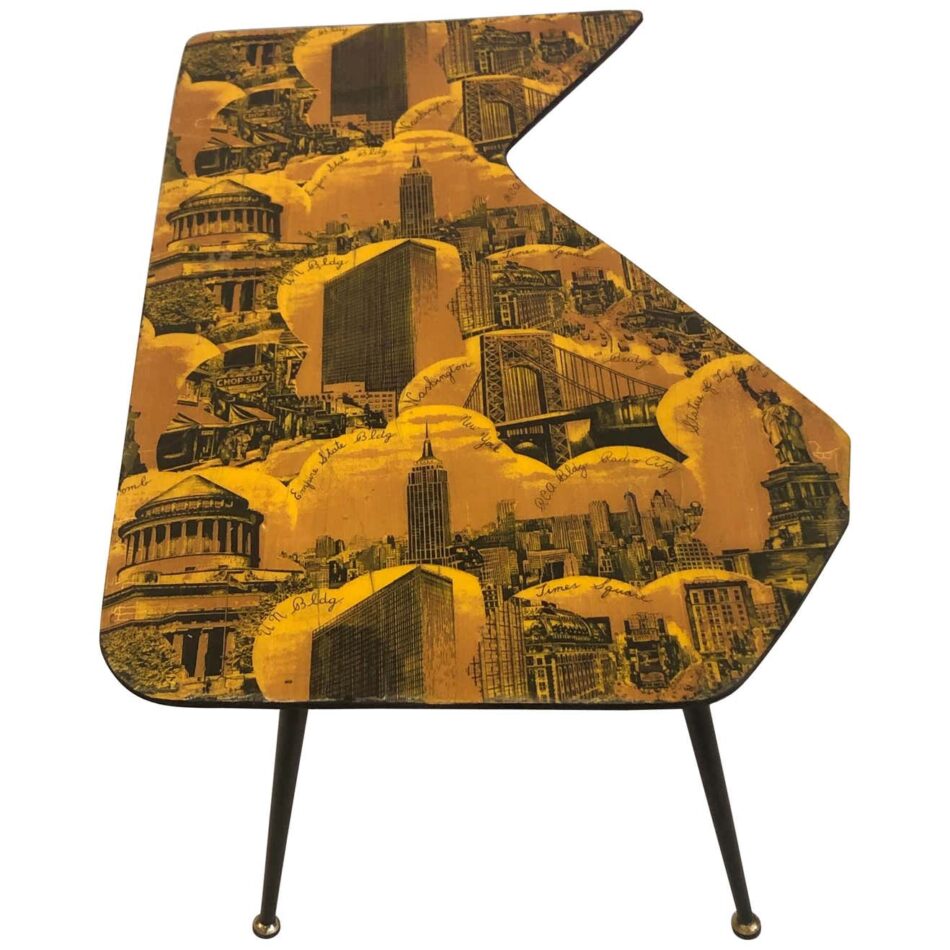 This table featuring images of New York landmarks, including Lady Liberty, is attributed to artist, illustrator and designer Piero Fornasetti (1913–88), who frequently employed architectural imagery, as well as bird and flower motifs, in his work.
---
Hermès Statue of Liberty Centennial Silk Scarf, 1986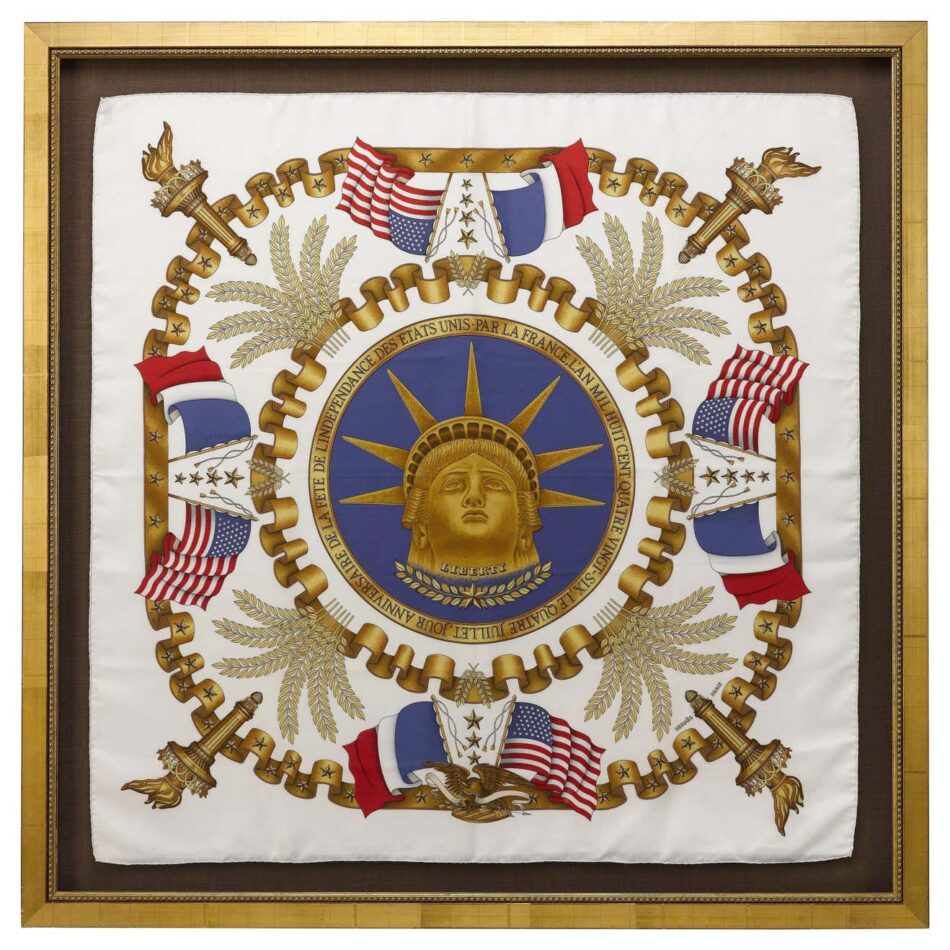 Created by French luxury house Hermès, this scarf celebrates the 100th anniversary of France's gift to the U.S. Over the years, the firm has produced a number of scarves that celebrate America and Franco-American friendship.
---
Andy Warhol Exhibition Poster, 1986
The colossal statue was a favorite subject for Pop artist Andy Warhol (1928–87), whose first Liberty-themed piece debuted in 1962. This poster announces a Paris exhibition of 10 of his later works; fewer than 500 copies were printed.
---
Charlotte Olympia Statue of Liberty–Embroidered Mule, 2010s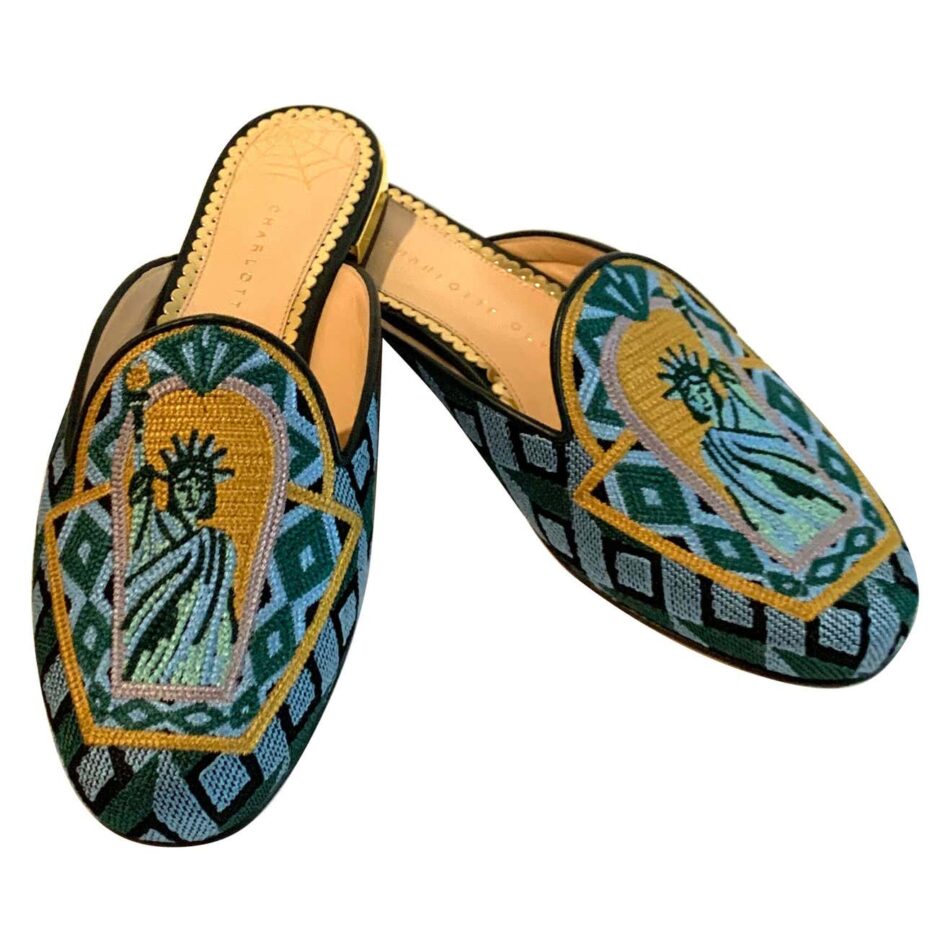 British label Charlotte Olympia is known for shoes that are both sexy and humorous. Why not give your feet a little liberty?
---
Le fantôme de la liberté, 2000, by Armand Fernandez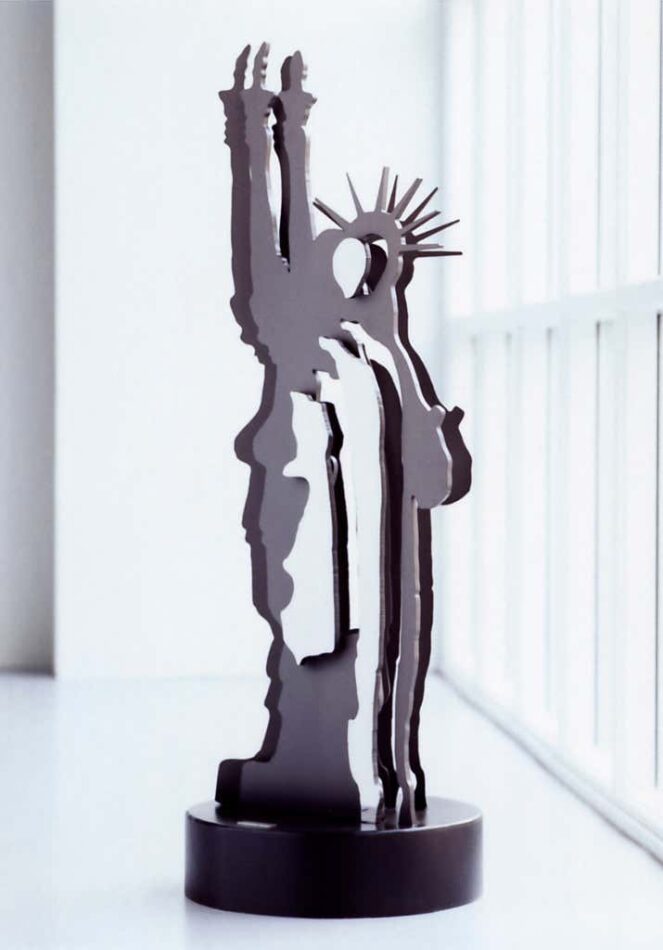 The artist who signed his work Arman (1928–2005) was born in France with the name Armand Fernandez. Over the course of his career, he rendered the Statue of Liberty as a lamp, in print and as several "sliced" sculptures.
---
Bronze Torch Wall Sconces, 1890s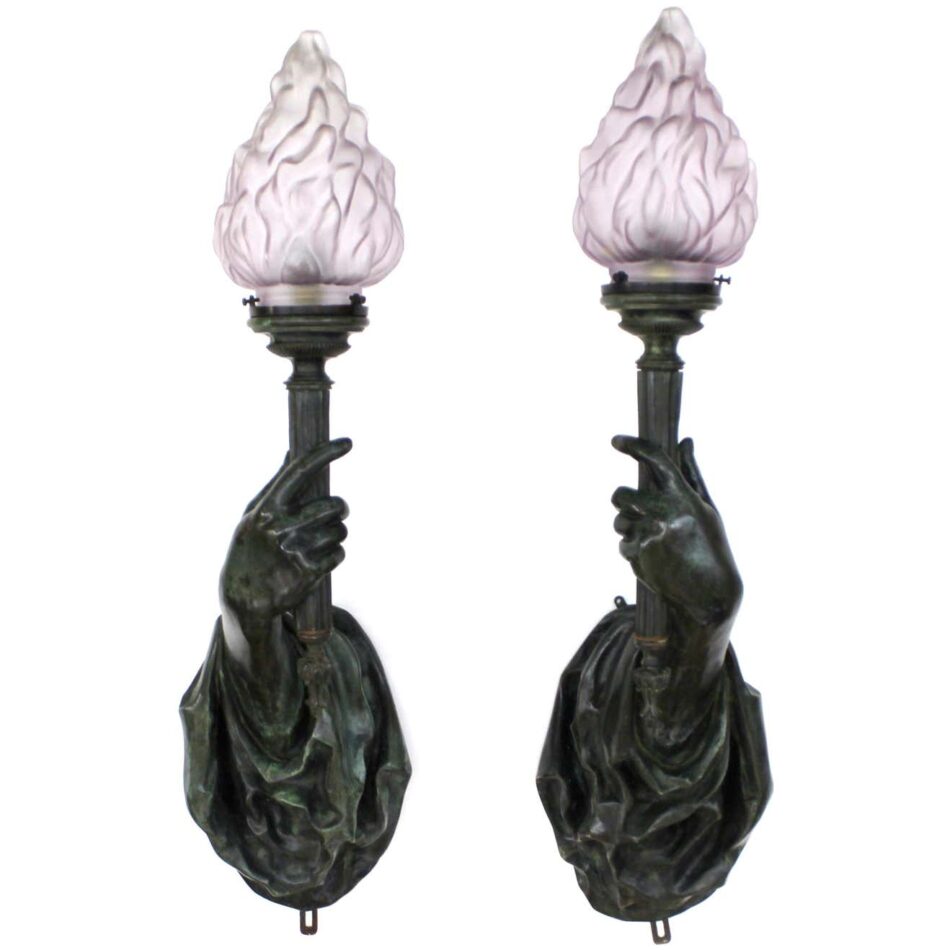 Attributed to Edward F. Caldwell & Co., one of the top designers and manufacturers of metalwork and electric light fixtures in the late 19th century, these graceful hands with Liberty-like torches could well have been created to satisfy consumers enamored of the statue.
In 1876, to help raise funds for the Statue of Liberty's pedestal, Bartholdi had the torch-bearing right arm fabricated, shipped to the U.S. and put on display, first at the Centennial International Exhibition in Philadelphia and then in New York City.
---
Liberty Head, 2011, by Peter Max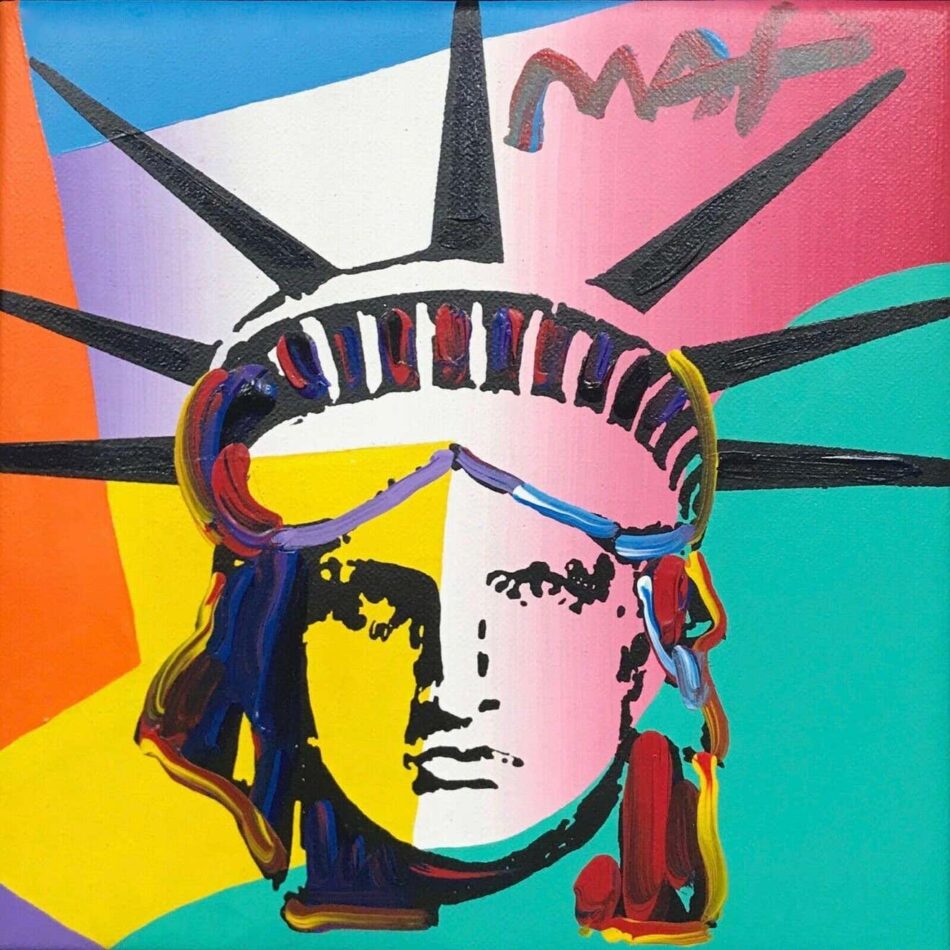 In 1976, after attending a bicentennial event at the White House, German-American artist Peter Max established the tradition of creating an annual Liberty painting, such as this one. In the early 1980s, when he learned that the statue was in poor condition, he spearheaded the campaign to restore her to her former glory.
---
Royal Copenhagen Commemorative Plate, 1909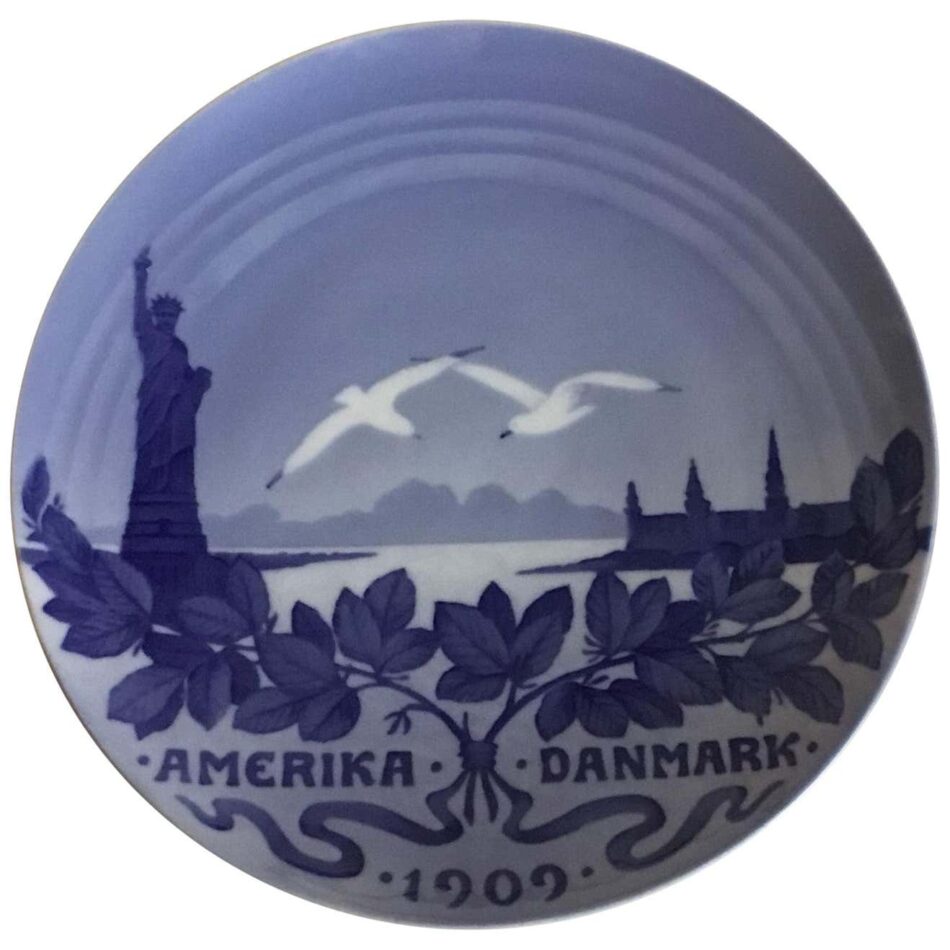 Designed by Arnold Krog (1856–1931), artistic director of Royal Copenhagen, this plate commemorates the first official Danish-American day, July 4, 1909. Celebrations of the event were held on the grounds of the Danish National Exhibition of 1909, in Aarhus, and about 1,200 Danish-Americans traveled there to join the festivities.
---
Gold Gem-Set New York–Paris Charm, 1950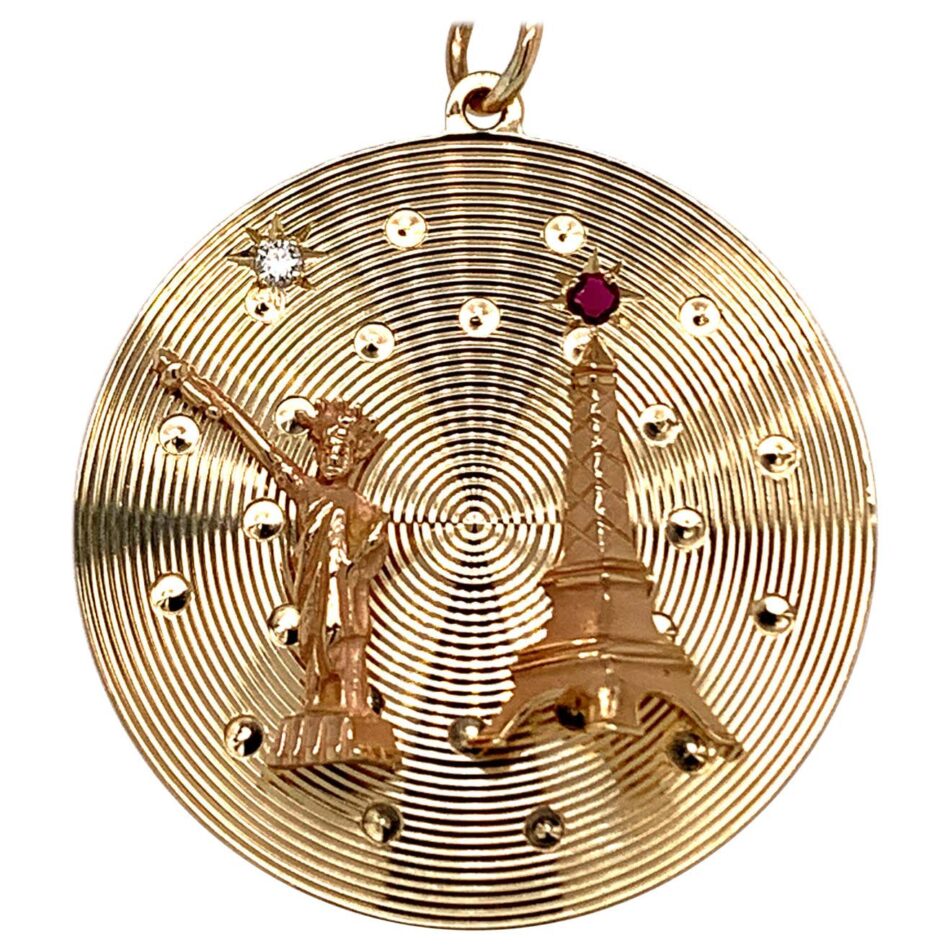 The Statue of Liberty and the Eiffel Tower are not only symbols of their respective cities but are also "cousins." Alexandre Gustave Eiffel (1832–1923), creator of the tower, took over the design and fabrication of Liberty's internal supporting framework in the early 1880s. This classic gold charm highlights their transatlantic connection.
---
Fausto Puglisi Statue of Liberty Dress, 2014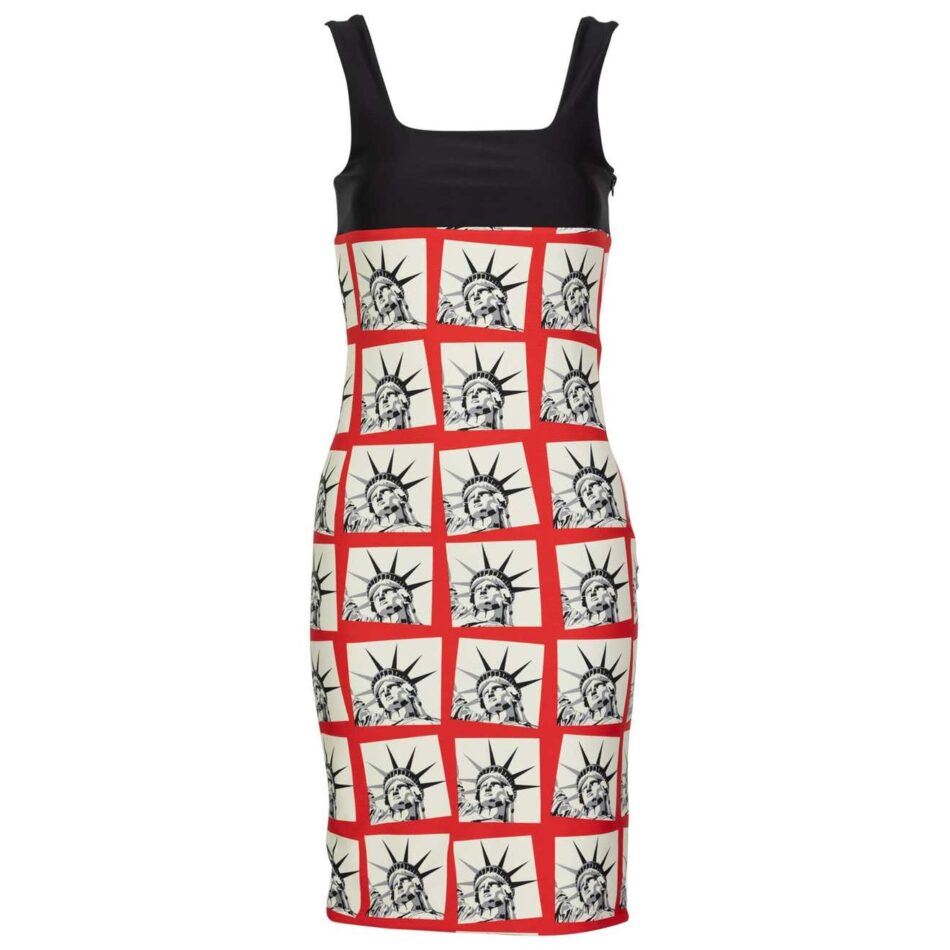 Designer Fausto Puglisi's Fall 2104 ready-to-wear collection boasted a number of looks featuring the Statue of Liberty, including a body-con dress and bomber jacket. The Sicilian-born designer, who sports a large "Hollywood" tattoo on his forearm, often blends icons of American culture with traditional Italian styling.
---
Statue of Liberty Lithograph and Original Inauguration Invitation, 1883–86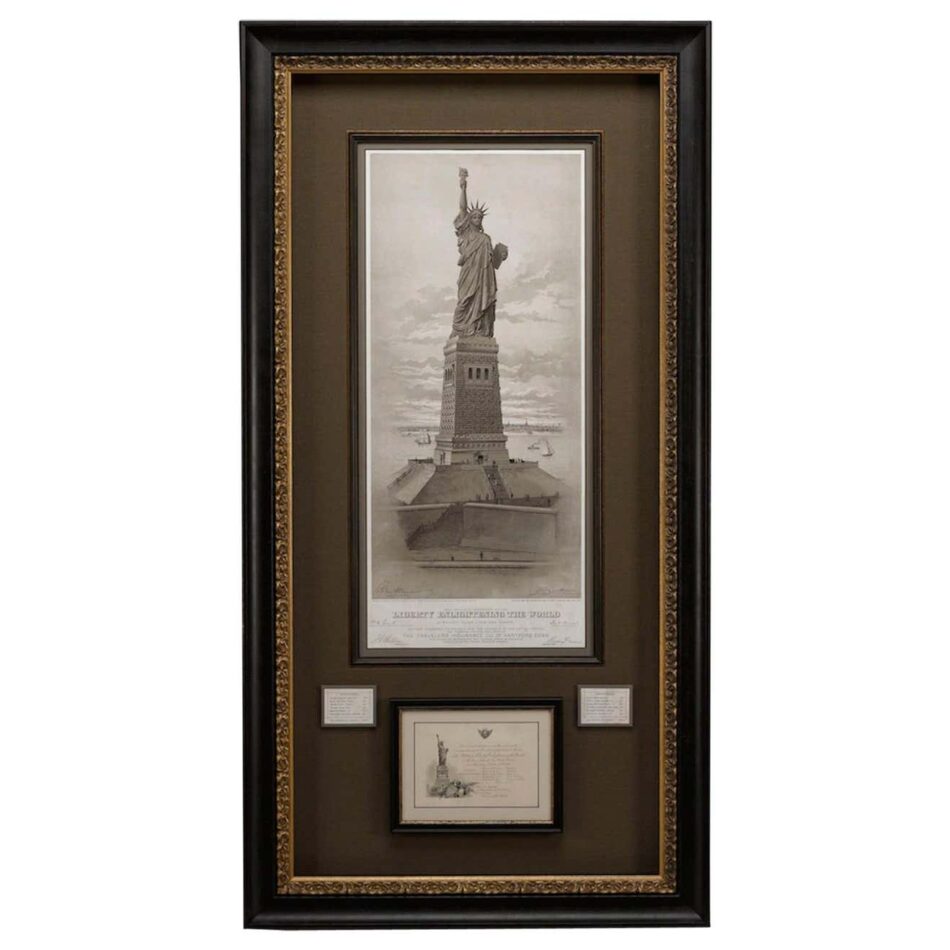 This collage consists of an engraving of the Statue of Liberty from 1883 plus an original invitation to the statue's inauguration in 1886. Although the day was rainy, more than one million people, including Bartholdi, attended the ceremony, during which the statue's last rivet was set in place.